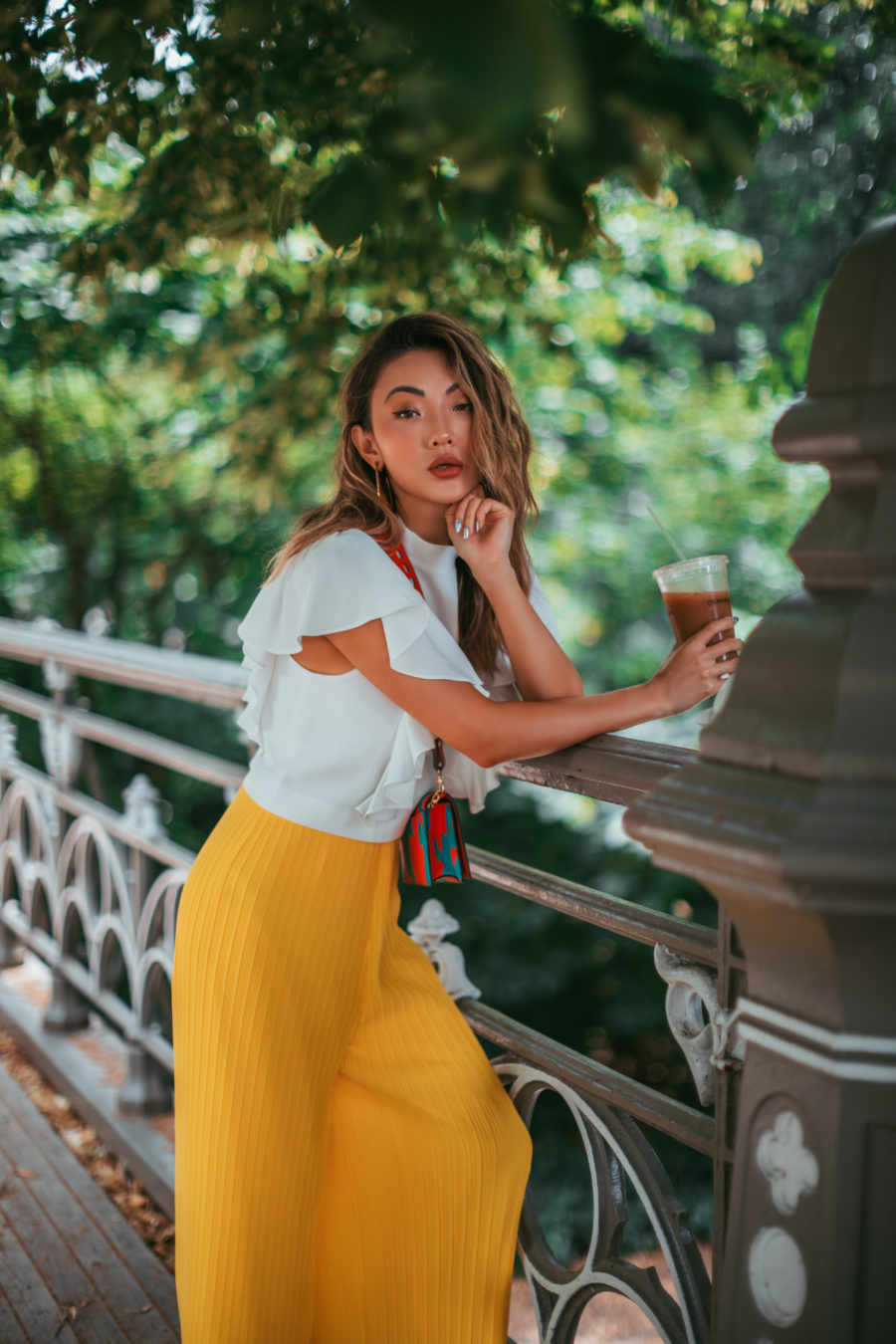 Cinq a Sept Blouse | Solace London Pants | Heeled Sandals Similar | Shoulder Bag Similar
S
tarting is the easiest part of blogging while
planning content and maintaining the site
are the most difficult tasks. But if you want to turn your blog into a money-churning machine, you have to be ready to work your butt off. You guys have asked me repeatedly about the different ways bloggers make money – and whether it's possible to still be a full-time blogger today, so I'm finally delving into that topic! I'll start by covering the top 3 most common ways, which you're probably already familiar with and then move into the more complicated options that require more resources. Let's not waste any time and get straight into it!
…

…
1. Affiliate Links
Most bloggers start earning income on their blogs through affiliate links. What this does is allow you to earn a commission through the sales or traffic you generated to another site by promoting their link on your blog. It's one of the most easiest ways to earn money out there because it's passive, you don't do anything besides include a link, and you don't handle any physical inventory nor deal with customers. The best way to implement affiliate links is through networks like rewardStyle (my preference) or ShopStyle. Smaller boutiques and brands may offer their own affiliate programs along with professionals who sell e-courses or services, but you should reach out to them directly for details.
2. Sponsored Posts
A sponsored post happens when a brand pays an influencer to promote their product or brand. If you've ever scrolled through Instagram and saw #Sponsored or #Ad, then that's exactly what I'm referring to. Sponsored posts can take place on a blog, social media, or both and opportunities can be initiated by either you or the brand. When I first started, it was harder to secure partnerships because there weren't platforms that connect you to brands like there are today. Examples include Activate, Fohr, Revfluence, Octoly, among others.
If you are more established, you can look into talent agencies that represent influencers. What's great about talent agencies is that they have a strong network of brands who believe in influencer marketing. But on the downside, they take a percentage of what you make because they're the ones who secure the deal.
3. Banner Ads
The third most common way to make money on your blog is through ads.
This is a method I don't use because it looks too busy and creates clutter; however, many bloggers have a ton of success earning passive income through banner advertising. You basically allocate parts of your site to advertisers to "rent" – this could be the header, side bar, footer, or in between posts. There are also services like Mediavine and Google Adsense who act as your ad manager and simplify the process. I can't speak to this in detail since I don't use it, but overall, you can be paid a flat rate, according to impressions monthly, and/or clicks.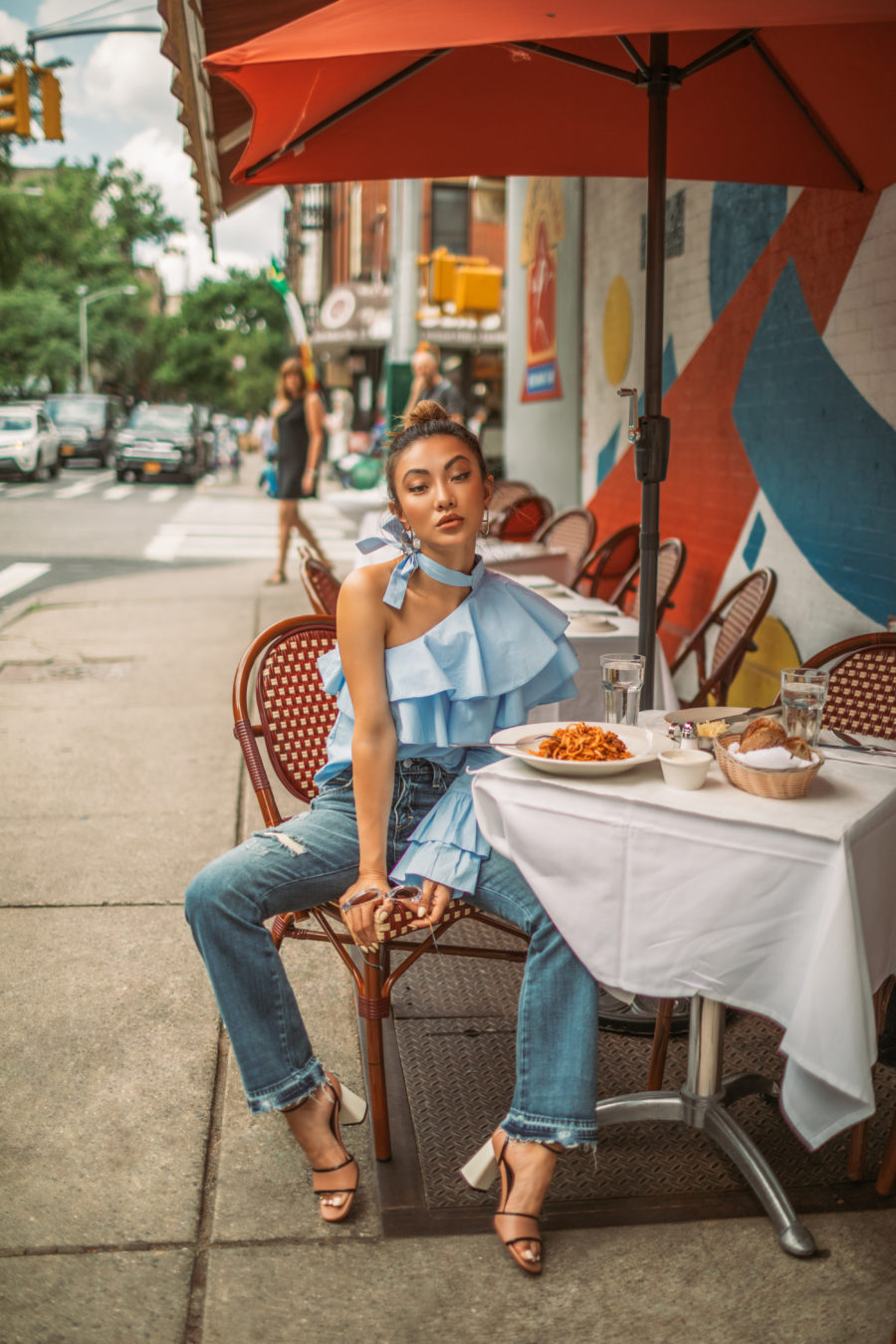 Walter Baker Blouse | Distressed Jeans Similar | Marni Sandals | Clear Sunglasses Similar
Now moving into the more complex options…
4. Event Host & Appearances
You guys have seen me host events with Express, Bergdorf Goodman, and The Outnet. To be paid for this kind of work, you typically need to have a loyal audience because brands need confidence that you can drive in-store or event traffic, which either drives up brand awareness and/or generate sales. It usually involves a combination of blog and social media promotion beforehand, and then a set number of hours on site with more social content. There's a lot of pressure and commitment involved in hosting, speaking, and appearances but I've always enjoyed being able to meet you guys in real life!
5. Brand Ambassador
A brand ambassador is a person external to a company who's willing and able to promote a company's product or service on a long-term basis.
This might sound unfair, but generally becoming a brand ambassador requires historical data related to the following:
– Conversion (how many people you can influence to buy)
– Social reach (how big your following is)
– Past partnerships (the types of brands you have worked with)
To get here, you need to build social proof, get noticed on a large scale, and connecting with as many important people in the industry as possible. This will help you position yourself as an expert. Brand ambassadors are typically paid well because they're expected to deliver more in general – more content, more sales, more clicks, etc.

6. Products
At some point, the options above will no longer seem like a long-term viable option – or you just get a burning desire to do more – especially if you have been a long-time influencer. That's where developing your own products can reignite that spark. Also, if you know you're able to generate sales on certain items you're constantly promoting, it's a good sign to start developing your own line of goodies.
Perfect examples of this are Chriselle Lim's eponymous line launching this fall, Shop Sincerely Jules by Julie Sarinana, Marianna Hewitt's Summer Fridays, photo presets by Tezza, and so many others!
7. Services
If products aren't your thing, then maybe services are… In fact, services are one of the best ways bloggers make money now. If you or your partner are killer photographers and videographers, you can start charging for those services – maybe it's shooting lookbooks, editorial ads, or helping other bloggers produce quality content. The same goes for graphic design and web design. If you're able to do something extremely well, chances are, someone is willing to pay for it. So get creative and don't stay stuck.
What are some of the ways you're making money and what new outlets will you be trying?