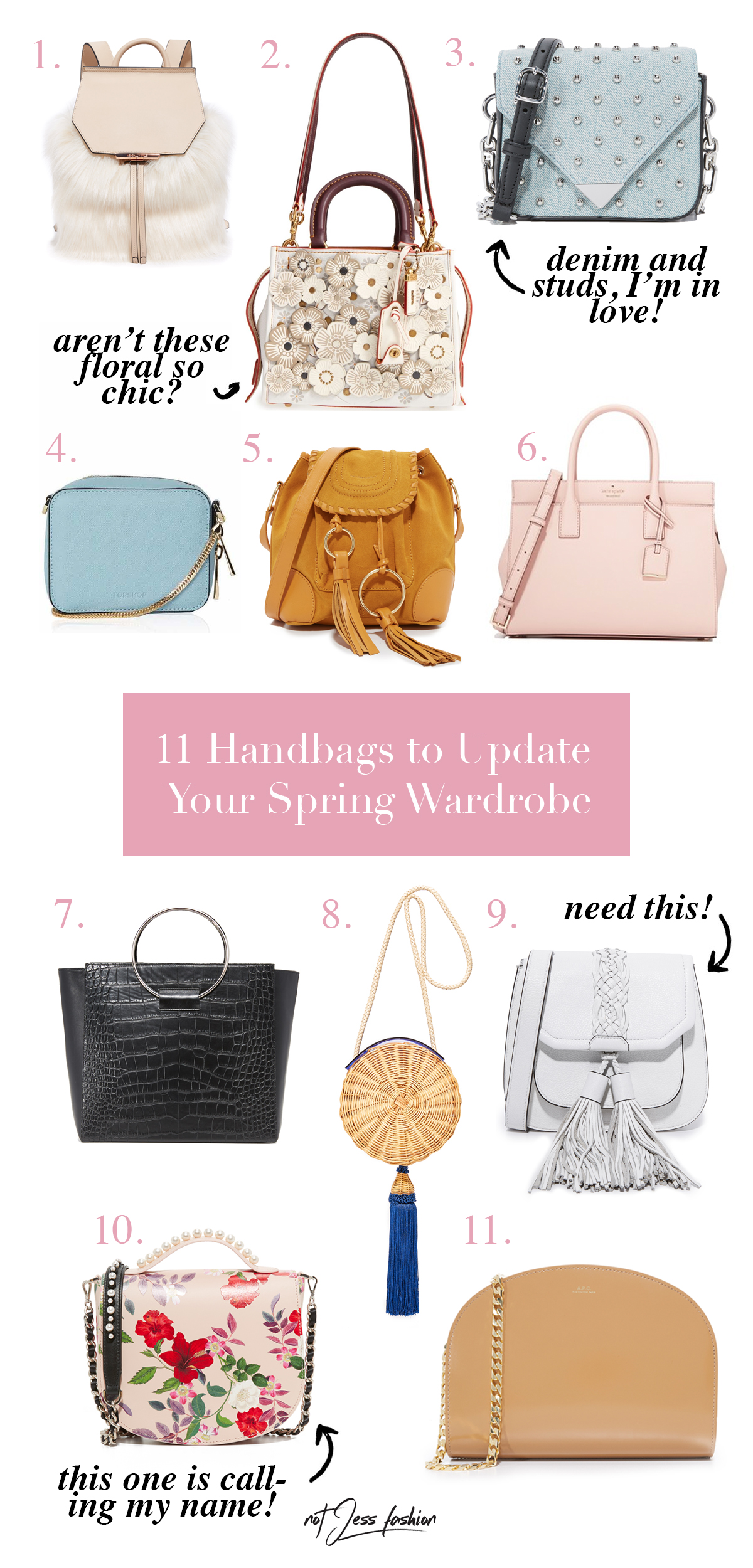 S
pring has finally arrived, and what's a better way to welcome this beautiful weather and season than Spring handbags that will freshen up any outfits? I've rounded up 11 of this season's most stylish handbags for you to take your pick. It'll be hard, trust me, even I have a hard time choosing one out of all these choices. You can play around by clicking on the bag that catches your eyes most on the image above and it should take you directly to its site – or you can keep below to see why I picked it!
Backpacks are so understated, they're super versatile and are actually quite chic when you find one that's as unique as this fluffy faux fur one!
Florals are taking off this Spring, not just because it's a seasonal thing! You're going to be seeing floral knits, denim, and even embroidered shirts. This applique take on floral is super unique to me and it'll definitely set you apart from everyone else.
This denim with stud bag is definitely one of my favorites out of all these picks. The combination is so edgy yet super feminine with the light blue that's perfect for Spring!
Can you believe that this crossbody is only 65$? Because I couldn't. The color is so trendy and I'm sure it'll make a great pop of color for any Spring dresses and white outfits.
This bag is a boho's dream come true. It takes shape of a bucket bag but has a flap to keep all your belonging safe. I love the extra chain details and the mustard suede. It's definitely a bag that'll last not just through Spring but also summer and fall!
For those who's looking for a much more functional bag, this one is for you. It works as a work bag, a leisure bag and one that you can take out on the weekend because it's so cute and pink!
Don't let the name of this bag make you not take it seriously, it is a bag trend that's going to blow up real soon. It's definitely an update from the regular work tote, and one that's going to be all over pass Spring and into fall. Trust me!
I've been really into straws and woven bags lately, but this one tops it off for me. I love the tassel details and how fun it makes this circular shape bag looks. If I'm getting a straw bag anytime soon, this will be the one!
It seems like I just can't escape the tassels! I just love how this detail makes a classic bag such as this saddle shape one so new and refreshing. I also love the clean white and how it's perfect to match any Spring looks!
This chic floral bag is literally calling my name. There are gorgeous floral details and even a pearl studded top handle. It's literally the epitome of Springtime!
Last but not least, is this classy half moon shape handbag with a chain detail. It's a bag that looks like it could be worth 3x as much but it's actually quite affordable!
Would love to know which one is your favorite out of these picks and if you're currently looking at any other bag for Spring?
…

…