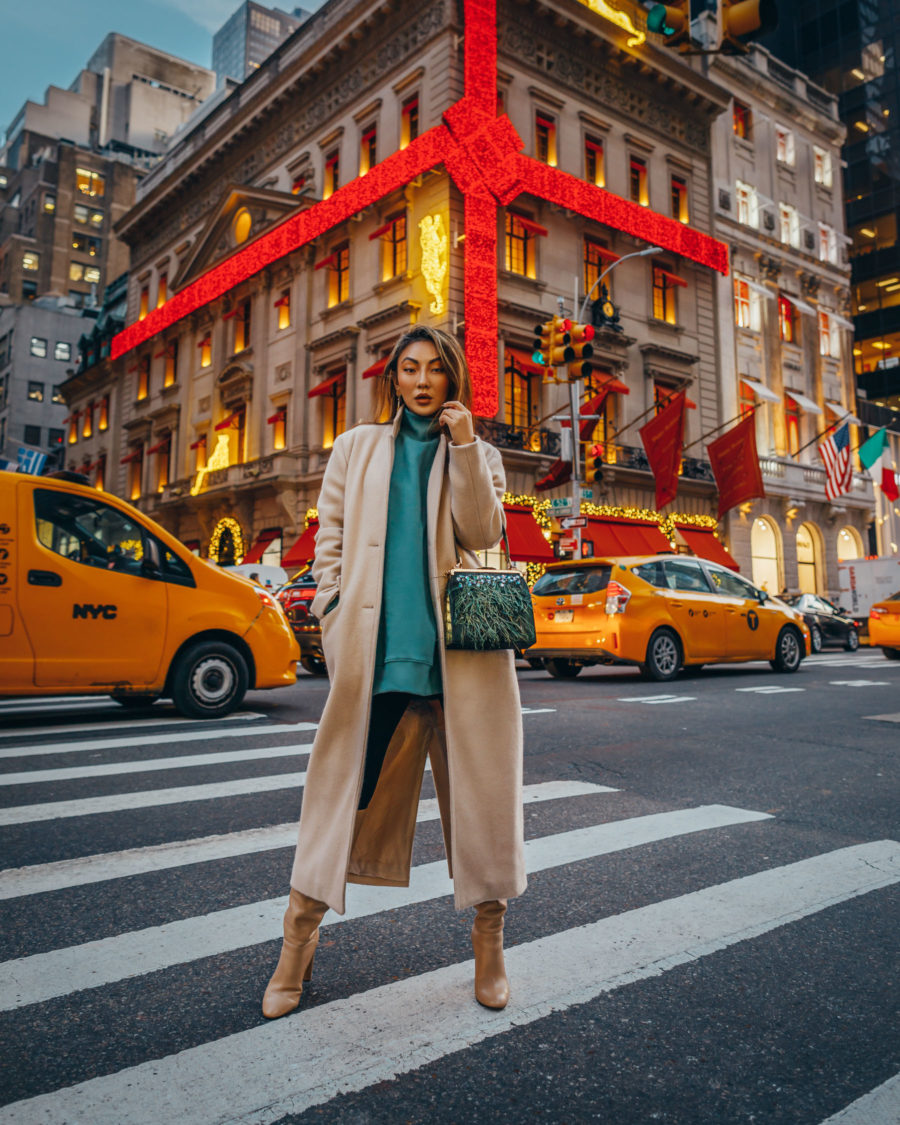 Maxi Coat Similar | Tunic Sweater Similar | Leggings Similar | Knee High Boots Similar | Fregoli Handbag (Similar & Affordable)
T
he biggest
shopping week of the year
is officially over and if you can't help but be bored by giving the same old items every year, I'm here to offer a different suggestion…
holiday gifts that give back
. I love the idea of wrapping up something thoughtful knowing it's going to a good cause. And I'm sure that when your friend or family member learns that their new gift contributed to someone else, they'll be even more pleased by it. This year,
UNICEF USA
has a ton of hand-crafted artisanal gifts that you can shop – and will help thousands of children around the world. I wanted to share some of the pieces I'll be giving this Christmas that I'm sure you guys will love too.
…

…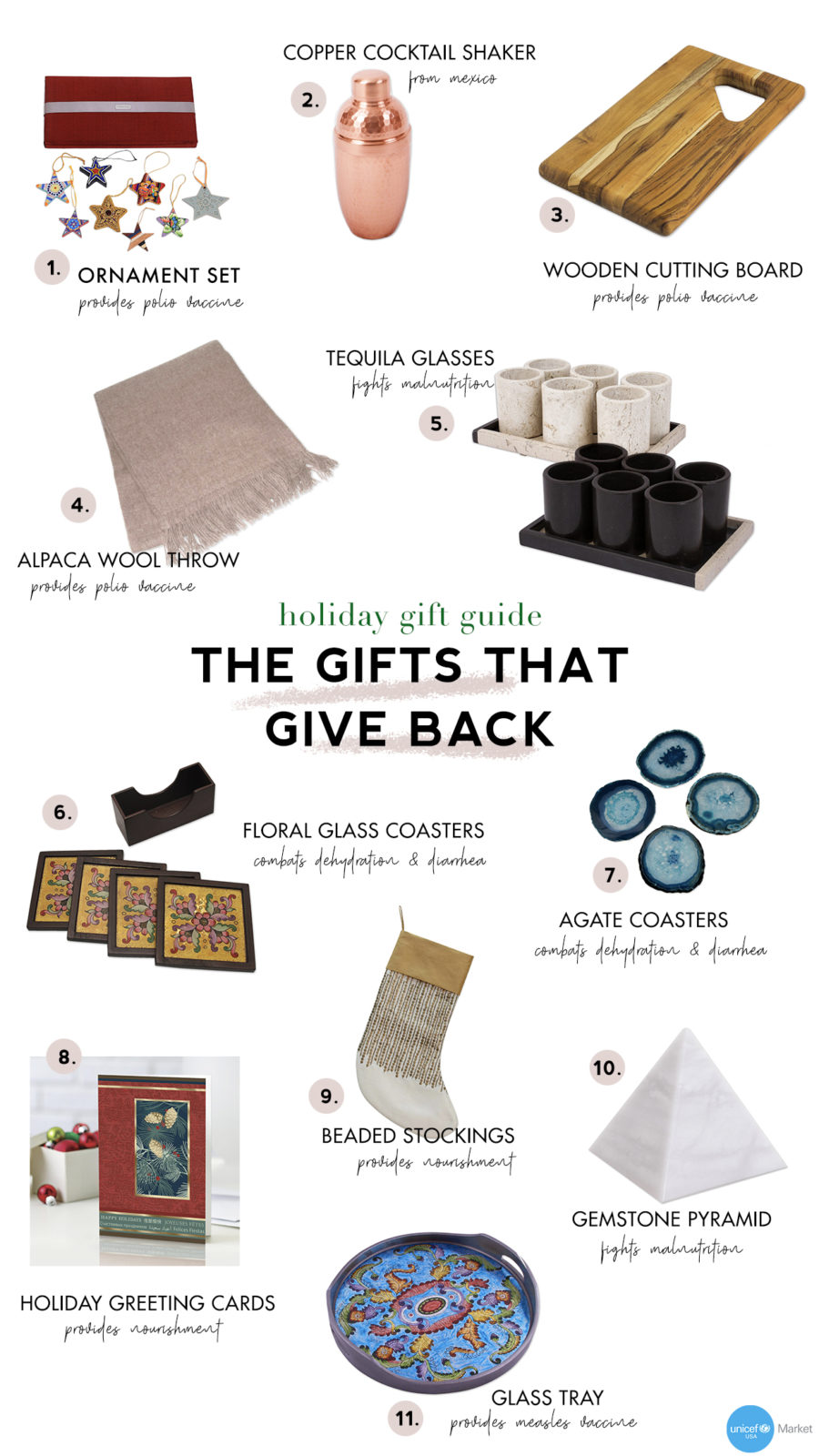 These unique star ornament set would be great for the jetsetter. It features unique ornaments made from various materials indigenous to 8 countries, spanning across Peru, Bali, Brazil and more. The ornaments come wrapped in a beautiful crimson box that's ready for giving. One purchase of this item can provide enough polio vaccines for 79 children.
This cocktail shaker is perfect for the hostess or any friends/family who purchased a new home (or moved into a new apartment). I love the chic hammered finish and copper material. It can also provide 38 doses of measles vaccine.
Here's a great gift idea for the foodie or friend/family member who loves to cook. The cutting board is made from a slab of rich teakwood in Guatemala and is a luxurious addition to the kitchen. It's another gift that helps provide polio vaccines for children.
I love a good cozy throw and this one is made from 100% alpaca… I can only imagine the level of softness it exudes. As we're heading straight for frigid temps, this throw would be an amazing gift for your parents, in-laws, or grandparents. And I bet they'll love that it can vaccinate up to 256 children against polio.
5. Beige Marble Tequila Glasses
Here's a gift I'd give to a brother or guy friend. These marble tequila glasses were made in Mexico and look so sleek. You can also get them in black here (selling out fast!). One set can provide 45 packets of nourishment to kids suffering from malnutrition.
These hand painted glass coasters are a collector's item and would be perfect for the world traveler. I love the quaint design and aged brown finish. It comes in a set of four and includes a holder, which makes gifting even easier.
Agate has been a huge trend in decor and wellness over the years and these coasters are both trendy and stunning. Hailing from Brazil, they would be perfect for any hostess or wellness fanatic. This purchase can provide 109 sachets of oral rehydration salts for children, which helps fight off diarrhea and dehydration.
8. Multilingual Holiday Greeting Cards
I've gotten away from sending holiday cards over the years, but this set gives me even more reason to write cards. Pick up a set of 12 holiday cards for yourself and support children suffering from acute malnutrition.
This beaded and sequin stocking was made in India and would look so glam hung by the chimney or fireplace. I love that it can be used year after year too. Whether you purchase a few for yourself or as a gift for someone else, you can rest easy knowing it helps combat malnutrition in children.
10. Gemstone Pyramid
Know someone who's obsessed with crystals or kundalini yoga? They'll love this unique gemstone pyramid from Peru! It's said to help focus the high-vibrational energies of white onyx and helps create a harmonious link between the root and crown chakras. It'd be perfect for an at-home alter or even on the bookshelf.
This painted glass tray is such a statement maker and can be used for so many things. But the best part is, it provides 52 doses of measles vaccine to children.
…
If you're looking for unique holiday gifts that give back, be sure to check out the UNICEF Market for more!