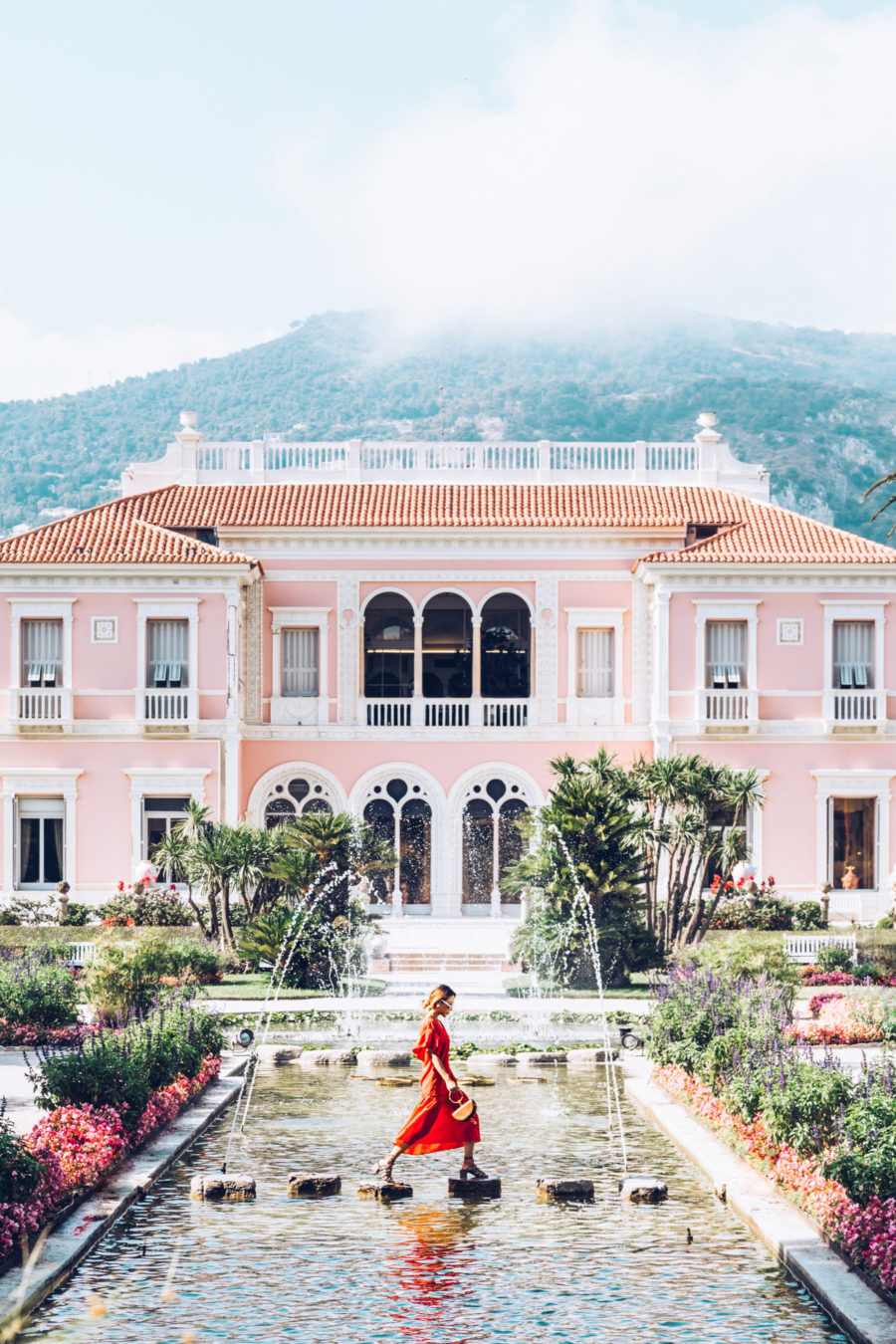 Dress: (similar here) | Shoes: (similar here) | Bag: Chloe
France's reputation starts with Paris, but it doesn't finish there. The south of France beckons plenty of tourists and one of the most breathtaking places in the Provence region located in the southeast. In Provence, visitors are sure to encounter plenty of culture and history, plus they can bask in the landscapes and the cuisine –not to mention all the warm coastal sun. So overall, it's a top destination for those who want to immerse in several things at once.
My time in Provence was remarkable, to say the least. While I'm well-traveled at this point, the sights and smells really took my breath away and stole a bit of my heart. And of course, I had to show off my fashion skills because France is as elegant as it gets. I really wanted to join the leagues of European fashionistas. Here are some outfits that are French inspired. It was a real pleasure to pull together this Instagram Outfit Round Up.
…

…
Gingham Red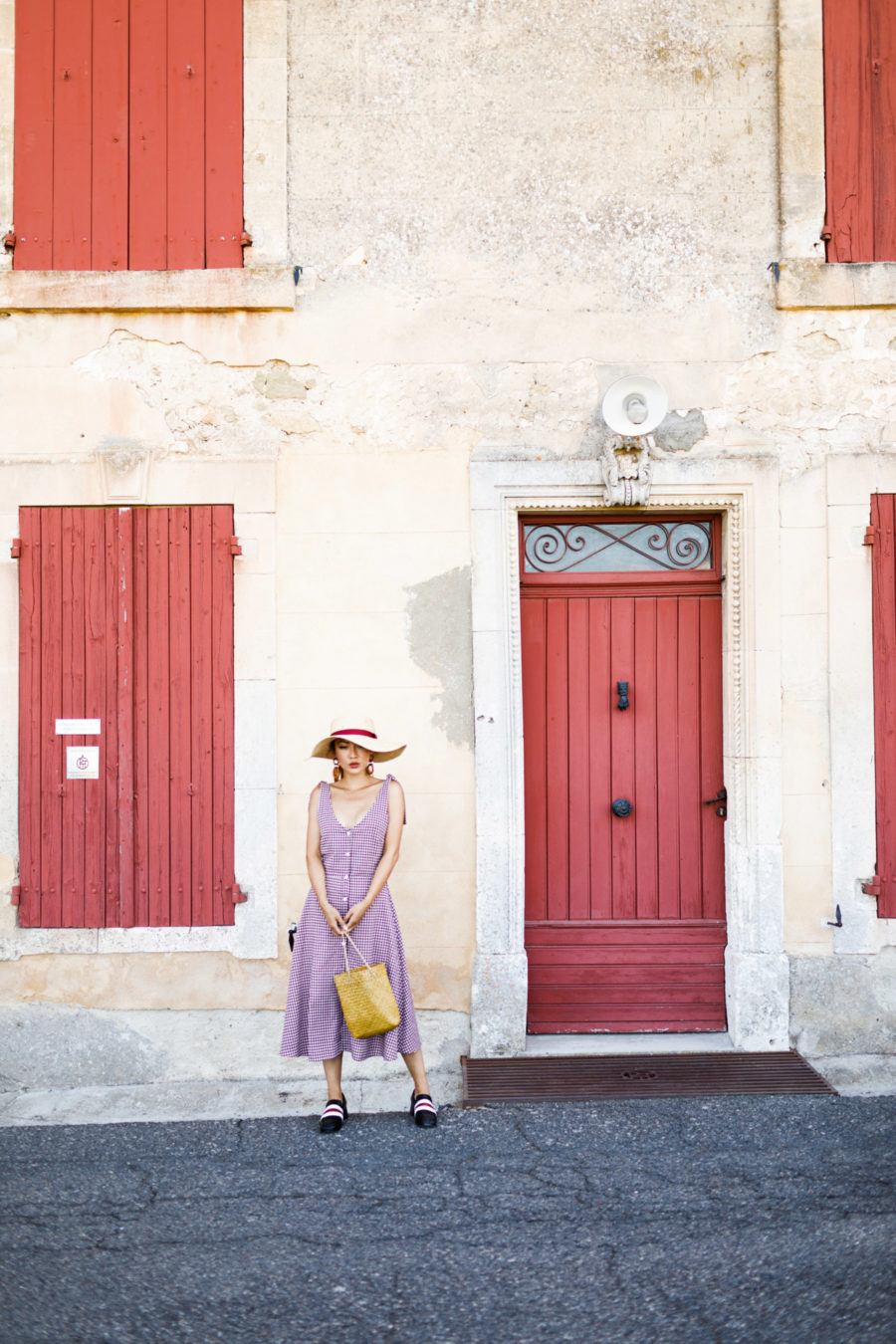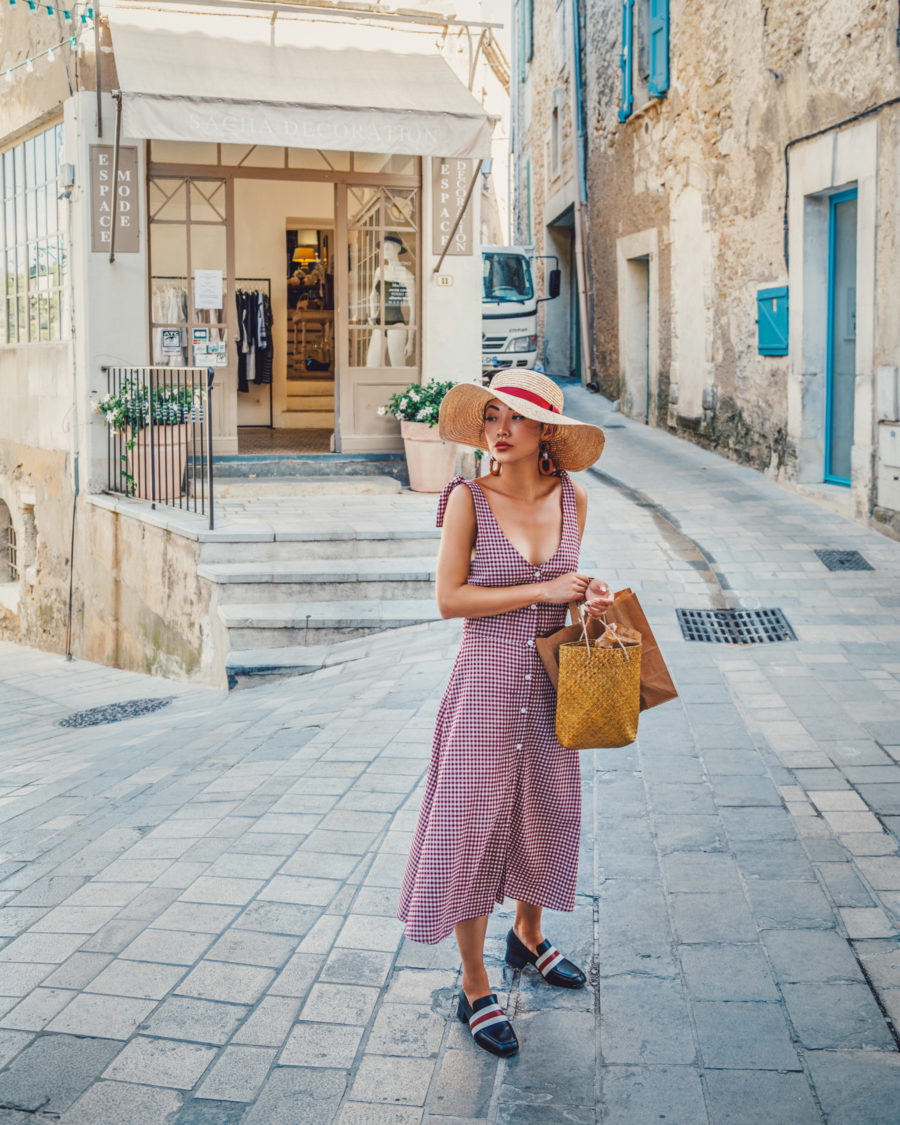 Hat: (similar here) | Dress: (similar here) | Shoes: Senso | Bag: (similar woven style here)
Gingham is alive and well in Provence. I wasn't the only one in gingham –there were other haute couture femmes dressed in delicate gingham print. The brick red door was a coincidence as I strolled along the tiny streets.
…

…
When I realized my red gingham sundress was a reflection of this house, I knew it was photo op waiting to happen. I love the tie details at the shoulders and the buttons that go from top to bottom. Worn with a sunhat, I embody the energies of Provence, classic and festive.
…
Emerald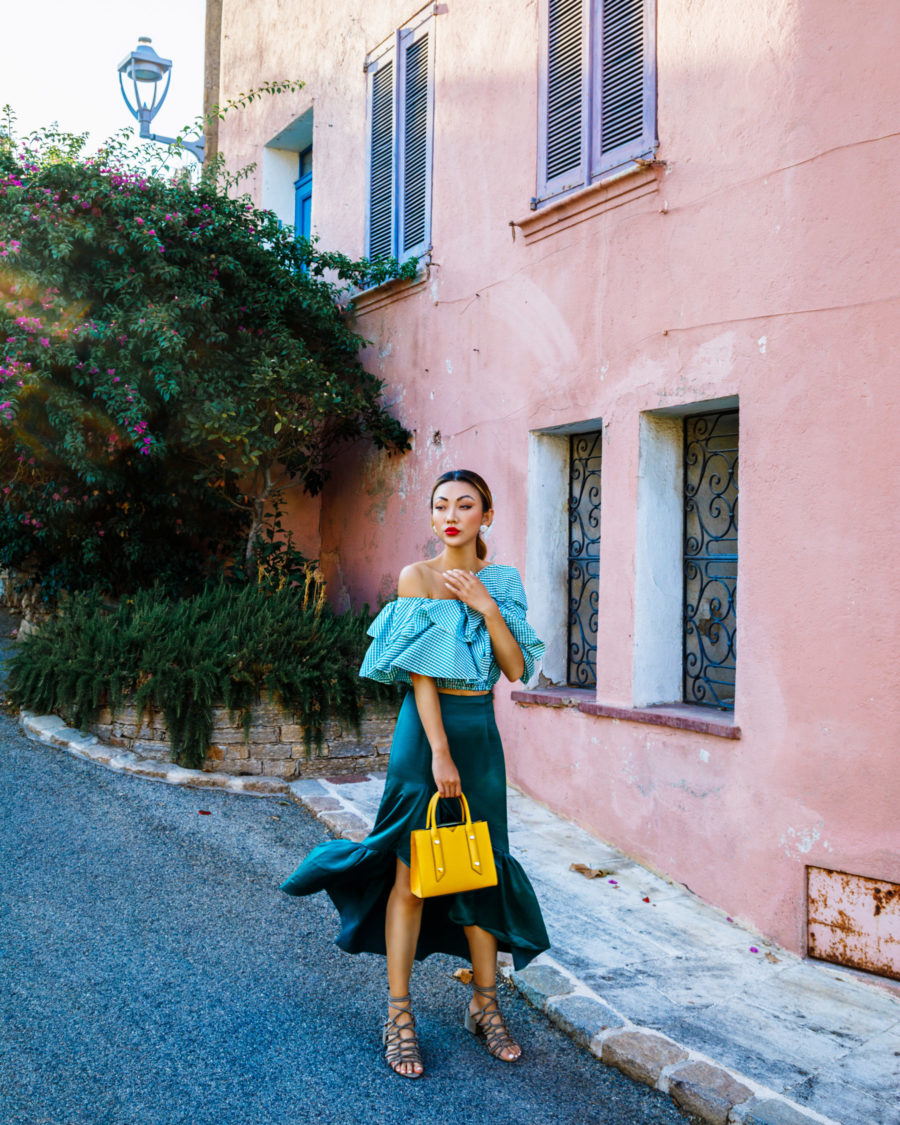 Top: (similar here) | Skirt: (similar here) | Bag: Botkier | Shoes: (similar here)
All the greenery in the south of France is enough to make anyone a nature lover. I was totally inspired by the trees and plants, hence this gem of an outfit. Emerald is one of my favorite jewel tones. A gingham green ruffled off-the-shoulder top is perfect for the warm weather in Provence. Paired with a satin ruffled skirt, I also felt a bit like a mermaid. I tossed in a little yellow bag to add a little more personality and I'm so glad I did –I adore this look.
…

…
Red Ruffles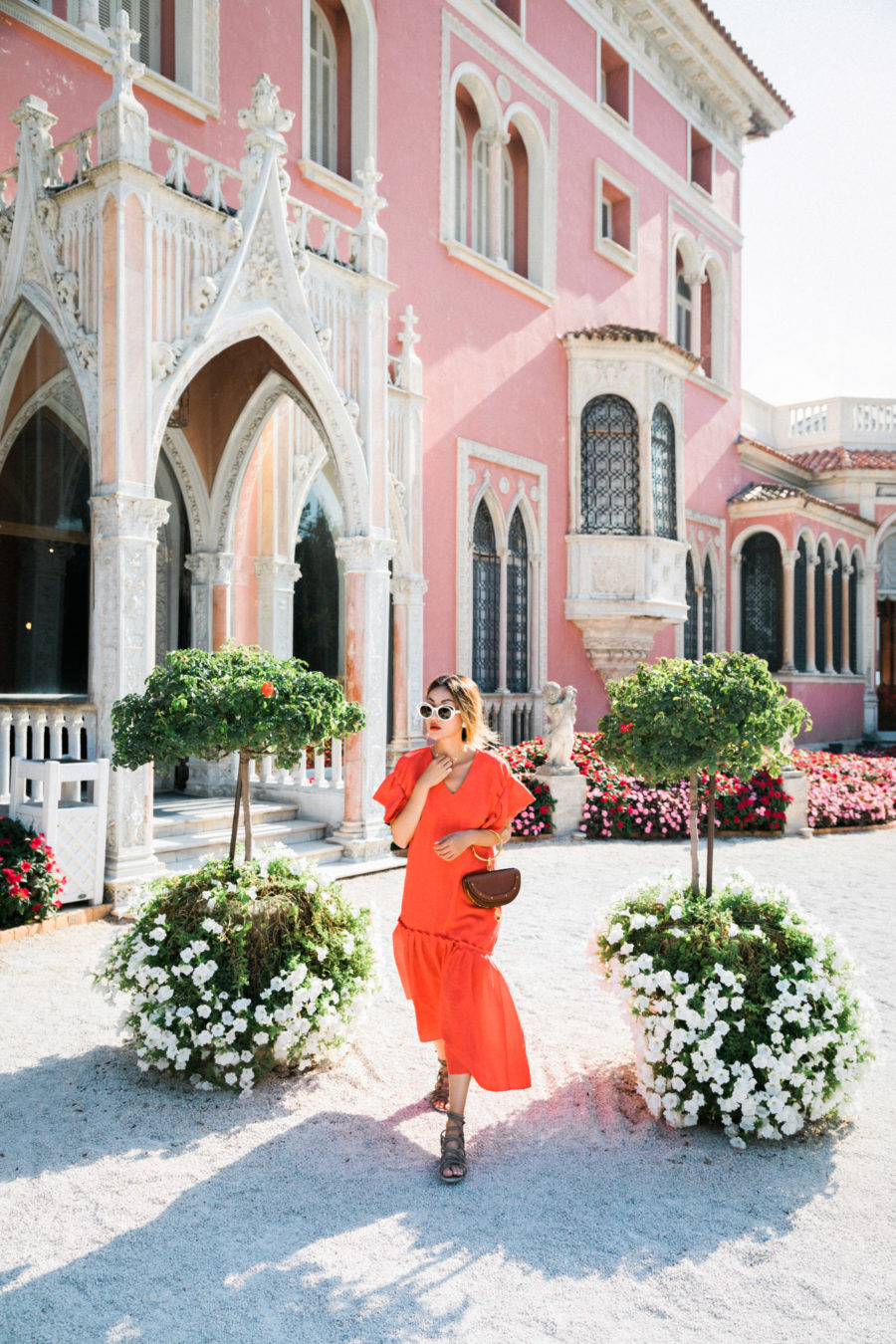 Dress: (similar here) | Shoes: (similar here) | Bag: Chloe
Red might not be a color associated with Provence, but when you realize how passionate people live their lives there, then you can understand my red dress selection. My goal was to reflect that passion and this ruffle dress did the job. The fabric is light and breezy and kept me cool during those hot coastal midday moments. This red ruffle dress really pops in front of a pink, historical mansion –just one of many I saw on my trip.
…

…
Gimme Lemons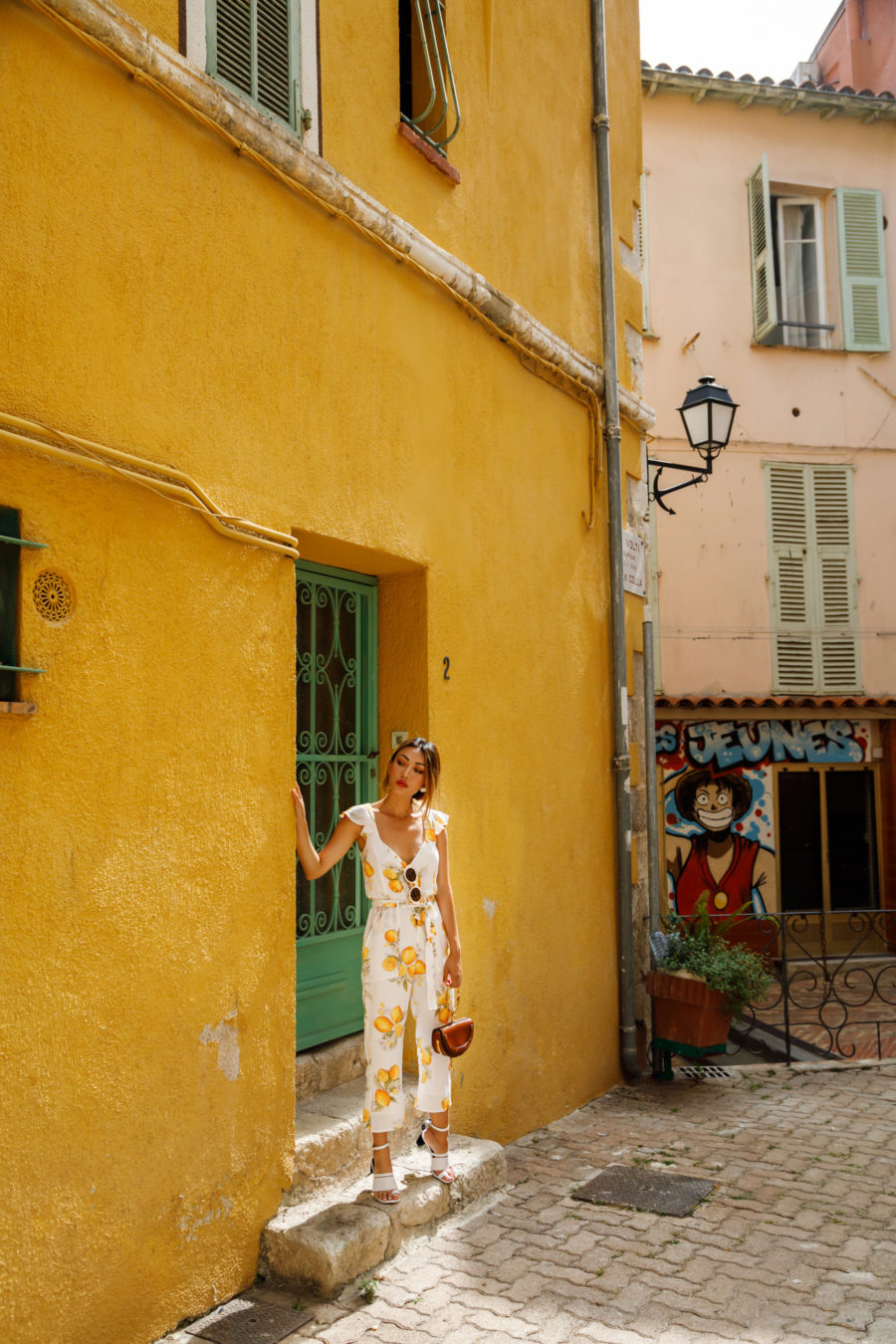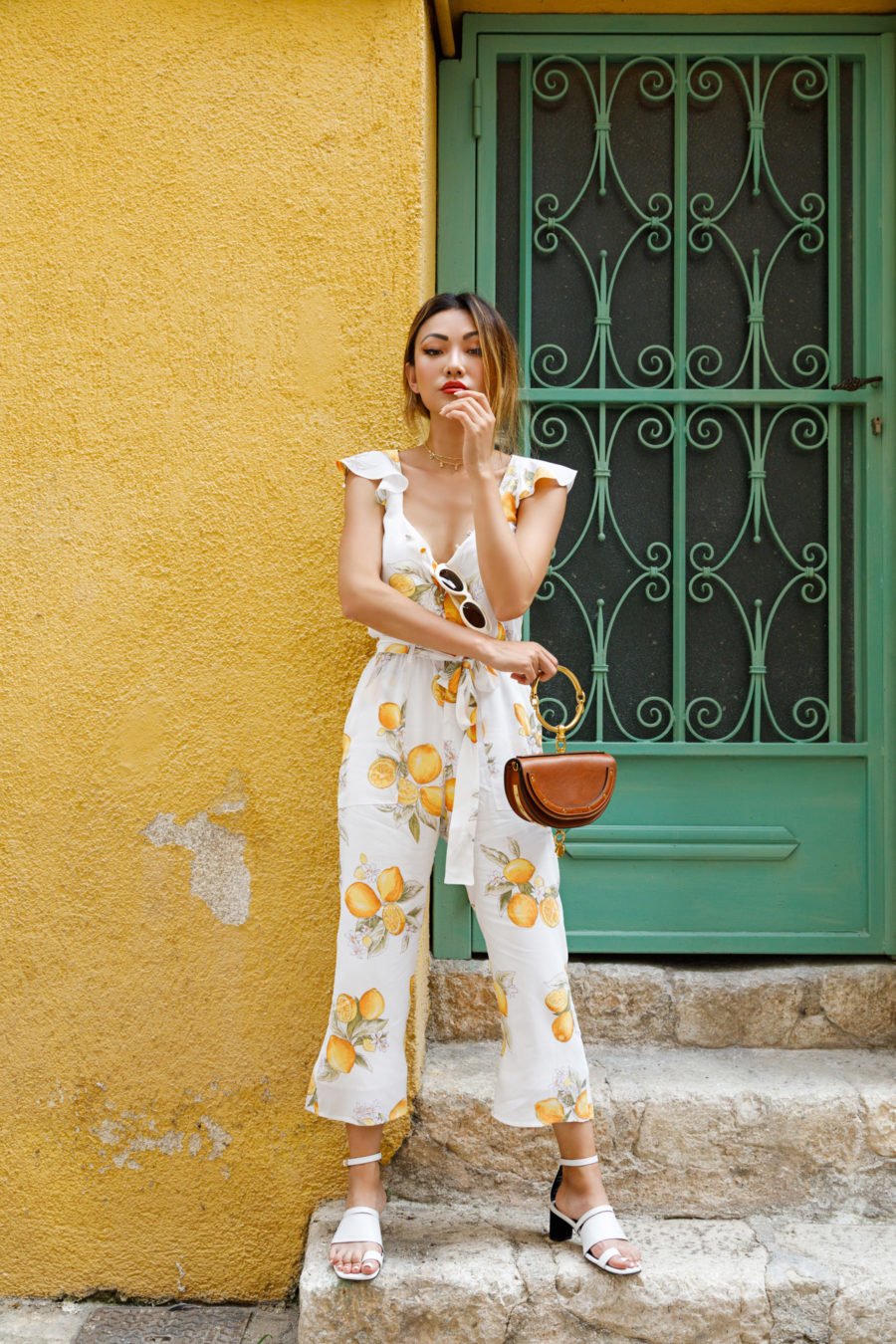 Jumpsuit: For Love and Lemons | Shoes: (similar here) | Sunglasses: KYME | Bag: Chloe
When I found this yellow lemon jumpsuit, I knew it would keep me satisfied all summer long. Come on, look at how adorable the lemon print is. There's a touch of vintage in the print. Plus with ruffled shoulder details –we're all in love, right. This vintage inspired clutch delights against a lemony jumpsuit. I went for a simple strappy white sandal to make sure all eyes stayed on my jumpsuit. This will have a heavy rotation for the rest of the summer.
…

…
In A Lavender Field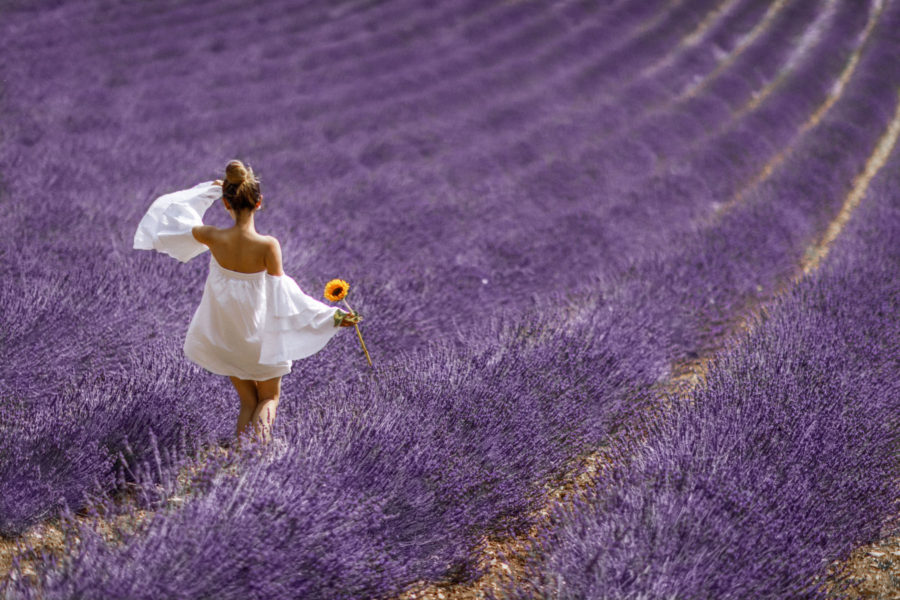 Dress: (similar here) | Shoes: (similar here) | Earrings: Kendra Scott
Provence is well-known for its lavender fields, so of course, I had to find the nearest one. Although the summer is winding down, I was still able to find a magnificent lavender field where I frolicked like a faerie and a princess. My dress, with belled sleeves, kept that enchanted energy extra high. My time in the fields reminded me to be still, simple, and super serene. This white off-the-shoulder dress was a highlight of my trip just to the Provence lavender fields.
…
Provence, France is charming itself –go for yourself to soak in the glory. I love planning outfits for all of my travels so I hope that you enjoy these roundups. See my previous roundup for Italy outfits here.