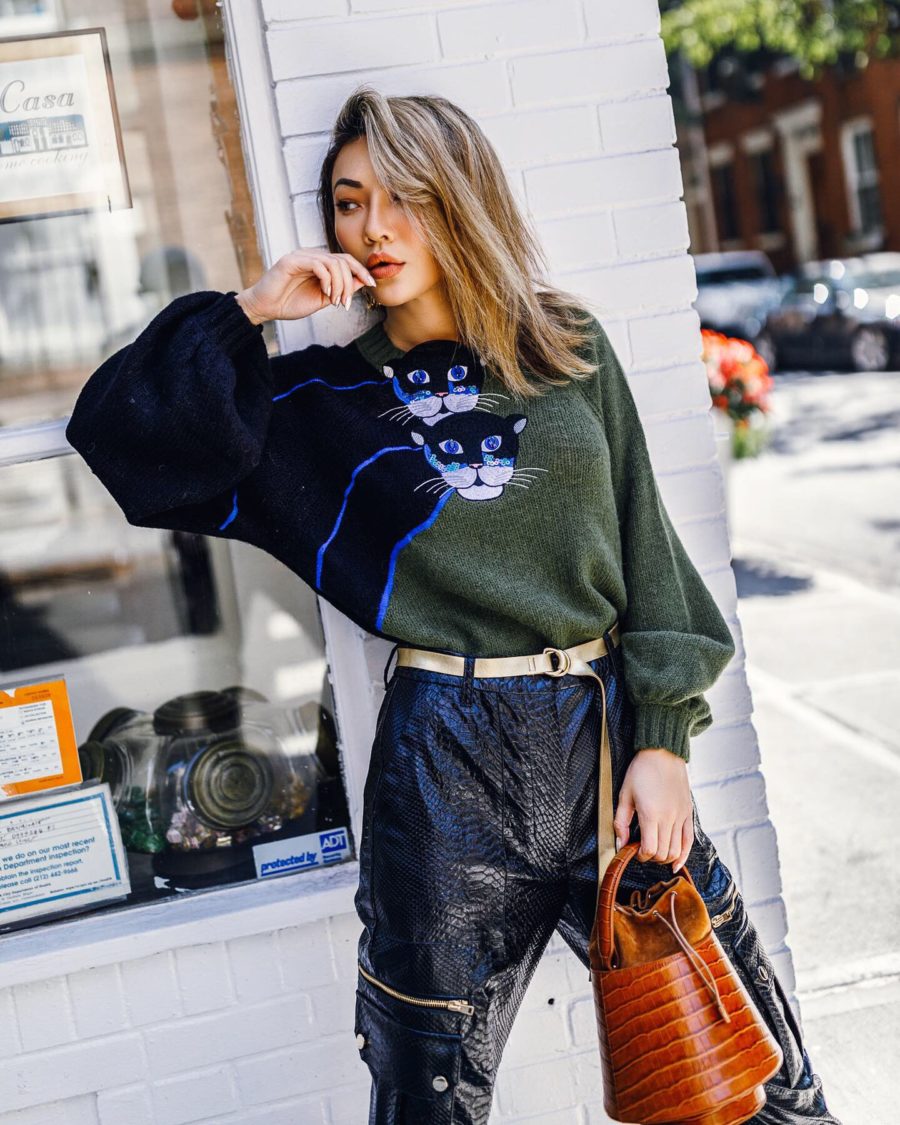 Stella Jean Cat Sweater (Sold out, Similar) | Leather Pants Similar (ON SALE!) | Mlouye Lantern Bag (Similar & Affordable) | Kalda Slides | Chanel Earrings Similar
H
appy Lunar New Year! Though
the new year technically started on January 1
, I"m hitting reset now because let's be honest, it's been a rough few weeks, amirite? Today, I wanted to talk about blogging and the direction it's headed in. A lot of new-age online influencers now use Instagram as their sole platform, forgetting that having an official .com space is still very lucrative, especially as Instagram becomes more saturated in content. A blog not only provides more opportunities to connect with your audience but allows additional space to be more creativity (and earn more money). Thus, most of the world's top influencers still regularly maintain their blog. So how exactly do you track your blog's growth? Keep scrolling to learn all about it!
…

…
Track Your Metrics
First things first, in order to really delve into your blog's growth and performance, you need to have the tools set up to track these behind-the-scenes metrics. Google Analytics seems to be the most universal web tool for doing just this. Not only is it free, but it really gives you accurate insight into the ins and outs of your own blog.
Some important metrics to follow on a monthly basis are page views (unique visitors vs returning visitors), traffic source, session duration, and bounce rate. Having a grasp of your website's performance in all of these areas is a great way to check the temperature of your space – and these learnings can be applied to increase your growth further. Here's an quick example of how I use these metrics:
Page Views
When it comes to page view, I'm mostly looking at the most popular pages and top post views as this gives me an idea of what blog titles and topics are driving the most traffic. From there, I can pre-plan for types of posts my readers want to see! I can also avoid posting about what they don't really care about.
Session Duration
With Session Duration, I can tell where my audience is spending most of their time on the blog. Again, this is cue to focus more on certain topics or go deeper on a particular subject. This information helps me plan ahead on my editorial calendar.
Traffic Source
Traffic source tells me where most of readers are currently coming from. I use this information to focus more my efforts on new and potential sources, which naturally increases my page views. A few years ago, I discovered that I wasn't pushing SEO enough, and although it took time, investing in SEO paid off.
Bounce Rate
Everyone strives for a lower Bounce Rate, although I can only imagine that fashion blogging industry average is quite high. I'm constantly looking for ways to lower bounce rate by linking old and relevant posts and focusing on new and trending topics.
…
Email Subscriber Count
Along with your metrics, it is also important to build an email list and check how many subscribers you are accruing each month. The act of subscribing means that this particular reader really resonates with your content and is willing to receive daily updates and/or notifications when new posts go live. Undoubtedly, this is a great measure of success for your blog. To start with, I would create a subscriber tracker so you can see the change in numbers from each month. From there, you can take a look at the content you produced in that time frame and how many subscribers you have gained as a result. The beauty of an email list is that you can be sure they'll engage with new products and services you offer later down the line. At the end of the day, the only thing you truly own is your email list!
Quality Engagement
When analyzing your blog, you also want to take a look at interactions, i.e. engagement. One distinct engagement metric is the amount of comments you receive per post. A willingness from your readers to leave some insight by dropping a comment is a sign of a healthy blog. Pay attention to which posts receive the most engagement. Along with the number of comments, it's also good to look specifically at what's being said. How many of these are specific to what you wrote? How many are more generic? The same usually applies for Instagram!
…
Conversion
Lastly, one of the most important telltale signs of blog growth is conversion – the one thing brands care most about! This can look like a couple of different things, depending on the type of website you run. A conversion could be turning a unique visitor into a subscriber and so forth. Specifically for a fashion blog, I am looking at conversions that lead to link clicks and sales. A large part of a fashion blog is the affiliate marketing aspect. Are my readers taking my recommendations and shopping from the items I am suggesting? Keeping track of this number is sometimes the best way to track your blog's growth – even above traffic and an email list. You can then pitch yourself to brands and pinpoint the exact aesthetic of your audience.
…
To sum it up, always remember that all good things take time! If you are not seeing your desired success in your blog metrics right now, that is completely okay! However, going through this motion and analyzing each step is crucial to excelling you website to the next level! How do you currently track your blog's growth?