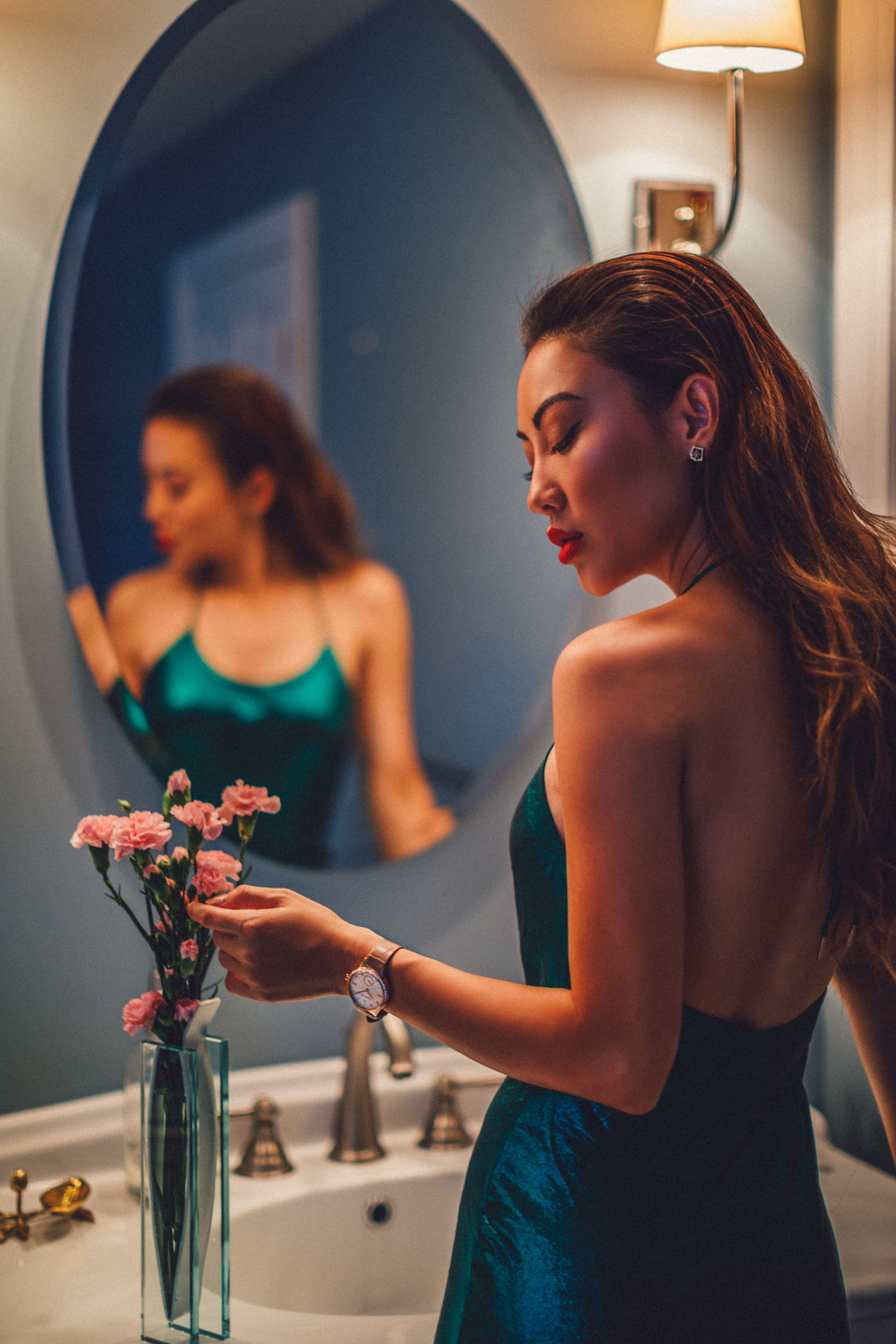 Green Satin Dress Similar (Affordable) | Tiffany Metro Watch (Affordable) | Stud Earrings Similar
T
here was a time when I felt like drugstore products just didn't cut it. From the quality of the products to the packaging, there were a lot of disconnects, which usually left me running for Sephora or department stores like Nordstrom. Fast forward to these last few years and affordable beauty products that deliver promising results have sprouted up everywhere. I'm excited to finally say that drugstore brands are changing the landscape of beauty, so I wanted to share some of my
tried-and-true affordable beauty products
you can try too!
…

…
Although I can't wait to see what comes into the spotlight this year, I'm happy with this batch here:
SKINCARE
Burt's Bees Micellar Cleansing Towelettes – Makeup wipes are perfect for those late nights when you're almost too tired to wash your face. As a fan of micellar waters, I just knew I would love these cleansing towelettes from Burt's Bees. They're so effective at removing residual makeup while simultaneously treating the skin. The cloths are eco-friendly and drenched in almost all natural ingredients! Seems pretty magical to me!
L'Oréal Pure-Sugar Scrubs – I've always found drugstore facial scrubs to be the most abrasive; however, L'Oreal has changed my opinion with this new product. It's also suitable for the lips, which was a huge win for me! I find that it's gentle, easy on the skin, and effective at polishing away dead skin cells and debris.
Neutrogena Deep Clean Purifying Clay Face Mask – You might remember seeing this product on my Instagram back in December, and I'm still using it! It's a dual mask and cleanser concoction that gives me clean, soft, glowing skin. It's definitely worth trying if you're in need of new skin solutions.
BASE
Olay Luminous Whip Facial Moisturizer – If you're in the market for a new moisturizer, this one is a must-try with its weightless, powerful, and potent formula. At first touch, it feels like a gel and cream mixture that absorbs rather quickly. It helps makeup sit better, blurring pores and resulting in a matte finish.
Physicians Formula Nude Wear Touch of Blur – For a quick wake-me-up look, I always turn to this Touch of Blur. It seems to erase signs of fatigue and dark circles effectively but naturally. Plus, the packaging is instagrammable and would be a gem in your next flatlay!
L'Oréal True Match Lumi Glow Amour Glow Boosting Drops – These glow boosting drops are perfect for nailing dewy winter skin that's so hard to achieve when it's frigid cold outside. You can use them alone or add a few drops to your favorite base products. I love how natural it looks on.
Maybelline Fit Me Mineral Loose Finishing Powder – I tend to get oily in the t-zone, so a finishing powder is a must! It can pass for a dupe to Laura Mercier's Translucent Powder, which so many industry insiders swear by. I have no issues with creasing or chalkiness but I'm not a huge fan of the packaging. However, don't let that be a deal-breaker for such impressive results you can get.
CHEEK
Maybelline Master Chrome Metallic Highlighters – I already mentioned in a separate post how I'm looking forward to gold glistening skin this spring season. These highlighters will deliver that pearlescent dimensional shine to achieve that goddess look. It's buttery smooth and can get pretty intense.
NYX Holographic Halo Sticks – I'm not shying away from highlighters at all, and you can rely on these halo sticks to give you that pearly, unicorn glow. See it as a staple for those upcoming music festivals – or just gloss it over the eyes for a high-shine look.
NYC HD Blush – For a dirt cheap blush that blends evenly and smoothly, NYX's HD Blush won't disappoint. Aside from the gorgeous range of colors, you can expect a pigmented finish that delivers a healthy flush. Be sure to apply with a light hand because it can get heavy.
EYES
Rimmel London Magnif'Eyes Eyeshadow Palette – If you just can't see yourself forking out $50 on those highly-coveted Naked Palettes, Rimmel's got you covered. In the Magnif'Eyes line, you get a gorgeous range of matte and shimmery shades that are super versatile to use. The colors blend nicely and can be worn to create a natural or dramatic look.
L'Oréal Voluminous Liner Noir Liquid Eyeliner – I can't live without my eyeliner of course, so I was pleasantly surprised by this one by L'Oreal. Its ultra-fine tip helps you create a flawless feline flick however thick or thin you like. It's super black just the way I prefer. It also makes the application so much easier!
L'Oréal Voluminous Feline Mascara – I tend to have a bias for L'Oreal mascaras, but this one is truly impressive! I love how it opens up the eyes and really adds volume. It makes a nice match for the liquid eyeliner above 🙂
LIPS
Revlon Kiss Exfoliating Balm – Dry lips are a never-ending battle in the winter. This exfoliating balm in bullet form from Revlon is pure genius. It keeps the lips super soft and moist and provides a nice minty feeling. But best of all, it's travel-friendly!
CoverGirl Melting Pout Gel Liquid Lipstick – Aside from having to be careful with the colors you pick, I was really pleased with the color payoff. The lasting power isn't quite as impressive as the ones from Bite Beauty, but for the price, it's worth trying! The soft applicator helps the product glide on easily and it also feels super nourishing on.
Maybelline SuperStay Matte Ink – With this product, you'll achieve an intensely-pigmented, flawless finish that just stays put! Some say it's similar to Huda Beauty's, which I can't speak to personally. However, it's definitely comparable to high-end beauty brands.
Please let me know what your favorite affordable beauty products are below, so I can try them too!