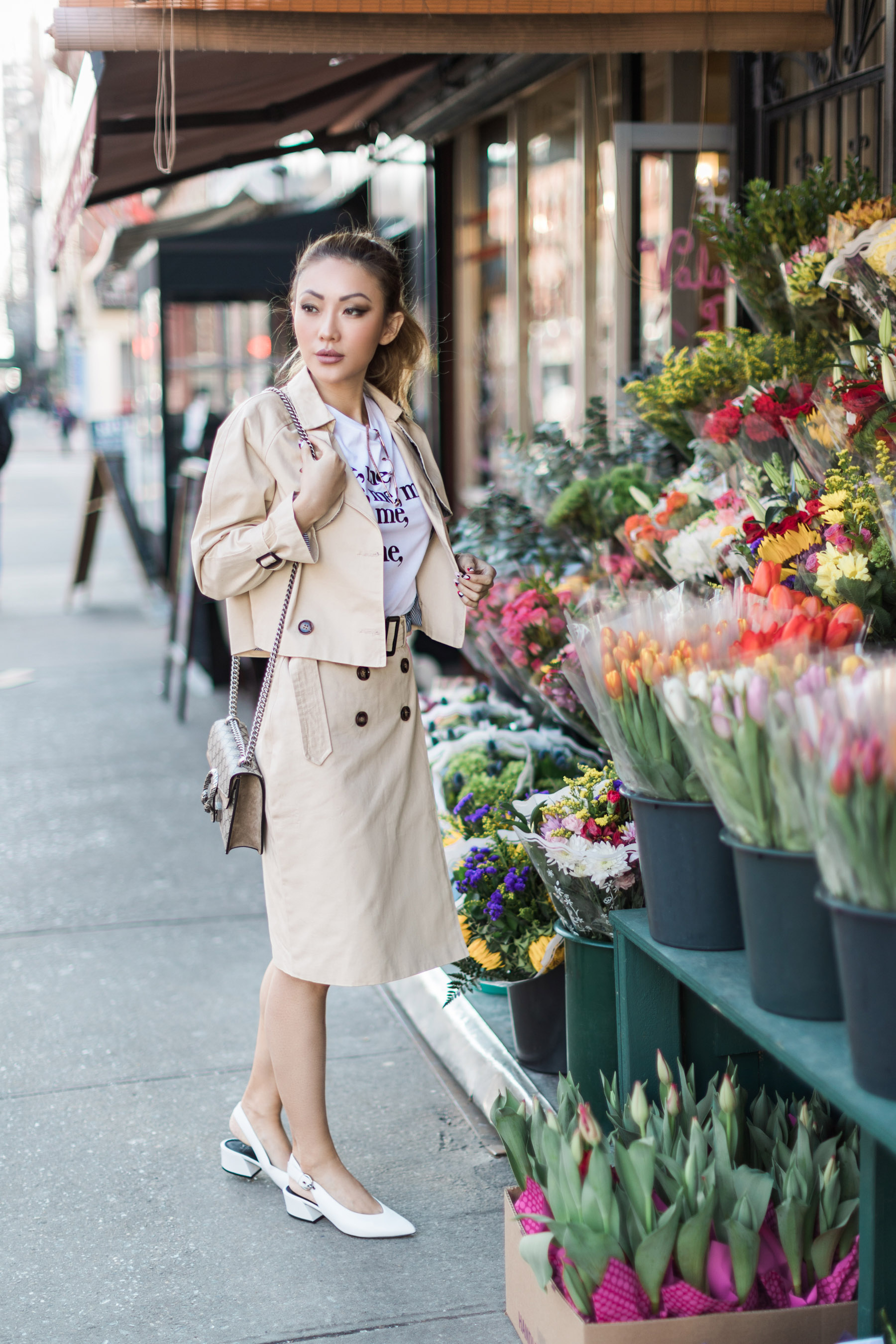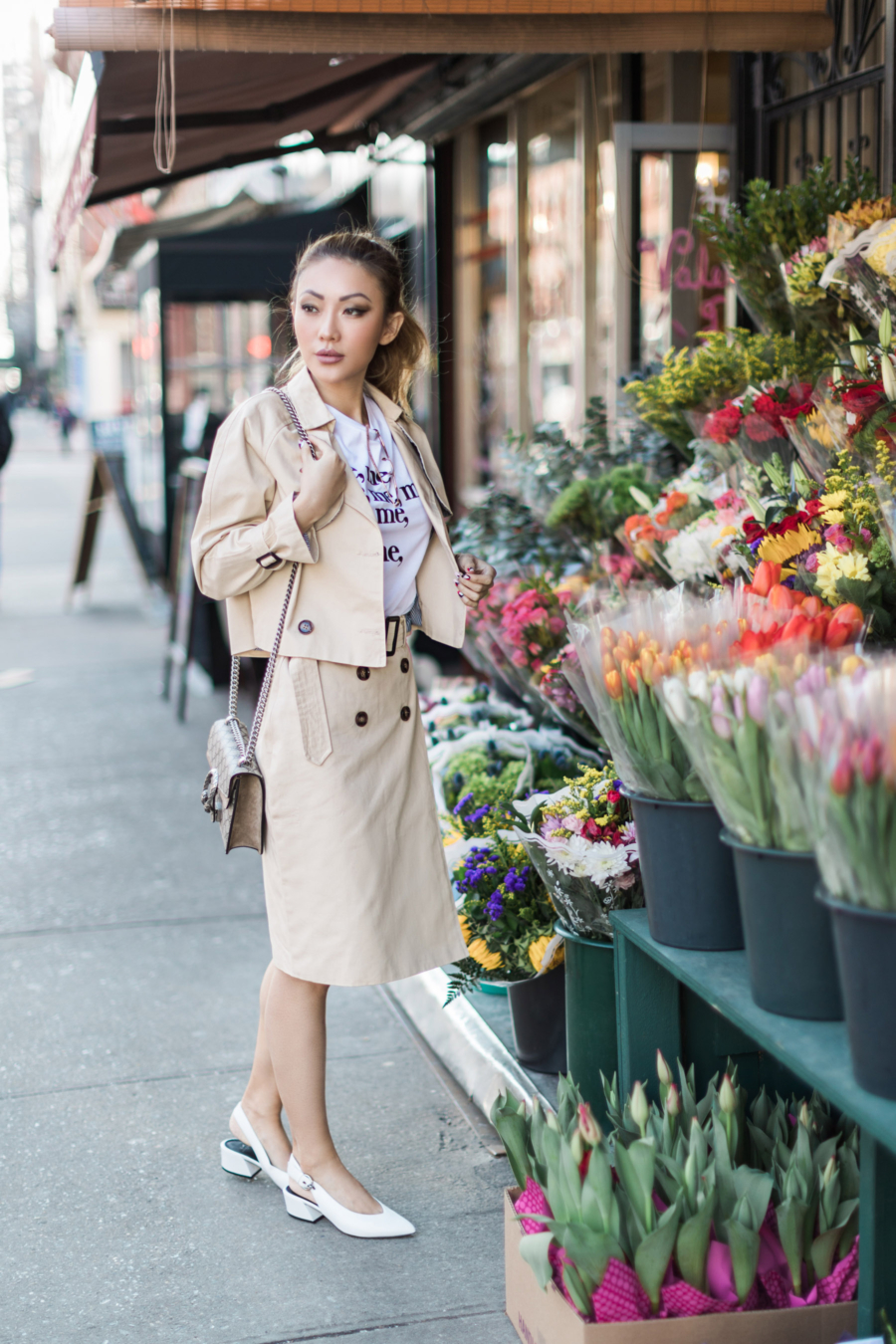 Top: (similar here) | Trench Skirt: (similar here) | Shoes: Marc Fisher (similar here) | Bag: Gucci
Hello summer white, we've been waiting for you since winter touched down! While winter white is popular and an acceptable fashion trend, there's nothing quite like summer white. Where winter white is creamy, summer white is stark and fresh.
If you're like me, you try to get as much use out of summer white as you can. During the summer, when we have that sun kissed look, white looks stunning. White jeans are out of this world and so are white handbags, but my ultimate favorite is summer white shoes! Take a peek at my list of no-brainer white shoes for the summer and have as much fun as you can with summer white.
…

…
Boots
Summer white boots are smoking hot. Obviously, we're talking ankle boots here. For summer, choose a monochromatic outfit, like yellow, pink, or blue, and zip up a pair of white booties. Whether you go for a stiletto or chunky heel, the summer white boot will get you all the attention and then some.
…

…
Espadrilles
Espadrilles are the ultimate summer shoe. The organic wedge, the fabric, the tie straps make for a classic, yet comfortable summer accessory. Instead of stripes or bright colors, find a white pair of espadrilles to make any outfit pop under the summer sun. The white espadrille is a neutral, therefore feel free to pair it with several pieces.
…

…
Slides
A summer slide is essential. Summer sometimes requires little to zero fuss –sometimes it's rushing out the door fast for a last minute cocktail hour or a spontaneous getaway. White slides beckon that summer vibe, plus their easy to slip off and on. Perfect with anything from jeans to summer skirts, both long and short.
…

…
Flats
Ballerina flats are dominating the summer shoe trend this year. Not only are they comfortable, but super cute. From round toes flats to pointy toes ones, this summer white shoes is a must for those who want to have that trendy summer shoe without much fuss.
…

…
Mules
Mules are probably the most popular summer white shoe for a few reasons –functional, feminine, and fancy. With a summer white mule, almost any outfit can be turned from basic to bold. Slip on a summer white mule with a pair of jeans and the look transforms immediately. Summer white mules are a must-have.
…

…
Pumps
Want to go for a daring summer white, then look no further. The summer white pump is your fix and will really stand-out in a crowd. A pair of cut-offs and any blouse matched with a summer white pump for a night on the town will bring all the summer vibes your way. Rock a summer white clutch and you're set.
…

…
Kitten Heels
Want a summer heel, but not the height of a stiletto, then the kitten heel is for you. The summer white kitten heel is a great alternative to the standard high heel, plus it has a girly quality that takes a pair or skinny jeans or colored slacks to a new level. Avoid rounded toe kitten heels as they will make you appear shorter and cut the line of your leg. Go for pointy toes or open toes to extend your leg line.
…

…
The gallantry of summer white shoes is not as difficult to pull off as you might think. With classic stylings, summer white shoes have potential to build a summer wardrobe worth fashionista praise.