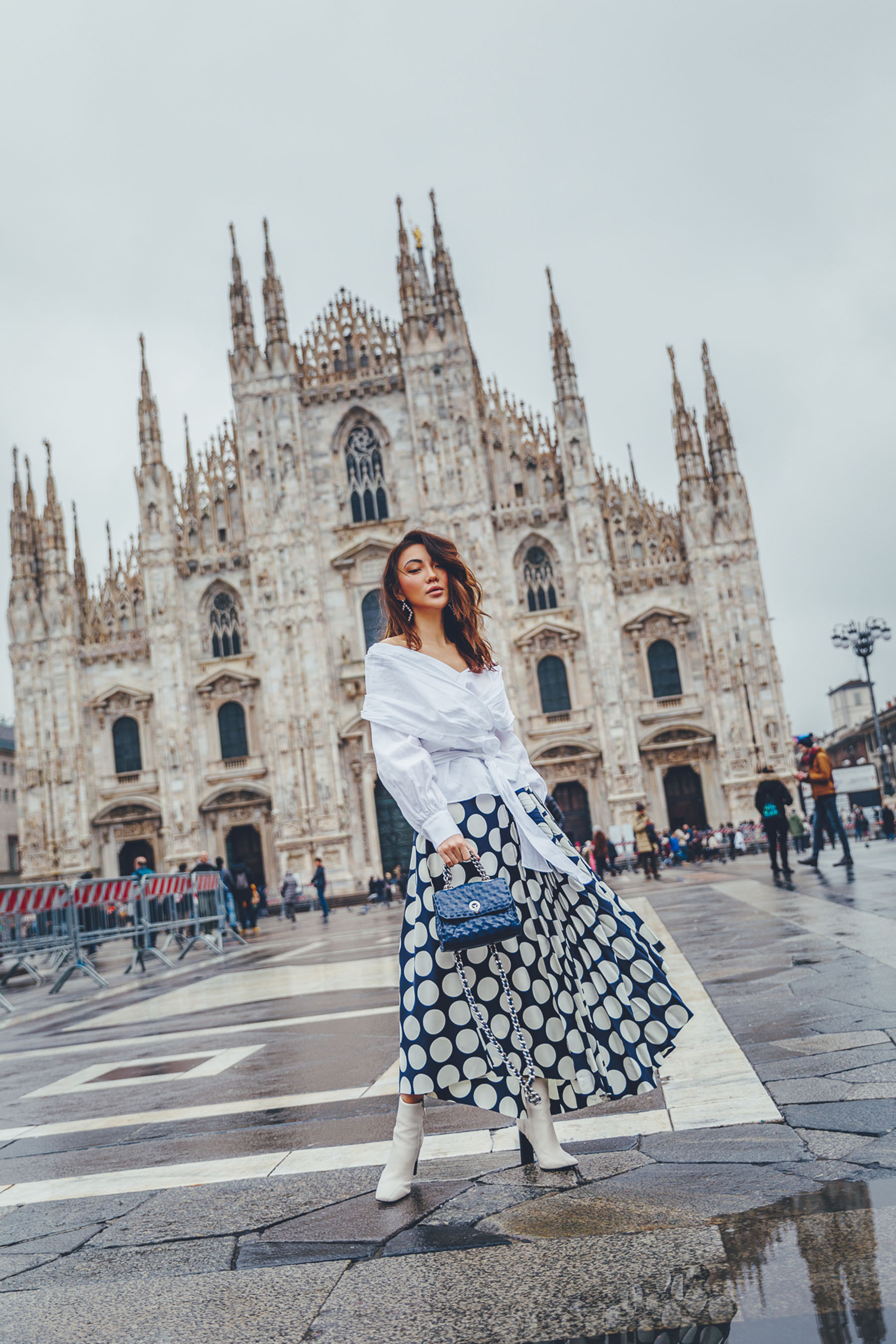 BCBG Off The Shoulder Top (Sold Out, Similar) | Polka Dot Skirt Similar | Blue Chain Bag Similar | White Boots Similar | Pearl Hoop Earrings Similar
A
fter a full month of trekking across the
four major fashion capitals
of the world, I'm both sad and excited to say that it's come to a close! The highlight of this fashion week season was partnering with
Gilt
– and being able to pick out personalized looks that epitomize my daring, forward style. Then, sharing those pieces and outfits with you guys! I've seen and worn so many new trends all in one month, so I wanted to recap it all in a single post and round up what I believe to be the best 2018 fashion trends.
…
Remember that you can find all these trends on Gilt, so be sure to stop by my curated shop HERE and get ahead on your wardrobe. First up, let's look at New York City!
New York City
New York City is known for its colorful, audacious style sense. Most fashionistas know that when they come to NYC for fashion week they can experiment with any trend and mix up any style – and it always somehow works. I personally wore a mix of trends, but my favorite was meshing different fabrics!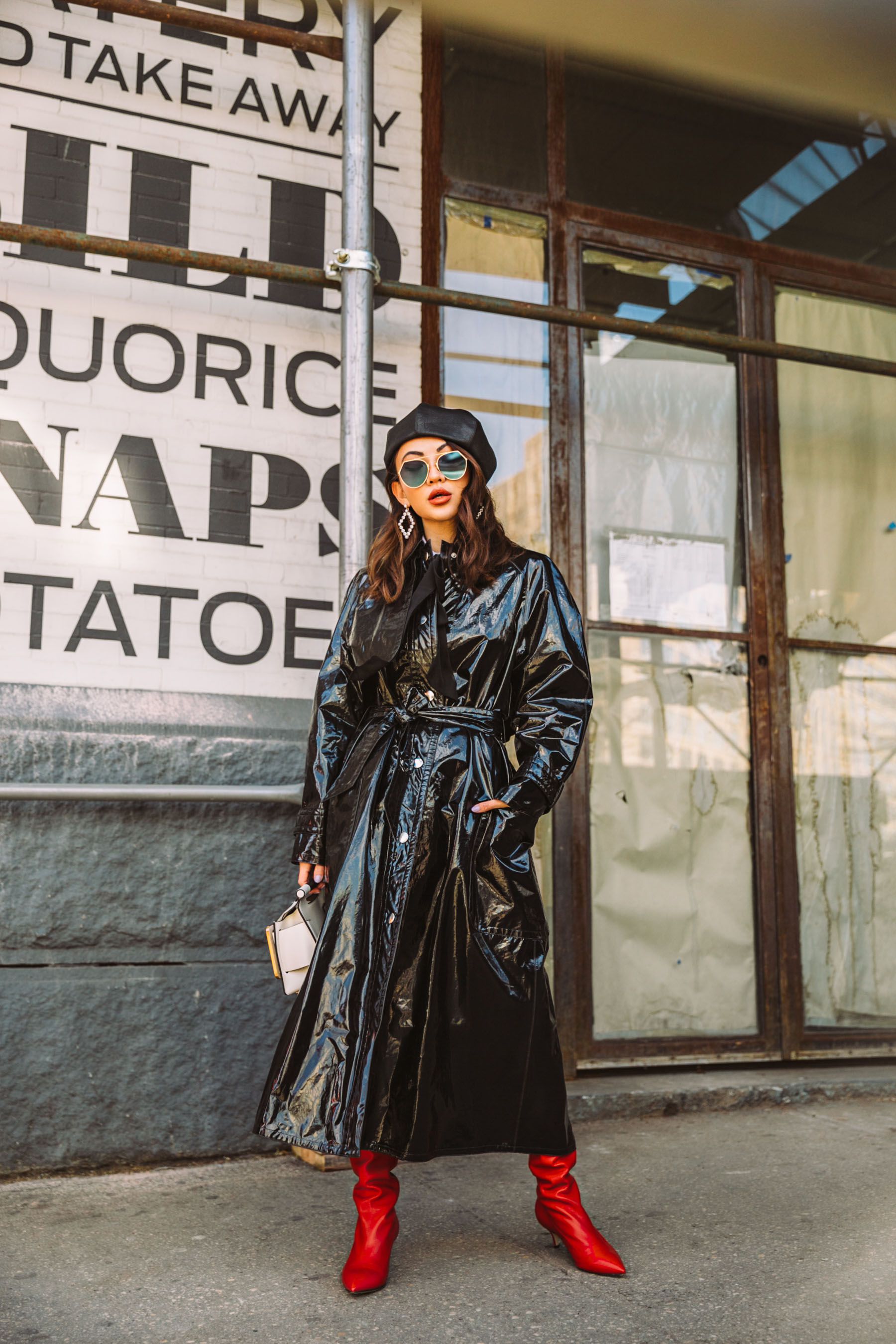 Isabel Marant Vinyl Trench Coat | Paul Andrew Boots | Fendi Mirrored Sunglasses Similar | White Buckle Bag Similar
Fancy Fabrics
Mixing fancy textures and fabrics were an overarching theme I noticed throughout fashion month – and it was a look I work during NYFW. Whether it's wearing vinyl with leather or chiffon, get fancy with your fabrics and mix them all together. This season, you can expect to see transparent vinyl garments whether it's a clear raincoat or your office tote. Throw in mirrored sunglasses or metallic pieces to create an interesting contrast.
…
London
Setting foot in London shows you instantly that it's a city of youth. Here, you'll find a mix of clashing styles – either really cool, adventurous cuts or feminine silhouettes. It's known for having a plethora of young, up-and-coming designers, so you can expect edgy, modern takes on classic items like a trench coat, but also expect to see girly components such as tights and a-line mini skirts. For this reason, I chose to go bold in London!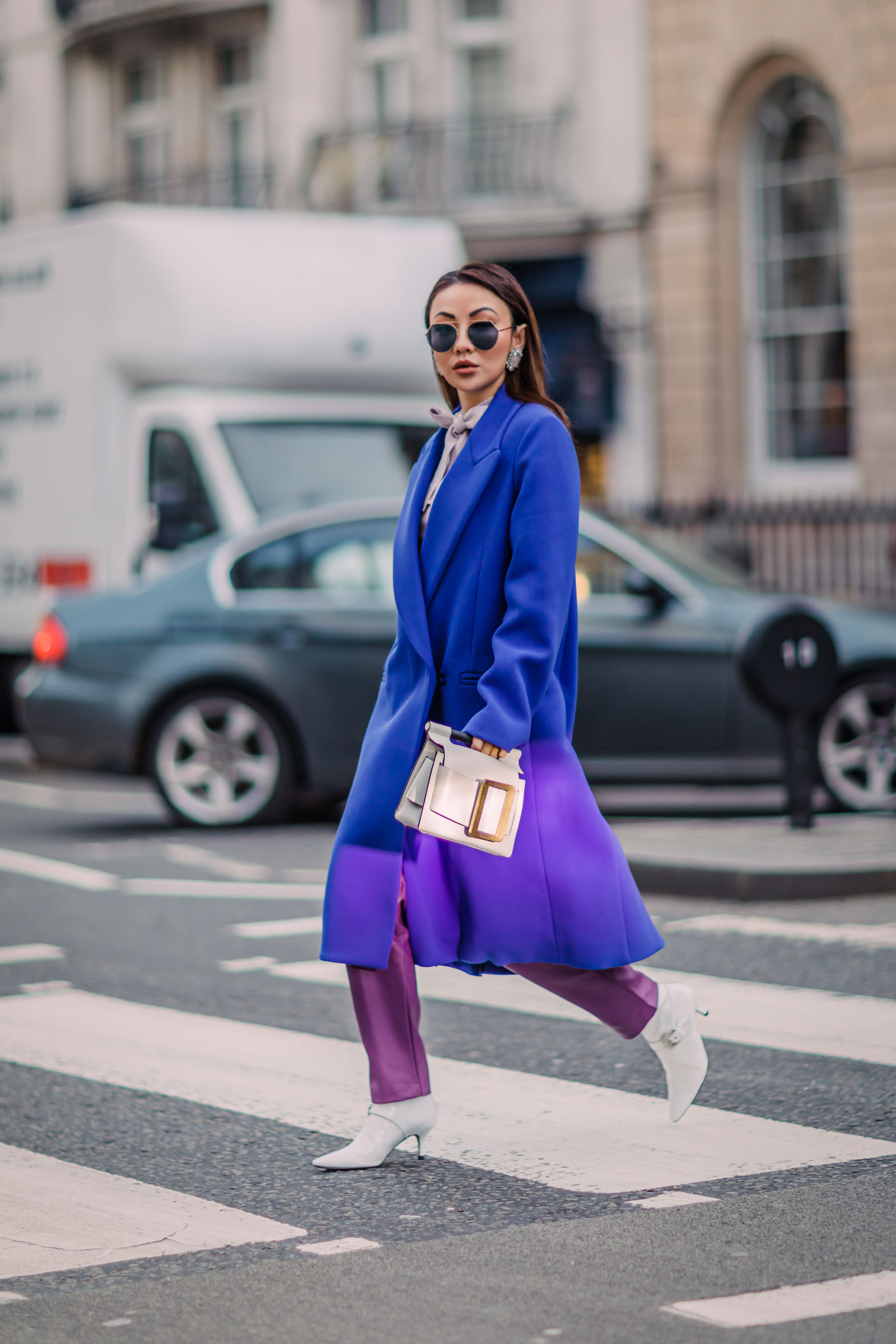 Victoria Beckham Coat (Sold Out, Similar) | Bow Blouse Similar | Purple Trousers Similar | Mirrored Sunglasses Similar | White Buckle Bag Similar | Dorateymur Saloon Boots Similar
Bold, Saturated Hues
I have to confess that bold hues is one of my favorite trends for 2018 because nothing makes an outfit stand out like color. Whether you're into mustard yellows, reds, or muted pinks, now is the time to bring out your best and brightest. Break it up with neutral accessories and dark sunglasses.
…
Milan
I love Milan for its opulence and over-the-top styling hacks. The city is always a little exaggerated whether it's maximum volume, excessive adornments, or unexpected accessories. In Milan, there's no such thing as too much – and they always bring it! That's exactly why I went with a voluminous off the shoulder top in Milan!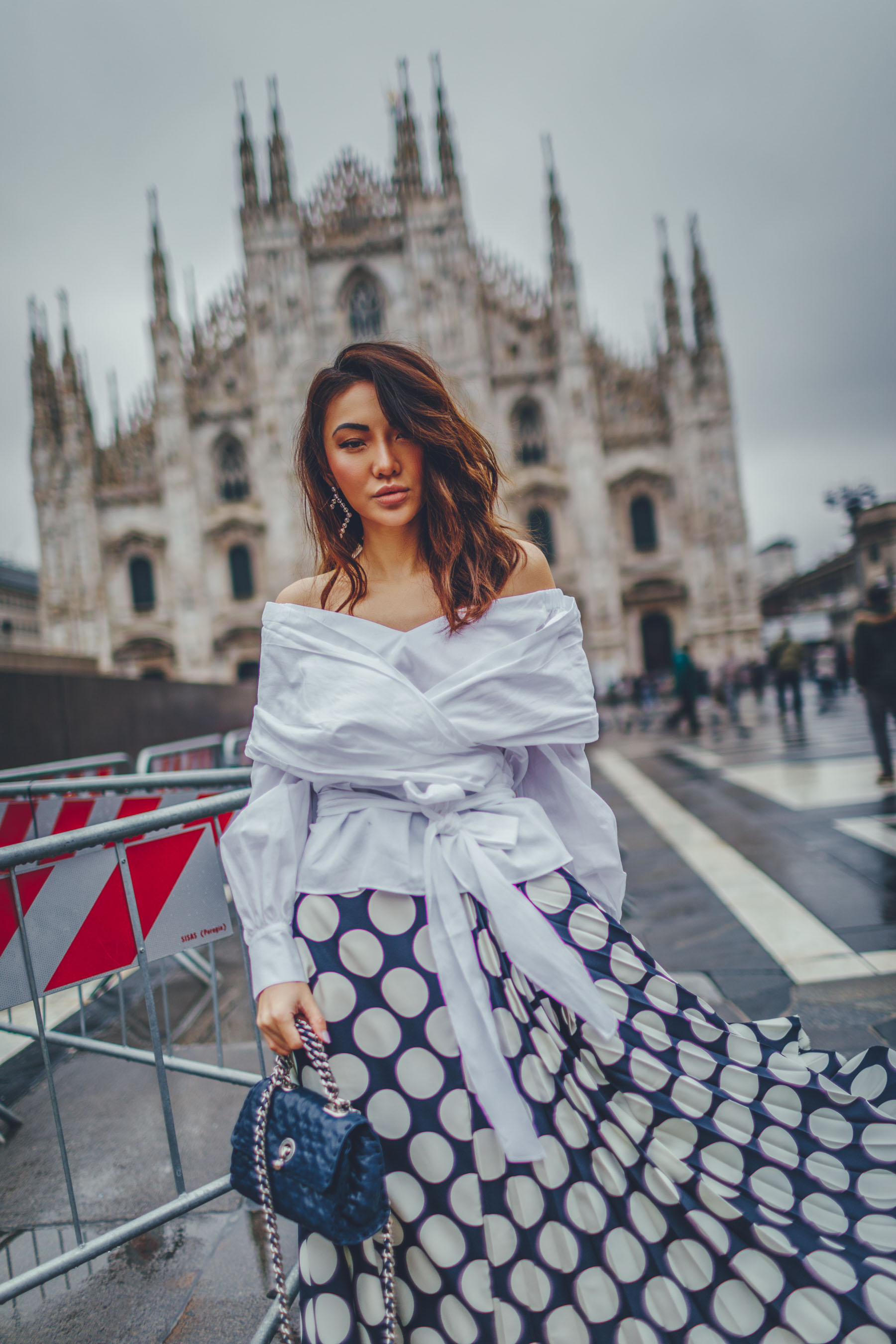 BCBG Off The Shoulder Top (Sold Out, Similar) | Polka Dot Skirt Similar | Blue Chain Bag Similar | White Boots Similar | Pearl Hoop Earrings Similar
Off-the-shoulder tops are still going strong for 2018. However, look for new details that make this style fresh whether it's a unique ruffled neckline, pleated details, or an asymmetrical cut. I love the complex layering and tie-waist details like in the wrap top I'm wearing. Although this one in particular has sold out, Gilt has plenty more unique ones for you! (Note: I also really love the ones here, here and here!)
…
Paris
Paris is known for housing some of the world's most talented, prestigious labels like Chanel, Celine, Valentino, and more, so it's no surprise that the city is always beyond sophisticated. Everyone goes crazy over effortless, Parisian style, and I can tell you first-hand that the chic insouciance exists. Below, you can see me paring it back in subtle prints for Paris!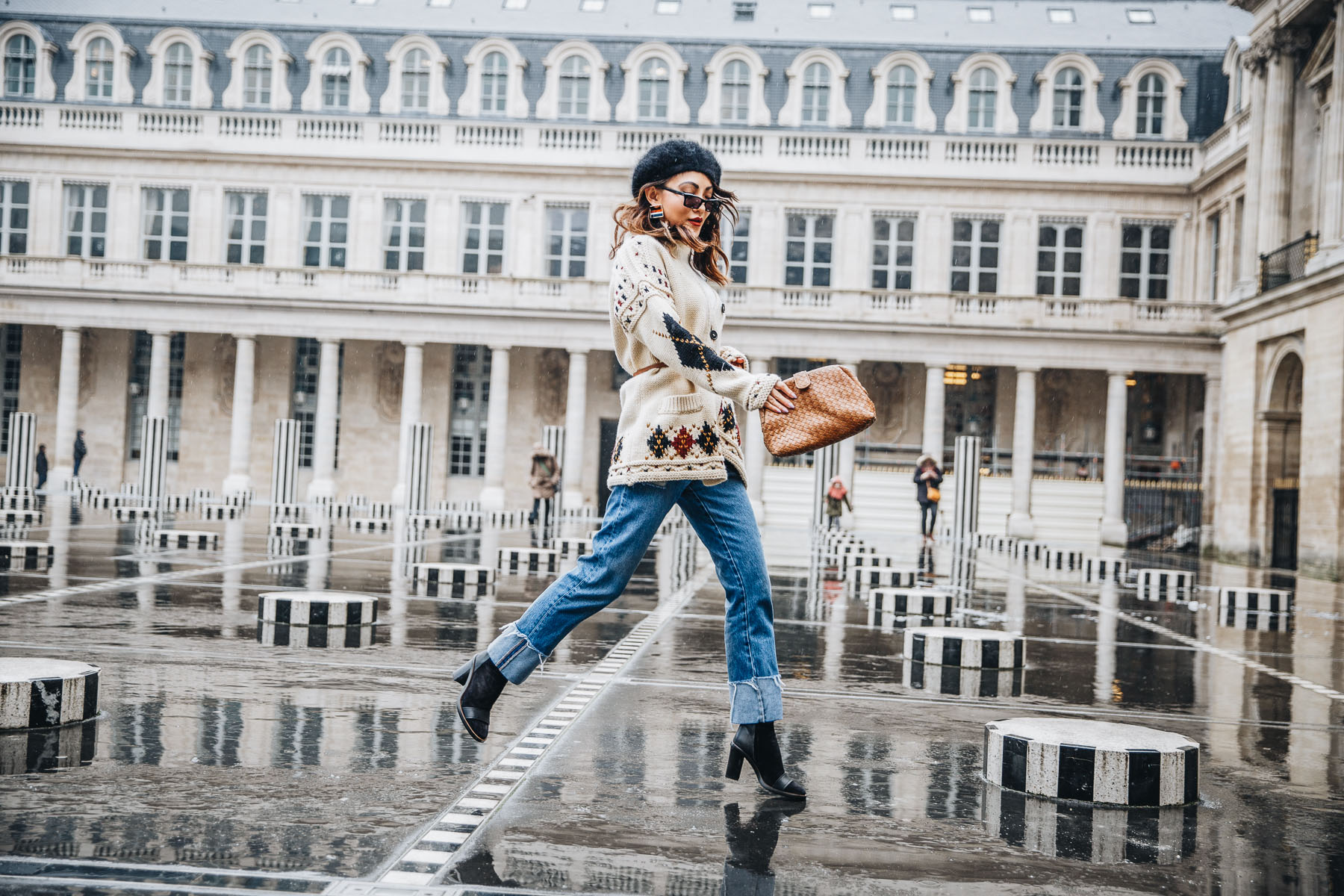 Isabel Marant Intarsia Cardigan | Cuffed Distressed Jeans Similar | Andy Wolfe Sunglasses Similar | Bottega Veneta Clutch Similar | Isabel Marant Boots
Prints & Patterns
Finally, a trend to really make note of for 2018 are seasonal prints. For transitional dressing like winter to spring, I'm loving intarsia prints like in the cardigan seen above. However, as we head into Spring summer, don't shy from fun star or ditzy floral prints. I really love this look with neutrals or basics like denim! I also love this micro-floral printed dress and this Springy top!
…
What are your favorite 2018 fashion trends? Don't forget to shop my favorites on gilt!
fashion week trends