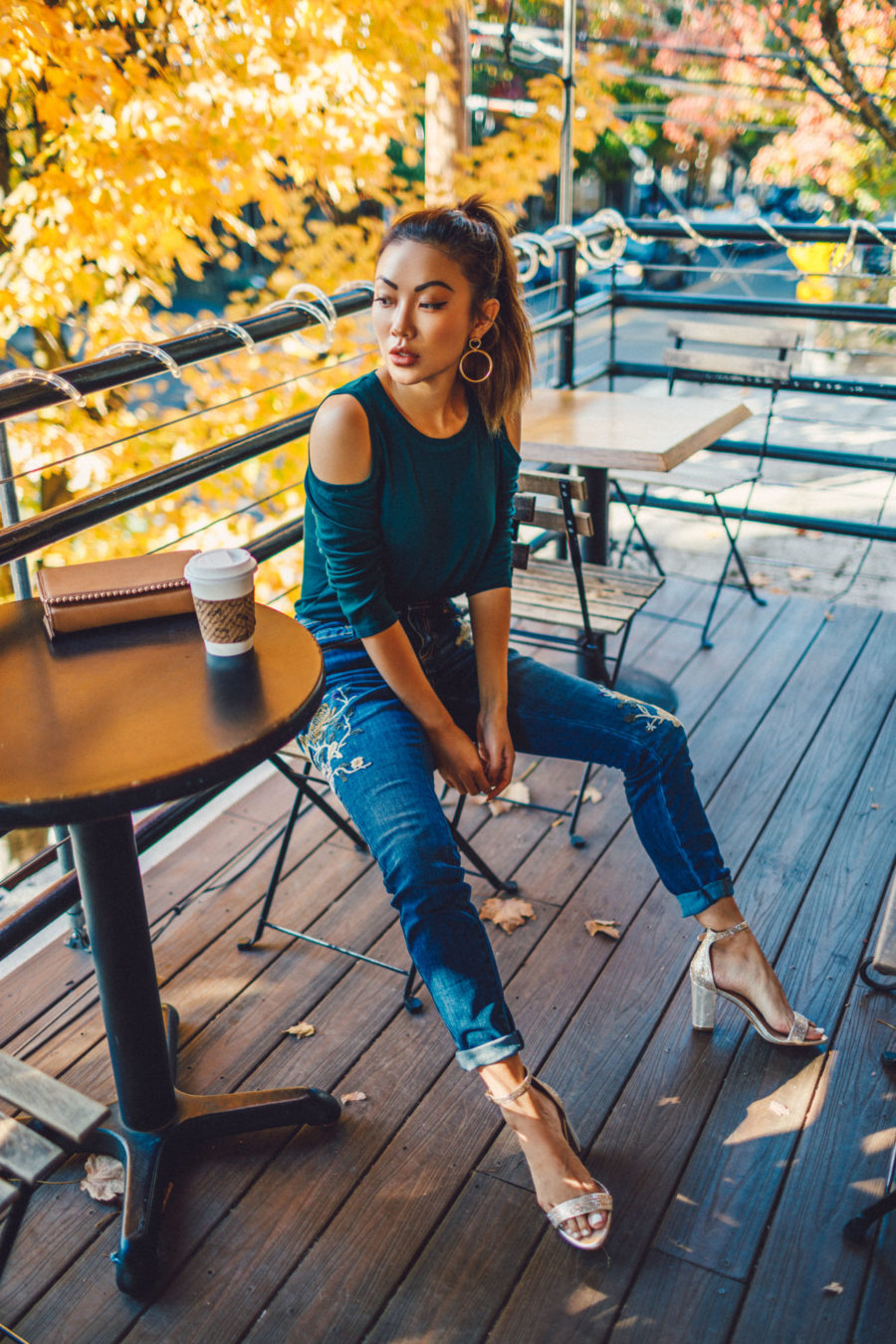 Cut Out Top Similar | Floral Jeans Similar | Metallic Sandals Similar | Nude Clutch Similar
T
he holidays are truly the best time of the year! Everyone is in good spirits and there are so many excuses to get together and see your closest friends and relatives. Given that Thanksgiving will be here sooner than you expect, I wanted to put together a couple of outfits that are ideal for any sort of festivity that should arise. Because let's be honest, something you might wear to a lowkey Friendsgiving might not necessarily be something to
wear to a work function
! Let's breakdown what to wear for every Thanksgiving event.
…

…
Work Potluck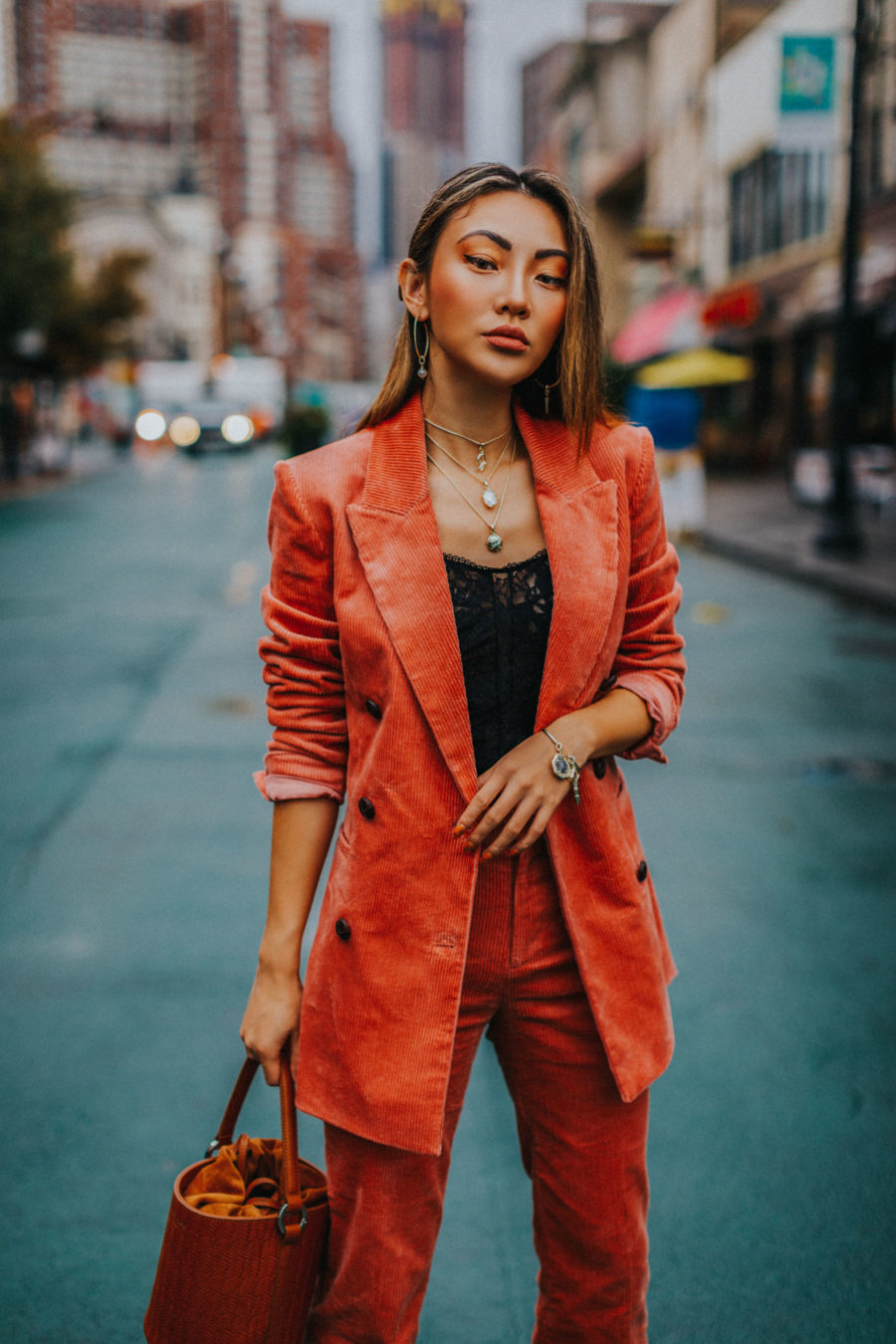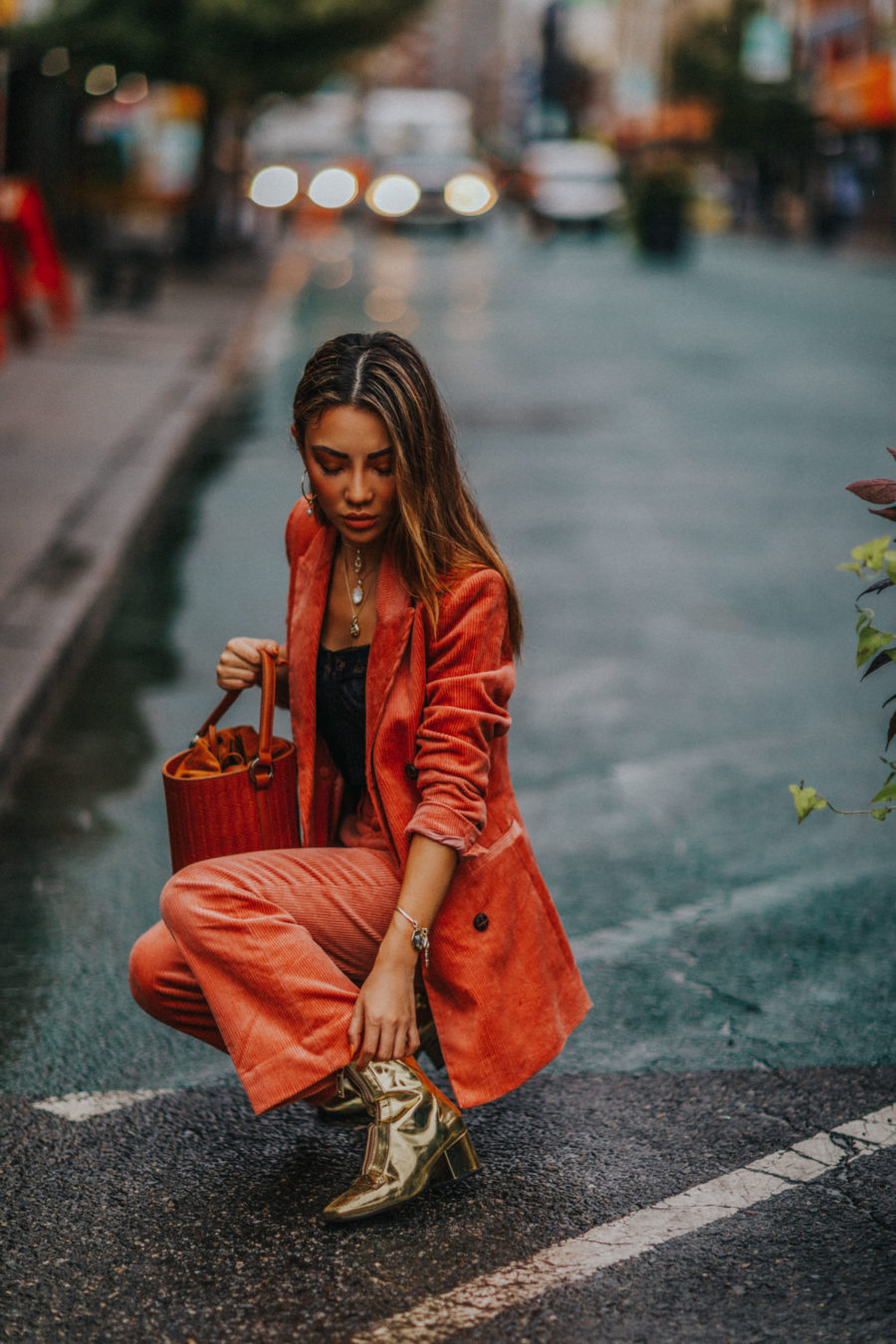 Although I don't hold a conventional 9-5 job at an office, I do miss it and often wonder what I what would wear to certain work events. If you have an upcoming work potluck, this is what I would recommend wearing – a suit! Any excuse to wear a suit is a plus, especially when that suit is all corduroy or velvet. I thought this was such a fun color for autumn and would be perfect for the office. To incorporate some bling, I layered on some necklaces and added drop earrings.

…

…
Friendsgiving
I am a big proponent of festive chunky sweaters come the holidays because they are so comfortable, yet can look so dressed up. For a Friendsgiving gathering, I think it is totally okay to get a bit more trendy and fun with your outfit. I opted for this holiday appropriate trouser with ruffles. Then to add some pattern and contrast, I topped it off with a striped sweater in the perfect fall colors and completed the look with some sock booties. The only thing missing is the perfect bucket bag.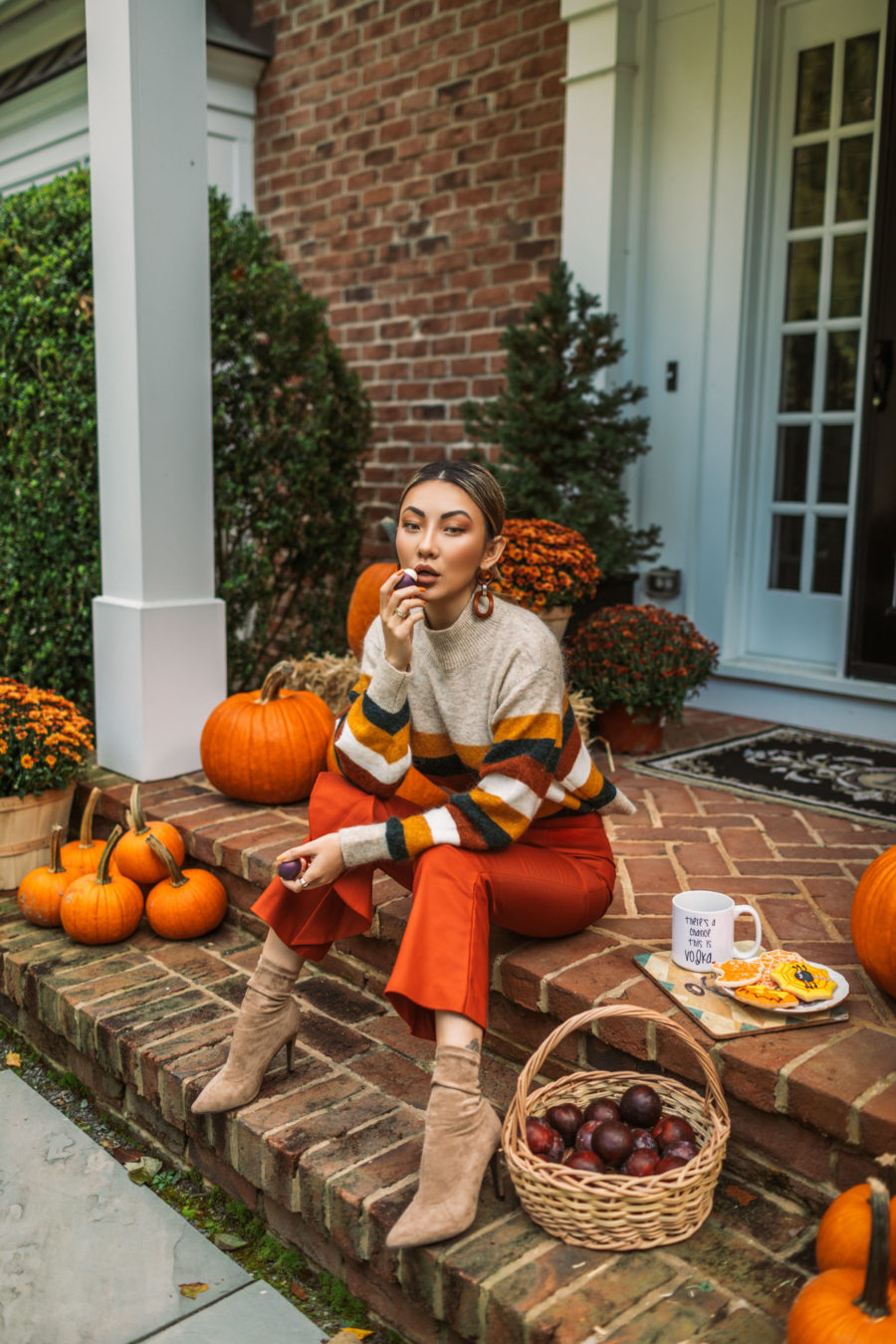 …

…
Family Thanksgiving
Getting together with my side of the family means I can be a bit more casual when it comes to getting dressed! My family certainly loves to eat, so I wanted to wear something cozy and forgiving.
I decided to wear this drop waist structured dress. The large ruffle hem and puff sleeves add so much character to my look. If it wasn't already cozy enough, I layered an equally neutral sherpa vest on top for an extra element of warmth. As far as accessories, my Marni Monile bag and statement fringe earrings added just a touch of glam.
…

…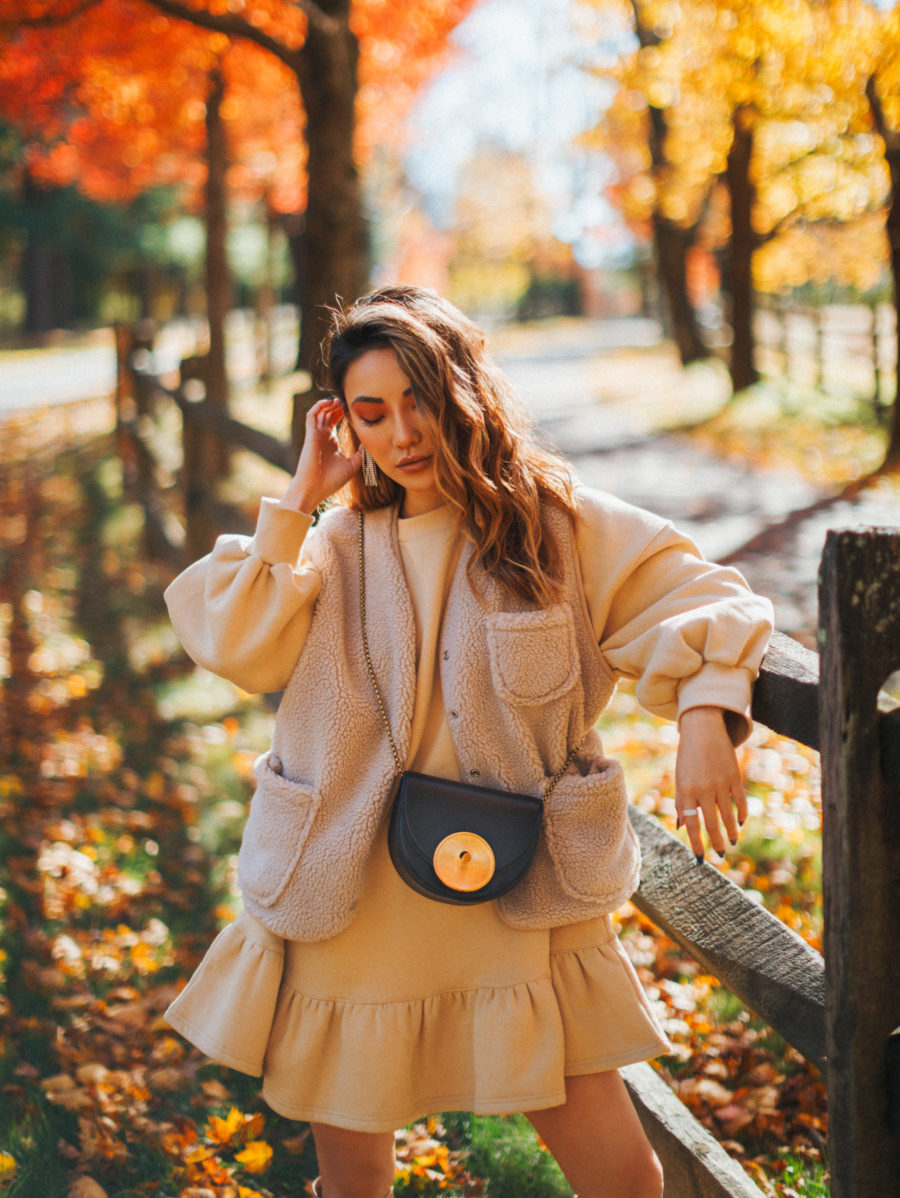 Significant Other's Family Thanksgiving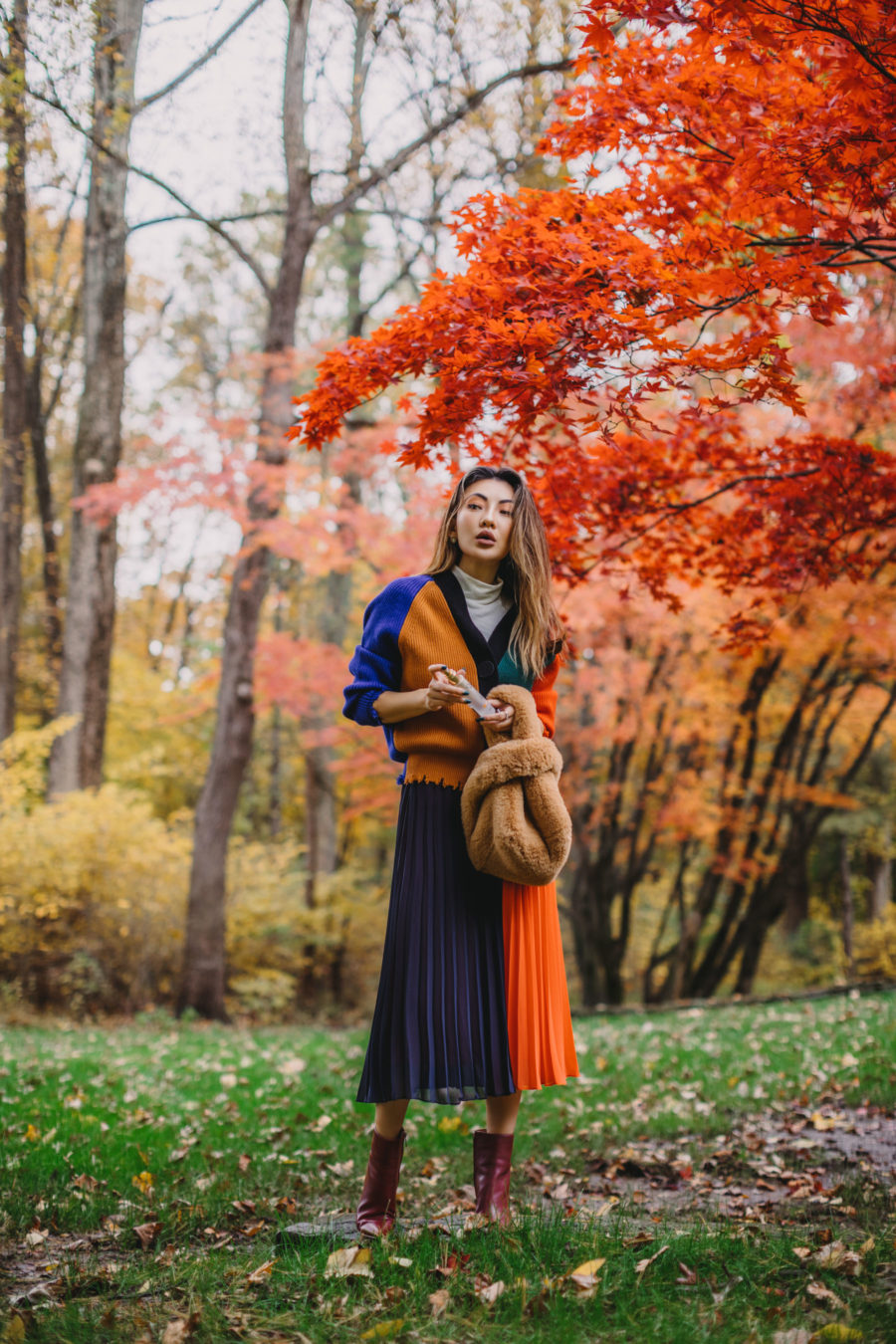 Lastly, for dinner with my husband's side of the family, I wanted to look festive but also classy. This layered turtleneck and cardigan sweater pairing was calling my name. I adore bold colors that mirror the yellow and orange leaves of the season. And I don't think a midi skirt could be more appropriate for an evening spent with his family. No matter how crazy the color palette gets, it's a piece that remains timeless and classic. The different materials from the knits and skirt worked perfectly to create a balance between formal and relaxed.
…

…
I hope this gave you some ideas on what to wear for every sort of Thanksgiving event you might be invited too! Again, this is such a fun time of the year and you can really experiment with different looks and aesthetics. Which outfit is your favorite?