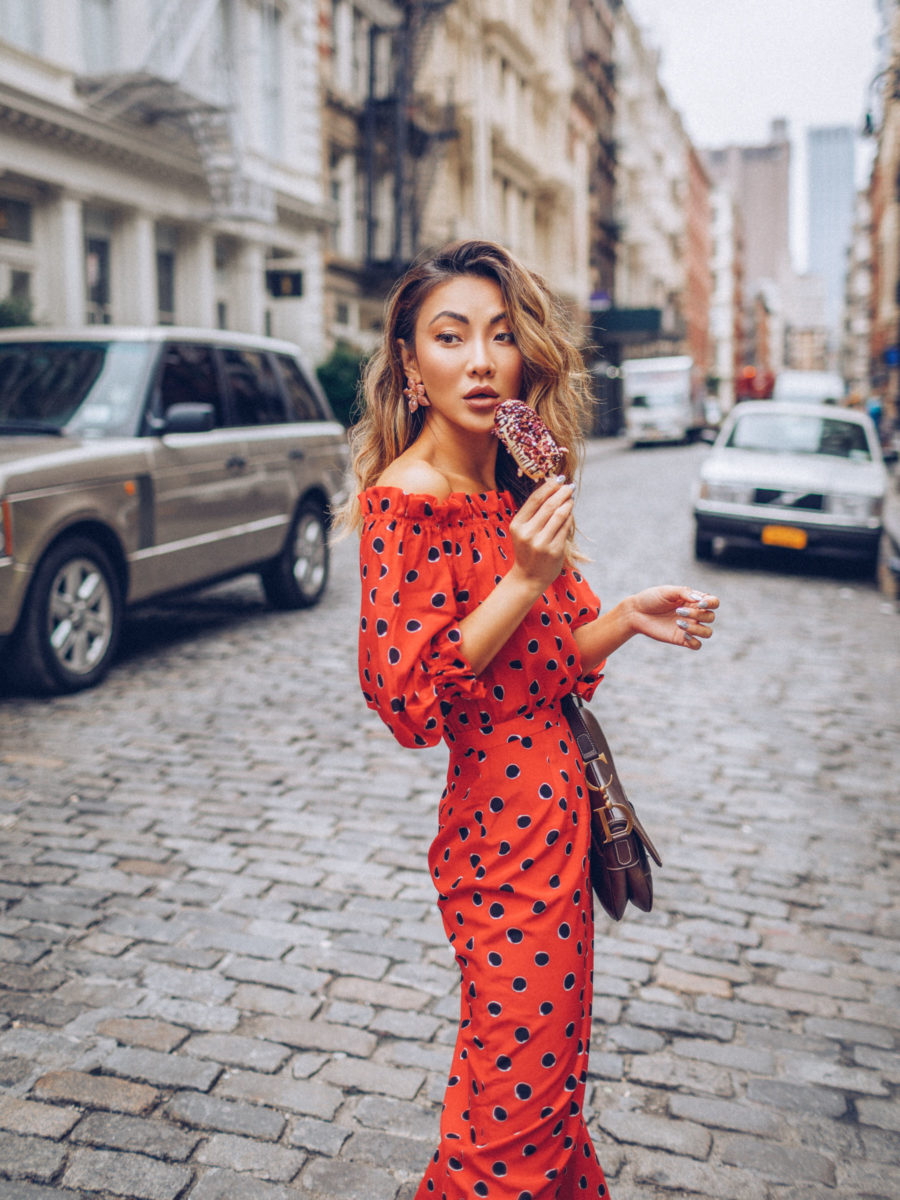 Saloni Dress | Dior Saddle Bag Similar | Floral Earrings Similar
I
t might seem contradictory that I featured an image of me eating ice cream when I plan on talking about beauty supplements, but I promise, there's a reason for it… And that is, what we eat
affects our skin
, hair, and every part of our body and lifestyle. However, I don't think it necessarily means we need to be super restrictive although it's totally fine if you are. For me personally, it's incredibly difficult to resist carbs and ice cream – and I need my wine every now and then. And sure, "moderation is key" but sometimes we're faulty and give in (I'm guilty).
…

…
This is where beauty supplements come into play – not just in our diet but various parts of life. I recently started taking Perfectil by Vitabiotics so I wanted to create an introductory guide to beauty supplements for you guys! Supplements are definitely having a moment, and with so many cropping up, it can be difficult discerning what's actually "good".
So what you need to know about supplements are that they're merely a combo of vitamins and minerals, amino acids, and important food extracts to support your diet with nutrients that you may be missing. They come in the form of pills, gel caps, powders, and other ingestibles. I prefer to see a non-fussy ingredient list from reputable brands I trust. I also want to caution you against relying on supplements alone as that's not what they're meant for. So now that we've got that covered, let's go through a few of my favorites…
For Skin, Hair, and Nails…

Vitabiotics Perfectil is my supplement of choice when it comes to skin, hair, and nail support! In the past, I've only focused on biotin supplements, but I've learned that there other key ingredients I was missing. Perfectil comprises of niacin, biotin, selenium, and zinc all in one. The high dosage of minerals combined allows you to see effective and faster results than just biotin alone.
For a healthier gut…

Probiotic is essential for a healthy digestive and urinary tract, and I love Hum Nutrition's probiotic powder because it contains chlorella, spirulina, and all the good green stuff I don't get enough of in my daily diet. It's easy to digest, doesn't leave an unpleasant after taste, and is so easy to incorporate into smoothies and liquids. If you didn't know, probiotics can also help you achieve clearer skin.
For more energy…

If you're stressed or burnt out and can't seem to find energy anywhere, you might be interested in Goop's Why Am I So Effing Tired Dietary Supplements. In this kit, you get a one-month supply of essential B vitamins that replenish what you may be lacking that's causing the stress and loss of energy. I'm always a fan of taking a holistic approach before therapy or prescriptions, so this may just be the chill pill you need!
For better sleep…
Moon Juice's Sleep Dust is said to be the perfect natural remedy for those struggling to fall sleep. I'm sometimes super anxious before a big event or if I'm waiting to hear back from a brand I'm really excited about, which keeps me awake at night. I've heard this concoction of Egyption chamomile and other good stuff induce tranquility and calm the mind down so I'm going to look into it for fashion week. Reports show that users don't feel drowsy the next morning so that's a bonus!
For a stronger immune system…

If you have a tendency to get sick often, Kora Organics Supplement Powder is worth a shot. I love that it's full of super fruits (like acai and blueberry) that boost your immune system and promotes healthy skin. They come in little packets that are super easy to travel with so you can take it on the plane or in a hotel. It has a fruity taste that's all natural – and so easy to consume.
For dark under eye circles…

I never knew that treatments for dark under eye circles existed outside of concealer and sleep… Well, let me introduce you to Hum Nutrition's Wing Man. This all natural supplement contains dandelion root to reduce inflammation and milk thistle which alleviates dark circles! If you've been looking for a natural approach to treat those baggy eyes, this could be a solution!
I'm still pretty new to pills and powders but want to add more to my cabinet, so let me know what are some of your go-to beauty supplements are below!