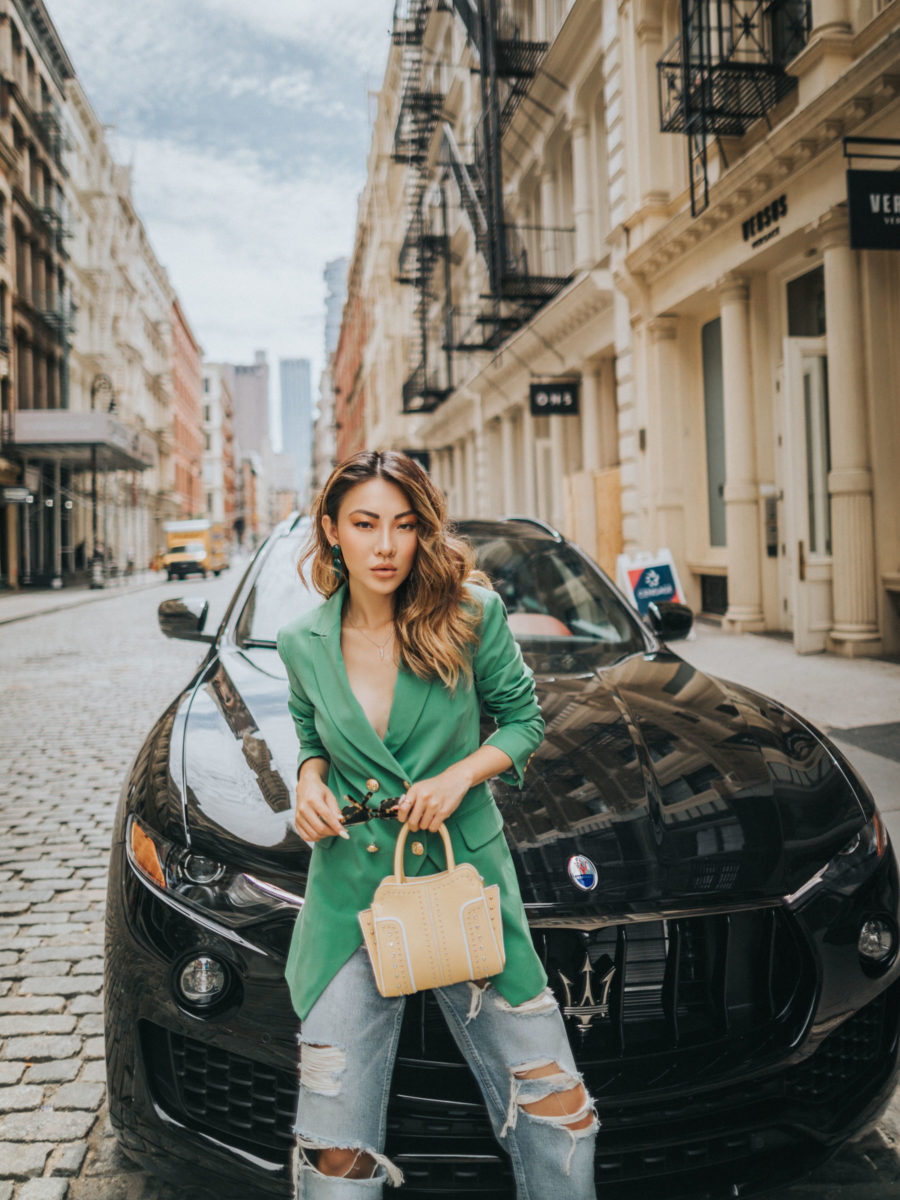 Laveer Blazer | Distressed Jeans Similar | Tod's Bag Similar
B
y now, I'm sure you know that there is
power in power dressing
. Not only do people take you more seriously, but it helps your confidence sky rocket, productivity levels climb, and you get things done! This is the notion that what you wear can drastically alter your self-image and your mood. I can vouch for this through the years of essentially getting dressed for a living. And it's become more crucial these days with most of my work comprising of meetings and landing deals. Though you may not be working on securing partnerships, I'm sure you can relate with job interviews, starting internships, or working on a promotion. So, if you have a big day coming up, let's cover the different ways for you to feel and look more powerful. It's much easier to carve out a path of success in game-changing style that shows you're ready to conquer the world.
…

…
1. Have a signature look
My signature looks comes in the form of spontaneous and daring pieces – and I think that's the beauty of it. However, I'm obsessed with styling and know no other way. For others or even yourself, a signature look might come in the form of an "outfit formula", which can be more convenient when you're stressed and pressed for time.
A few women who come to mind when I think of "signature looks" are Anna Wintour, Emmanuelle Alt, Christine Centenera, Miroslava Duma, Jenna Lyons, and Taylor Tomasi Hill. They always look elevated, distinct, and powerful – and it happens to be equal parts fashion and attitude.
For example, we know Anna Wintour has her signature midi hemlines, a pencil skirt, or sheath dress – and she owns it. Emmanuelle Alt kills it in the jacket department whether it's a boyfriend blazer or a leather jacket.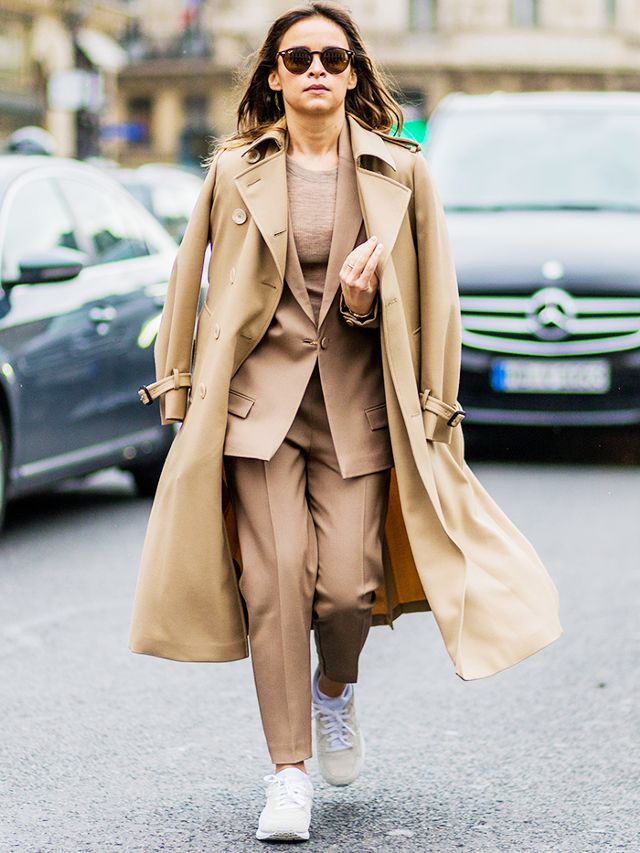 Photo by Pinterest
You can start with a signature piece or category and work every outfit around that one item.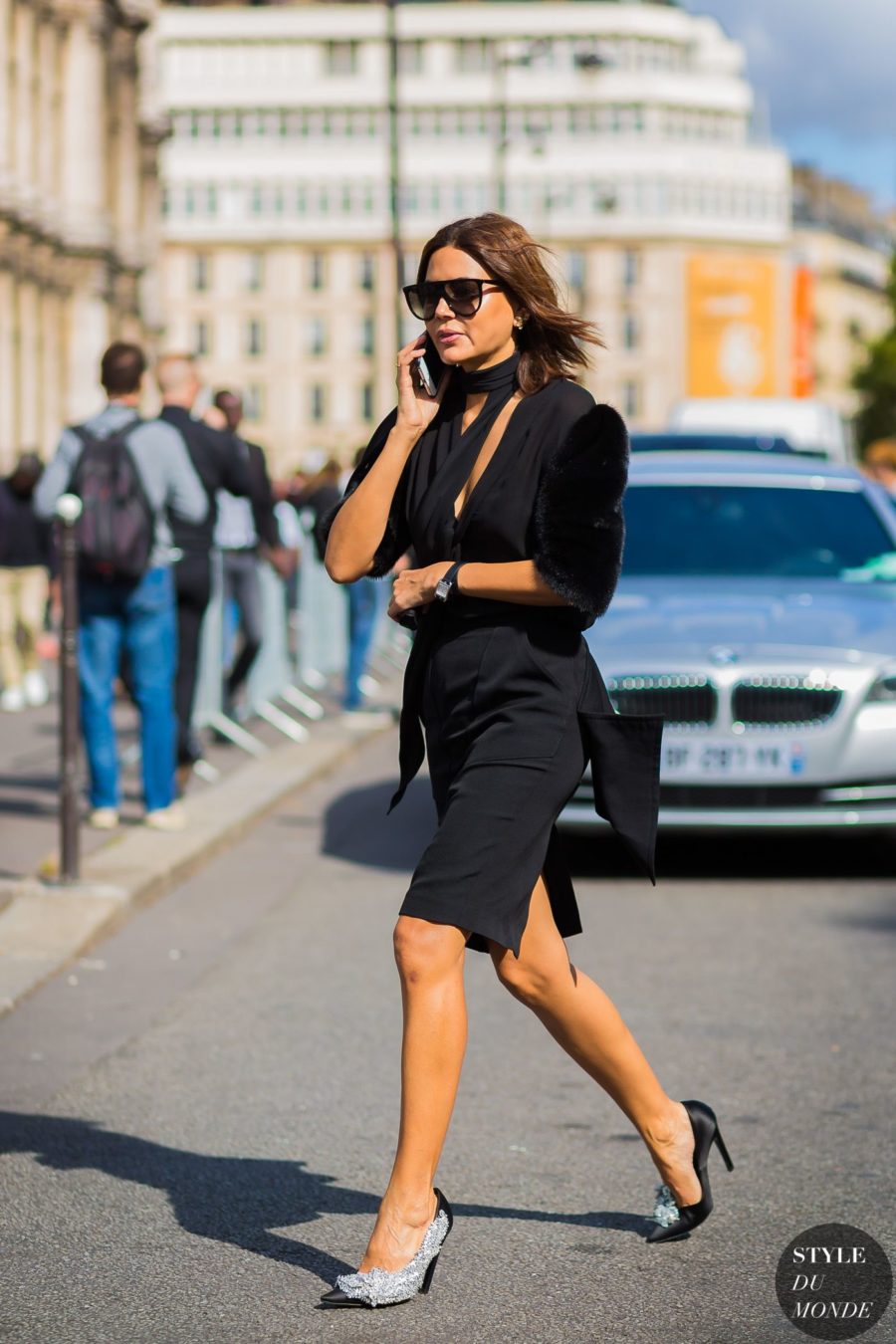 Photo by Style Du Monde
2. Emphasize quality over quantity
There's a reason for the coined term "investment pieces" in the fashion industry – because a high quality item can easily pull you together and make you feel like a million bucks. Remember that quality doesn't always correlate to "designer". I have found really high quality pieces at Zara, Mango, Topshop, and H&M that have lasted a really long time. It's most important to pay attention to the fit/tailoring, stitching, and material.
…

…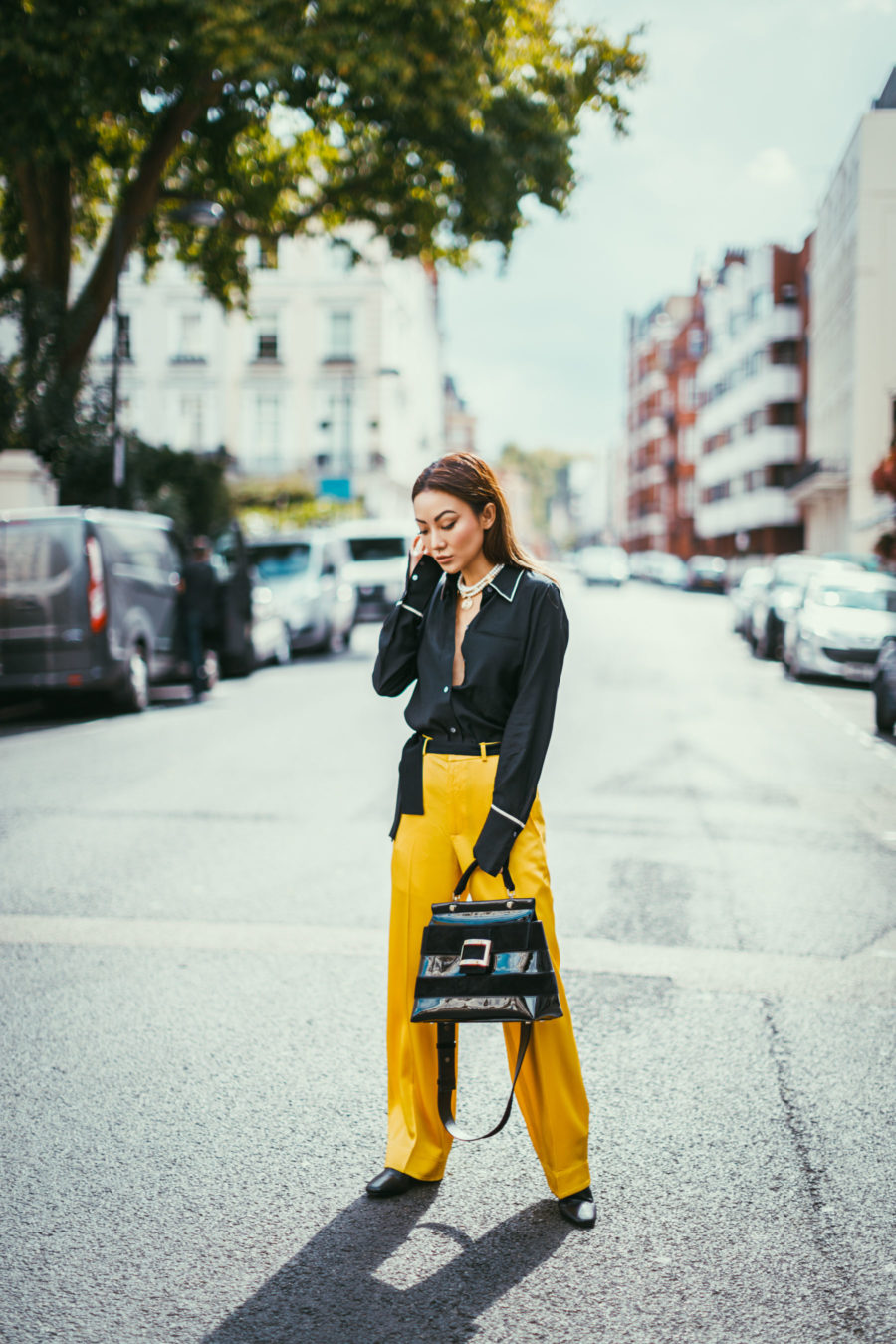 3. Play with color to your advantage
Darker neutrals have a way of naturally making you appear stronger. That's why you always see CEOs of large corporations, business tycoons, and politicians decked out in black or navy suits. Don't feel compelled to only wear darker colors, but this is a good place to start if you're new to power dressing. Once you get a feel for what makes you confident, you can incorporate elements from my other tips below.
…

…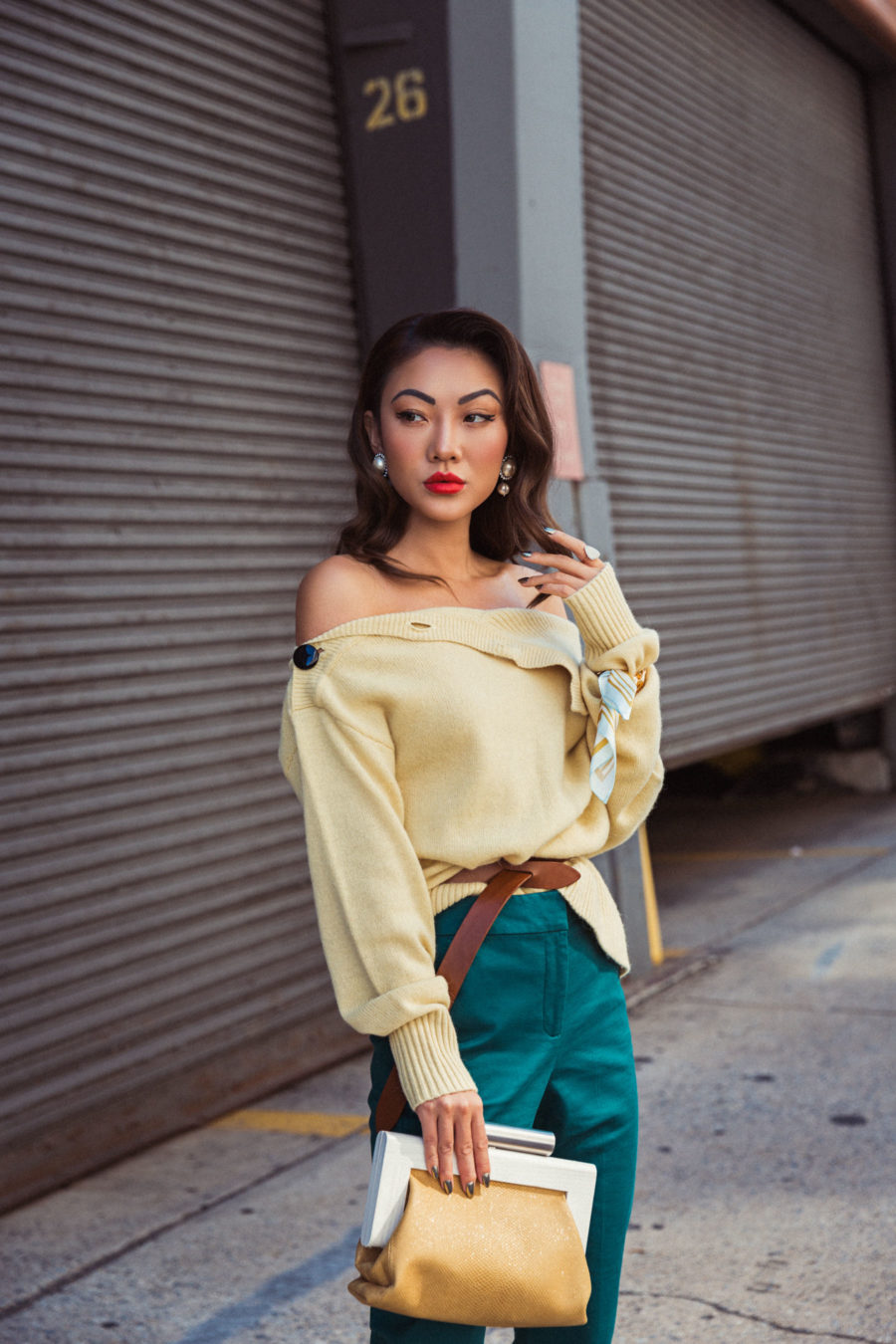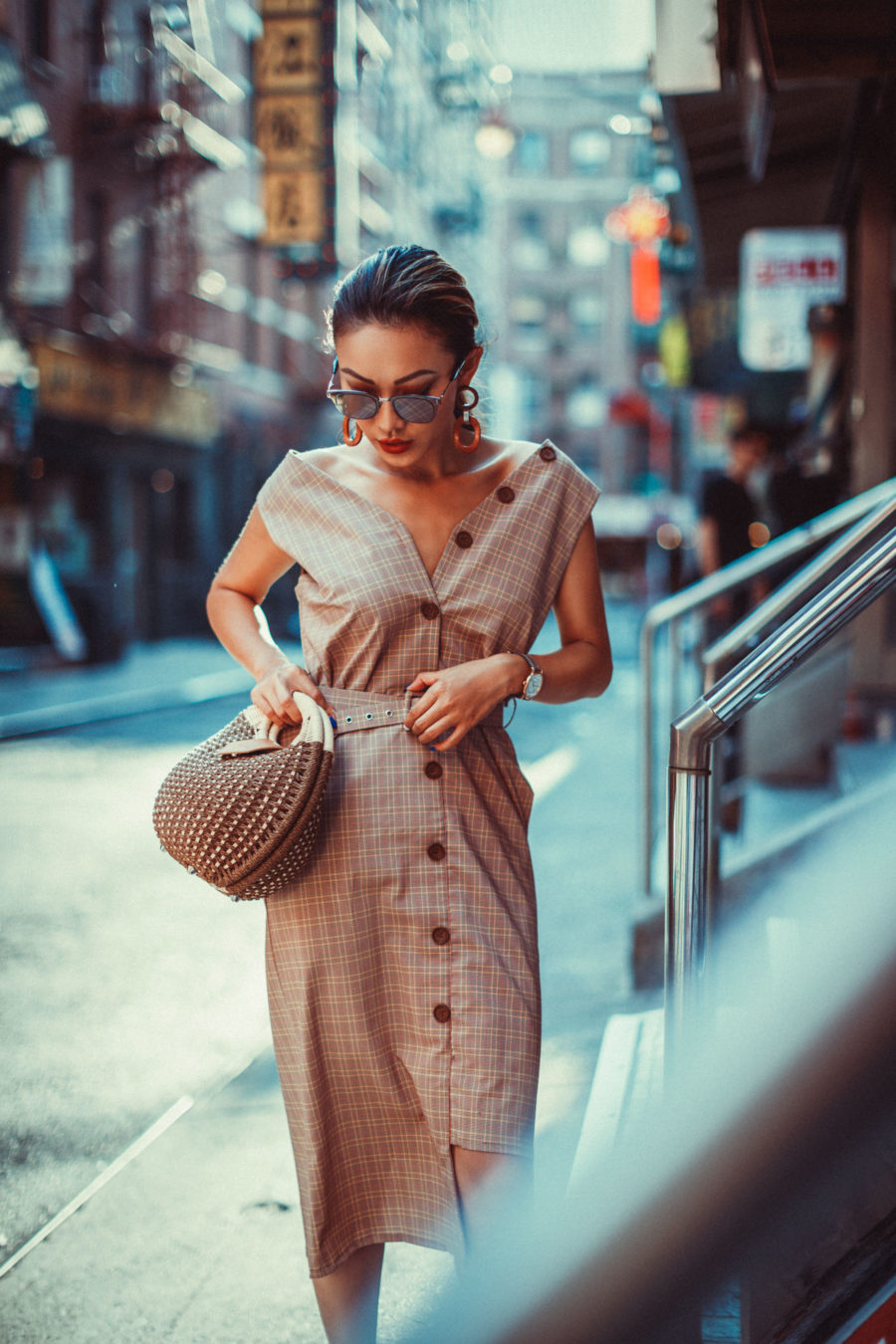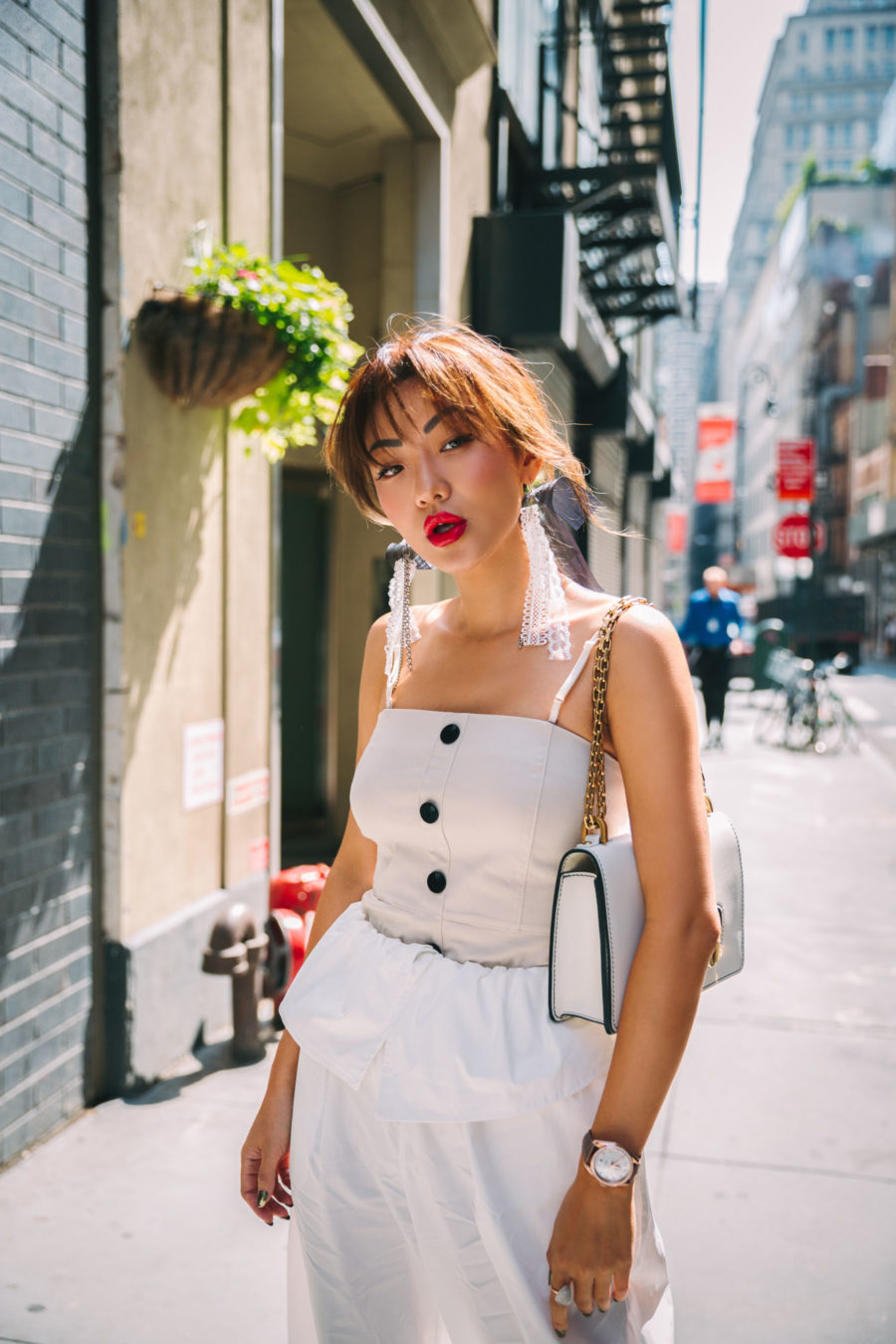 4. Create high contrast using punchy color or accessories
Using color to create contrast is a great way to show up and look more powerful. Working in fashion gives me a little more wiggle room for what I can wear and what's deemed appropriate but you should know what's acceptable for  your work environment. Some of the classic ways to pull this off is wearing an all black ensemble with red pumps or delivering a crisp white blouse with a statement necklace. A pop of patterns can also work like florals or animal print, but again, tailor this to the workplace.
…

…
4. Let your personality shine through
Empowerment is all about confidence and attitude. Fashion is just an accessory to enhance and reflect that. I believe in having a strong and powerful personal aesthetic – whatever that means for you. That's why I encourage you to start with a few basics first, e.g. well-tailored pieces and darker colors, then building around that. I let my personality shine through by mixing bold, unexpected pieces together and clashing colors. For you, it could be funky shoes, the way you do your makeup to complement your outfit or quirky prints. Find what makes you shine and show it off like Taylor Tomasi Hill and Olivia Palermo, two iconic street style stars.
…

…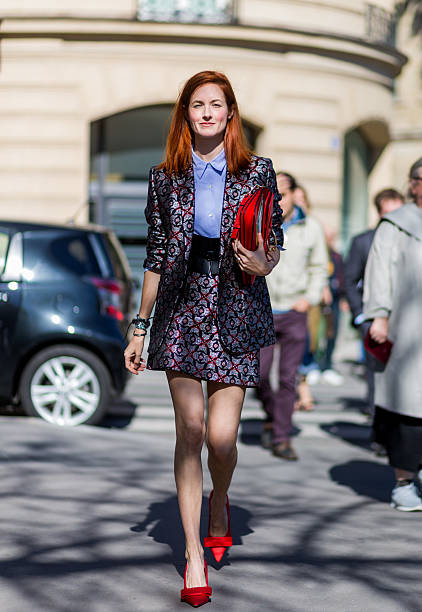 Photo by Pinterest
5. Break the rules
Step out of your comfort zone or what's deemed "professional" once in a while because doing so will turn heads – and for me, that's always a confidence booster. Some examples of this could be opting out of pumps for flats with cropped high-waisted trousers. At some point, neutrals will get boring so brighten up with bright hues like red.
Surprise the crowd without straying too far from your natural habitat.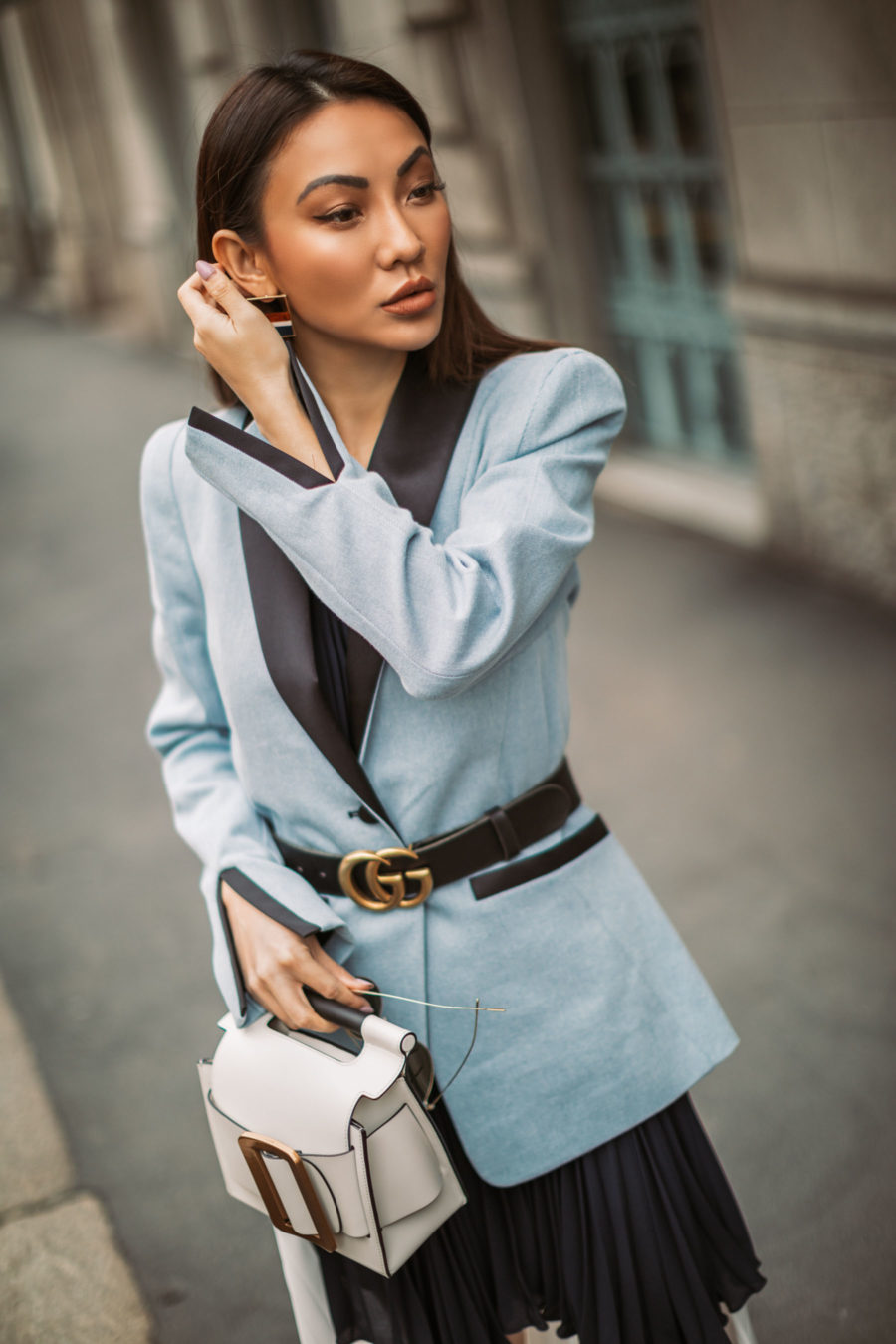 7. Always be well-groomed
Most importantly on this list, always be well-groomed. I know it isn't economical or realistic to get a blow out every single day or look like you're about to attend a black tie event. However, create efficient grooming habits that can elevate your appearance. Learn how to do your makeup in under 15 minutes and pick a functional hairstyle that you can recreate in no time. The smallest details from nice hair to healthy skin shows that you care about how you're presented and sends a message of serious business.
…

…
What are some things that make you feel and look more powerful?