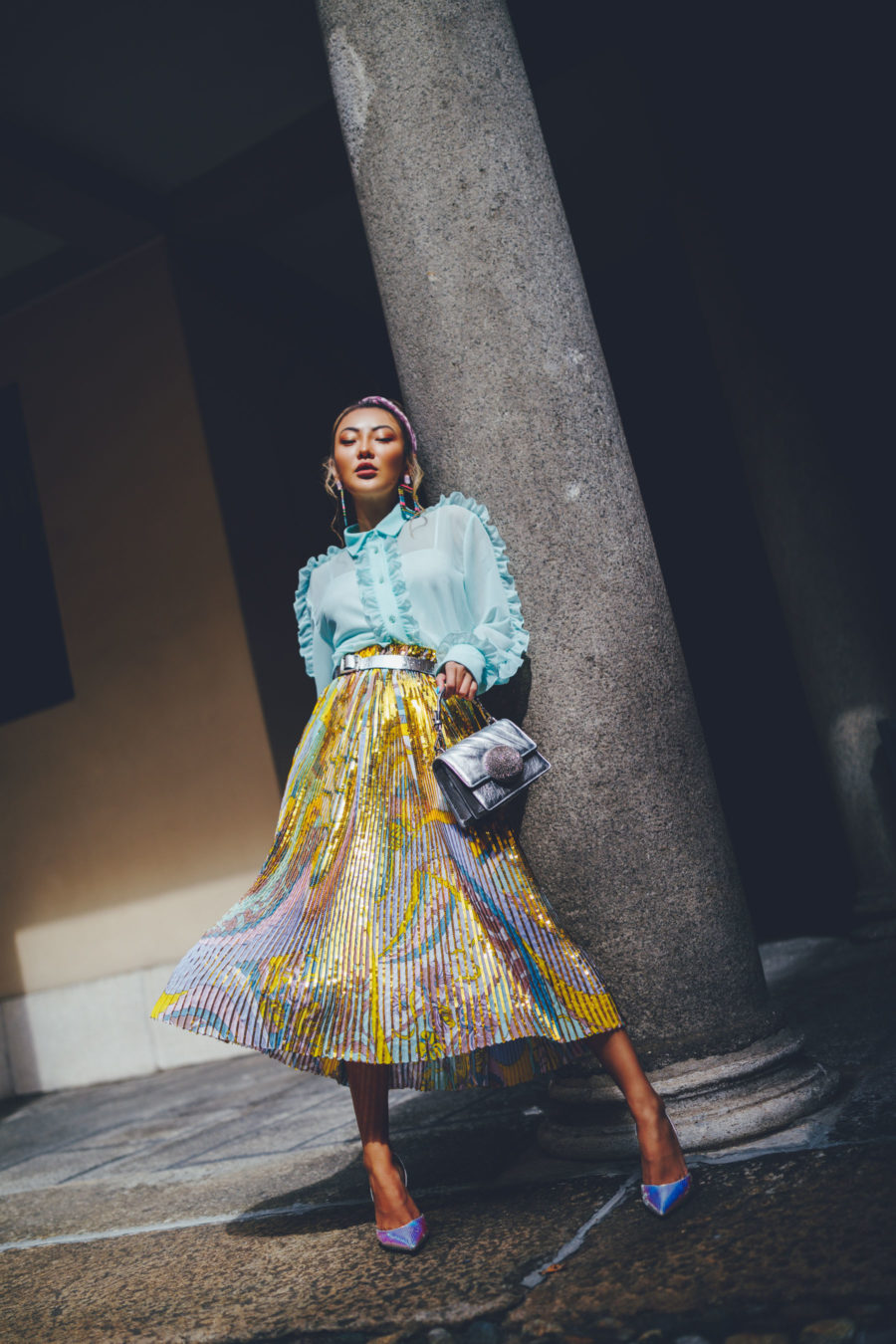 Ruffle Button Down Similar | Emilio Pucci Skirt | Amina Muaddi Slingback Pumps Similar | Gedebe Handbag Similar| Mary Jane Claverol Earrings Similar| Belt Similar
O
nce the temperatures start to drop, it can be really easy to get into a fashion stupor and become careless with dressing. Trust me, when I wake up early in the morning to a cold house, the last thing on my mind is fashion since I could just easily
throw on a sweatshirt
and call it a day. On the other hand, I know wearing cute clothes ultimately makes me feel more awake and confident so it's imperative not to succumb to comfort. In these instances, there are a few styling tricks for fall you can adopt to take your outfit to the next level without trying too hard. Read on to learn the latest tips to add to your arsenal.
…

…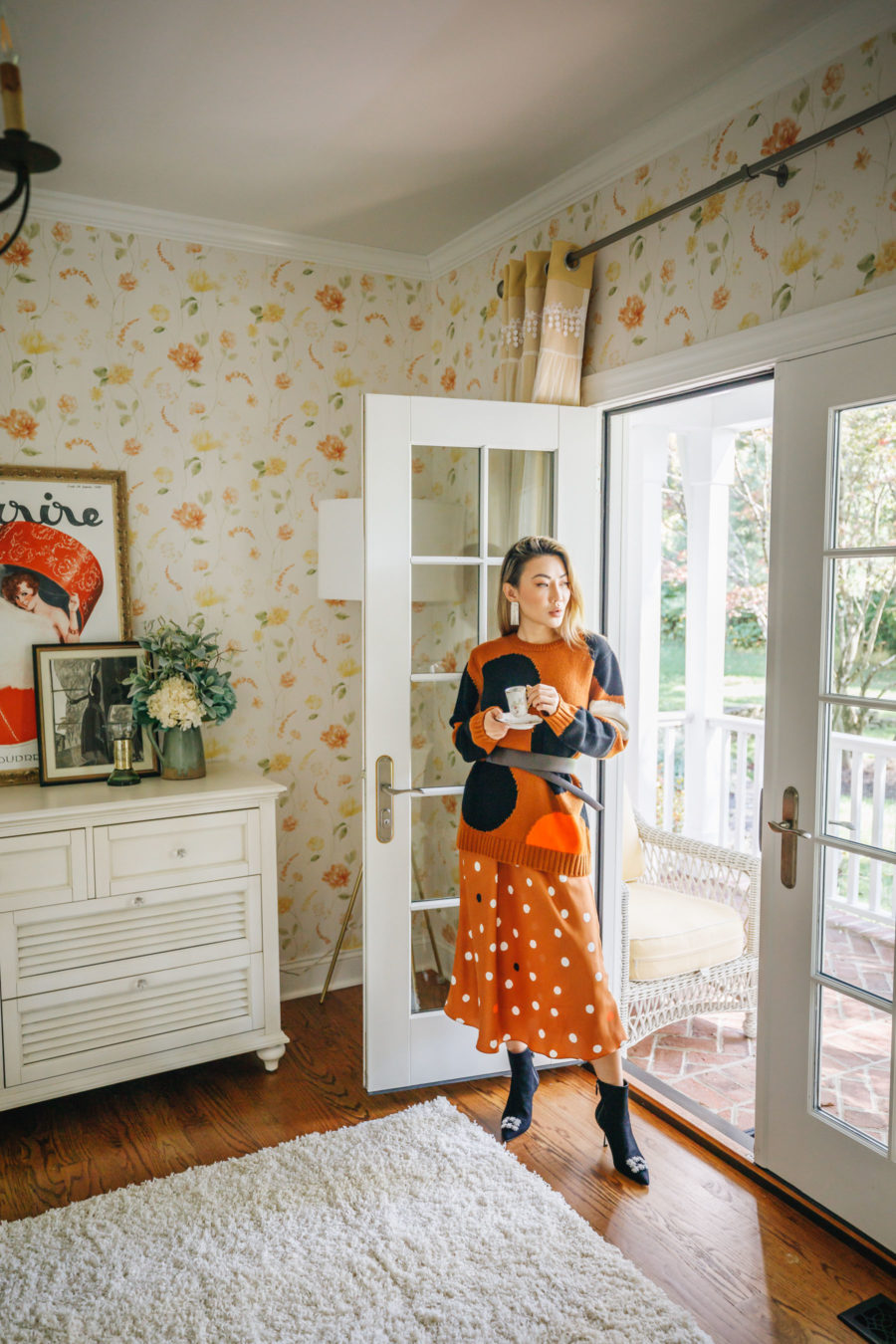 Mix & Match Prints
One of the easiest ways to ensure your outfit looks more elevated is to mix and match your prints. Not every pattern is going to harmoniously live with another, so having a grasp on what looks good together is a game changer. This is an instant way to liven up an outfit and make it look like you spent days getting ready. Some of my favorite combinations are polka dots & plaid or fair isle & florals. Don't be afraid to go bold with mixing animal prints too.
…

…
Texture Play
In order to give your look more dimension, you should incorporate some more texture into your look. This fall, it is all about the fabrications with a bit of sheen to it, whether it's leather, vinyl, or something in between. Be sure to offset this shiny texture with something cozier for a cohesive fall look.
…

…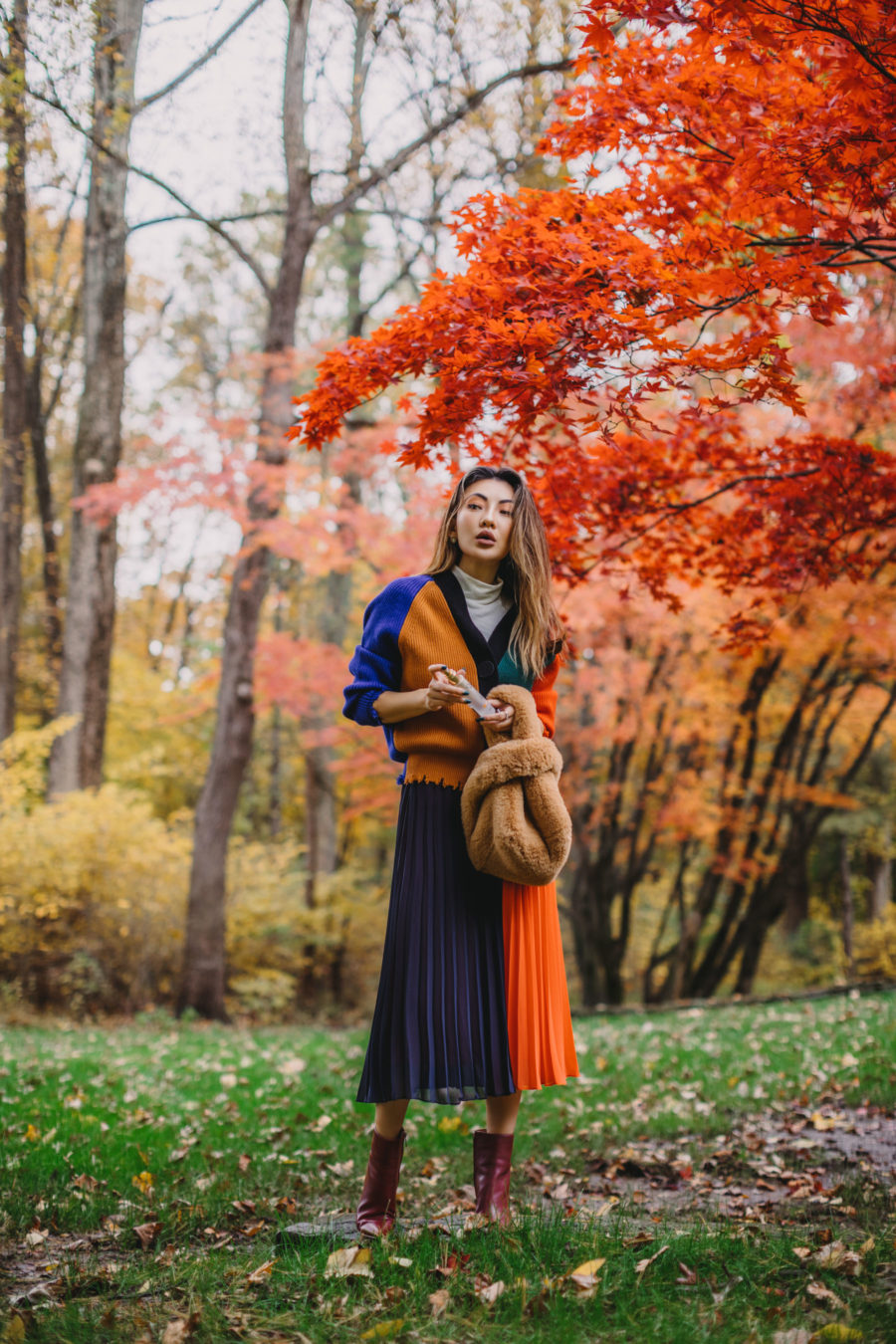 Pop of Color
There is a lot more focus on brighter colors than you would typically see for fall and winter palettes. To liven up your look, try incorporating some color pops into you look whether you center your entire look around it or pepper it in with a statement accessory. All the fashion girls are mixing bold splashes of colors with beige this season.
…

…
Knee High Boots with Everything
I love a good pair of boots and this is another one of my easy styling tricks of the season. If you decide to opt for the most basic of outfits (think jeans and a white button up), the addition of a killer pair of boots transforms the whole look. Adding knee-high boots to trousers, midi skirts, or bermuda shorts is just what you need to go from boring to chic.
…

…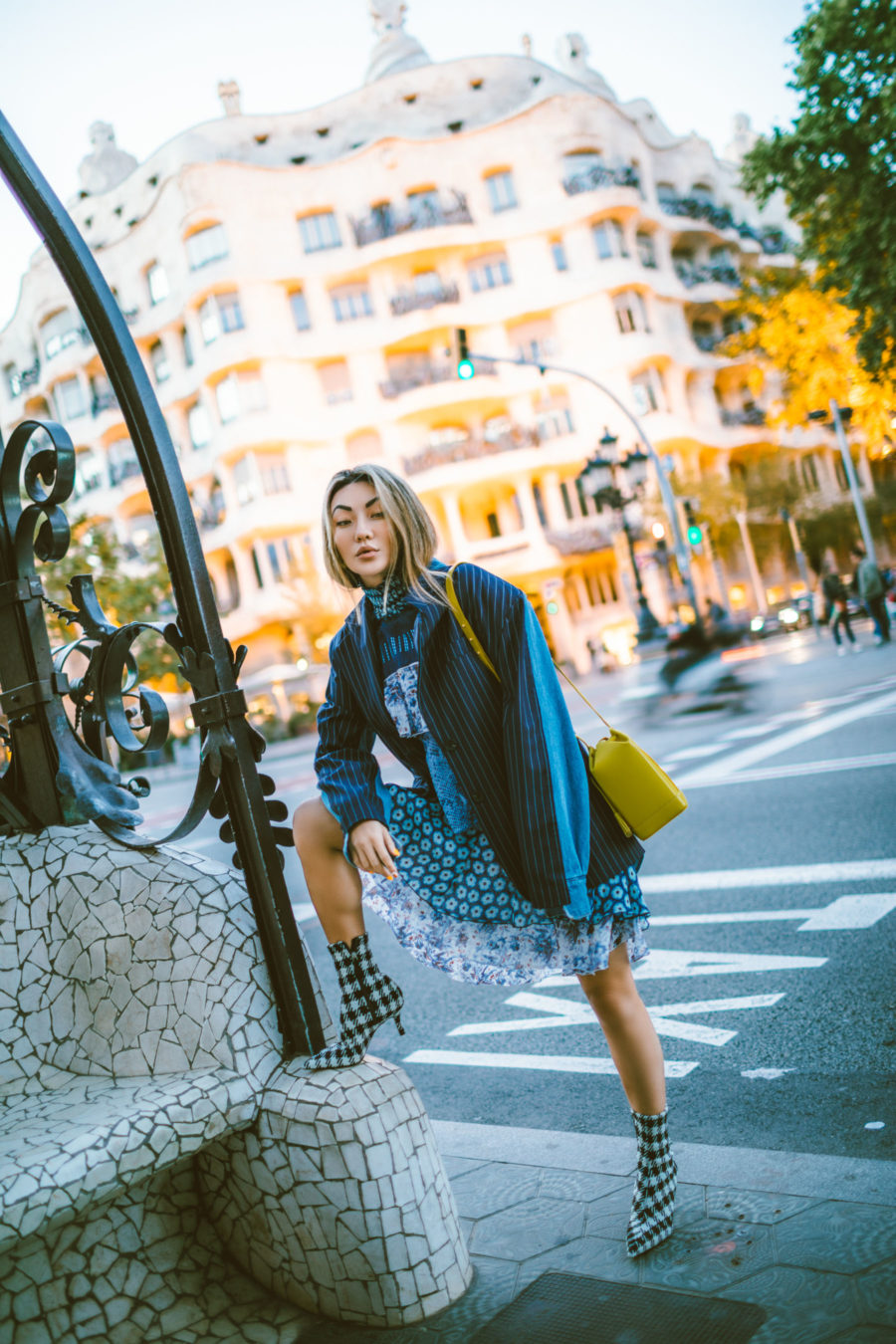 Layer with a Puff Sleeve Blouse
Tired of the turtleneck underneath everything look? Swap that old trick for a puffy sleeve blouse – I'm sure you acquired a ton of them this summer. The big, voluminous sleeves can have a major impact on your entire appearance, making you look infinitely more put together! Plus, it feels totally fresh.
…

…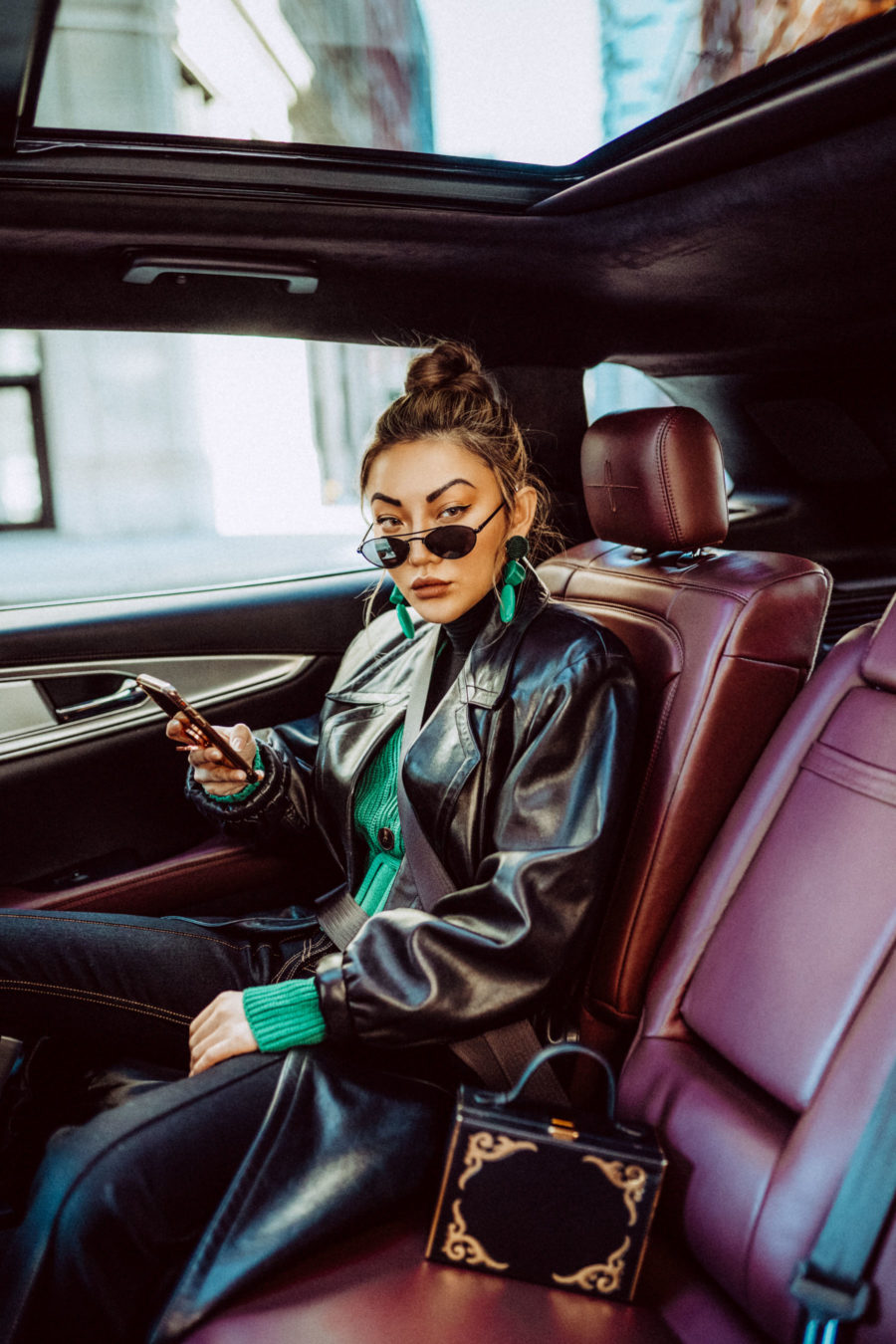 Oversized Earrings
Lastly, a little bling can go a long way. Out of all the jewelry options I have, oversized earrings are definitely one of the most prized pieces. This is a surefire way to dress up your look without having to commit to a whole new wardrobe. And they can be super affordable too.
…

…
What styling tricks for fall are you keeping up your sleeves?