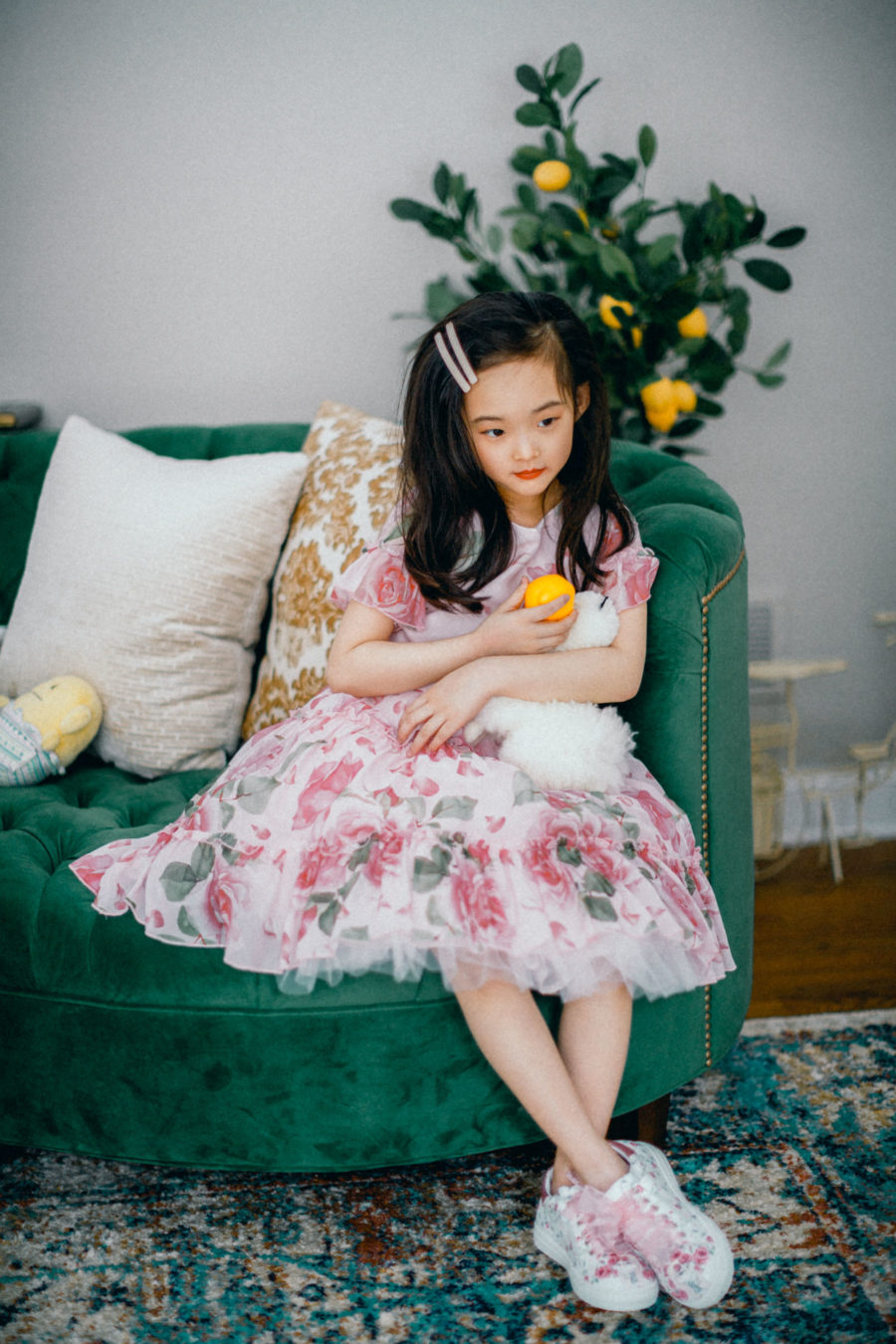 Monnalisa Floral Dress Similar (Affordable) | Monnalisa Floral Sneakers Similar | Hair Pins Similar
A
s a mom, I am constantly trying to find new, innovative ways to spend time with my two little girls, Hazel and Capri. The two of them entertain me to no end and their
newfound love for arts and crafts
has really inspired me. As someone who works in a creative industry, I want nothing more than to ensure this part of them is being fulfilled in any way possible. In light of the spring season, I thought it would be fun to put together some St. Patrick's Day craft ideas for children that you could all do together as a family. I handpicked activities that I felt would foster your children's imagination and act as a great bonding activity!
…

…
Shamrock Slime
If you have young kids, chances are they have been exposed to this slime craze that has been taking the internet by storm. Even as an adult, I have to admit there is something incredibly satisfying about playing with slime – please tell me I am not alone! For St. Patrick's Day, why not go a step further and create a really fun green glitter version! I was actually shocked at how easy it is do. All you need is water, clear glue, borax and a plethora of glitter and confetti. (Inspiration found here!)
Shamrock Mobile
Although this next craft acquires a bit more patience and a few more ingredients, once it is complete, you are left with a really cute mobile that can be used to decorate your home. All you need to do is cut out cardboard shamrocks and make a concoction of paint and a pouring medium. Your kids can have fun dripping the paint onto the lovely, little shamrocks. Once dry, you can use some hemp or string to tie them to a stick to display in your home. (Step by step instructions here!)
Friendship Bracelets
Perhaps because they take after me…but my girls are just as obsessed with accessories as I am! It comes as no surprise that jewelry making would be right up their alley. Hazel and Capri love arranging their own assortment of colorful beads and so proud of themselves when they can actually wear their own creation. They'll have fun for hours making their own friendship bracelets for me, my husband, and their classmates. You can grab affordable beads from Michael's or on Amazon!
…

…
Leprechaun Garden
With the arrival of St. Patrick's Day and the first day of Spring on March 20th, this next activity celebrates both. You can magically turn a spare potted house plant into an enchanted leprechaun garden. You can print out or have them draw cute little figurines for the garden including a rainbow, pot of gold, shamrocks, and mushrooms. Glue or tape them onto little popsicle sticks and arrange your new leprechaun garden together! (Pulled this wonderful idea from here!)
Shamrock Shirt
Breathe life into an old t-shirt your kids don't wear anymore with an easy DIY project. Trace a shamrock clover onto some parchment paper and use an iron to lightly adhere it to the front of a t-shirt. Now, have your kids dip a pencil with an unused eraser into some green fabric print and let them stamp away. The effect is a really cool polka dot shamrock silhouette they can wear!
…
If you have any craft ideas to add, drop them in the comments!