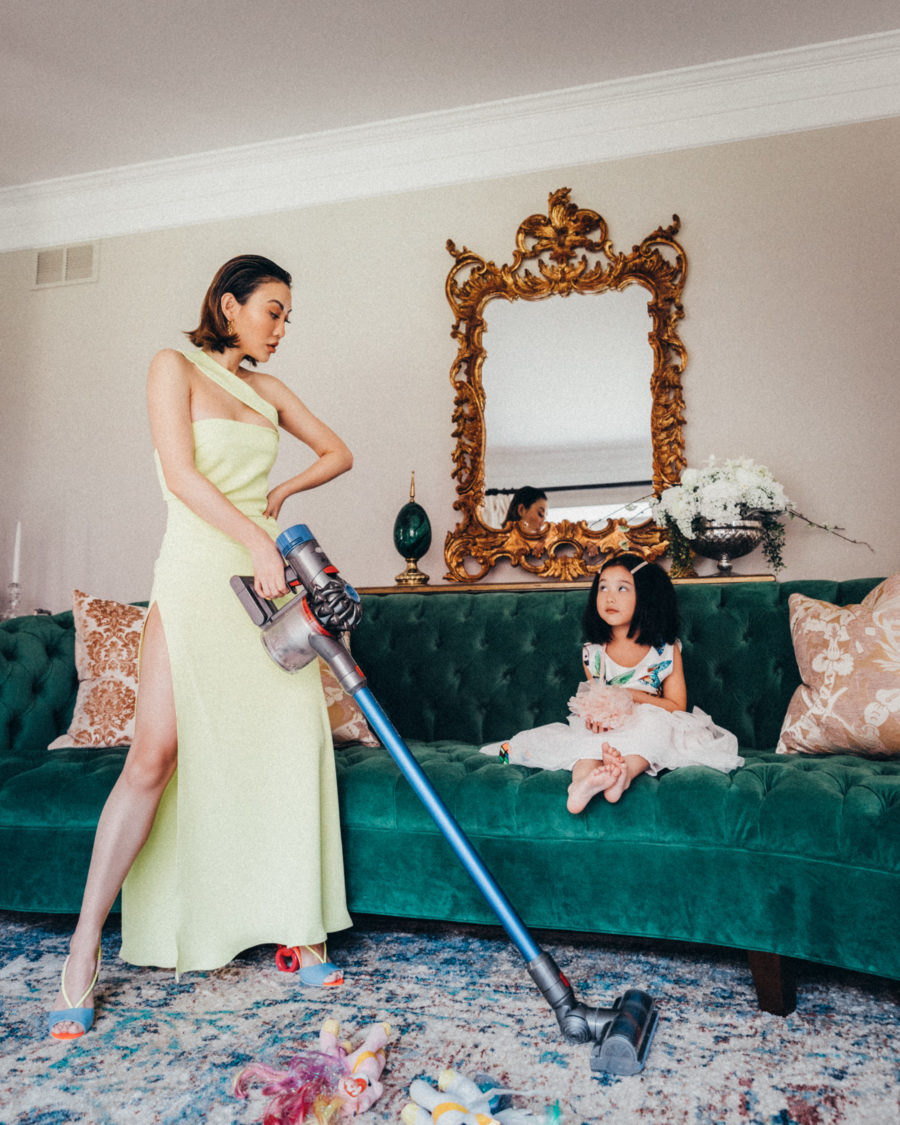 Sandra Mansour Dress (Similar here and here) | Kat Maconie Heels Similar
W
hat would I do without
Amazon
? Well, obviously live a far less convenient lifestyle for one! Aside from them having absolutely anything and everything you might need, they also have quite a
few products you never even knew existed
but are incredibly life changing. I am talking about those products that you wish entered your life a whole lot sooner. The following products are household gadgets that have earned a special place in our everyday lives and I wanted to share them with you guys so they can bring some joy and convenience to you too. Read on for some of my favorite Amazon household gadgets that you are going to want to add to your cart ASAP!
…

…

For the Kitchen:

I shared this little guy on my Instagram stories a while back ago and received a lot of feedback that it was revolutionary! Rather than scrunching up your potato chip bags, use this little, nifty bag sealer to seal the package back up. This ensures your food is kept as fresh as possible!
…

Take organization to a whole new level with these fridge storage bins. This allows you to organize the contents of your refrigerator so much easier! For instance, I will use one bin to store vegetables or a bin to hold the kid's favorite juice boxes. It puts your mind at ease every time you open the fridge up.
…

I am always a little hesitant to introduce a whole lot of large kitchen accessories to my space because there is a lot that can take up precious storage space. However, this splatter guard is a game changer and it is made of silicone so you can fold it up and put it away! This is ideal if you are frying anything with a lot of oil. It is just enough it ensure it doesn't splash and burn you (or ruin your outfit)!
…

For Anywhere in the House:

An instant ambiance, decor killer is an excessive amount of cables hanging from your electronics. All though, they are a necessary evil, it is admittedly an eyesore. This cable management sleeve slides right on to all of your cables to allow you to easily tuck them away from view for a much sleeker look!
…

I love a good candle more than the next woman but they can actually be a pain if you do not have the proper lighter. This Amazon household gadget is the best solution! It is a chargeable lighter with a flexible neck so it can easily reach into any candle, no matter how long the body is.
…

Mini fridges are amazing for food and drinks…and skincare! This little cooler is great for putting in rooms like your home office so you can store some easily accessible drinks and snacks. This also doubles as a food warmer too! Perfect for you want to reheat the mug of coffee you forgot about.
…
For Cleaning:

It is about time you organize those bottles of cleaning solutions collected underneath your kitchen or bathroom sink. This shelf is expandable and perfect for organizing that little nook. Simple gadgets like this save you so much time in the long run. You no longer have to sift through your cleaning supplies to find the one you need!
…

For those places in your home that could use a really deep clean, this brush is life changing. All you need to do is attach it to your drill and you can start scrubbing away! This is really great for getting the grease off your oven, cleaning the glass shower door, or removing the dirt from the bathroom tile grout.
…

If you have more delicate spots that need cleaning, this putty gel is a really innovative way to do so! It is great for the car or your computer. All you do is use the gel to remove dust and dirt. It can be used multiple times and is made of biodegradable material that is skin friendly!
…
I'm always looking for new household gadgets on Amazon so if you found something I haven't yet discovered, definitely drop them below!