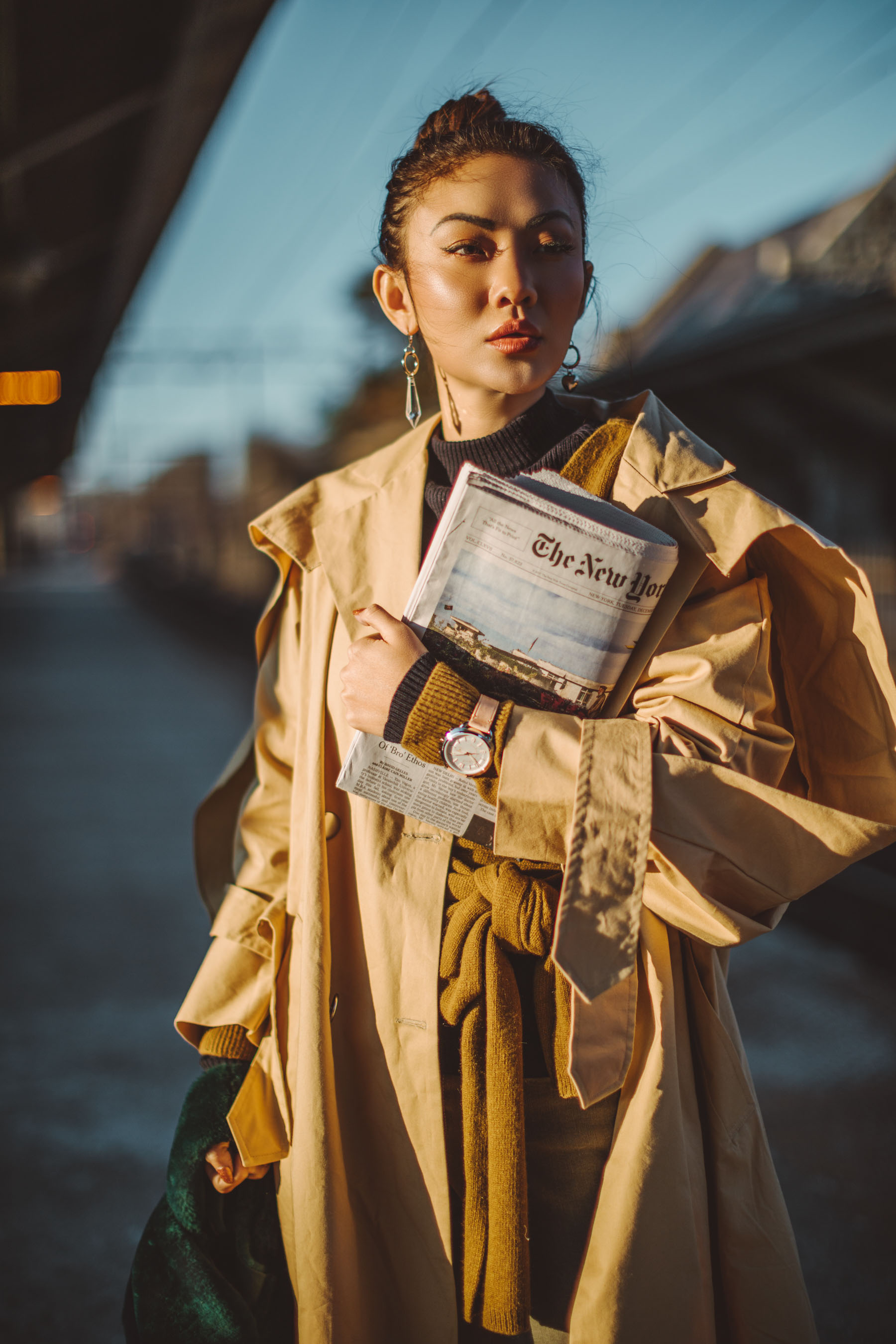 Oversized Trench Coat Similar | Black Mock Neck Sweater Similar | Yellow Wrap Cardigan Similar | Fossil Watch | Jewel Drop Earrings Similar | Kara Fur Handbag (Similar)
D
espite feeling OVER the cold weather now, it hasn't stopped the snow from coming down. And that only means more days to go of cozy layered looks. If you're in need of fresh style advice that takes you 
beyond a puffer coat
, my latest Instagram outfits should provide that dash of inspiration. Having spent a good portion of my life in the arctic cold of New York, I've developed a knack for layering in both traditional and unconventional ways. And I've learned that the most important thing to nailing an interesting winter outfit is to be bold, daring, and reckless.
…

…
A roundup of my cozy layered looks below will show you just what I mean. So, let's take a closer look at my layered outfits and break them down.
Color Coordinating Layers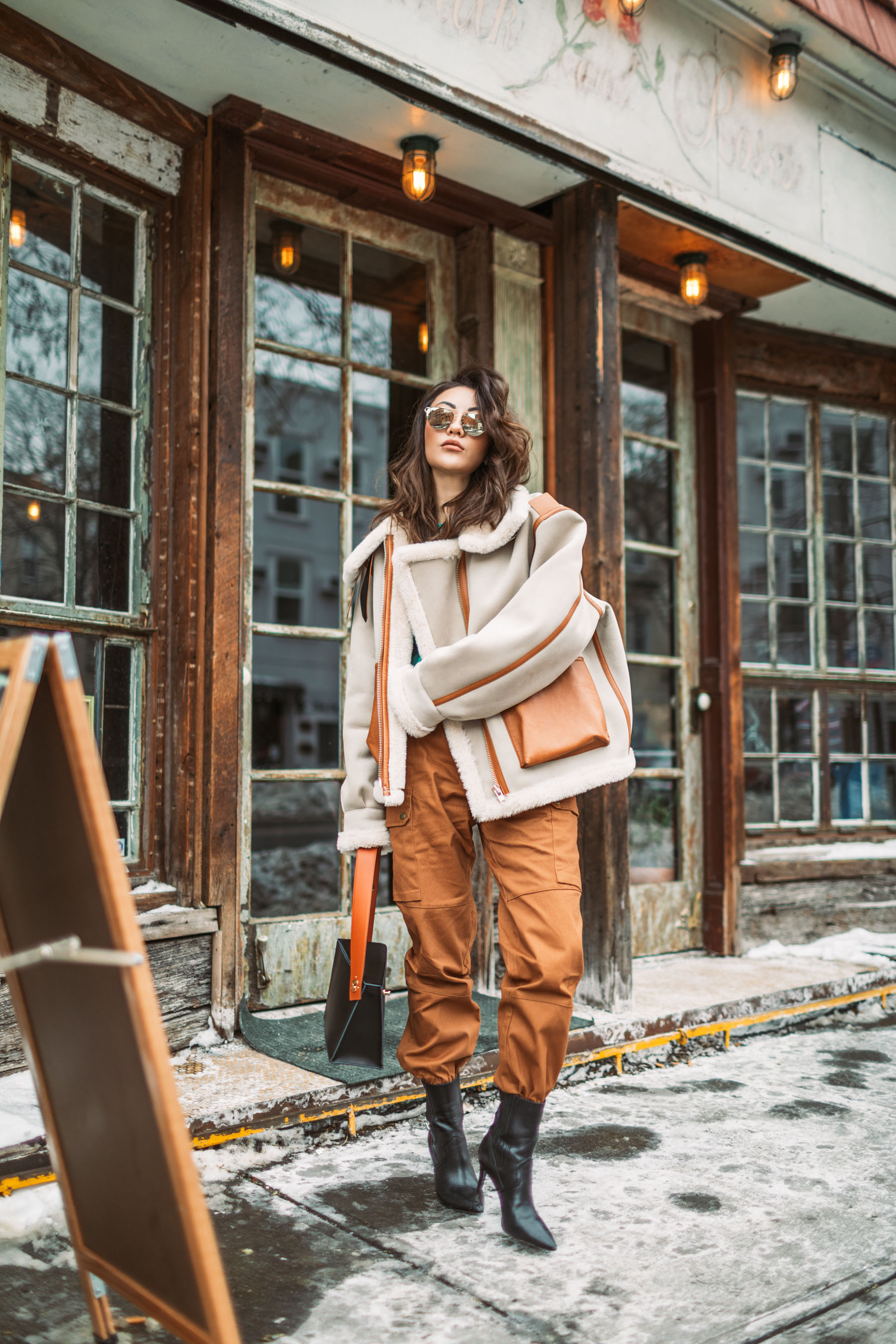 Style Nanda Shearing Coat (Similar) | Forever21 Cargo Joggers | Black Ankle Boots Similar | Oliver People Mirrored Sunglasses | Danse Lente Leather Tote
If it isn't obvious, one of my go-to styling tricks is color coordinating my outfits. You've seen me pull off full monochrome looks and mixing bold colors with soft color palettes; it's a gimmick that never fails me. No matter how obvious or subtle your colors are, coordinating pieces in this way forces you to really think about what you're wearing and how to style them. And you end up putting more effort into a look rather than just throwing on what's basic and boring. Here, I threw on an oversized, boxy shearling jacket atop my cargo joggers, which resulted in a cozy utilitarian look. I then balanced it out with sleek stiletto boots and a structured tote.
…

…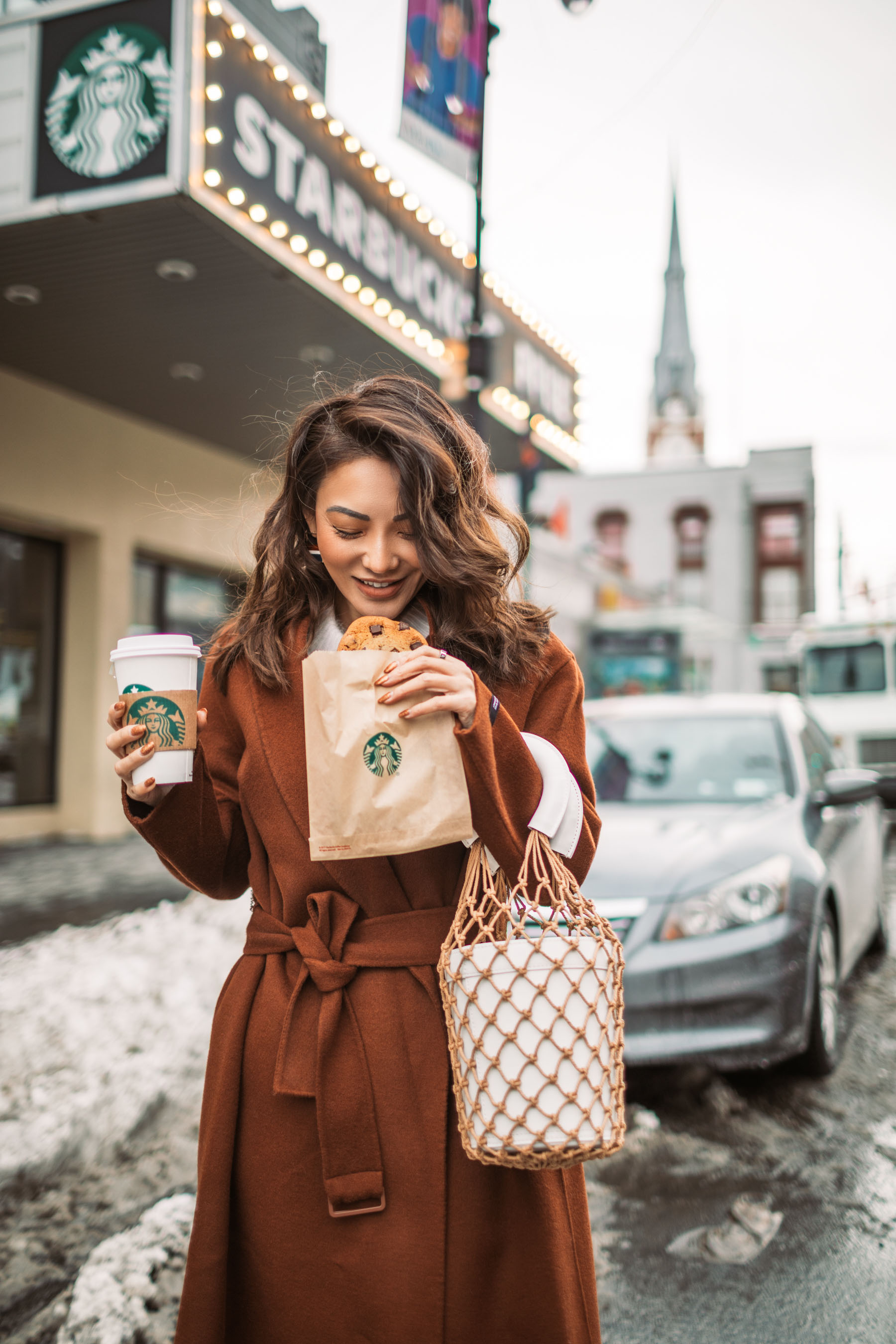 Balancing Act: Trendy Accessories & Classic Layers
Brown Wrap Coat Similar | Fuzzy White Sweater Similar | Staud Netted Bucket Bag
Of course there's nothing wrong with opting for classic layers like I did here with a fuzzy mock neck sweater and brown robe coat. However, when donning a cleaner, traditional outfit, I like to mix in trendier accessories. Handbags with net details will be popping up everywhere soon, so I went on ahead and brought out this Spring statement. It adds a touch of texture and dimension.
…

…
Not So Pretty Layers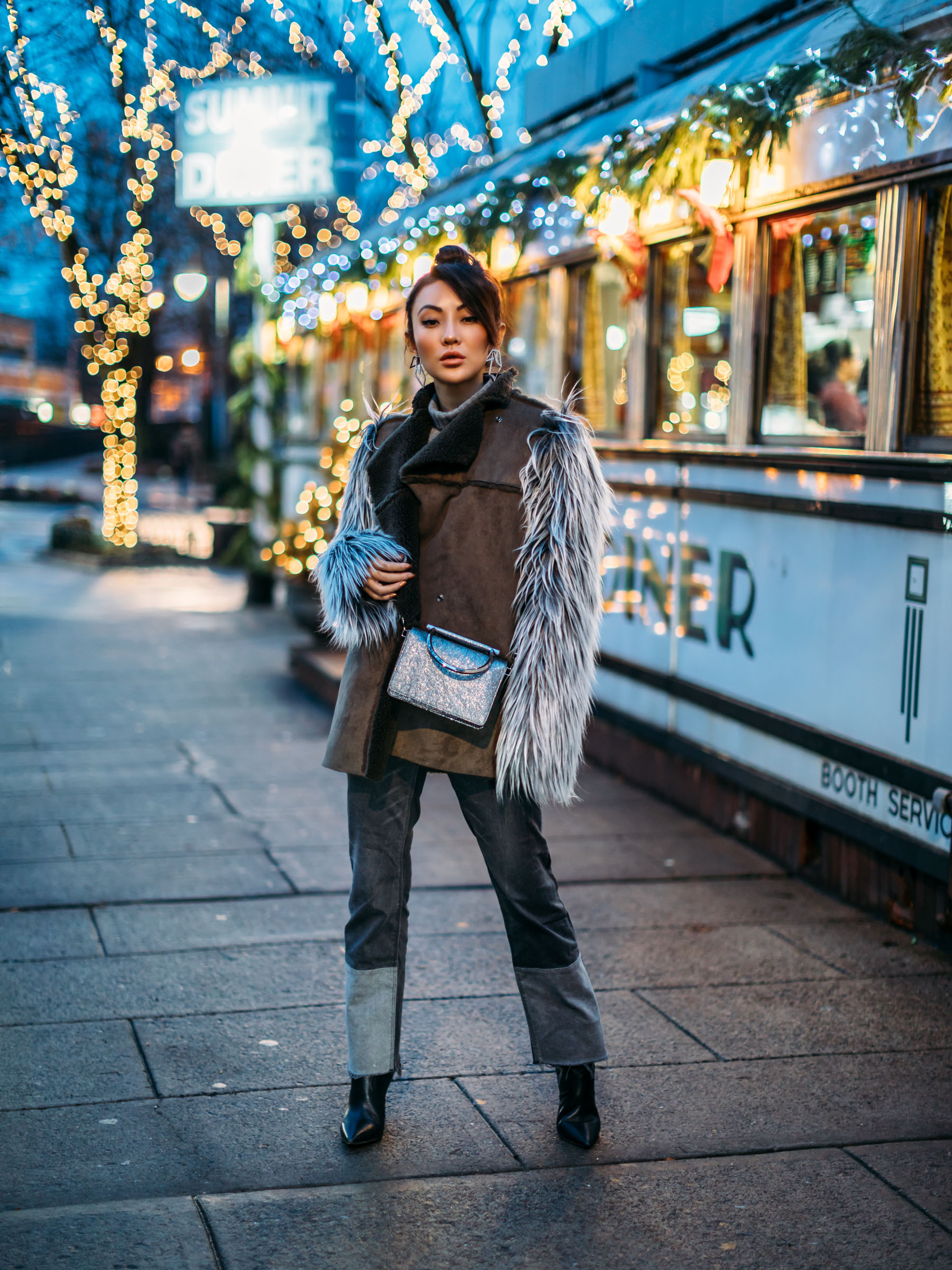 Fur Sleeve Jacket Similar | Rebecca Taylor Jeans | All Saints Booties Similar | Ferragamo Glitter Bag (Affordable) | W Britt Earrings (Similar)
When I'm really bored of the weather, I look for true statement-making pieces like this suede coat with hefty fur sleeves. It might not be the prettiest, but I once heard a saying that goes, "Beauty got so basic that the only place for fashion to go was ugly". And I couldn't agree more! This glittery mini; however, adds the missing touch of pretty.
…

…
All Wrapped Up
Milly Green Coat (Similar) | Two Tone Scarf Similar | Black Distrissed Jeans Similar | Fur Handbag Similar
Sometimes, the easiest way to fake a layered look is with a scarf. Reality is, I wasn't super layered here, but it looks like I was. You can be in the most minimal outfit ever (like my distressed skinnies and green wool coat) – and a scarf that's double wrapped will do all the talking.
There's nothing wrong with a simple winter outfit like this as you'll look clean, fresh, and professional. Besides, the result is just as warm as a chunky knit sweater.
…

…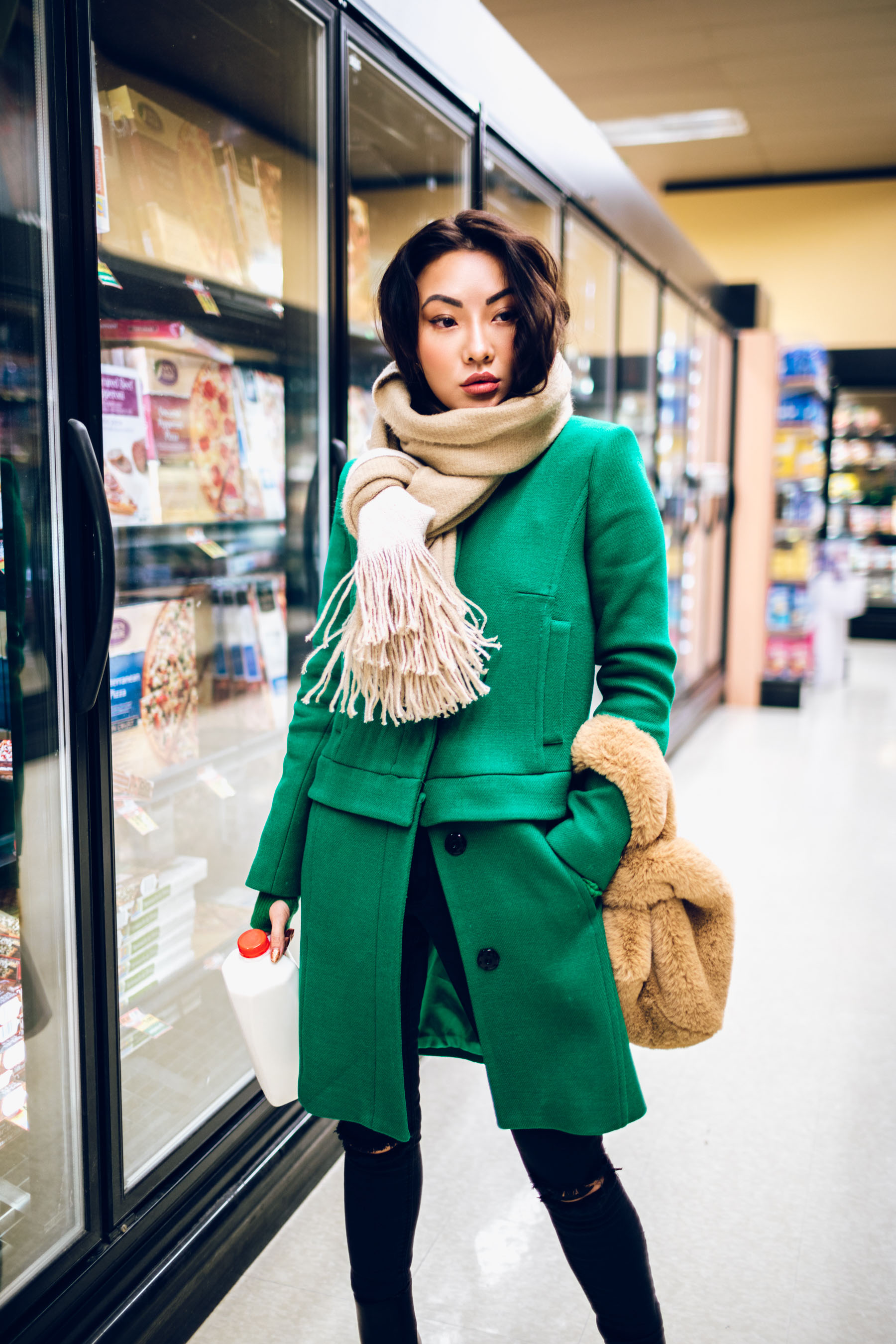 Layers With a touch of Parisian Chic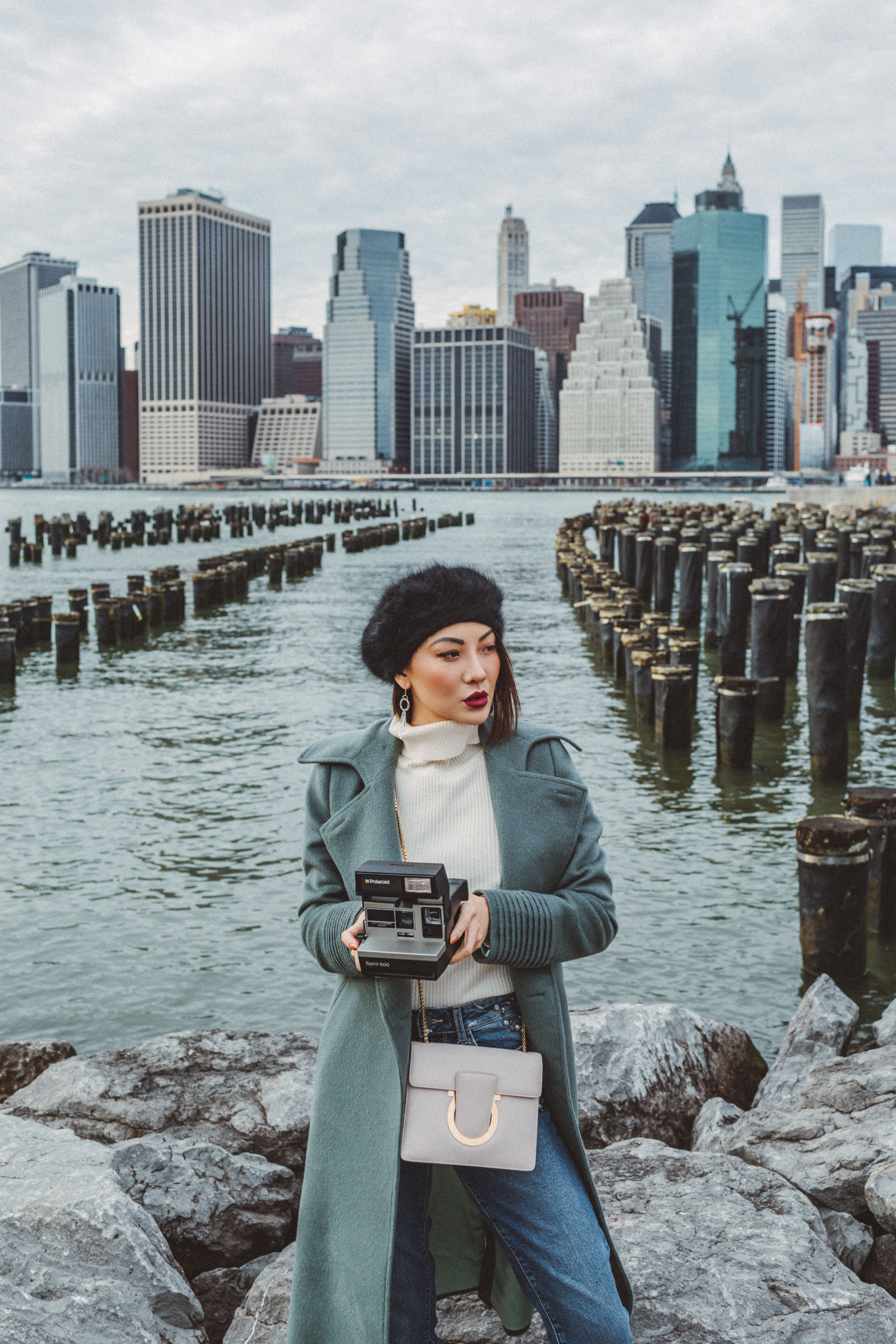 Sentaler Blue-Gray Maxi Coat (Similar) | White Ribbed Turtleneck Similar | Medium Wash Jeans Similar | Black Beret Similar | Salvatore Ferragamo Handbag (Affordable) | Jewel Drop Earrings Similar | Polaroid Camera (sold out but Similar)
If you're looking to add a hint of chic to your cozy layered looks, snag a beret. From prominent street style stars to all your favorite celebs, everyone is on board – and you should be too. You could play it safe and try a classic, black beret like mine, but printed or bright ones look just as chic. Berets go with everything in your closet…but especially elevates clean cut layers like this coat and turtleneck.
…

…
Which of these cozy layered looks is your favorite?