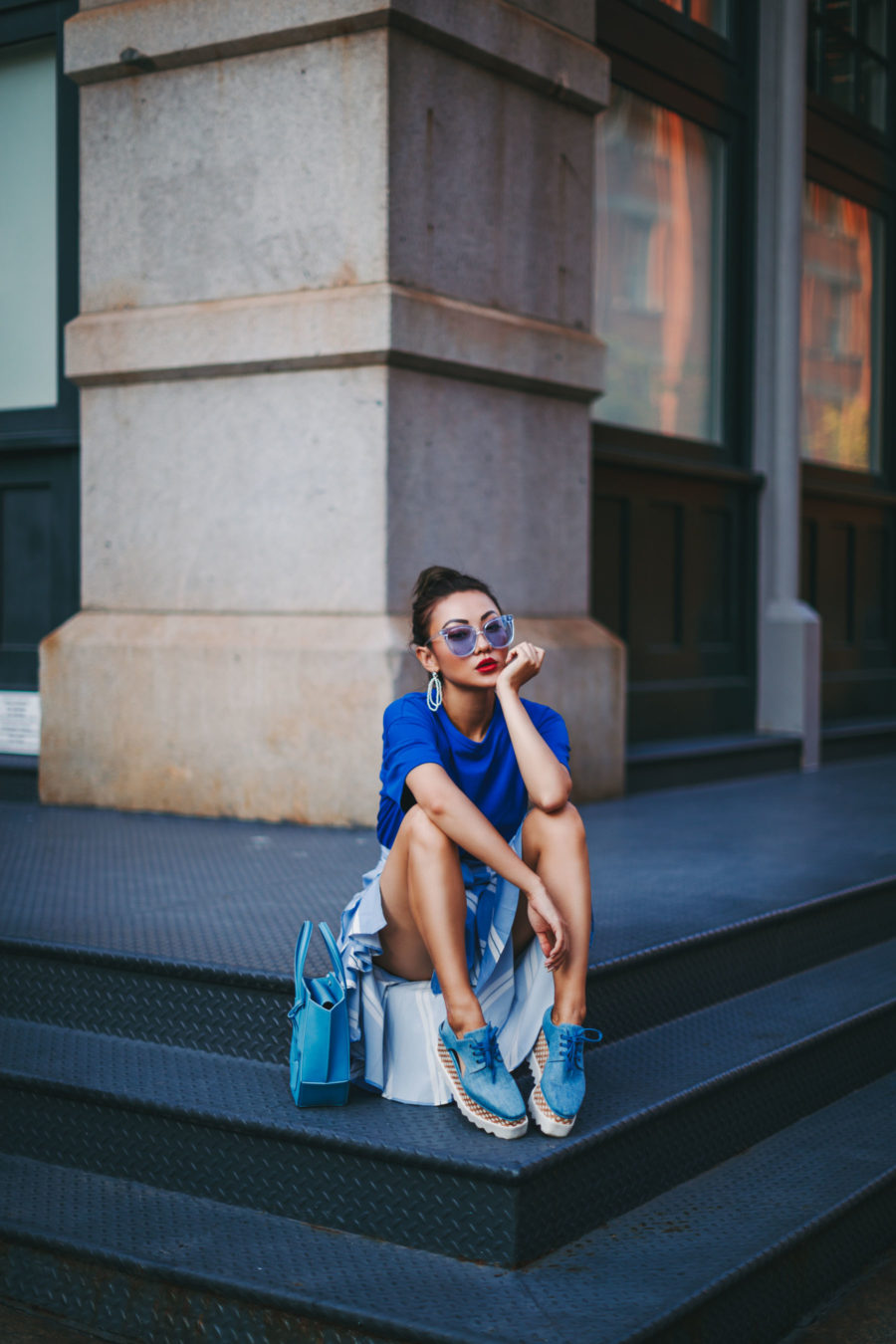 Top: (similar here) | Skirt: (similar here) | Shoes: Stella McCartney | Sunglasses: similar (here) | Bag: Sage Aubrey (similar here)
I
'm sure you're already familiar with the typical formula for looking effortlessly cool – like wearing a
leather jacket, skinny jeans, and boots
or leaving your hair messy and undone. While those platitudes will always work and look good, there's nothing wrong with putting a twist on it. That's exactly what I did in this look. Instead of going for traditional neutrals, I went in the complete opposite direction with an entirely blue look.
…

…
Find out how you can achieve my modern take on looking casual but effortlessly cool: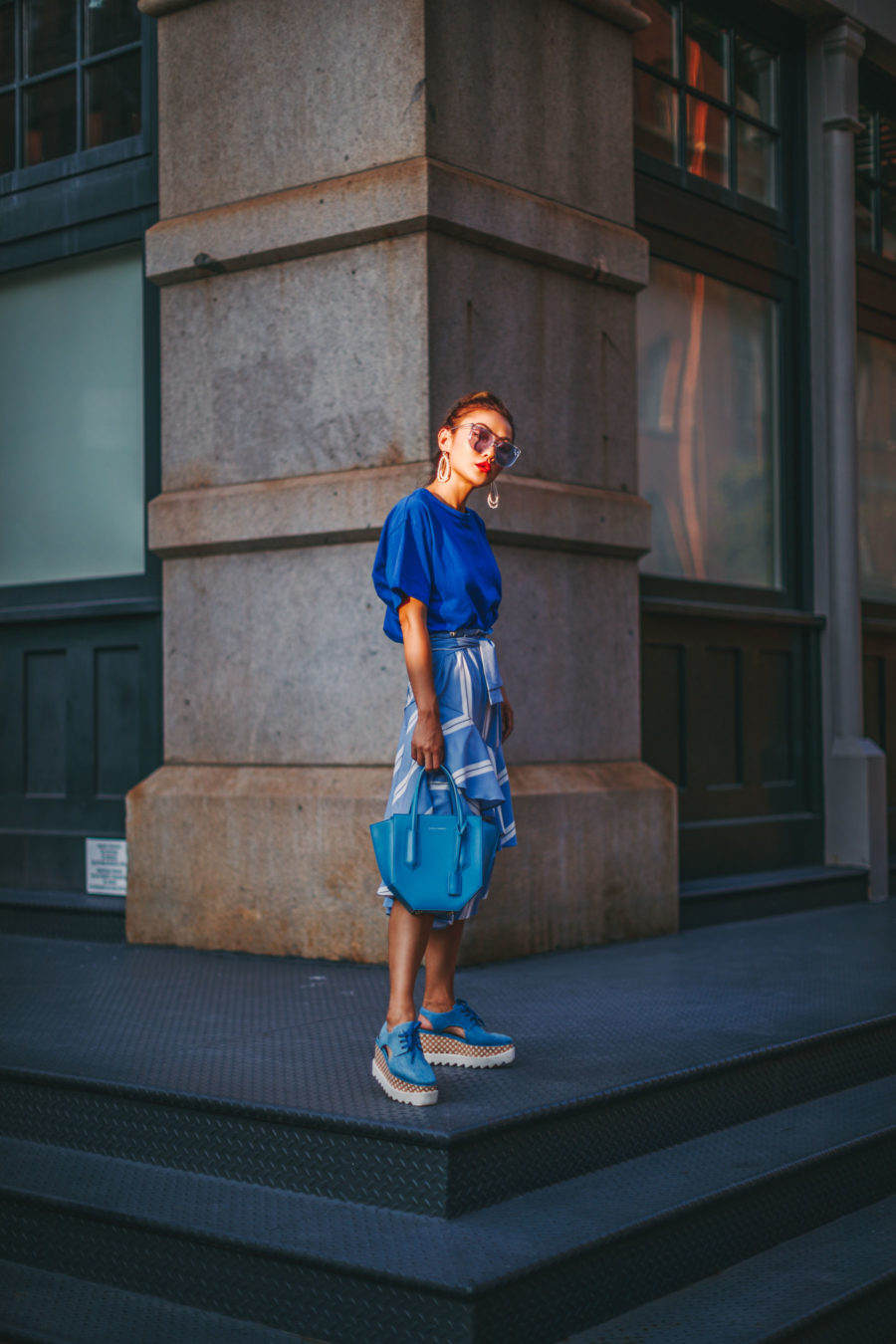 1. Don't be afraid of color.
As I just said, the perfect mix of casual and effortlessly cool doesn't always have to be black and white.
I decided to play with shades of blue in this outfit. Sometimes, the trick to making color work is through playing with unexpected prints and patterns or mixing different textures. The striped skirt and denim shoes really helped create separation in such a monochromatic look.
2. Play with proportions.
Wearing different proportions is definitely one of my favorite ways to keep fashion fun and interesting. For instance, baggy with fitted or short and long. I'm wearing a loose t-shirt with a tiered mini skirt – combining proportions like this definitely draws interest to the eyes.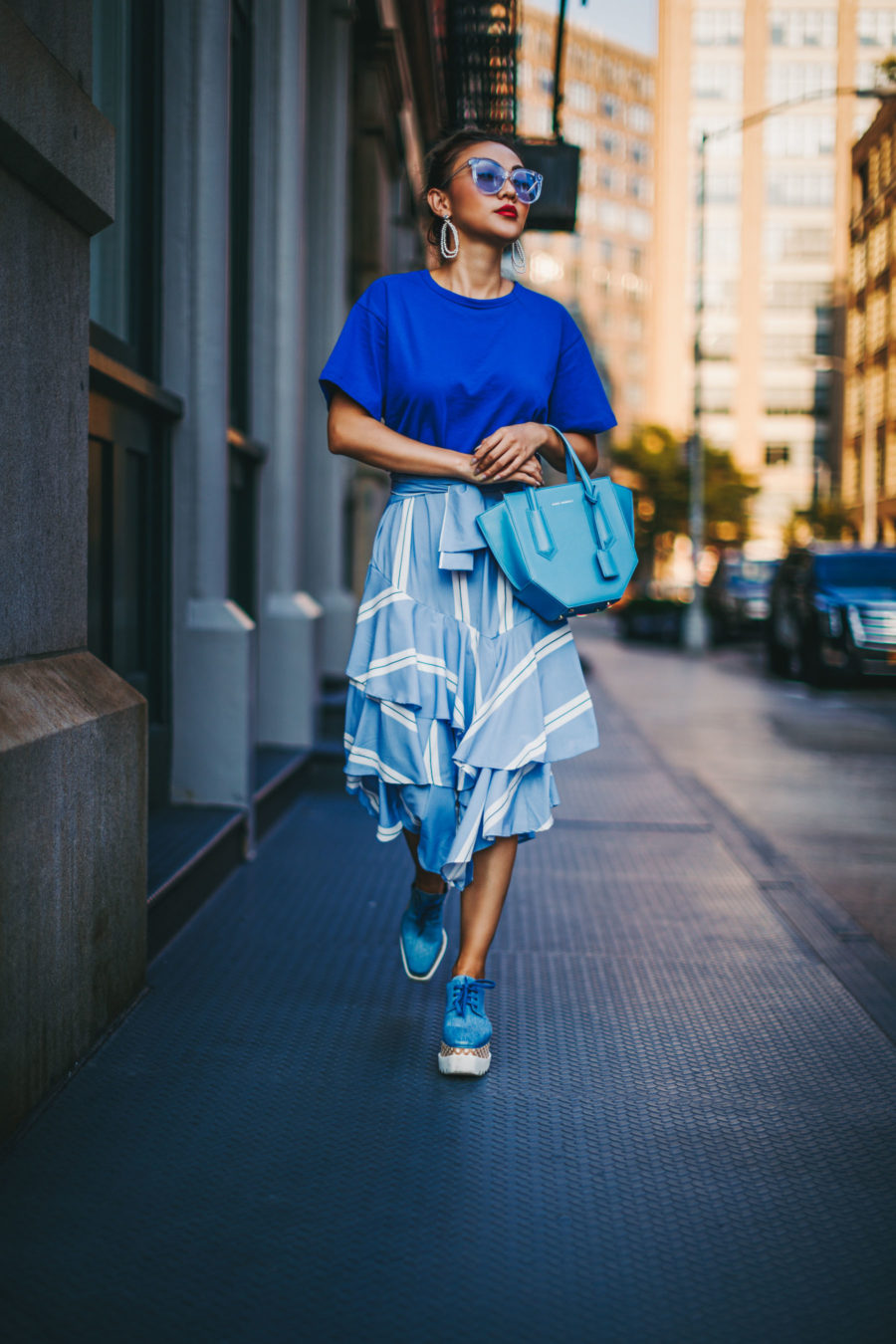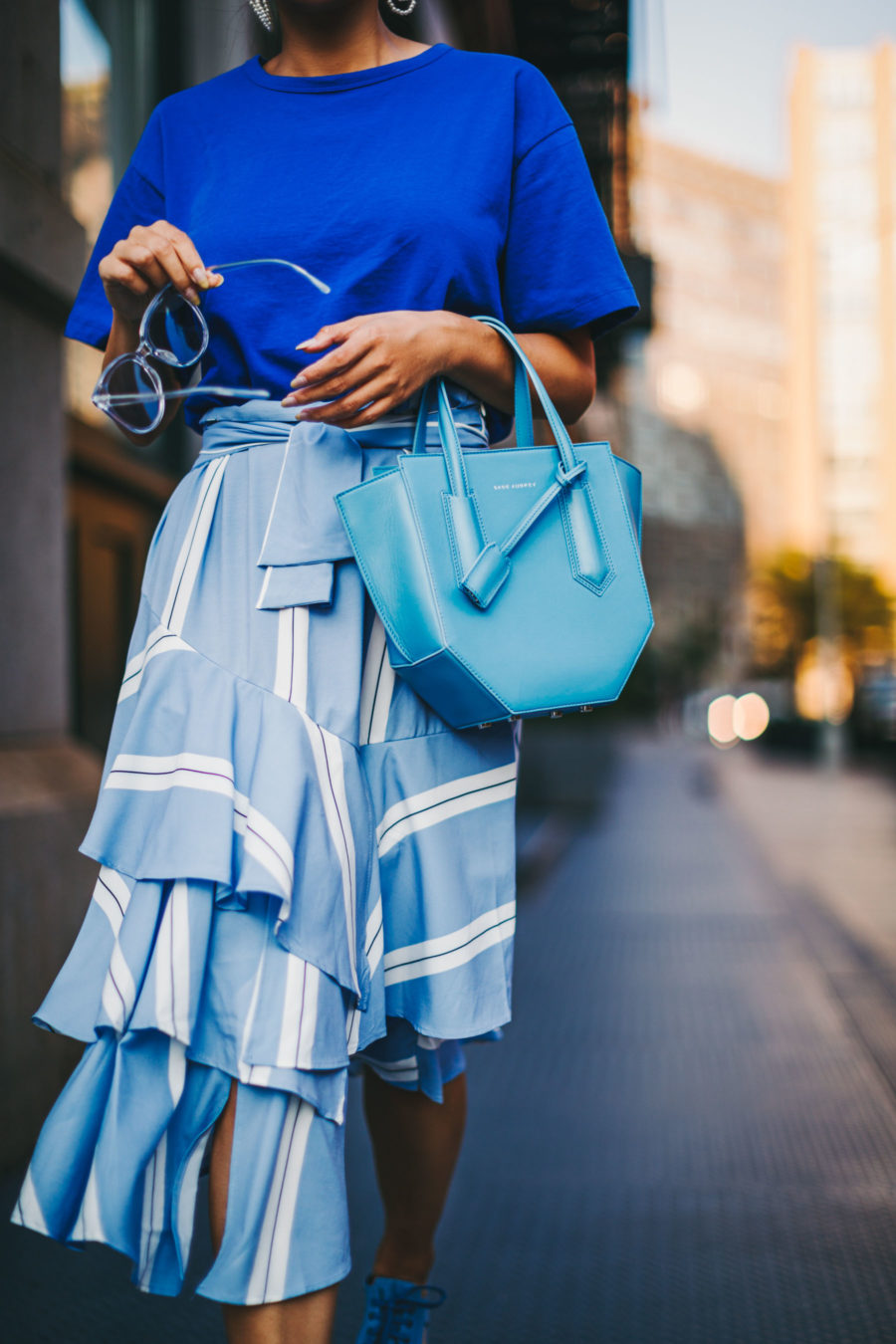 3. Don't underestimate the power of a plain top.
Less can be more – especially when everything else you're wearing is more! So, take a cue from my shirt – a classic piece! Plain tees can be boring, but the goal is to find new ways to style old things. Wear it half or fully tucked like I did – and pick one in an unexpected color (like cobalt blue)!
…

…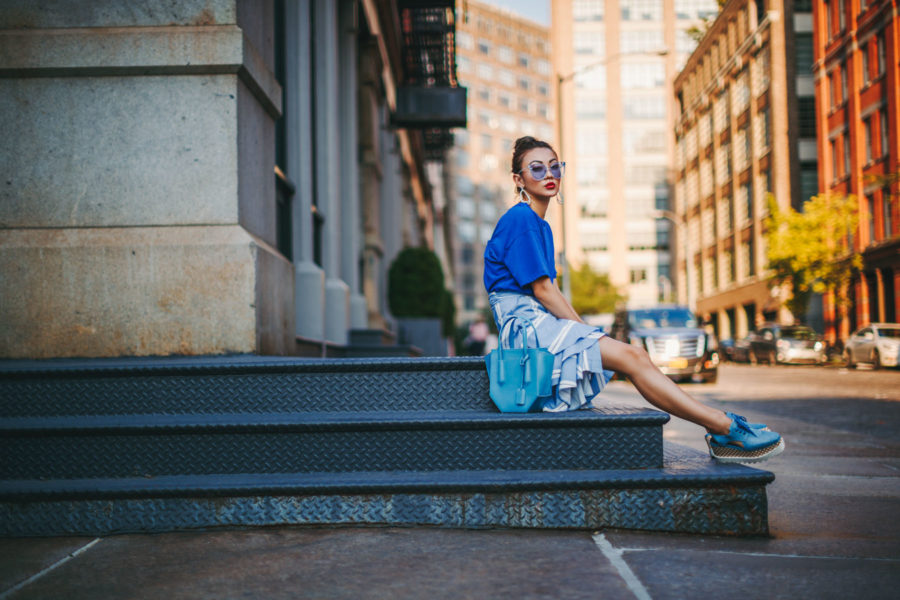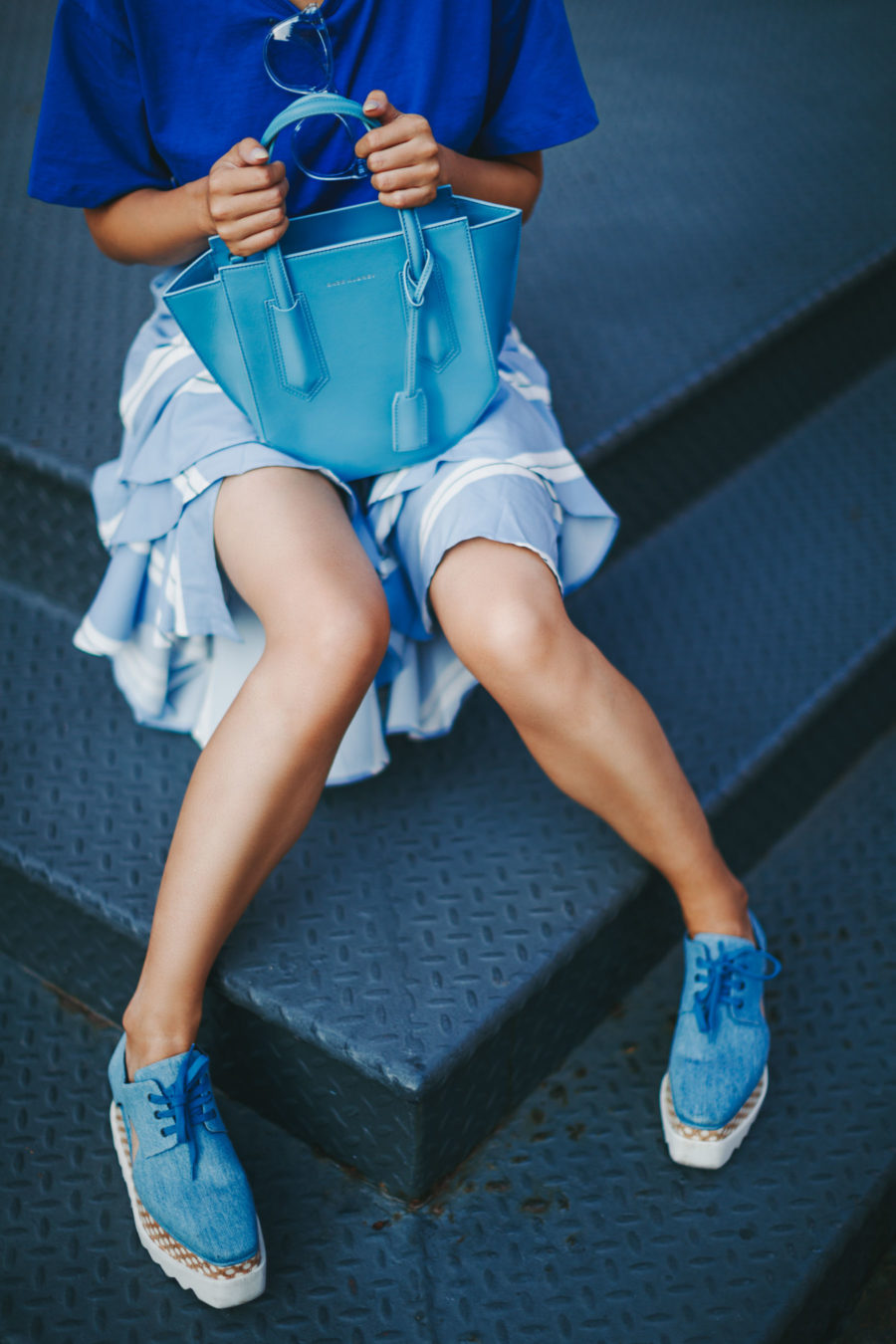 Staying true to blues.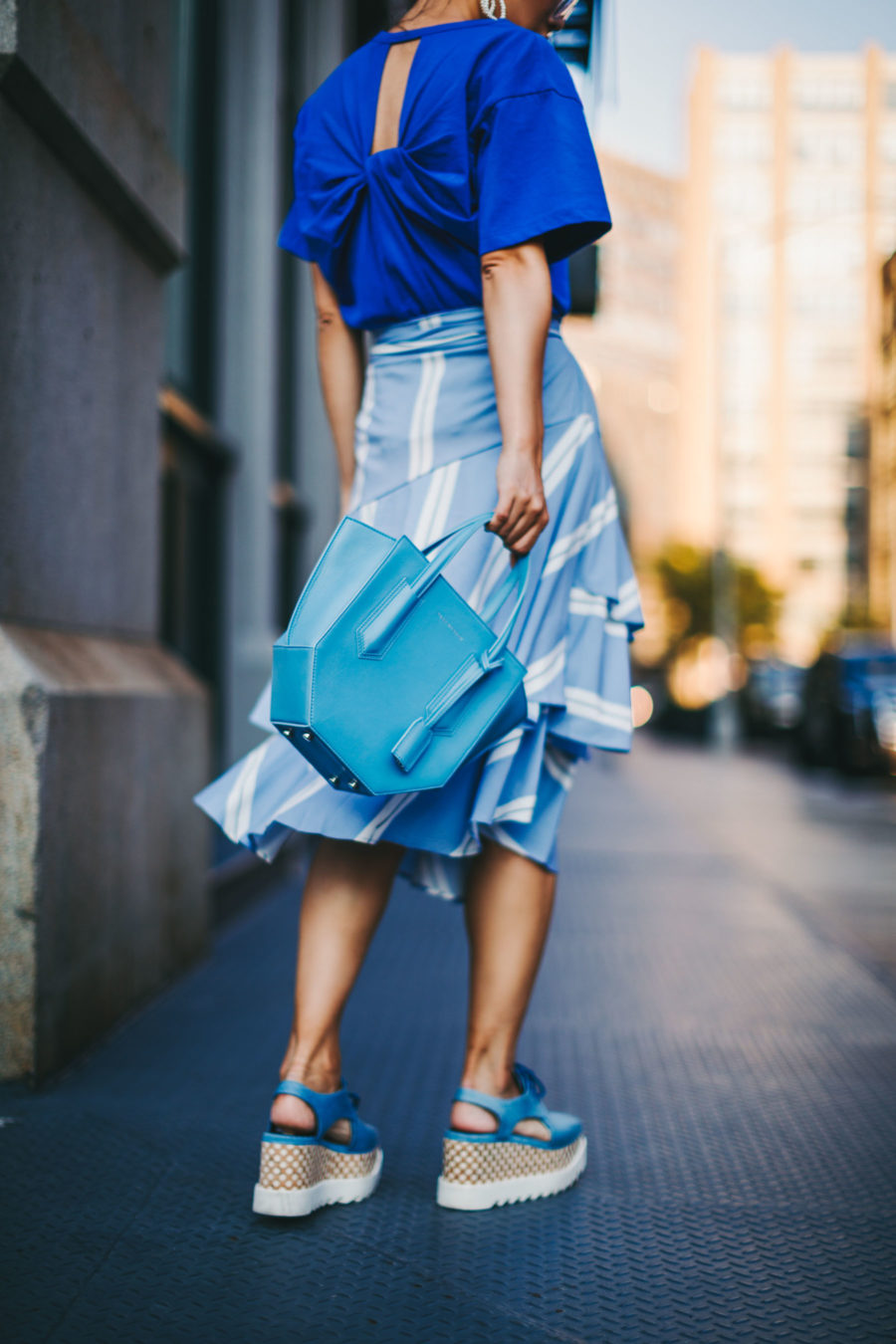 4. Adorn with statement accessories but minimally.
Anchor your outfit with accessories, but pick them carefully because casual and cool doesn't sit so well with an excess amount of jewelry. Notice how I picked two: sunglasses and earrings. Nothing looks more laid back than a great pair of sunnies to cover tired eyes.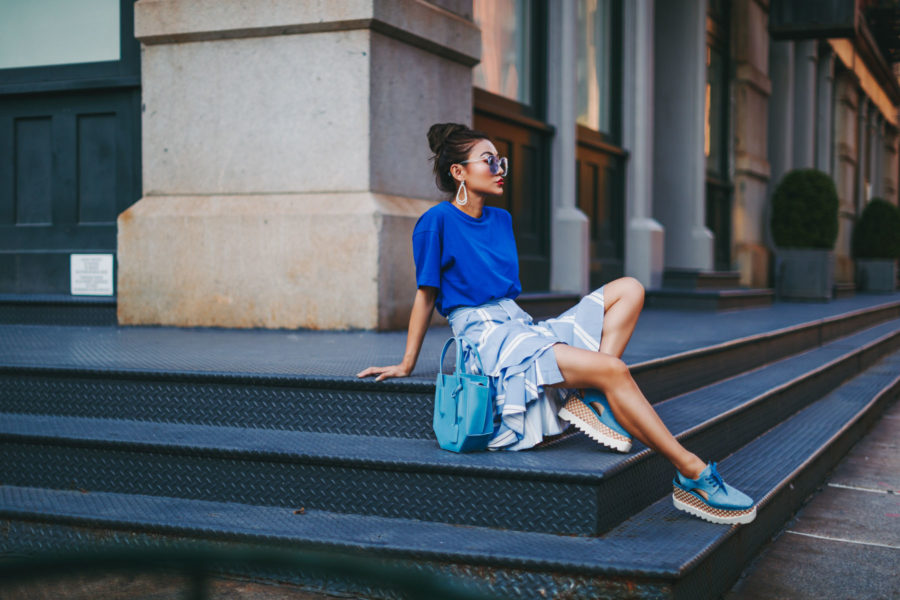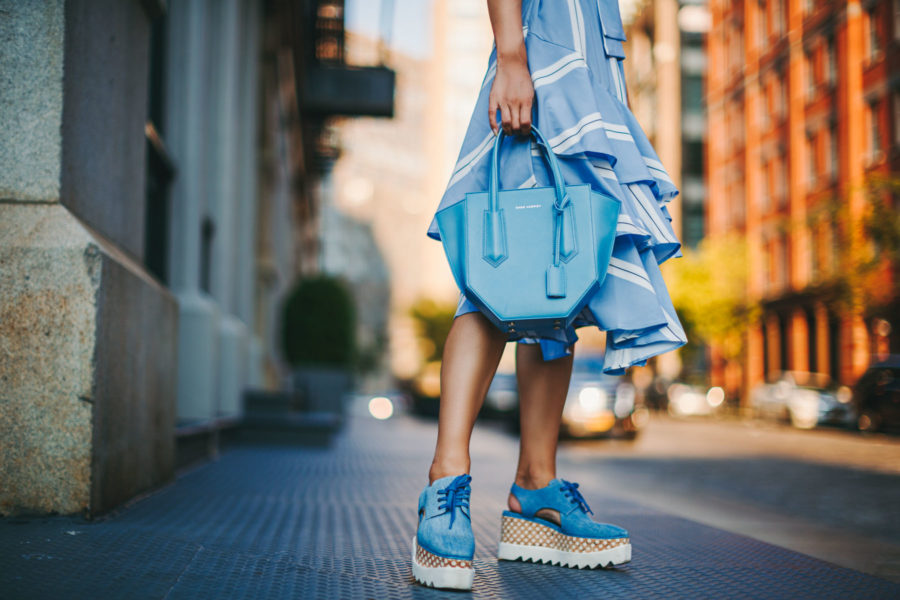 5. Make your shoes the cherry on top.
We all know that denim is a default for the effortlessly cool girl, but it doesn't always have to be in the form of clothes! These denim creepers were clearly the cherry on top in this outfit. With such an unusual shape and fabrication, they really elevated this look to a whole new level. It just proves that your shoes can be the ultimate game-changer for going from casual to cool.
…
Lastly, don't pay so much attention to trends because the cool girl is all about doing her own thing. Blue obviously isn't so relevant right now (hint: fall is all about red), but this outfit still works regardless!
monochrome style