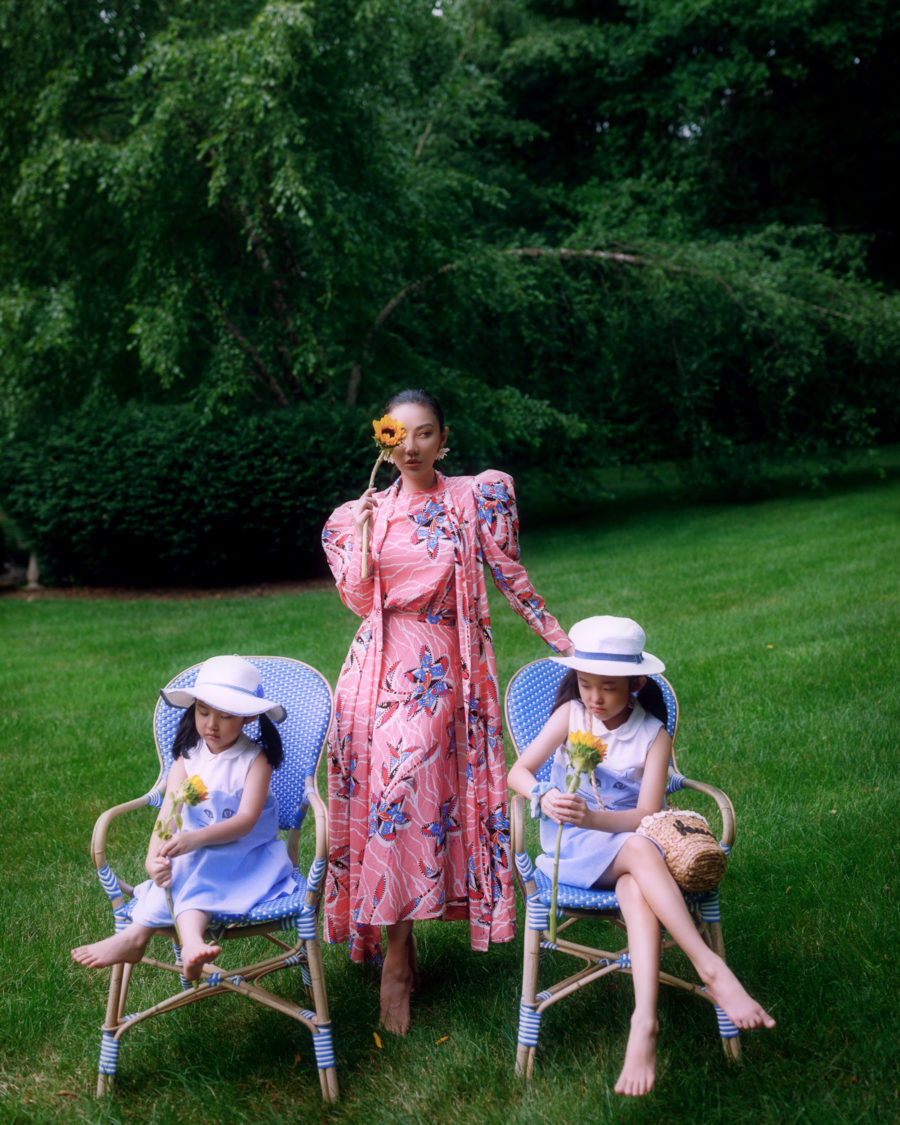 Stella Jean Dress (Similar & Affordable) | Floral Earrings Similar | Charabia Cat Dress (Similar here and here) | Floppy Hats Similar
Y
esterday, October 11, was 
International Day of the Girl
, a special day that started in 2012 by the United Nations National Assembly. It's definitely a day in which I feel needs a lot more attention than it currently receives. It was incepted to acknowledge girls' rights and the challenges they face every single day across the world. At the same time, its purpose is to empower young females so they can make the necessary strides in life. As a fellow woman and a
mother of two young daughters
, I felt it was necessary to spread the word about this recently launched campaign so that world-wide critical issues facing girls receive more attention. I am proud to partner with
UNICEF USA
once again to share how they empower all girls today and everyday. Find out how you can help below!
…

…

How is Covid Impacting Girls Around the World?
Mistreatment of girls is not something new. This has been going on for as long as we can remember but with everything going in recent events this year, it is more crucial than ever to fight for the rights of girls. The global pandemic has caused increased risk of gender-based violence, school dropouts, child labor, child marriage and exploitation. Additionally, girls around the world in low-income situations are still getting their period on top of all the added pressures from Covid-19. UNICEF USA is doing their best to continue delivering menstrual hygiene and sanitation kits to girls in places like Beirut where the country is still dealing with damages from the deadly explosions earlier this year.
…
How Does UNICEF Help Empower All Girls?
Beyond supplying hygiene kits, UNICEF USA helps empower all girls by making it their mission to educate them about the female reproductive system so that they know "that time of the month" is normal and healthy. There is no reason for feelings of shame and embarrassment. On top of this, the organization continues to provide young women with substantial learning tools. Implementing social distancing rules has further decreased the chances of younger girls being able to go to school on a regular basis. UNICEF USA coordinates with health organizations in various communities to provide additional support for young women dealing with gender-based violence, in addition to starting up related frontline groups and communities to act as support systems.
…

How I Empower My Daughters?
As a parent, both my husband and I try our best to empower our girls every single day. We are big believers in words of encouragement and freedom of choice. Even just praising their hard work and their patience as they deal with online schooling makes a big difference in their confidence and attitude. Hazel and Capri are both strong-willed and have a lot of opinions despite being so young, so we also make sure to listen to their thoughts and ideas with conviction. The easiest thing to do sometimes is to swat them away when you are in the middle of working from home. However, it is crucial to let them know that their opinion matters and they are being heard.
I also remind them of how blessed they are to have a warm home, food on the table, and a loving family. So many other young girls do not have this and continually get taken advantage of.
…
What You Can Do
It has been such a crazy year but the last thing we need to do is turn our backs on the more vulnerable female community around the world. I encourage you to spread the word and celebrate the International day of Girl.
Additionally, please consider donating to UNICEF and connecting with them on social to support how they strive to empower all girls.