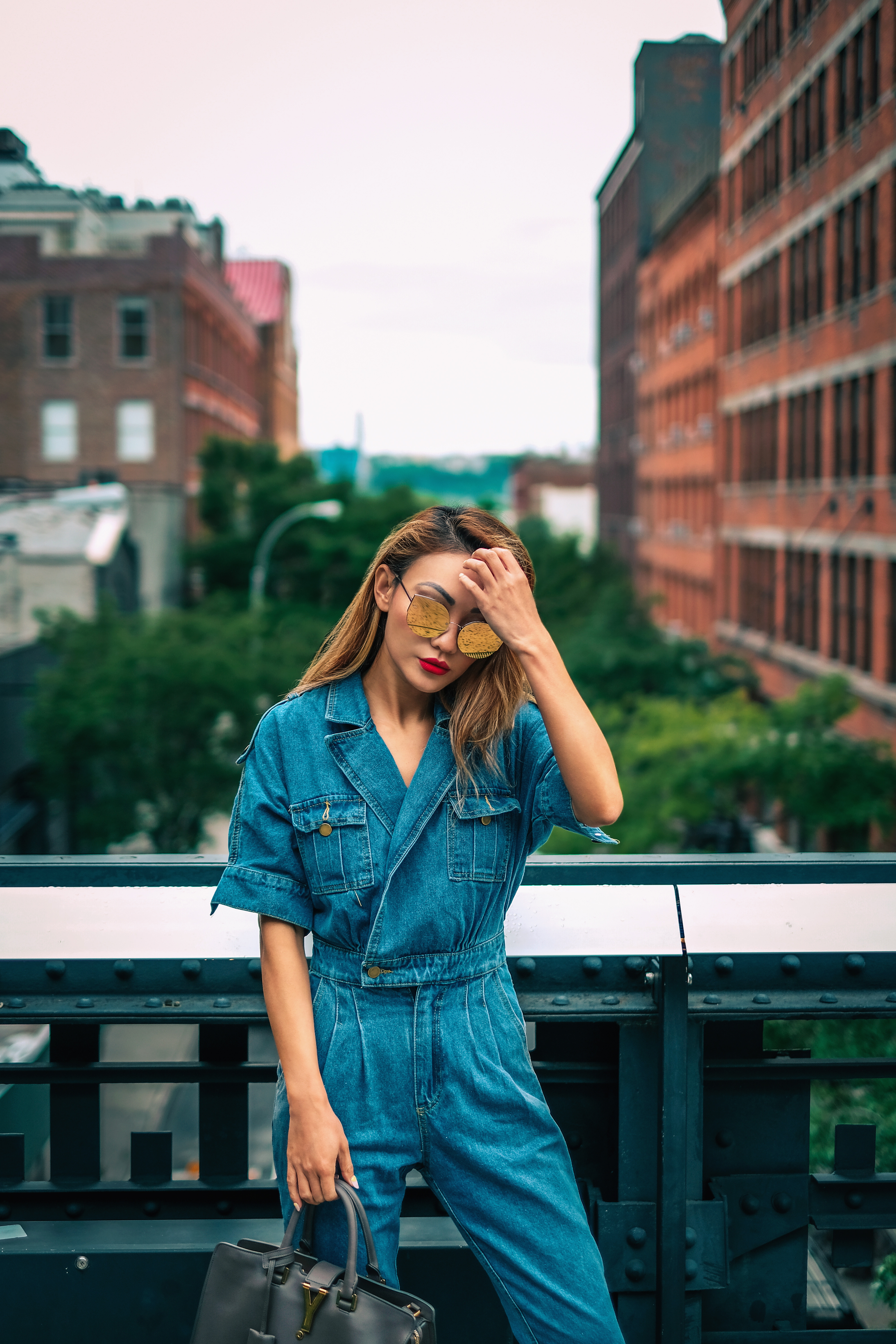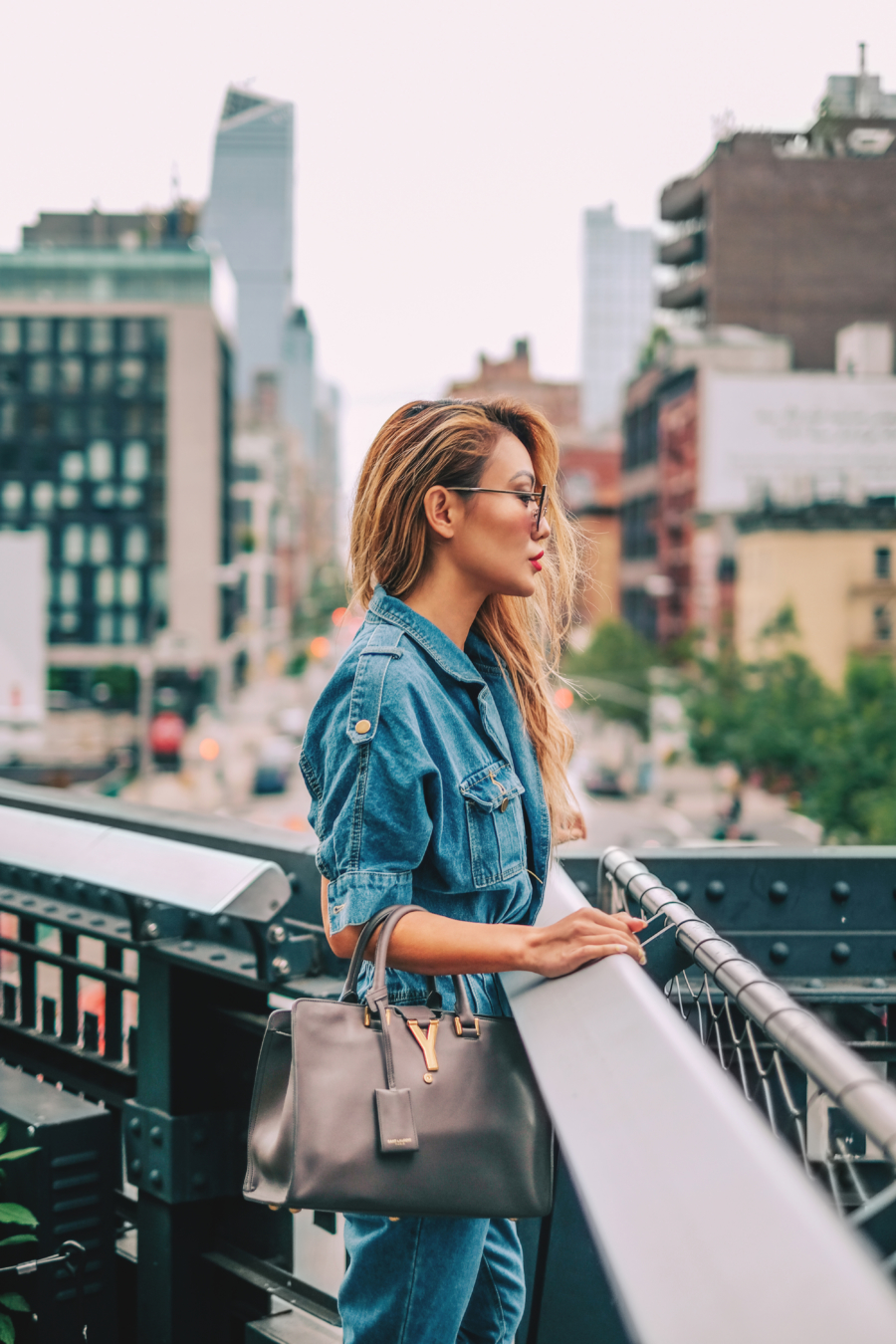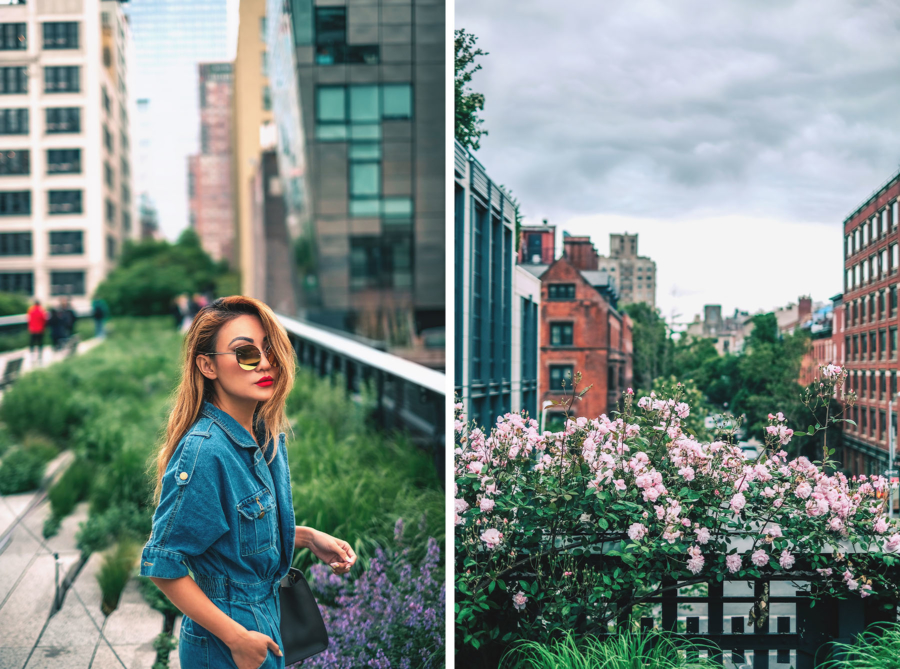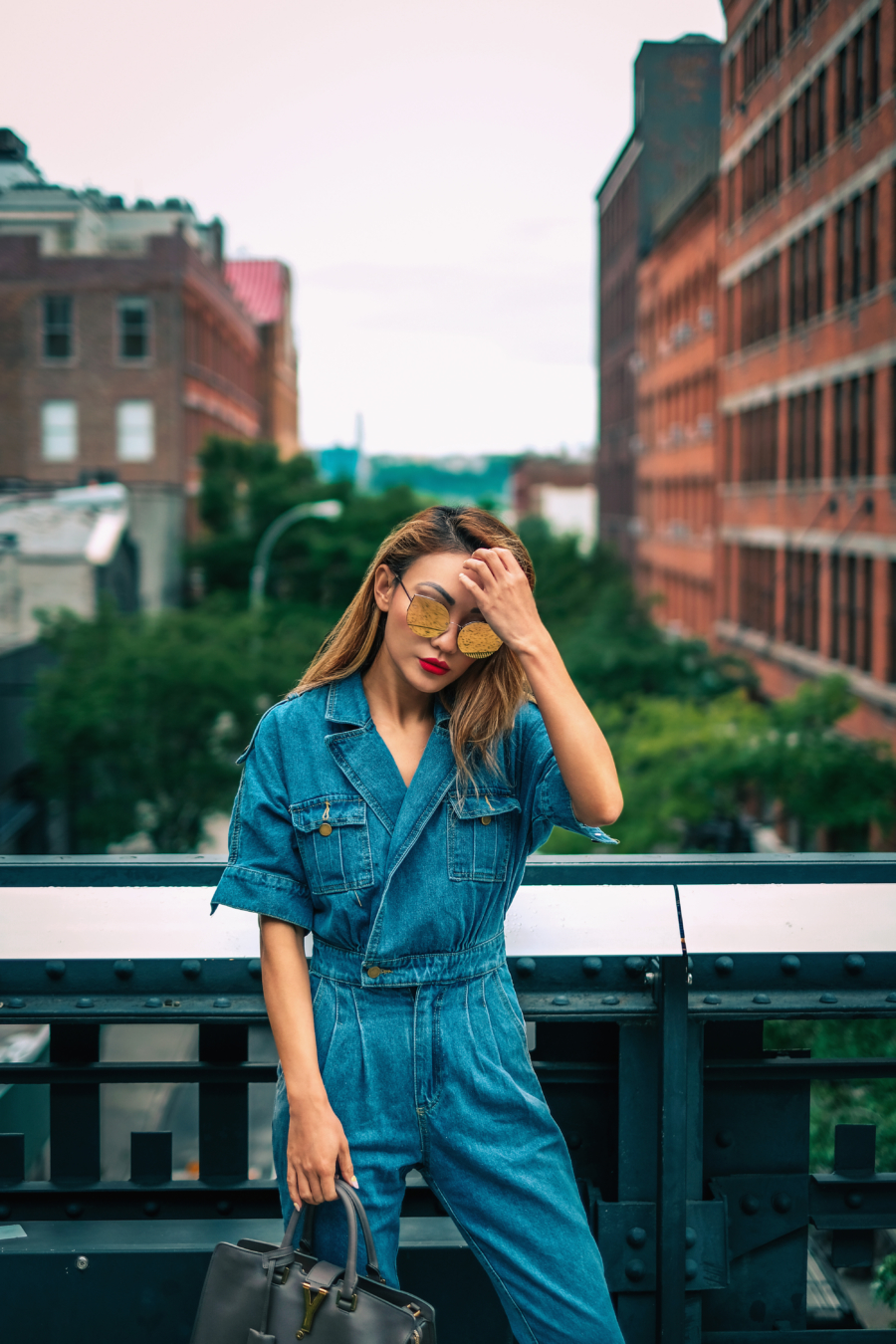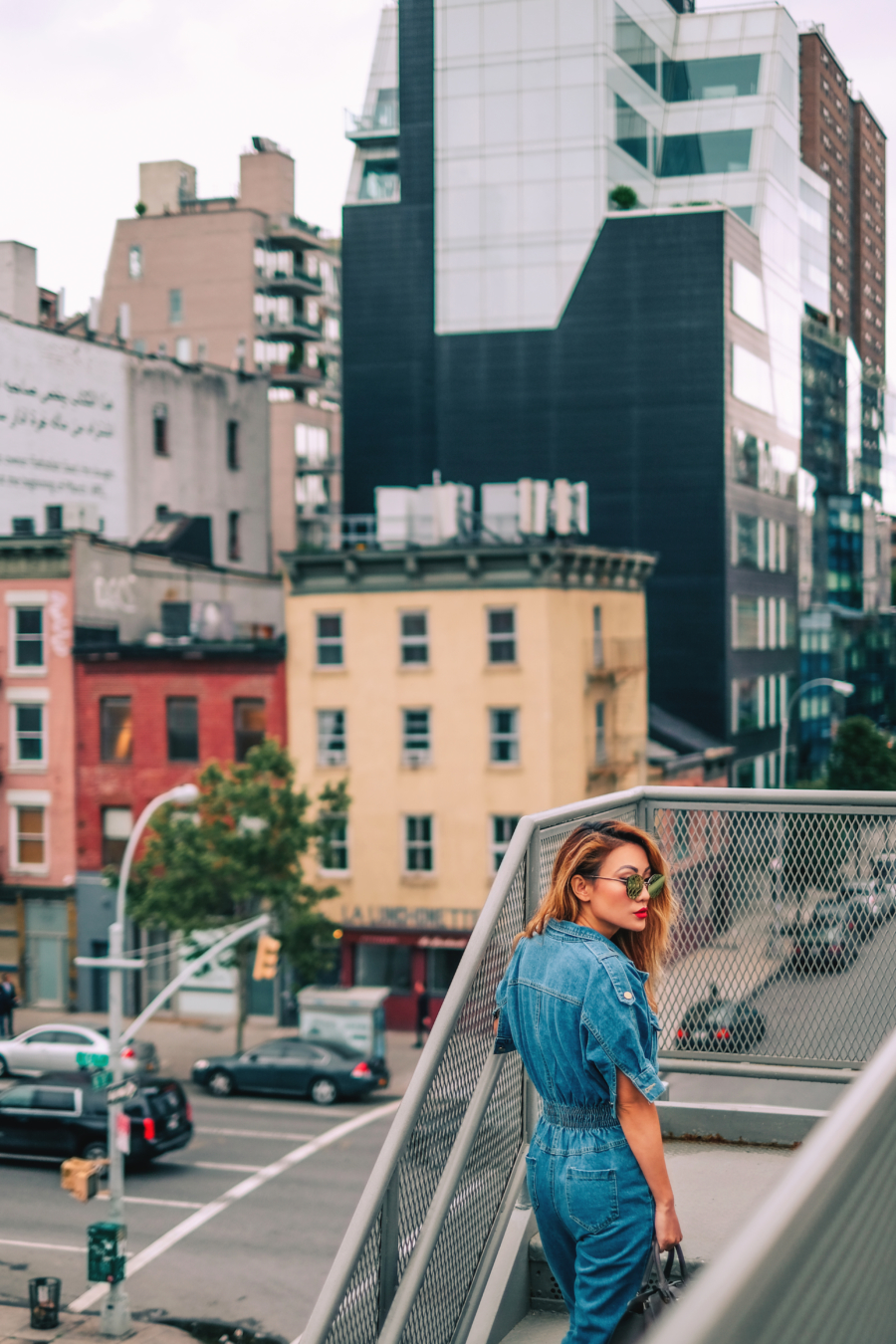 Denim Overall: (similar here) | Bag: YSL (similar here) | Sunglasses: Gentle Monster (similar here)
You've seen the head-to-toe denim look on the runway, in magazines, and even on the street. Since spotting denim head-to-toe, you've been wondering how you can rock it yourself –how you can make it your own. You're not the only one. I, too, was struck by the head-to-toe denim look myself.
…

…
How To Rock A Head-to-toe Denim Look
Here are my tips for you. They're pretty basic, but by addressing these items, you'll be able to rock a head-to-toe denim look as if designed by a fashion specialist –just for you.
Color: The denim color matters. Try to be as monochromatic as possible unless you're going for vintage patchwork which can be tricky, but it can be done. Monochromatic denim is classic and by sticking with one shade head to toe, it will give the illusion of any other monochromatic look. Totally modern and cool.
Details: While we love frayed edges, distressed washes, and embroidery details –now is not the time to rock too many of these details. And definitely not all at once. That would be a fashion faux pas. Find one subtle details and one only. In all honesty, the fewer details the better.
Accessories: Because the head-to-toe denim look is unique, the only accessory that should stand out is your bag. Go for color and unique shapes and details. Don't wear over-the-top jewelry unless you want to reflect that 90s vibe. Simple gold or silver hoops and a classic watch are sufficient. However, some chunky gold or silver pieces work nicely with an updo hairstyle.
…
Top Denim Must-Haves That Delivers
If you're not into the head-to-toe denim look, then try mixing a few denim pieces into some of your favorite outfits. Some of these pieces are statement pieces, so that means the rest of your ensemble's extravagance should be kept to a minimum. But again, that depends on your personal style and where you're planning on going. Some events call for extravagance whereas others require subtle beauty.
Here are the best 5 denim pieces to wear this summer. I can't pick a favorite because I am loving denim so much this season. It's up to you to decide which one gets your fashionista heart pumping.
…
Jumpsuit
Yes, go out and get a denim jumpsuit immediately! It's a piece that endures several fashion seasons and it really does look amazing on all body types. Whether you go for a sleek sleeveless number or an industrious jumpsuit, you'll take your fashionista claim by rocking this item. Summer is about ease and the denim jumpsuit doesn't get any easier.
…

…
Overalls
Another classic summer item –overalls. Don't think farmer or gardener –denim overalls have gone way beyond those silhouettes and had major transformations. Today, overalls come with fringe, frills, ruffles, tie details, and bows to spice them up and keep them feeling extra modern and feminine.
…

…
Romper
Rompers are all the rage, so get in on the trend this summer. What makes the romper so divine is that it's casual enough for all sorts of summer events, but classic and chic when paired with more haute couture accessories. Rompers are great with sneakers and wedges, but make a statement with wedges and strappy sandals.
…

…
Vest
Whether you select a fitted or oversized vest, you'll be sure to delight with your denim skills. An all black or white monochromic look really pops with a denim vest. Or for that flirty, floral summer dress, the denim vest pulls it all together nicely. Patches and embroidery define your denim, too.
…

…
Shoes
Think a denim shoe can't be done? Think again. Savvy denim shoes are those that have classic lines and are trendy without going overboard. Denim flats, slip-on, and sneakers are front-runners. Less is more, so don't select a denim shoe that distracts attention from your entire outfit.
…

…
So, what are your thoughts on a head-to-denim outfit? I hope you give it a try and let me know how it goes after reading about these tips!