Disclaimer: This post was sponsored by AVA Grace. All opinions are my own.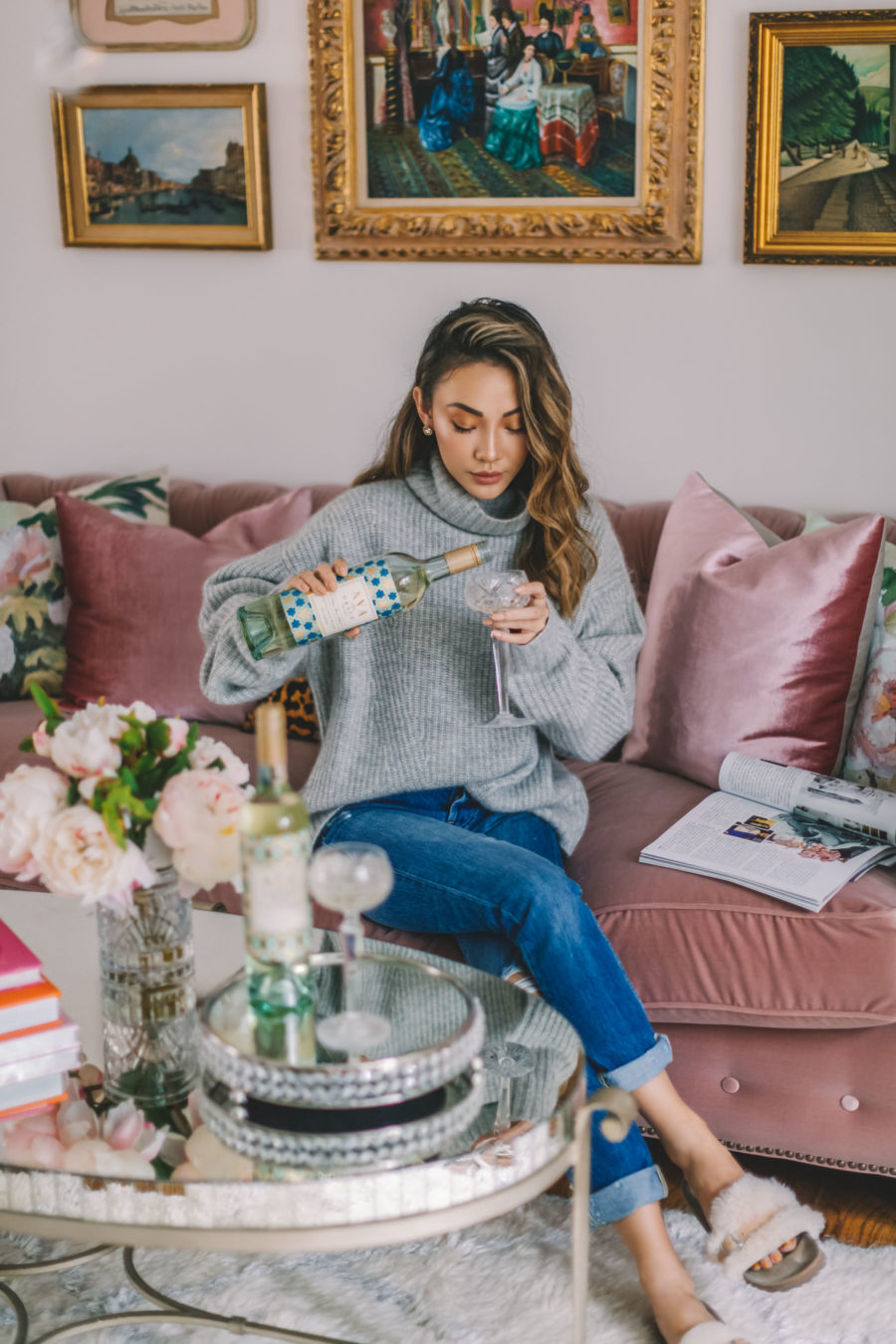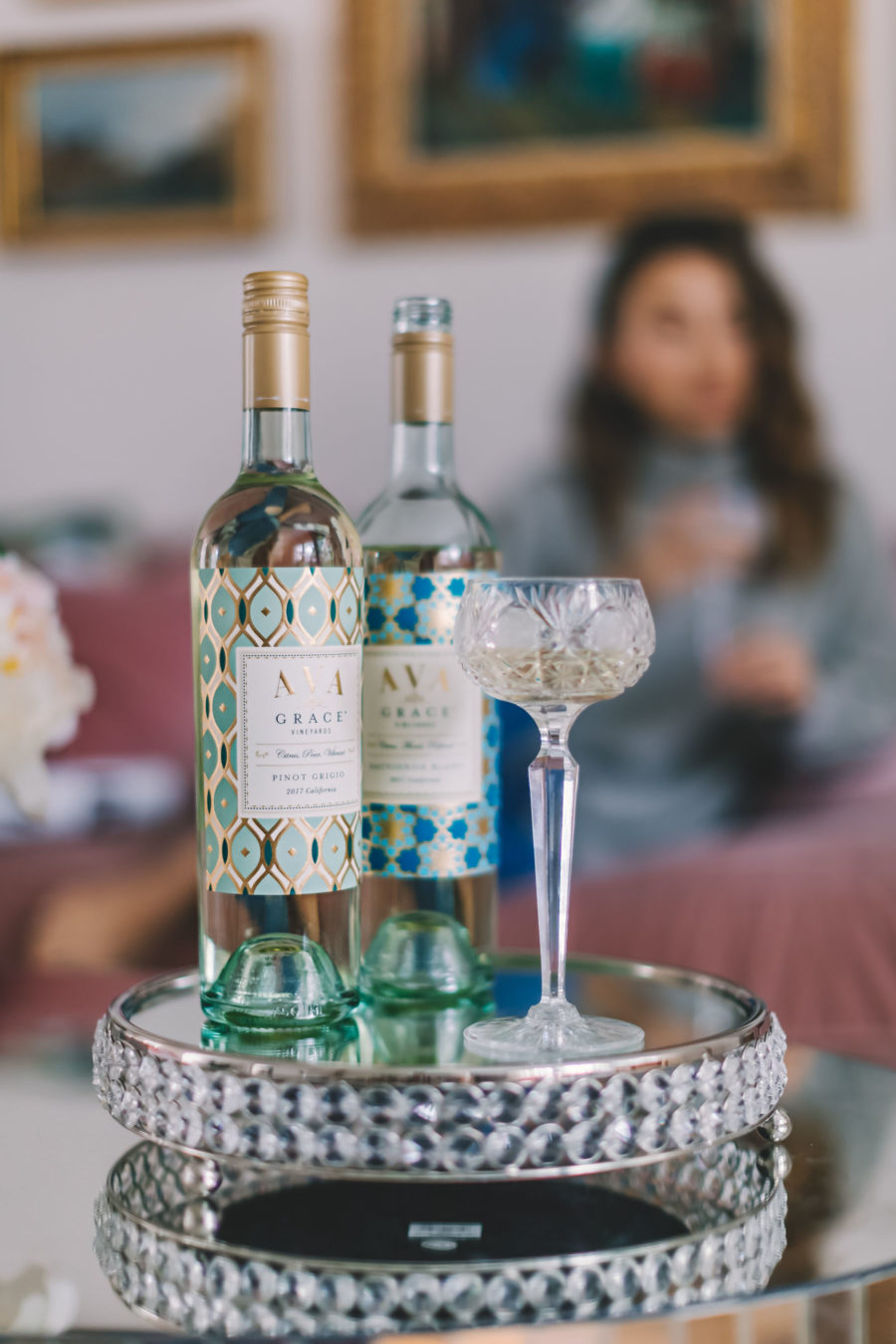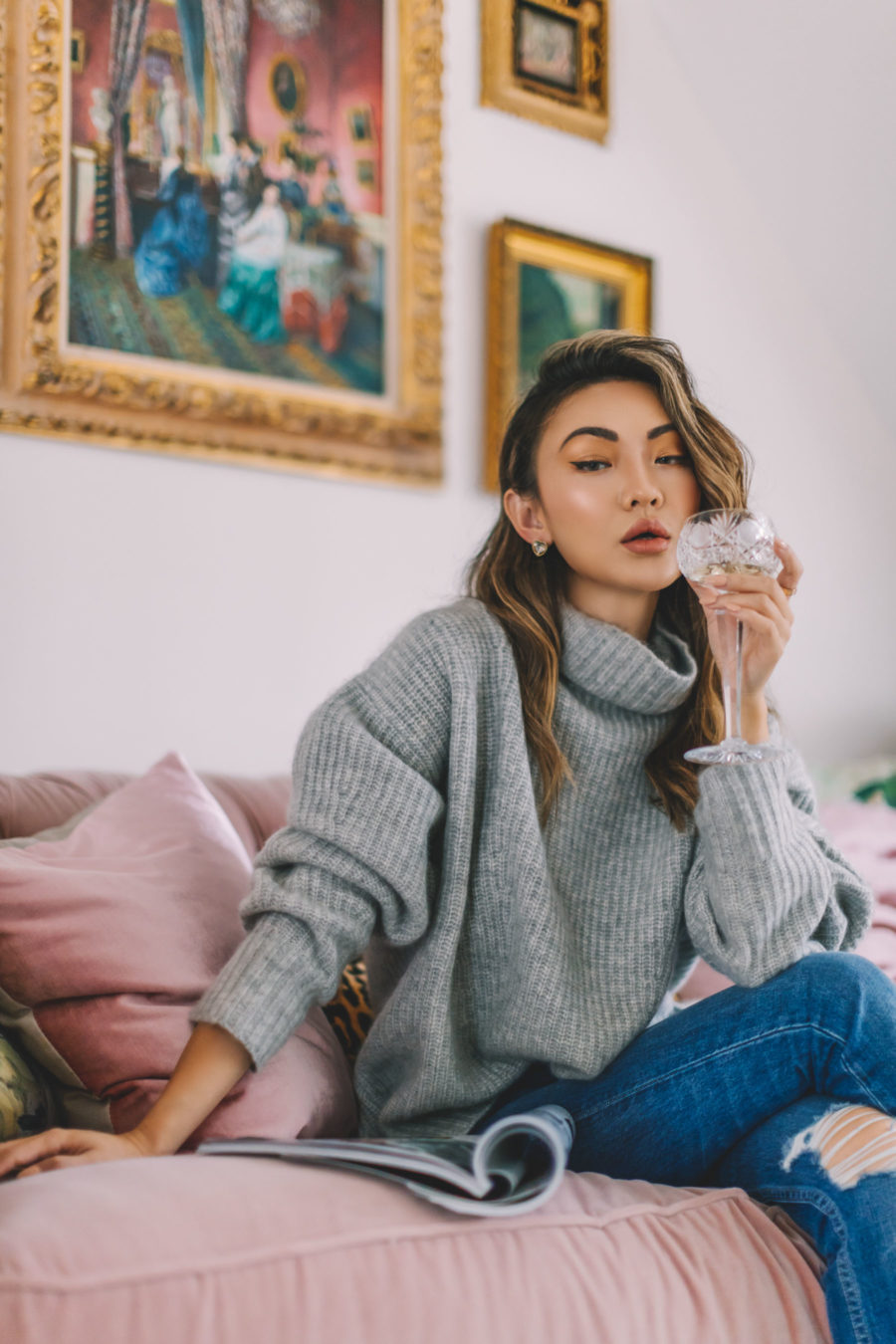 Sally LaPointe Turtleneck (Similar) | Trave Jeans (Similar) | Birkenstock Fur Slides | Poetic Pillows from Neiman Marcus | Shag Rug from Neiman Marcus | Williams Sonoma Leopard Pillow | Anthropologie Sofa (Affordable & Similar) | Crystal Floor Lamp
W
hen most people hear "hosting" or "entertaining", the vision of gourmet foods with a decked out tabletop usually come to mind. However, I beg to differ. These days, I've become more of a homebody and prefer casual intimacy over a full-scale glamorous production – especially in the fall when the weather is cooler and we anticipate a season of celebrating and connecting with others. Whether I'm staying in with the hubby or calling a few of my friends over to chat, fall entertaining is all about simplicity. I strive to create a space for connection in a way that inspires happiness and tranquility rather than a picture-perfect moment.
…

…
If you have plans for any small celebration this season, I've teamed up with AVA Grace to share four key elements that'll make fall entertaining easy and successful in the comfort of your home.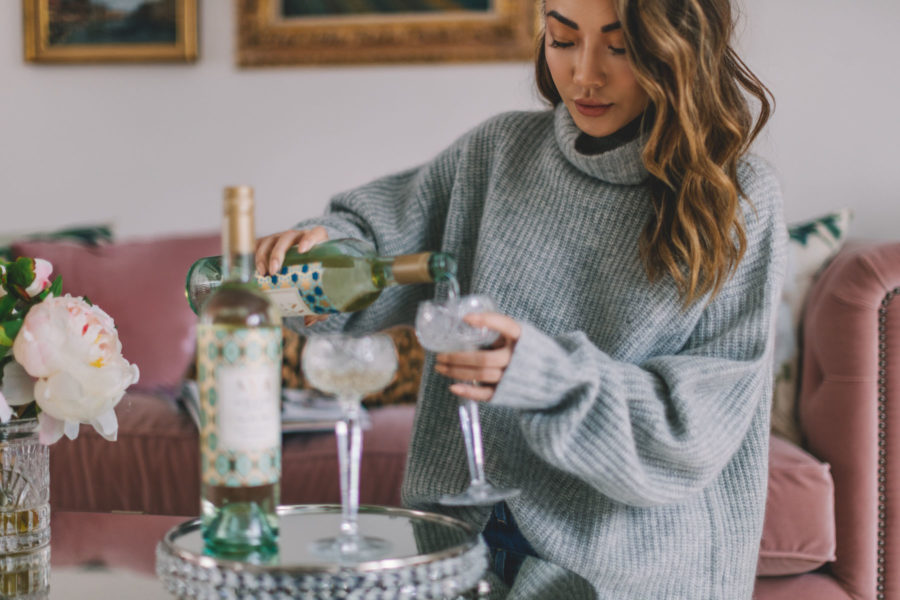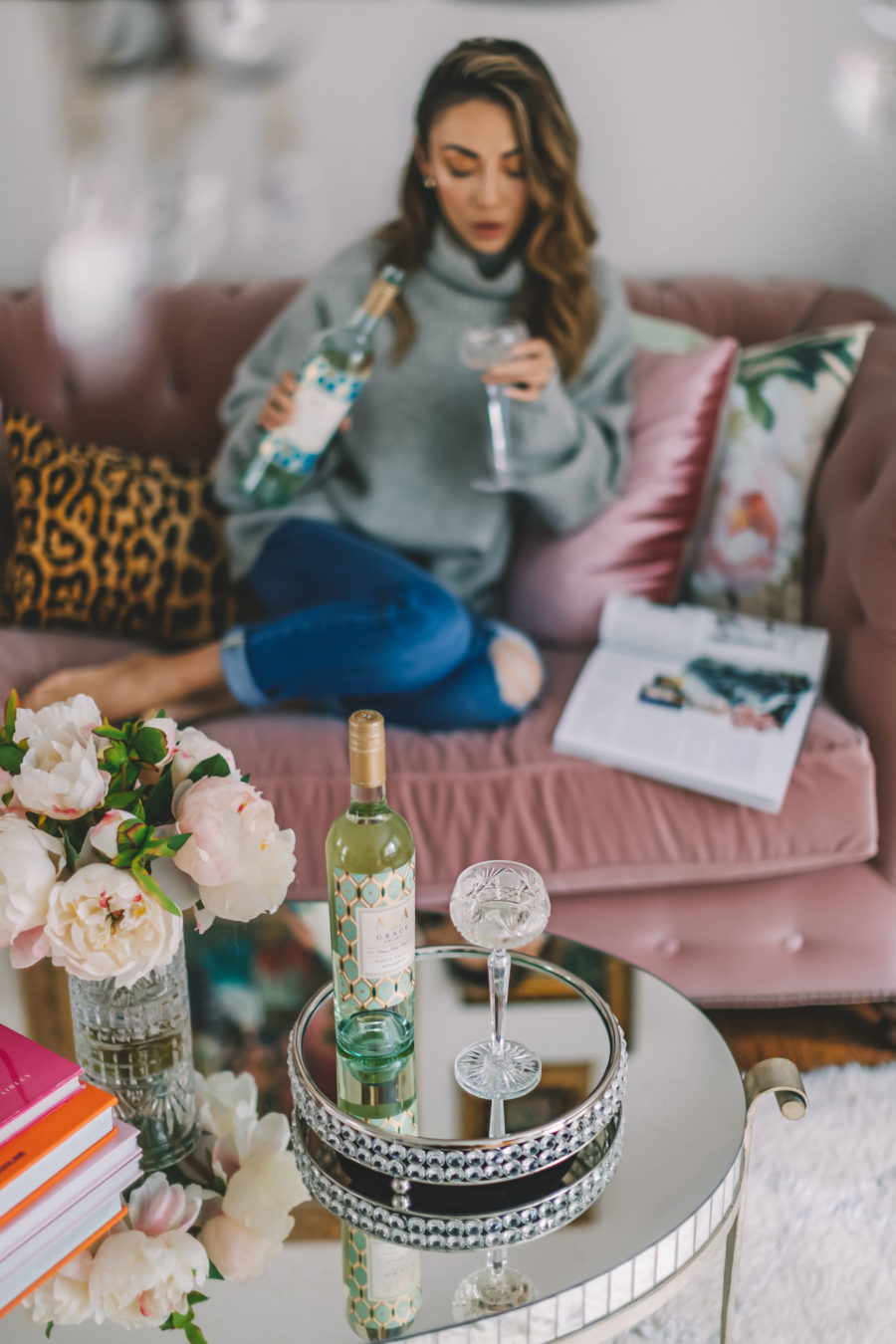 Live gracefully…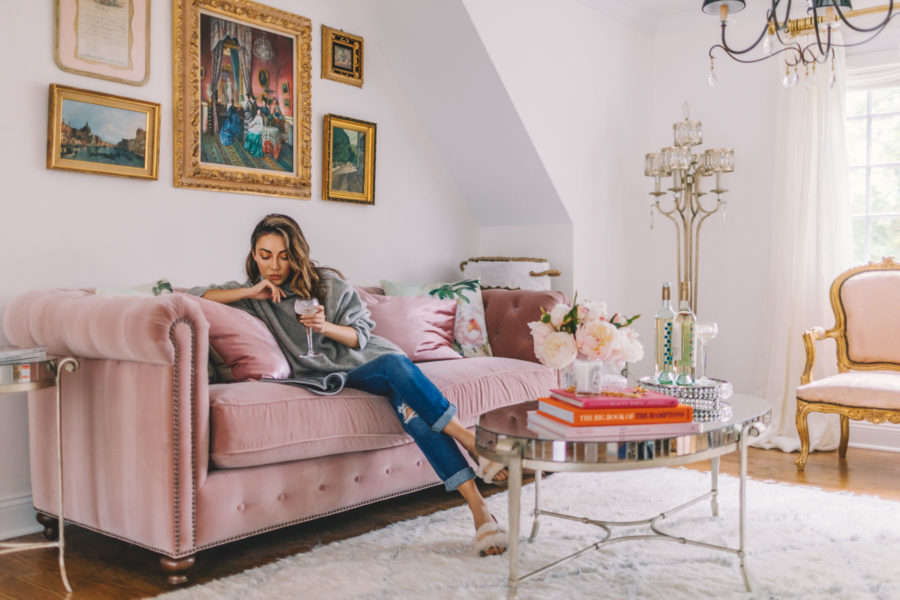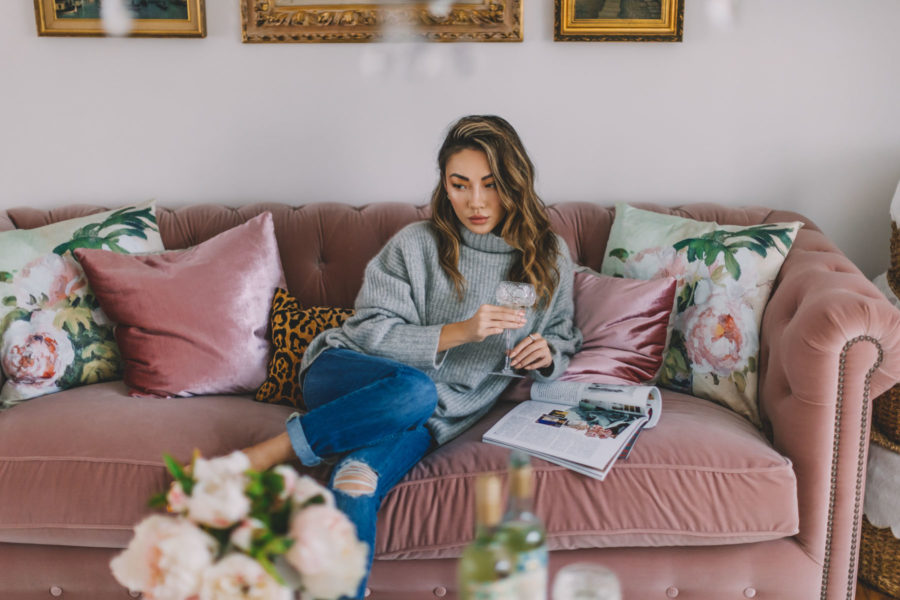 1. A purpose
I tend to be overwhelmed with gratitude during this time of the year, so I believe that any reason is a good reason to celebrate. From small wins in my business to checking off another 2018 goal, I love grounding myself in gratitude and expressing it to those around me. I also take pleasure in celebrating the success of others. My mantra is that if it's worth talking about, it's worth celebrating.
2. Delicious wine
Fall entertaining is only complete with a few bottles of wine. Lately, I find myself reaching for white wines from AVA Grace because they're so smooth and easy to drink without breaking the bank. If I'm going for easy entertaining, AVA Grace whites are my top choice for the refreshing, crisp finish that's perfect for sipping alone or pairing with food. Not only that, but the bright, beautiful bottle inspires celebrating life's little pleasures.
My two favorites are the Pinot Grigio and Sauvignon Blanc. The Pinot Grigio boasts fruity flavors with some fresh citrus mixed in and is on the drier side, which is exactly how I like it. On the other hand the Sauvignon Blanc is fruity and light with a hint of sweetness but is not overbearing. Every glass delivers exceptional quality and a mouthful of grace that your friends and family are sure to enjoy.
3. An intimate space
I think it's important to designate an intimate space in your home to entertaining especially if you have small children around like me. When it's just my husband and me, we'll use use this sitting area in my bedroom to celebrate small wins with a few glasses of wine and reflect on the things we're grateful for. When I have friends over, we'll gather over the kitchen island or dining table because I find that it's easier for me as a host – and I can easily reach for extra bottles of wine. The most important thing to consider when designating a space is that it's serene and promotes conversation.
4. Your own personal touch
No matter how small or casual a get-together is, I always like to add a personal touch that induces a welcoming environment. The smallest changes like swapping out your traditional wine glasses for special glassware or adding a fresh bouquet to the table elevate the moment in the slightest way. This really helps set the mood and makes the moment even more worthy of celebrating.
What's your idea of easy fall entertaining?
ava grace