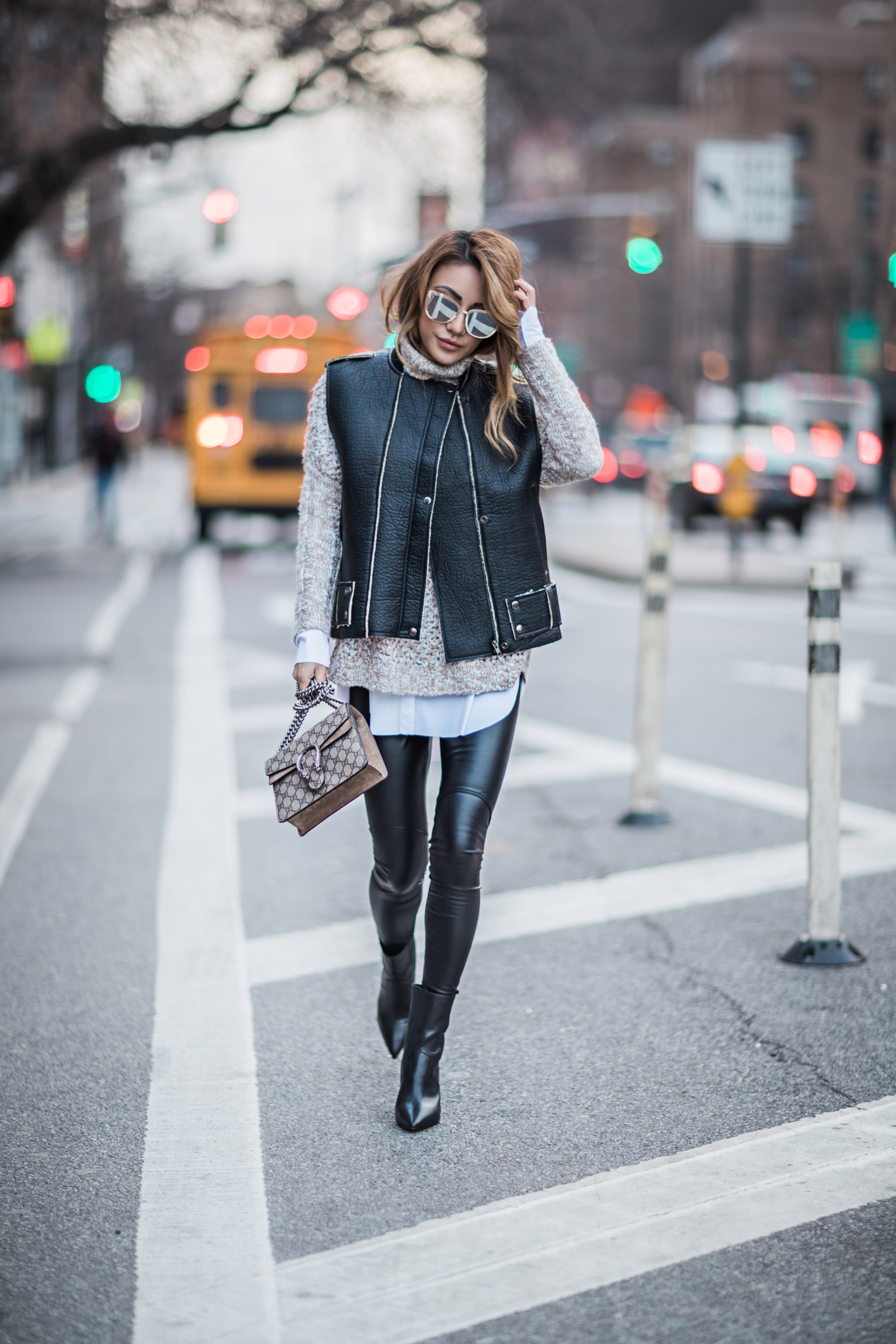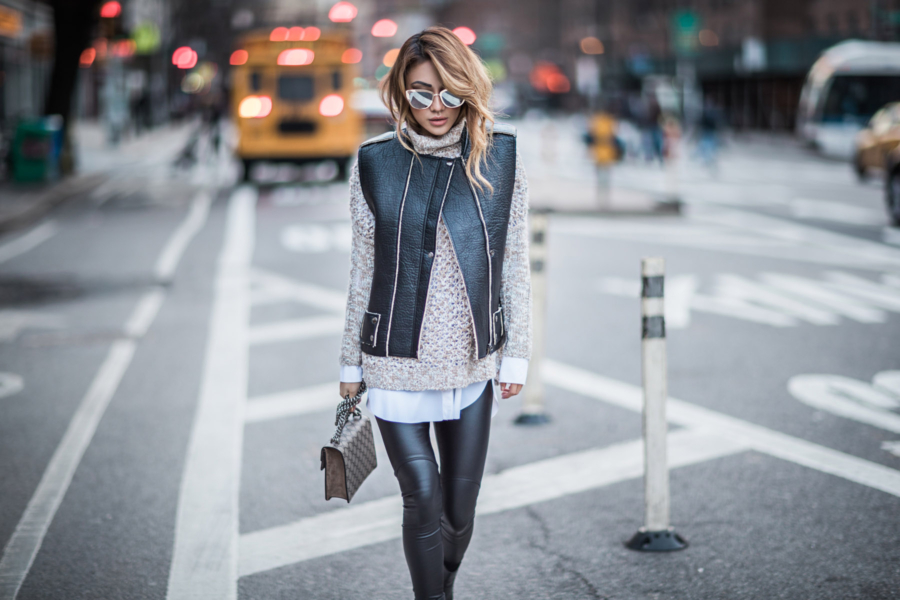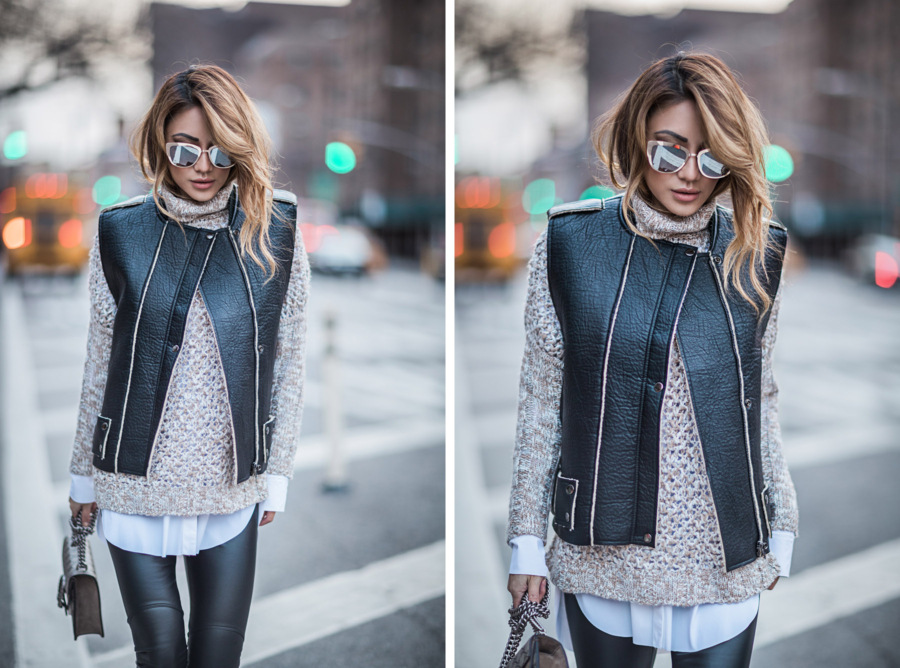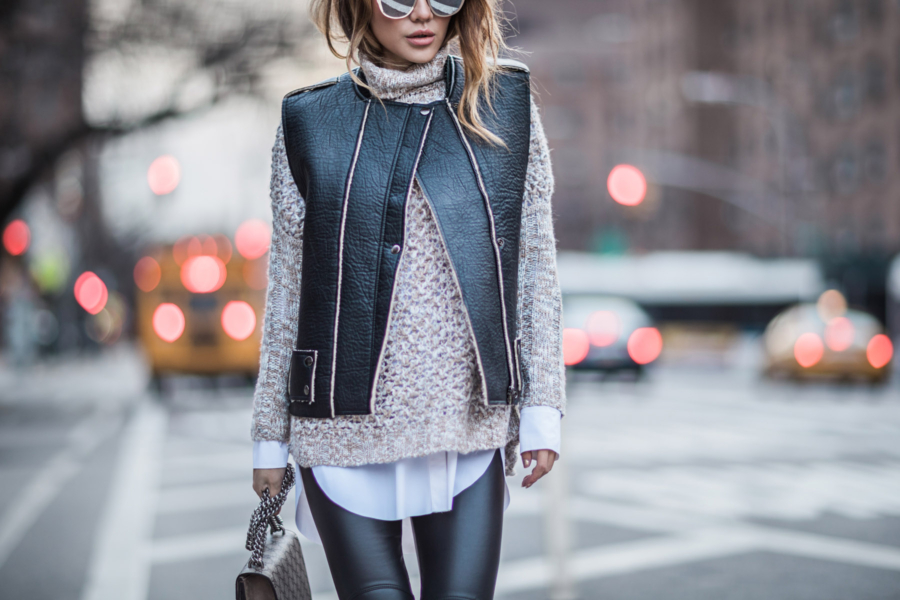 Vest: JOA | Sweater: Michael Stars | Shirt: Lysse | Leggings: Lysse | Shoes: All Saints | Bag: Gucci | Sunnies: Quay
…
L
et layering take your look to the next level! Winter layers are challenging to pull off sometimes—especially on those way, way way below freezing days. Too many winter layers can hide your figure, or make you look like you're about to go skiing, when really you just need to get from point A to point B.
Mastering winter layers is an art, and it requires patience. Yes, it's chilly to the bone, but don't go straight for the wools and knits—those come later! The key to winter layers is starting with some thinner, basic layers, and piling on as you go—this makes it easier for throwing off a few layers if it's a little toasty inside. Here you'll find the definitive guide to winter layers!
Start basic: Rethink your basics by adding a tee under your dress. Initially you'll want to go for the warmest, thickest sweater you own to bundle yourself up first, but resist — save that part for later!
Socks: Before you strap on your leggings or pants, grab your toastiest winter socks. Keeping your feet warm and dry is a layering must. If your feet are cold, your entire body will be, too—no matter how many layers you're wearing.
Sweater time: Add a sweater on top of your T-shirt or button down, or even a buster to add interest to a plain basic.
Boots, boots, boots, and more boots: No . . . don't wear a pair of boots over another pair—that's not possible! But OTK boots are an excellent tool for layering. Leather OTK boots provide some extra warmth to your legs—especially for those days you're dying to wear a dress, since tights just don't cover it when it's freezing outside.
Pile on a scarf: The bigger the scarf, the better! Scarves keep your neck warm, but they also add some texture to your outfit.
Throw on your coat: It doesn't have to be a puffer! They're warm, but not cute. With the right layers, a long wool coat—or even a short one should do you just fine, because for once in your life, you're actually prepared for the painful temperatures winter has to offer. Just add a hat and gloves (or mittens) and you're good to go.
SHOP THE POST