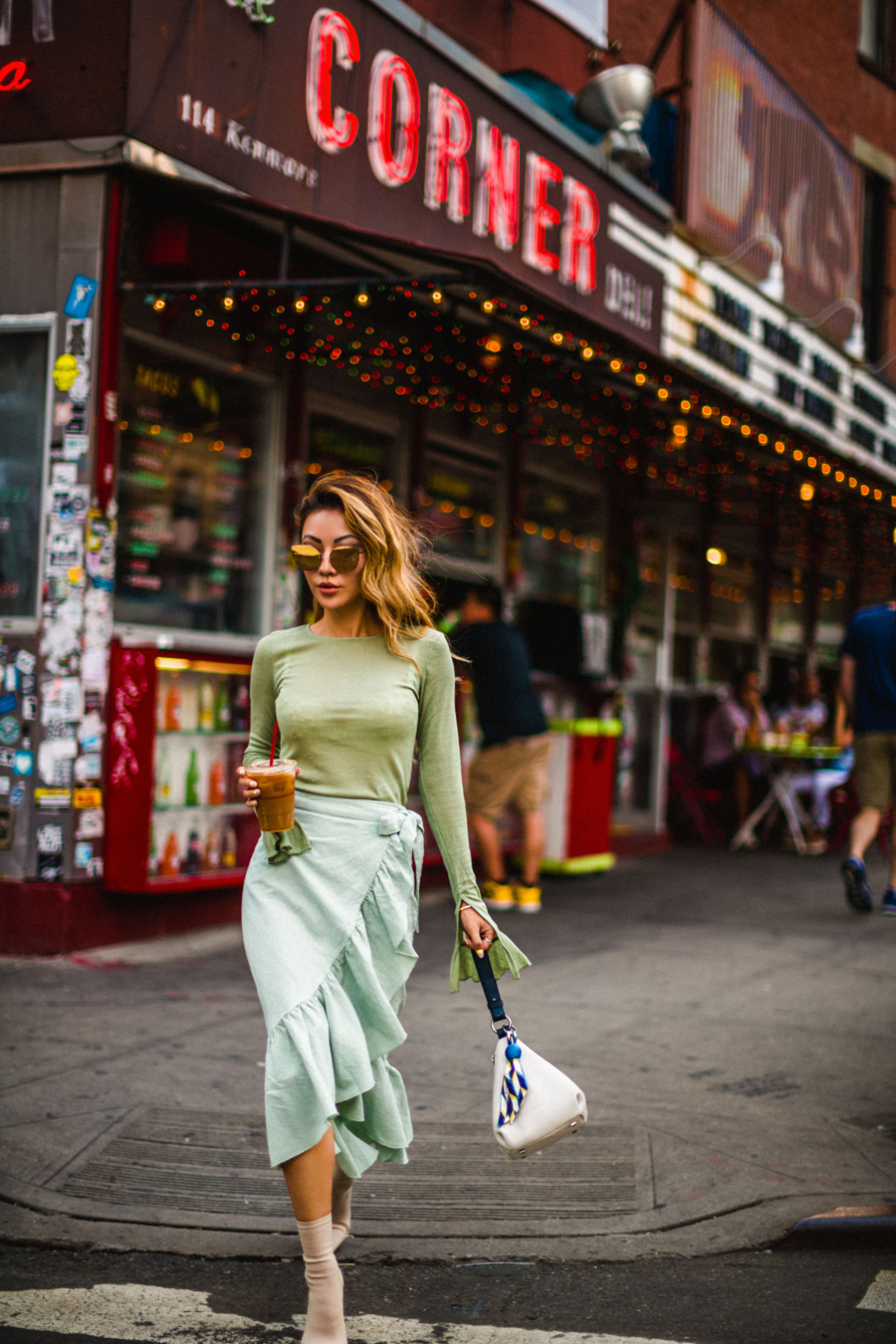 Green Top Similar | Ruffle Skirt Similar | Nude Sock Boots Similar | Mirrored Sunglasses Similar | White Bag Similar
F
or
my blog tips series
this week, I wanted to touch on the subject of traffic, but before I get into the best surefire ways to drive more traffic to your blog, I want to make one thing clear. I think that now more than ever is incredibly important to have a blog or your own website if you truly want to establish yourself as a serious influencer. Platforms are constantly changing. Algorithms have everyone "shook". And you really don't owe anything that isn't yours. So unless the internet itself dies, your website will never go away.
…

…
Now that we've got that cleared up, let's talk about some of my go-to traffic-driving tips.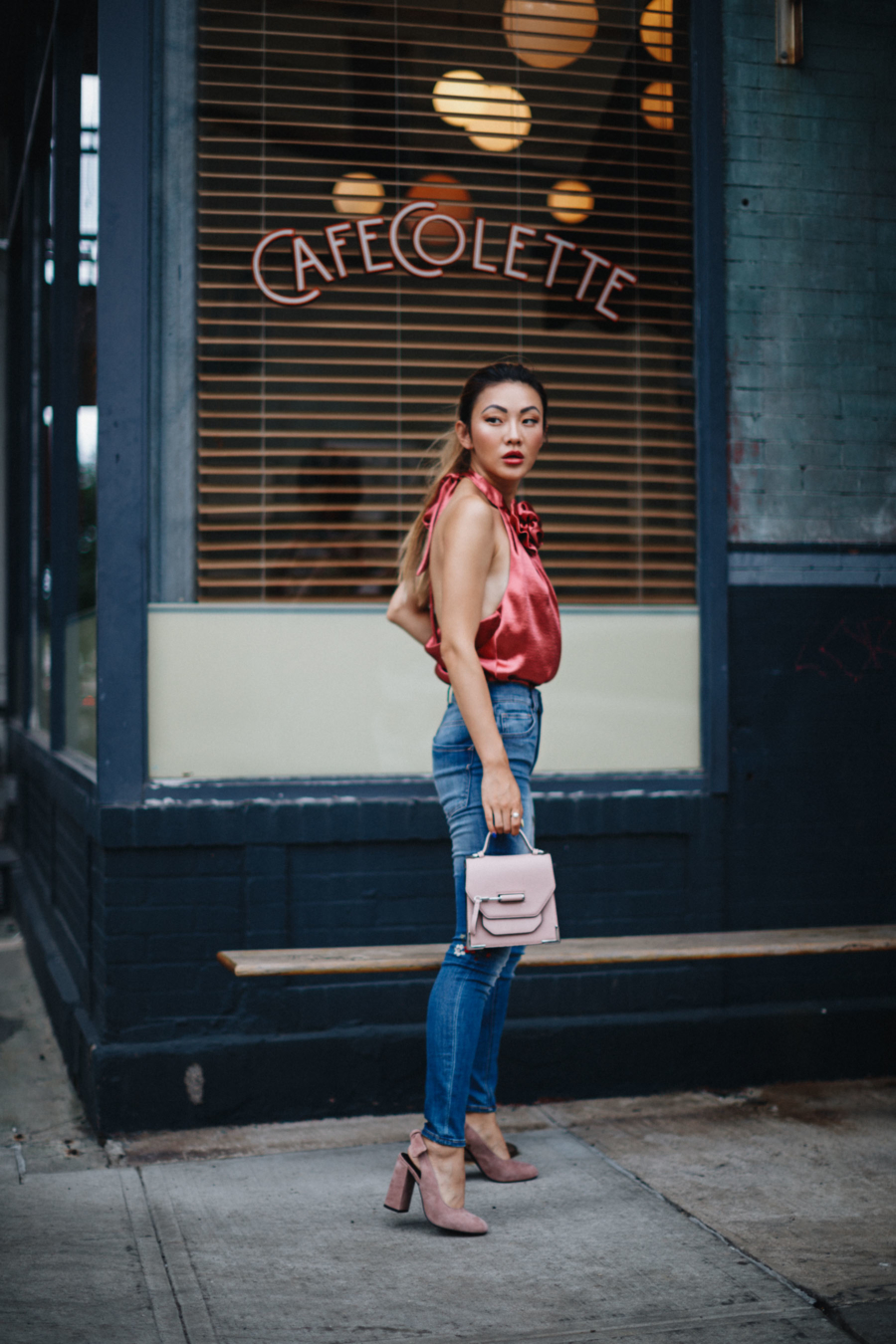 B

e honest with yourself
Driving traffic honestly starts with you. If you're serious about creating an online destination that people want to flock to and read, you have to be honest with yourself and ask the following: What am I a resource for and where can I truly provide value? This holds true for many businesses. If you've got something really good, offer it, and the people will come.
I know so many of you want to be a resource for fashion today – but remember that with being a fashion authority comes a slew of other roadblocks. For instance, finding a trustworthy photographer who knows what they're doing, taking amazing photos with high quality camera equipment, editing those photos so that the colors stand out, scouting locations that make gorgeous backdrops, coming up with new outfits, and having the resources or connections to acquire fresh items regularly.
It's not an easy business to be in. That's not saying it's impossible. I just want to put into perspective the obstacles you need to be ready to conquer.
My blogging tips series has become a secondary traffic driver for me these days. I'm all too familiar with the generic blogging advice flooding the web.My goal is to provide an honest side of it without being too basic – I know for sure that I am adding real value in this space.
…
S

tart a Newsletter
As you're establishing yourself as a resource, I would advise starting an email list. Anyone who truly sees your content as valuable will sign up for your newsletter, which is an excellent way to send out notifications for new posts. This is a method I often employ. I know all internet entrepreneurs will tell you that your mailing list is one of your best assets – and often times, those who sign up are your most valuable readers. Set yourself up for success now and start building that list.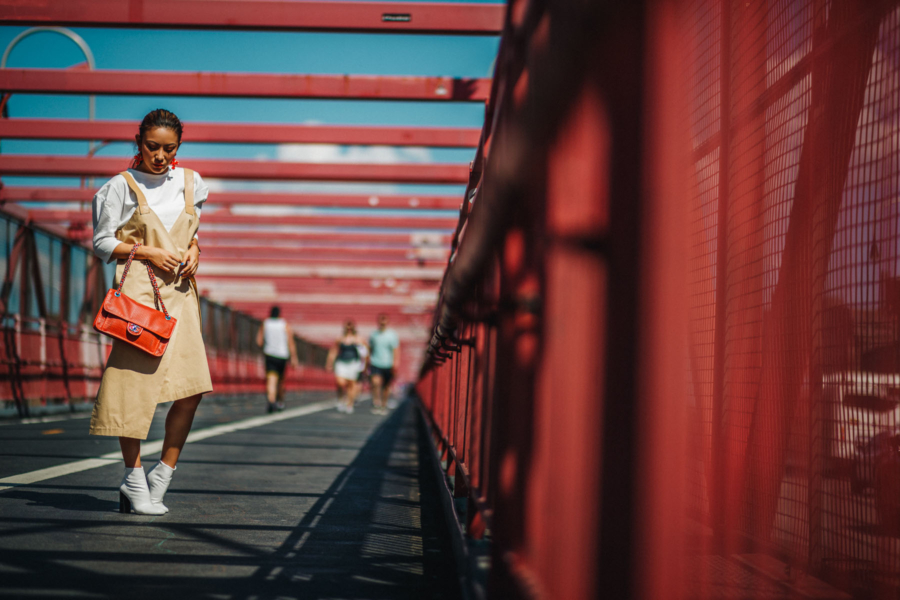 T

raffic Referral Sources
I briefly mentioned driving traffic in my "How to Start a Blog From Scratch Pt 2" post, but wanted to delve deeper today. Traffic referral sources are other websites or platforms that prompt other people to visit your site. One of my best traffic referral sources is Bloglovin and I recommend everyone, especially fashion/lifestyle bloggers, to use it. Having an account basically gives Bloglovin's millions of users visibility to your content with minimal effort.
Next is Pinterest. Contrary to popular belief, Pinterest is NOT a social media platform. It operates like a search engine and allows people to discover your site.
To use Pinterest, get on group boards, pin only the best content from your site regularly, and pin other people's content.
Instagram is a no brainer yet most people forget to use it. Link your latest post in your bio, use the swipe up feature if you have it, and share new posts via your feed. I think you'd be surprised at how many people still read blogs today!
Another option for fashion bloggers is Lookbook.Nu. Although I am no longer active there, it played an instrumental role in my rapid growth. The great thing about Lookbook is that it has a highly engaged user base of fashion enthusiasts. If you're a fashion blogger, you already know the people on Lookbook are seeking fresh fashion content where this isn't the case on the other sources I mentioned.
…
C

ollaborate
And lastly, don't undervalue the power of collaboration. This can mean partnering with your blogger friends to create a blog story then sharing it on both channels, shooting photos for your friends and having them link you in the credits, or guest posting. Guest posting can be a lot of work when you're busy creating content for yourself, but it can really help you get exposure. In the collaborations space, you can also participate in interviews or podcasts. It doesn't matter how big or small the audience is. I've learned that even the smallest wins can make the biggest impact when it comes to teamwork!
I hope this was useful for you guys and let me know what you want to see next week!