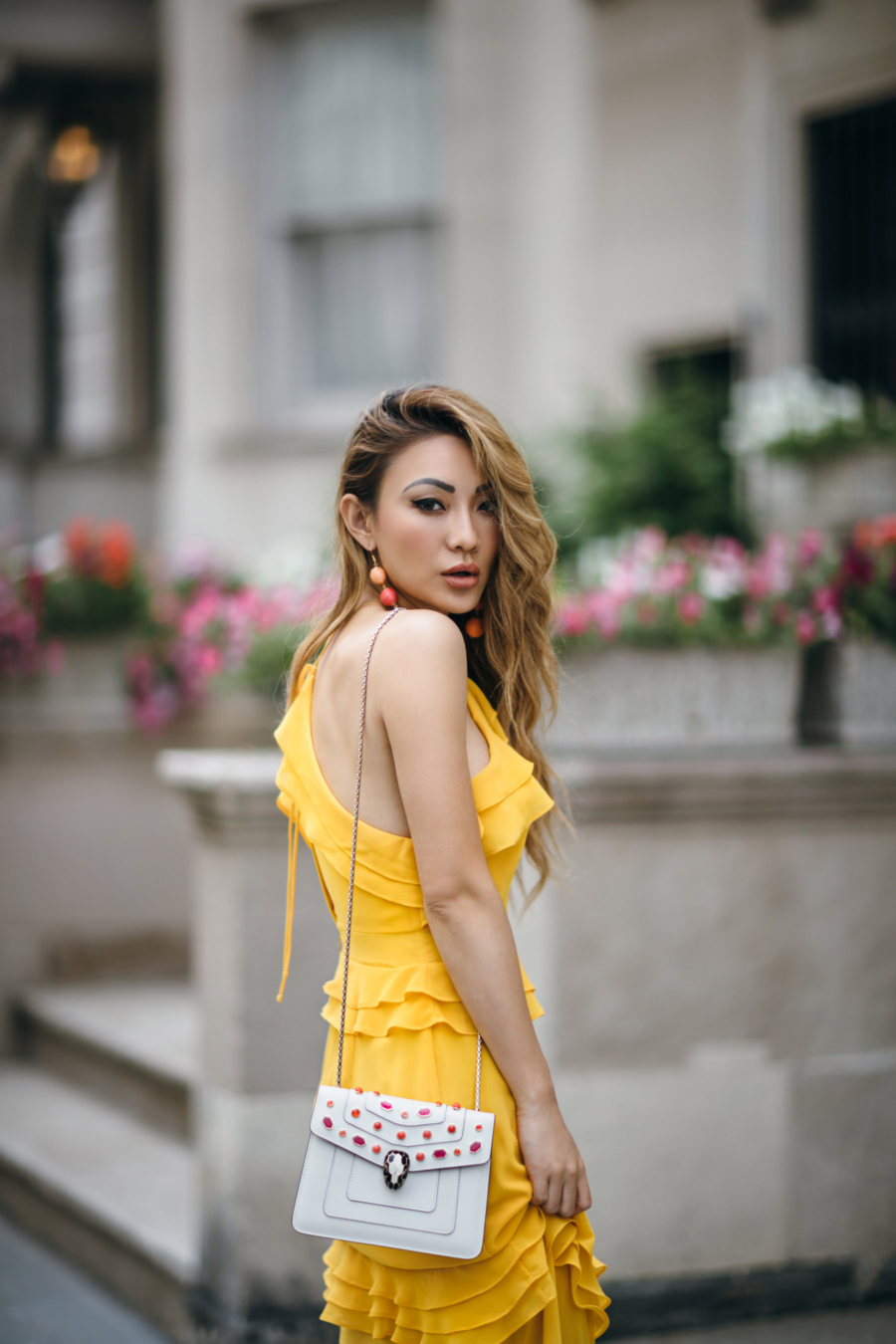 Yellow Ruffle Dress Similar | White Bag Similar |  Earrings Similar
I
f you thought the Korean skincare craze was pure blogger hype, think again! I have a been an avid user of Korean skincare products for years because of how gentle and effective they are. Plus, K-beauty brands happen to be leaders in the beauty industry with some of the most innovative products and packages. Since its popularity has heightened over the years, I'm sure you're often left feeling clueless as to what's worth trying. I wanted to share some of the most effective – and best Korean anti-aging skincare products of 2018 to clear things up. And since it's almost time to start 
changing your products out with the season
, this is good time to prepare for a new regimen!
…

…
Banila & Co Clean It Zero Cleanser

Double cleansing is a concept long adopted by the Koreans. The first step typically starts with an oil-based cleanser and draws out oil-based impurities such as sebum, SPF, and makeup. Although the Banila & Co Clean It Zero Cleanser is nothing new to the beauty world, it remains the best cleanser for gently and thoroughly cleansing the skin. A little goes a long way and I guarantee it'll take off all your makeup. My only gripe is that because it's a solid, you have to use a spatula to get the product out. But that little bit of inconvenience is so worth it.
Too Cool For School Egg Mousse Soap Facial Cleanser

The second step of the cleansing process goes much deeper into the skin and pores to remove impurities and wash away debris like sweat and dirt. Egg whites have a reputation for looking for treating acne, fine lines and wrinkles, and hyperpigmentation. That's why so many K-beauty brands highlight it as an active ingredient especially in cleansers. I'm a fan of the Too Cool For School Egg Mousse Cleanser – the thick, shaving cream like texture feels super nourishing and moisturizing on my skin. And it also rids my face of the slightly greasy effect from the first cleansing step.
Klavuu White Pearlsation Revitalizing Pearl Treatment Toner

The debate of whether a toner is truly needed remains, but my stance is that toners are an essential part of anyone's regimen. All you have to do is look at a soaked cotton pad after it's been used to see why. I love the milky texture of the Klavuu White Pearlsation Toner. It's plumps up the skin and doesn't dry it out, making it perfect for using day and night.
Missha Time Revolution First Treatment Essence Intensive Moist

If you're still confused about what an "essence" is, let me clarify. Koreans use essence after a toner to add another layer of hydration before serums. If aging and fine lines are a big concern for you, then it's wise to add essence into your routine. The most popular one around is probably SK-II, but that one is quite pricey. A great alternative is Missha Time Revolution First Treatment Essence. You'll notice a difference in tone and texture over time.
Dr. Dream Dream Age Rejuvenating Serum

I think there's one thing we can all agree on even if you're not a k-beauty enthusiast – and that is, serums are essential! This Dream Age Rejuvenating Serum is packed with anti-inflammatory, antioxidant, anti-aging, and brightening properties so that you can see maximum results. It's rich and hydrating and will surely be loved by those with drier or mature skin types.
Shangpree Marine Energy Eye Mask

I swear by eye masks especially when I'm traveling. I love how the Shangpree Marine Energy Eye Mask treats the delicate skin around the eyes to produce a bright, plump, and youthful complexion. I struggle with puffy eyes and after regular use, my eyes have felt so hydrated and looked more supple.
Amorepacific Time Response Skin Reserve Crème

So if you guys didn't know, you should always finish off your skincare routine with a moisturizer. It's what locks the serum and other treatments in. The Amorepacific Time Response Creme is on the more expensive side, but so worth it! This moisturizer is infused with higher concentrations of amino acids and catechins (antioxidants), which help fight future signs of aging. You'll experience improved moisture levels and skin elasticity.
3LAB Perfect Sunscreen SPF 50+

I personally feel that the best way to prevent aging and damage to the skin is wearing SPF every single day. 3Lab's Perfect Sunscreen gets full praise because it's super light and doesn't feel or smell like most sunscreens. It also absorbs quickly and won't leave that annoying white cast. I never leave my house without it.
Dr. Jart+ Bright Lover™ Rubber Mask

My round up wouldn't be complete without the mention of a face mask. I know I keep praising the Dr. Jart+ Rubber Masks, but they are truly the best thing out there! The reason why I think they're so effective is that the sheet isn't actually soaked into anything. The kit comes with an ampoule serum which you apply to your skin and then seal it with the rubber mask. The purpose of that is to prevent the potent ingredients from evaporating. I strongly believe that the results are instant and super effective! I still use them to this day because seriously, they're the best!
What are some of your favorite k-beauty products?