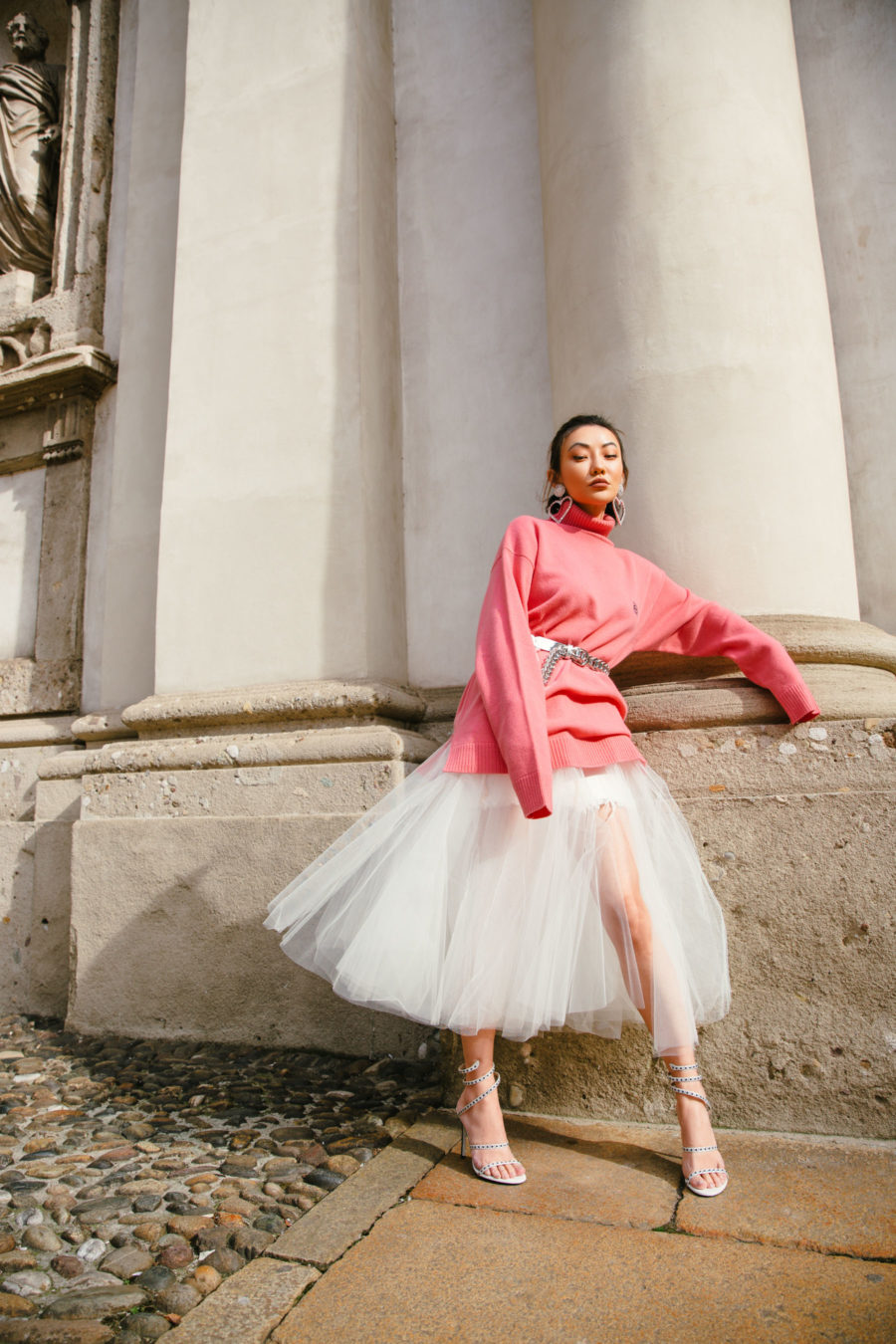 Loewe Pink Sweater (exact color sold out, similar here; affordable here) | Unravel Denim Tulle Skirt (Affordable) | Rene Caoville Heels | Alessandra Rich Earrings Similar & Affordable | Isabel Marant Belt (Similar, Affordable)
T
ikTok is truly an app like no other. I always see jokes online stating that you learn more through TikTok than any education can ever provide…and honestly, it is kind of true! When it comes to life hacks, secrets, DIYs and facts – I have really learned a lot thanks to the creativity and knowledge of my fellow TikTokers. Garnering my knowledge of fashion and style, I knew I could contribute to the TikTok education service! Since my inception on the app, I have been
sharing my styling hacks
and I have received tons of positive feedback which is definitely encouraging me to make more. It is exciting because I can even share them on the new Instagram Reels feature too. For those who may have missed my posts or are not on the app, here are my best fashion tips rounded up for you!
…

…
How to Style a Top with High-Waisted Pants

A tailored top always looks better with high-waisted pants. This TikTok hack explains 3 different ways to do so! First, use a rubber band to gather a piece on one side of the shirt to add an asymmetrical shape. Or you could tie a knot to the side with all the extra fabric to turn the shirt into a crop top. Lastly, fold in the fabric in the back of the shirt and tie the front. This gives the illusion of a smaller waist!
…

…
How To Turn Your Purse into a Backpack

Did you know your favorite crossbody handbag can double as a backpack? Now you do! Your bags with long straps can be maneuvered over your head to act as a left and right shoulder strap. This is one of the best fashion tips to know if you are ever out and about and find yourself needing to multitask and have your hands free!
…

…
How to Look Slimmer in Dresses

There are so many subtle styling adjustments you can make to your favorite dress to make you appear taller and slimmer! For instance, add a belt to the smallest part of your waist to emphasize your curves, try skin tone heels to elongate the legs and swap out for a smaller handbag. You can even slim down your face with drop earrings and cat eye sunglasses.
…

…
How to Cuff Straight Leg Jeans

If you simply roll up the hem of your jeans up, it can look a bit baggy and sloppy. Next time, grab a bobby pin and use it to tighten the cuff of your straight legs jeans for a more tailored fit! This is a revolutionary fashion tip that you can use all throughout the year!
…

…
2 Ways to Wear Your Boyfriend Shirt

An oversized, button down shirt is a must-have wardrobe item. It is so versatile and wearable. We all know the typical ways to wear it – loose, tucked in, unbuttoned, tied at the front, etc. but I wanted to highlight two new, innovative ways to style it! First, you can tuck the two ends into your belt loop for a cute side tie. Or mismatch your buttons for a chic, Jacquemus-esque pleat that you can leave loose or tuck into your bottoms!
…

…
Different Ways to Style Your Bag with a Chain Strap

Of course you can wear your handbag with a chain strap over your shoulder as you normally would but you could also try these other methods to switch it up! Drape the long chain over the front flap to create a smaller shoulder bag. Or wrap it around a few more times for a wristlet. Circle the chain strap around your waist for an instant belt bag. These are really great fashion tips to maximize the handbags you already own!
…

…
What are your favorite fashion tips so far?