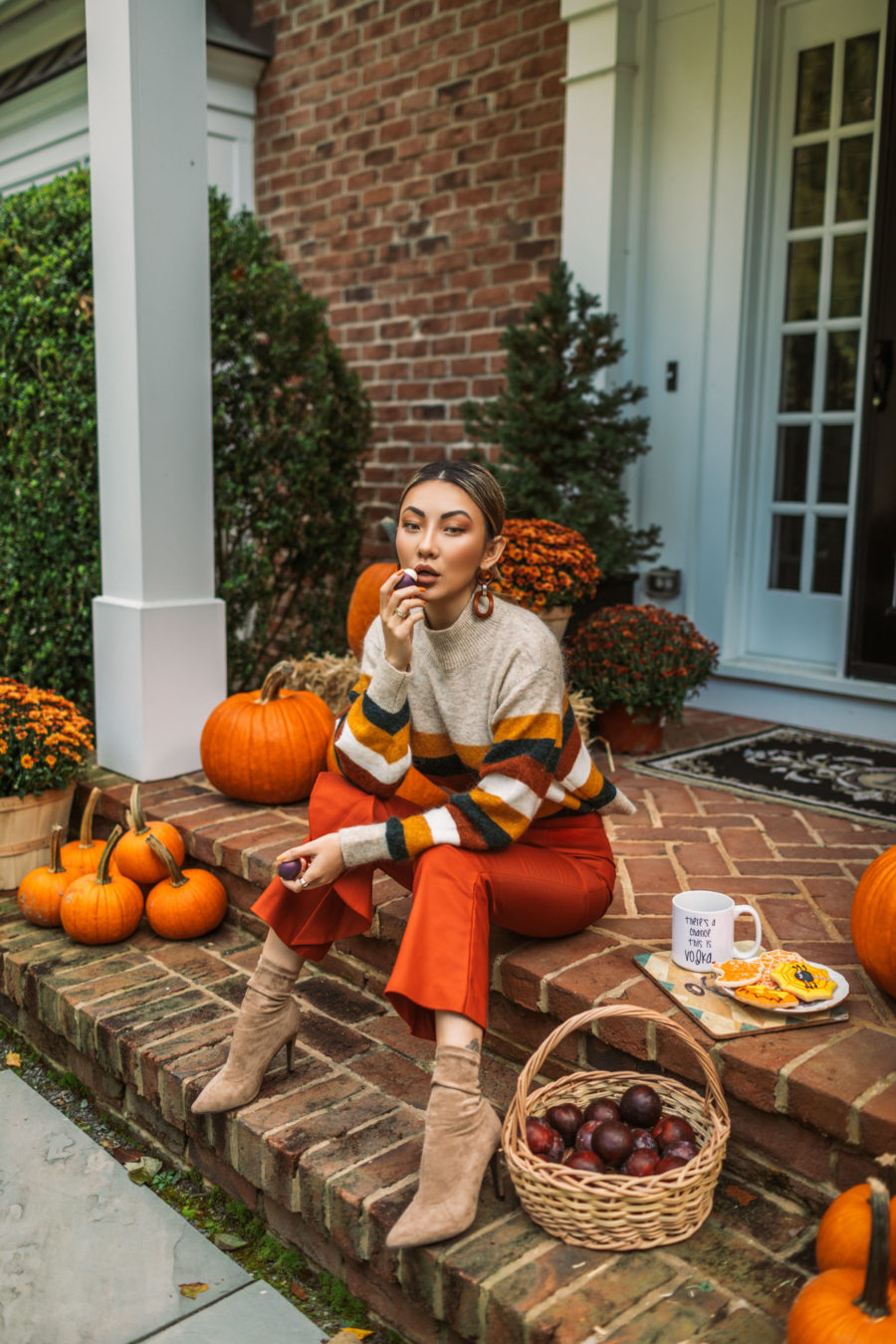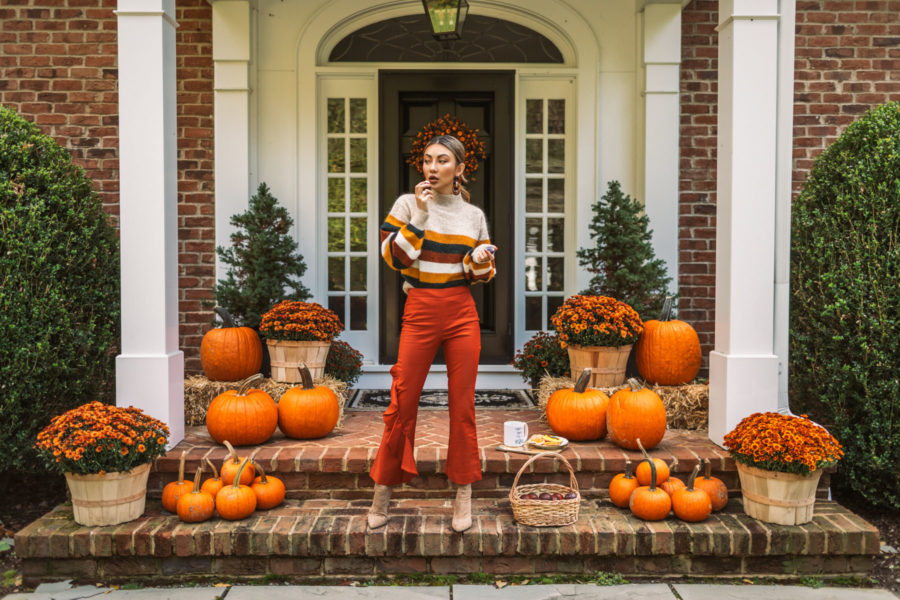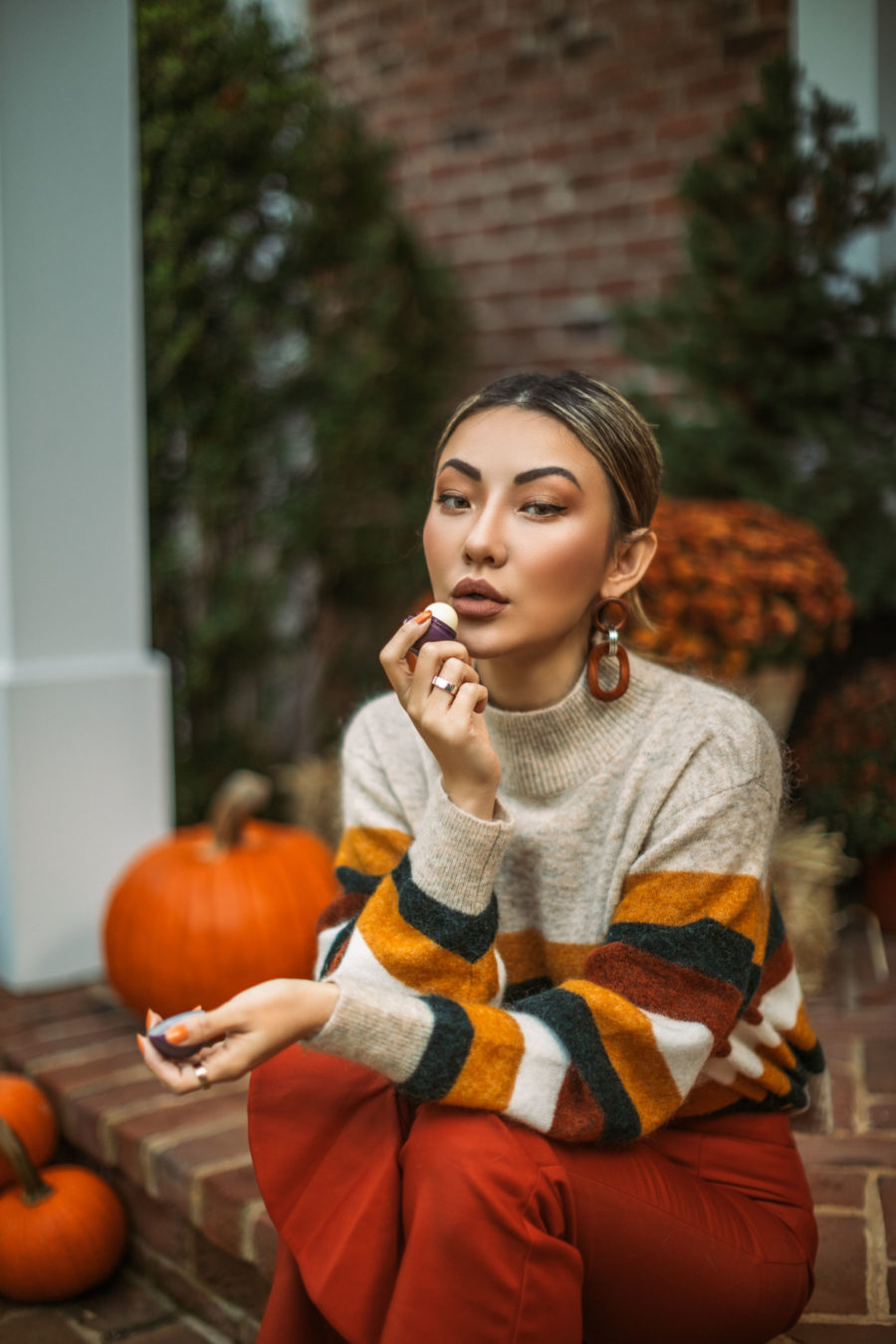 & Other Stories Sweater (Similar & Affordable) | Cameo Ruffle Pants Similar & On Sale | Booties Similar & Affordable | Earrings Similar
F
all is not only an exciting time for fashion but for beauty as well. I'm always enthralled by the limited edition and holiday collections that brands come up with. And I don't know about you, but every so often, I come across a stunning launch that looks and smells so good I almost want to eat it.
Recently, eos brought that effect on my girls and me. Since Hazel and Capri are at an age where they love all things purple (or pink) and sparkly, it was hard to keep them away from the new Organic Sugar Plum Lip Balm. And I don't blame them because as soon as I caught a whiff of the sweet, decadent scent, I gave in too.
I'm not usually into super sweet fragrances, but this one was a different story. I loved the warm, steamy feelings that surfaced and was completely reminded of the holidays. If this was their intention, they definitely nailed it.
eos is one of my trusted brands for moisturizing lip balms so I always keep them on hand when dry lip season is at an all time high – like now through the end of winter. The hydrating oils and mix of shea butter effectively lock in moisture and keep my lips soft and smooth.
They are all natural, hypoallergenic, and free of parabens and petrolatum, so my girls can use them too.
…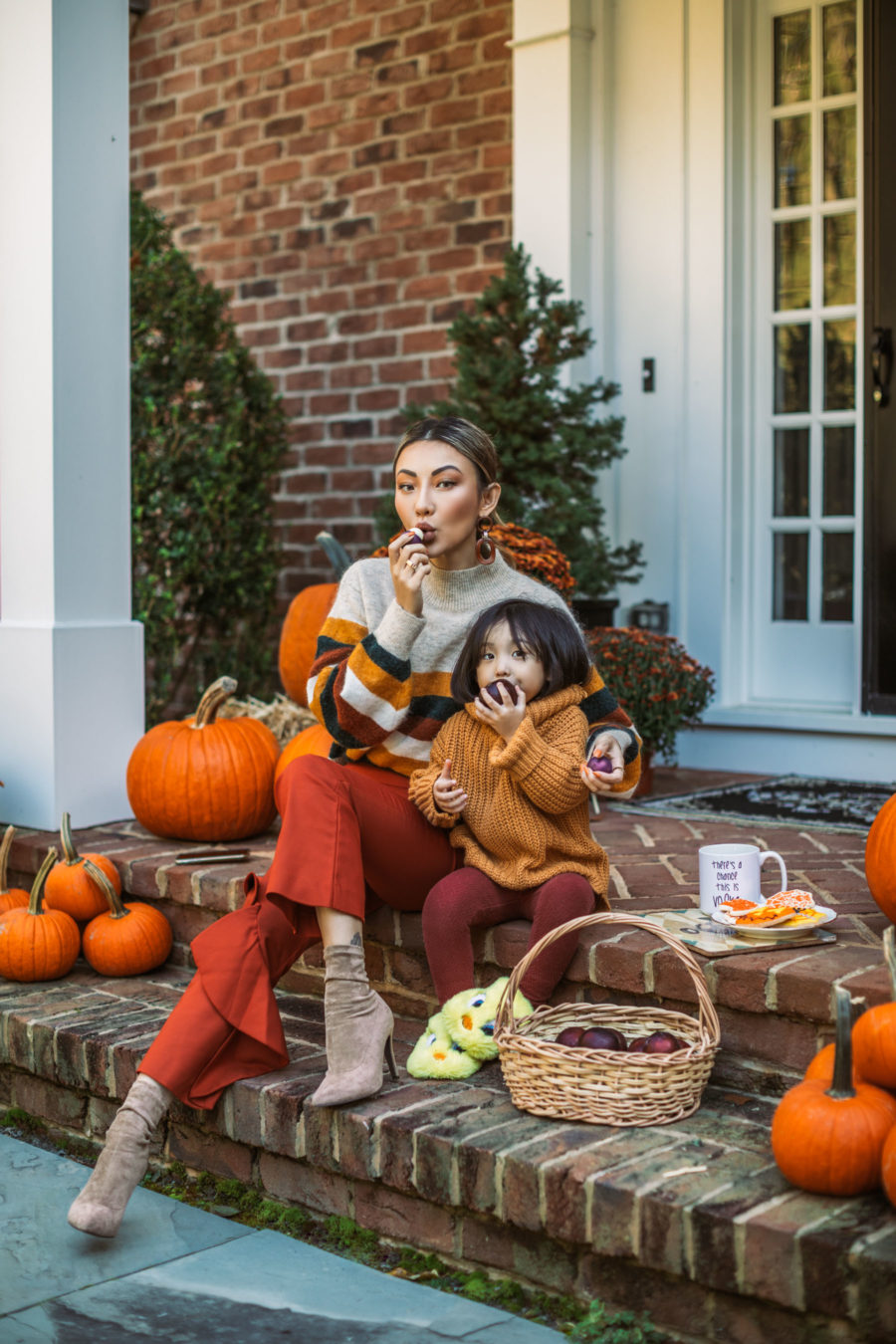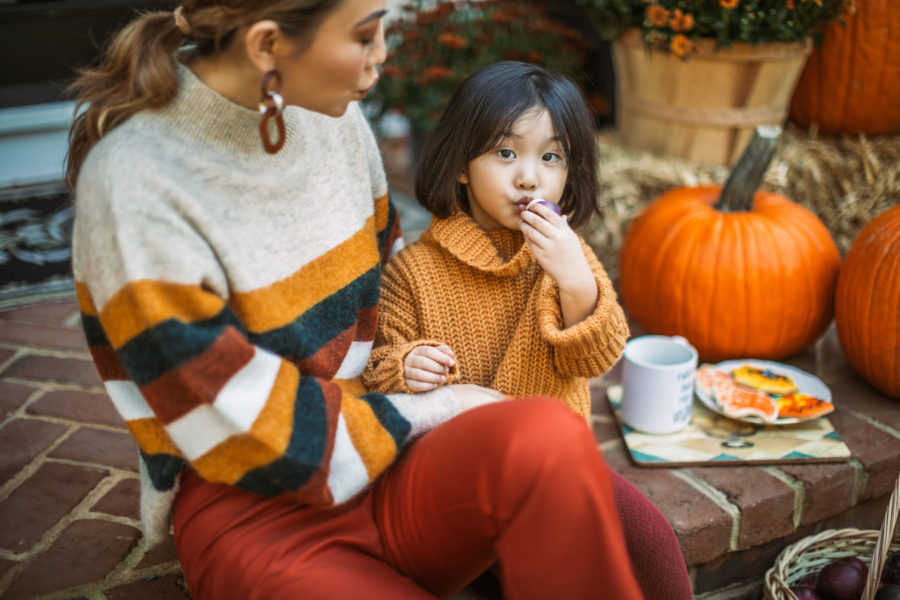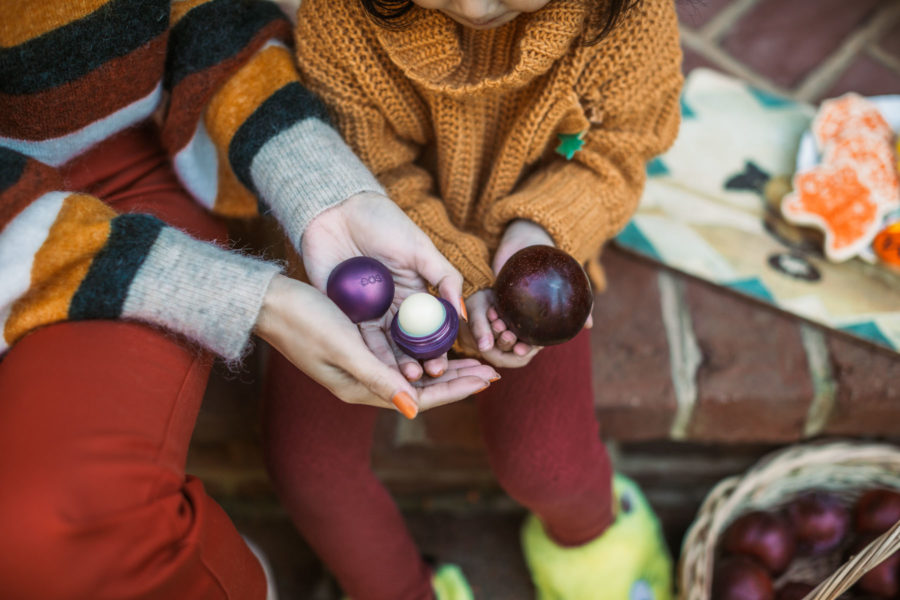 Hazel is a bit older now so she understands the concept of fragrance, but Capri was constantly sniffing away at the product. The scent of vanilla infused with sugary notes and hints of maple definitely tempted our taste buds. Capri was so adamant about getting her share of sweets that we decided to recreate our favorite seasonal treats – all inspired by this lip balm. I figured this would be a good excuse to spend time together as a family and indulge in an autumn celebration. Although I'm not much of a cook, I do enjoy baking especially around the holidays.
For those in the family who don't have much of a sweet tooth (i.e. the husband), we picked up a basket full of plums, and then enjoyed an afternoon of sweets from shortbread to Halloween themed sugar cookies. We went on to finish off our mini bake fest with a swipe of our new favorite lip balm and I'm sure you can tell, Capri was happy and full.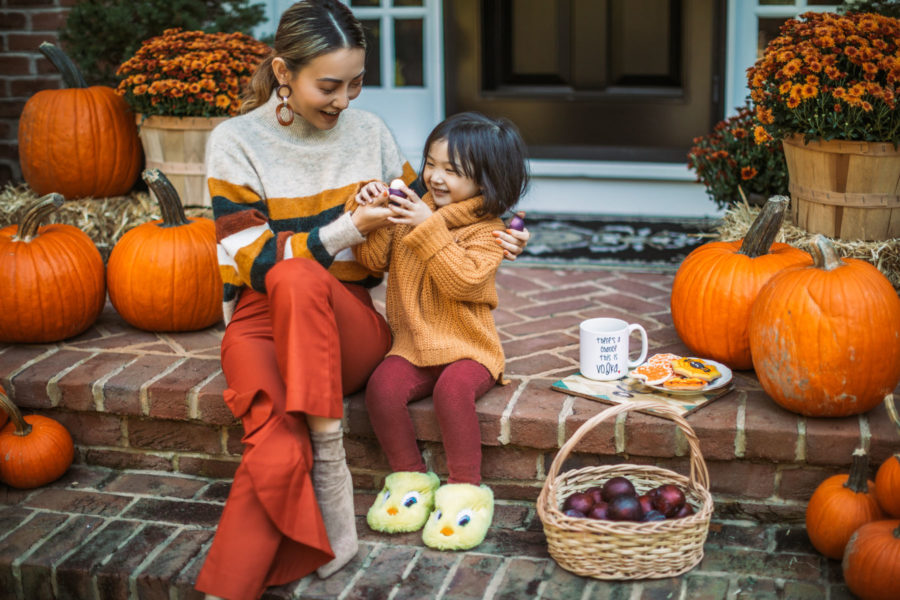 Anyways, I highly recommend you guys check out the eos Limited Edition Holiday Lip Balm, especially if you need a little nudge to get into the holiday spirit! One sniff and you'll be fantasizing about your favorite holiday desserts!
This post was sponsored by eos. All opinions are my own.
eos