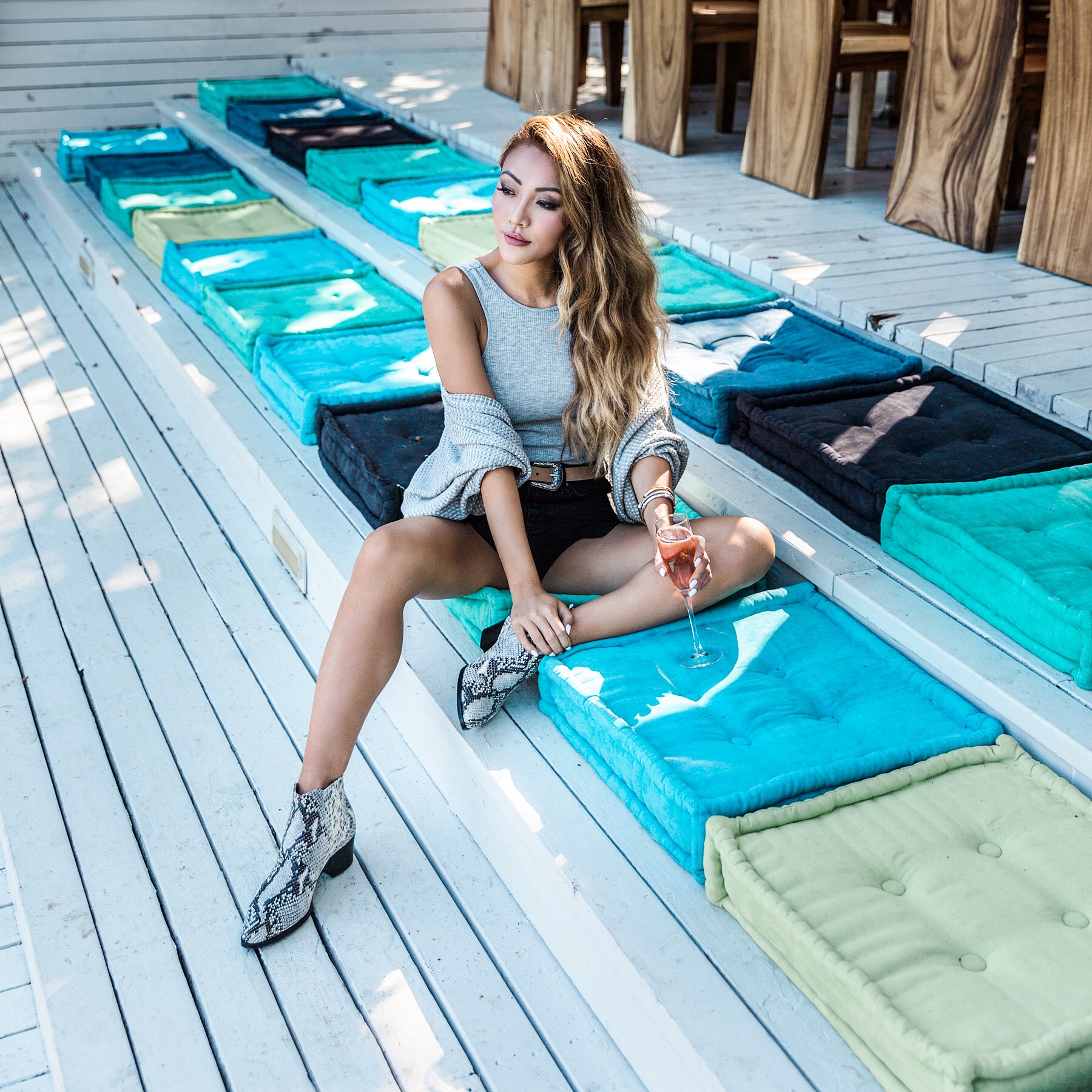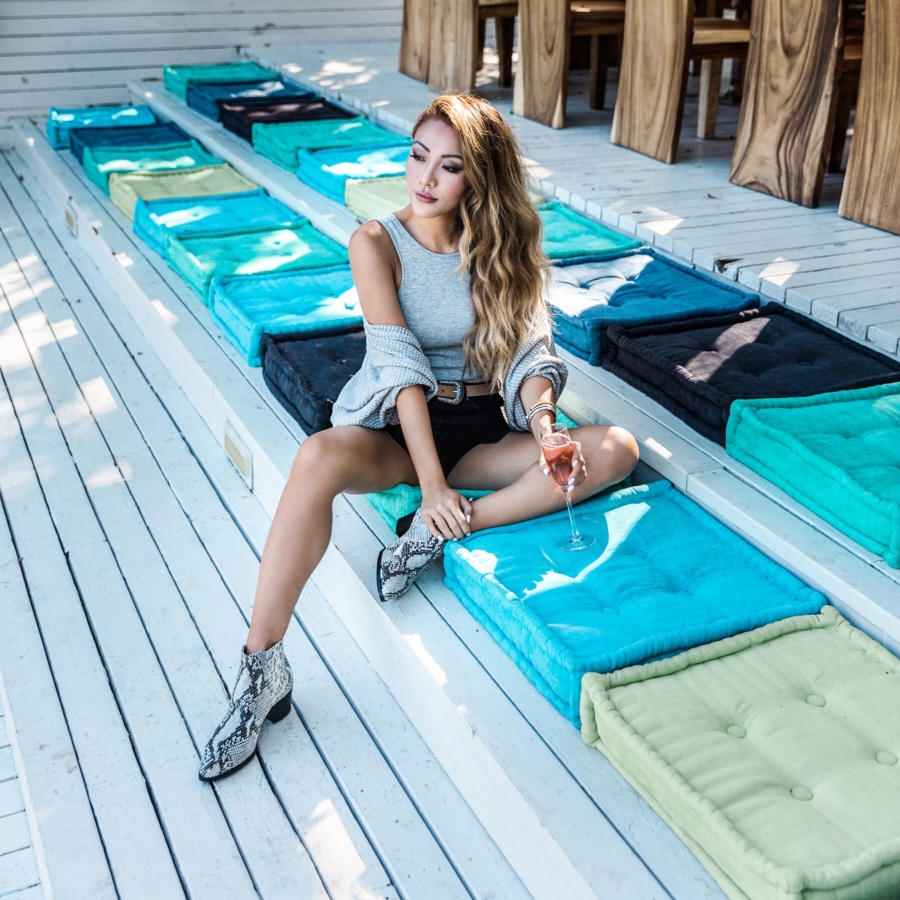 Top: (similar here) | Shorts: (similar here) | Ankle Boots: (similar here)
C
alling all summertime vixens to get out your best bar threads and hit all the nearest New York rooftop bars. There is a serious scene with serious fashion brewing above the New York City horizon. Don't fret, you can be a part of it. Whether it's business casual, girl's night out, happy hour, or date number two or ten, the rooftop bar is epic and one that shouldn't be missed.
…

…
Gallow Green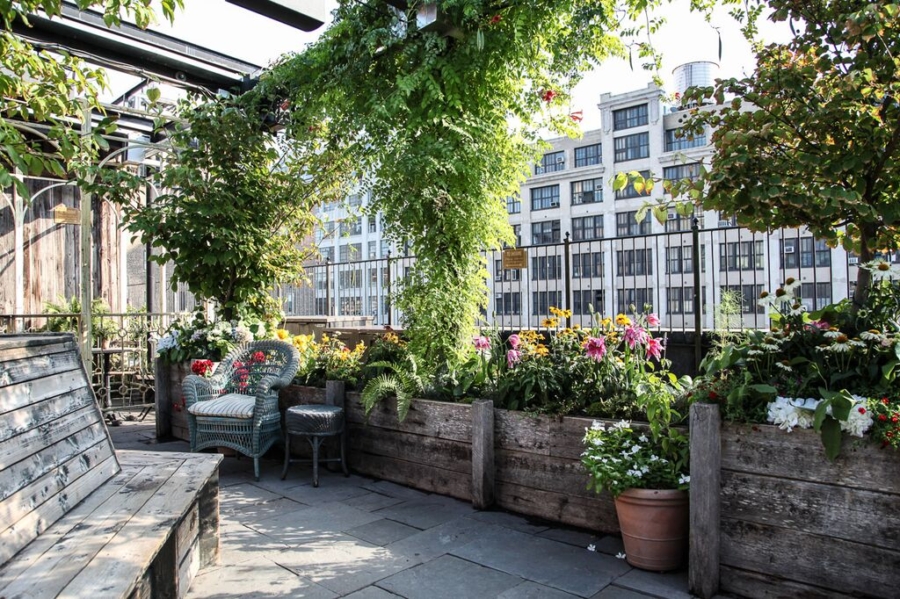 Photo by Gallow Green
Gallow Green is on top of a warehouse that is home to the McKittrick Hotel of the famous "Sleep No More" production. The vibe is trellis vines climbing and graceful flowers everywhere along with a gorgeous view of the Hudson at sunset. It is super romantic when they turn on hanging lights to set the mood.  Not only will you be entertained by the view, but also by some of the actors from the theater production below. They usually float up and mingle with the cocktail swigging crowd.  It's an overall experience that you definitely shouldn't miss this summer!
…
Westlight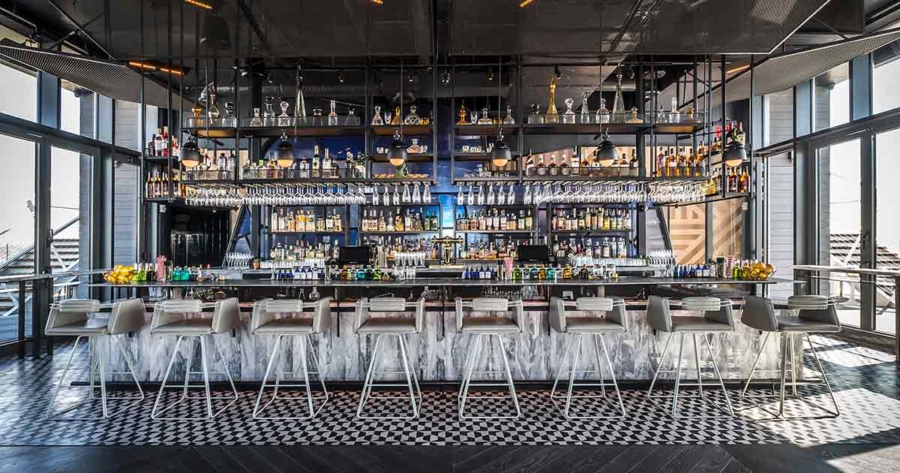 Photo by ThirstyMag
Wood beamed ceilings, black and white tiles, a wrap around terrace and a view of Queens, Brooklyn, and Manhattan boosts Westlight's reputation up to the top of this rooftop bars list.  Not only will the cocktails satisfy, but so will the remarkable plates of food that are like little pieces of art deco themselves.  Westlight is posh which means bringing serious fashionista flair.  Go for the well-blended cocktails. Stay for the vibe.
…
The Delancey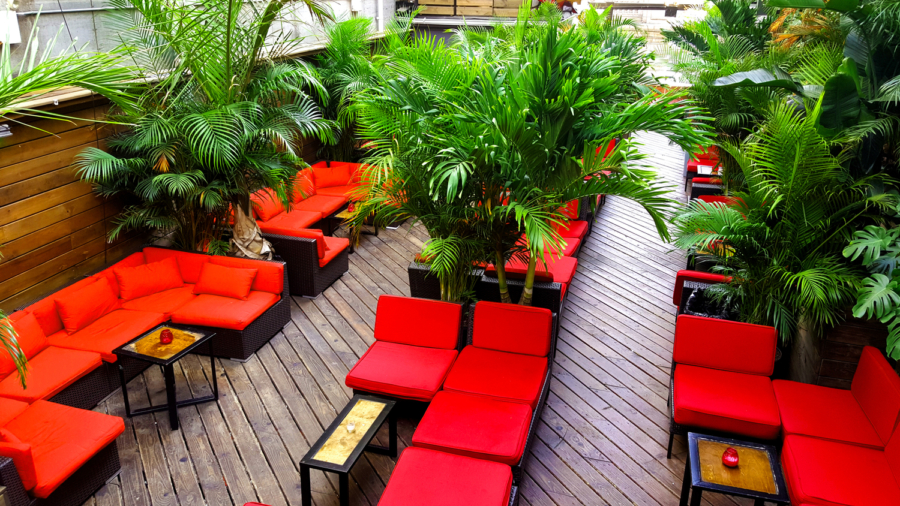 Photo by Delancey
A staple in the Lower East Side, The Delancey is your go-to spot for a full night out. Start at the rooftop for some fresh air. Then move down to the first floor to enjoy a DJ dance party or the basement for live music.  This place is full of energy and if you run out of steam, don't worry, they serve food at 5 bucks a plate.  The Delancey is a total package!
…
Juliette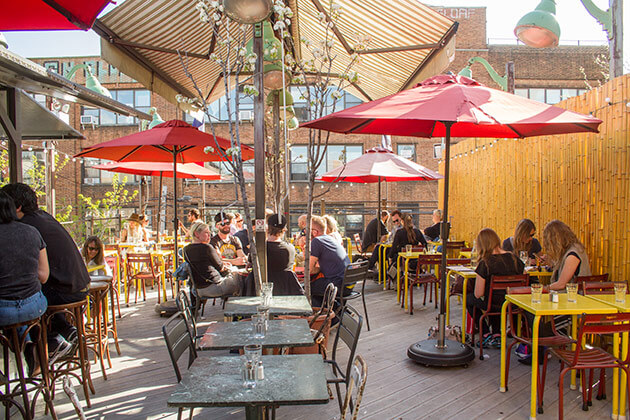 Photo by BrooklynMagazine
Of all the rooftop bars on this list. Juliette is a standard restaurant during all other seasons, what makes Juliette shine during the summer months is the rooftop deck where drinks can be enjoyed at maximum levels with a  crowd full of maximum energy. The menu is outstanding as well as the ambiance.  Everything feels super cool in this trendy French bistro in the heart of Williamsburg. A great spot for catching up with old friends.
…
St. Cloud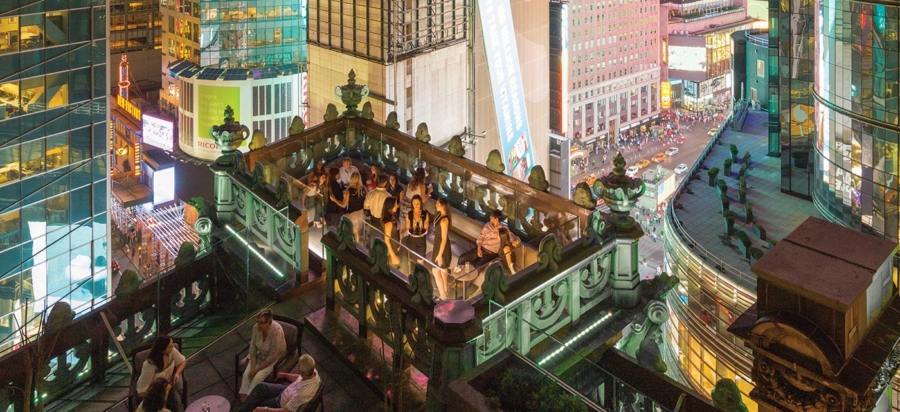 Photo by St. Cloud
Sitting on the rooftop of a landmark Knickerbocker Hotel, St. Cloud will have you feel like your floating in space. With space pod seating, metallic finished wood floors, and all the twinkle of the New York City skyline, you can be sure to feel like you're living a dream.  One of the perks is the appetizer plates by world-renowned chef Charlie Palmer that will pair nicely with a list of classic cocktails here.
…
Pod 39 Rooftop
Photo by Travel + Leisure
Who doesn't want to gaze 17 stories above the East River on a sizzling summer evening? Pod 39 Rooftop is designed to replicate Roman ruins. This is the place to go to for some interesting cocktail ingredient blending and a great place for any occasion from a first stop on a girl's night out to a business casual meeting.  The hanging light bulbs give it that authentic backyard, homey feel.
…
Roof at Park South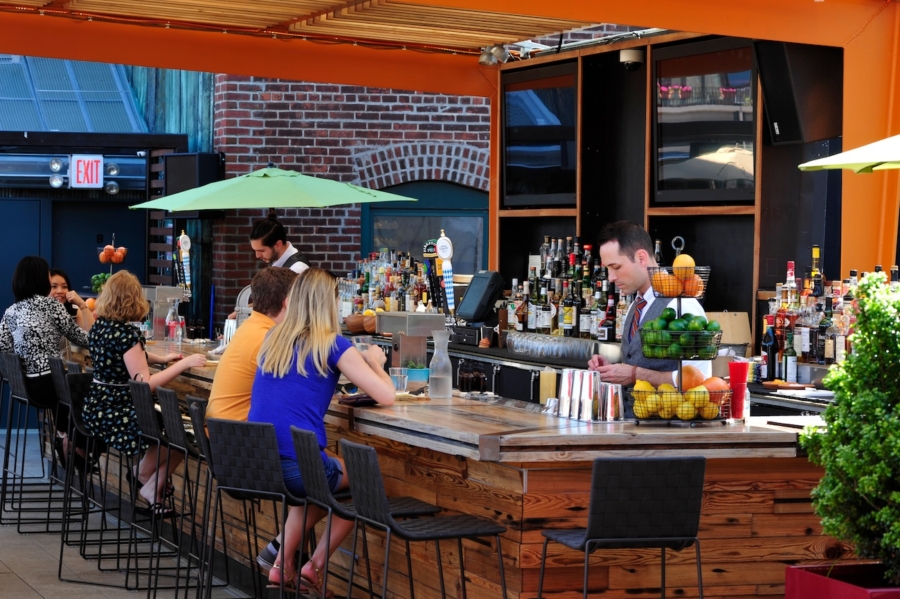 Photo by Park South
The glass front fireplace and views of the Chrysler and Empire State buildings are enough to win anyone's heart at Roof at Park South. But with a category for cocktail titled "Fancy" this is surely the hotspot for a fashionista of any sort.  Plenty of finger foods and amazing cocktails blends and a DJ-soundtracked space that makes all who enter feel like this will be an evening well-spent.
…
Top of the Strand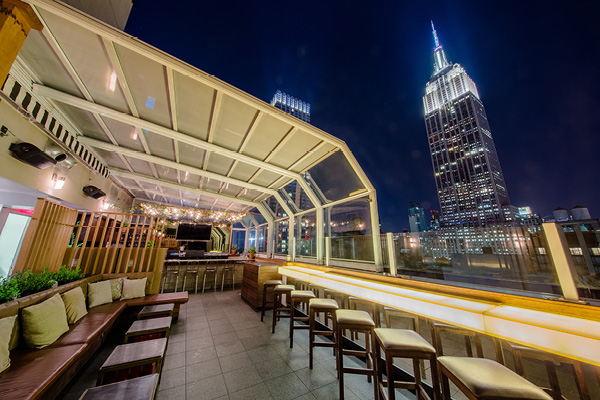 Photo by TOTS
Get ready to splurge at Top of the Strand. But it won't really matter because this is a famous filming location for Sex and the City. With a retractable glass roof, this bar is open all year round. Come often during the summer months, but come back for the winter to see how the view of the night skyline changes with the seasons. A perfect girl's night out rendezvous point.  
…
The outfit mixing is as creative and wild as any cocktail blending. You can be outlandish and vampy or tone it down and be sleek and refined. Whatever you do, be sure to hit some of the best rooftop bars on this list. Not sure what to wear.  Consider these options:  
Business casual –an eye-catching jumpsuit with a light jacket and block heel pump.  
…

…
Girl's night out –a sleek cocktail dress and classic pumps.  
…

…
Happy hour –a statement blouse and skinny jeans with pointed toe flats. 
…

…
Date night –a shirt dress, layered jewelry, and booties.
…

…
Well, what else are you waiting for? Get your girl friends and let's have some drinks!