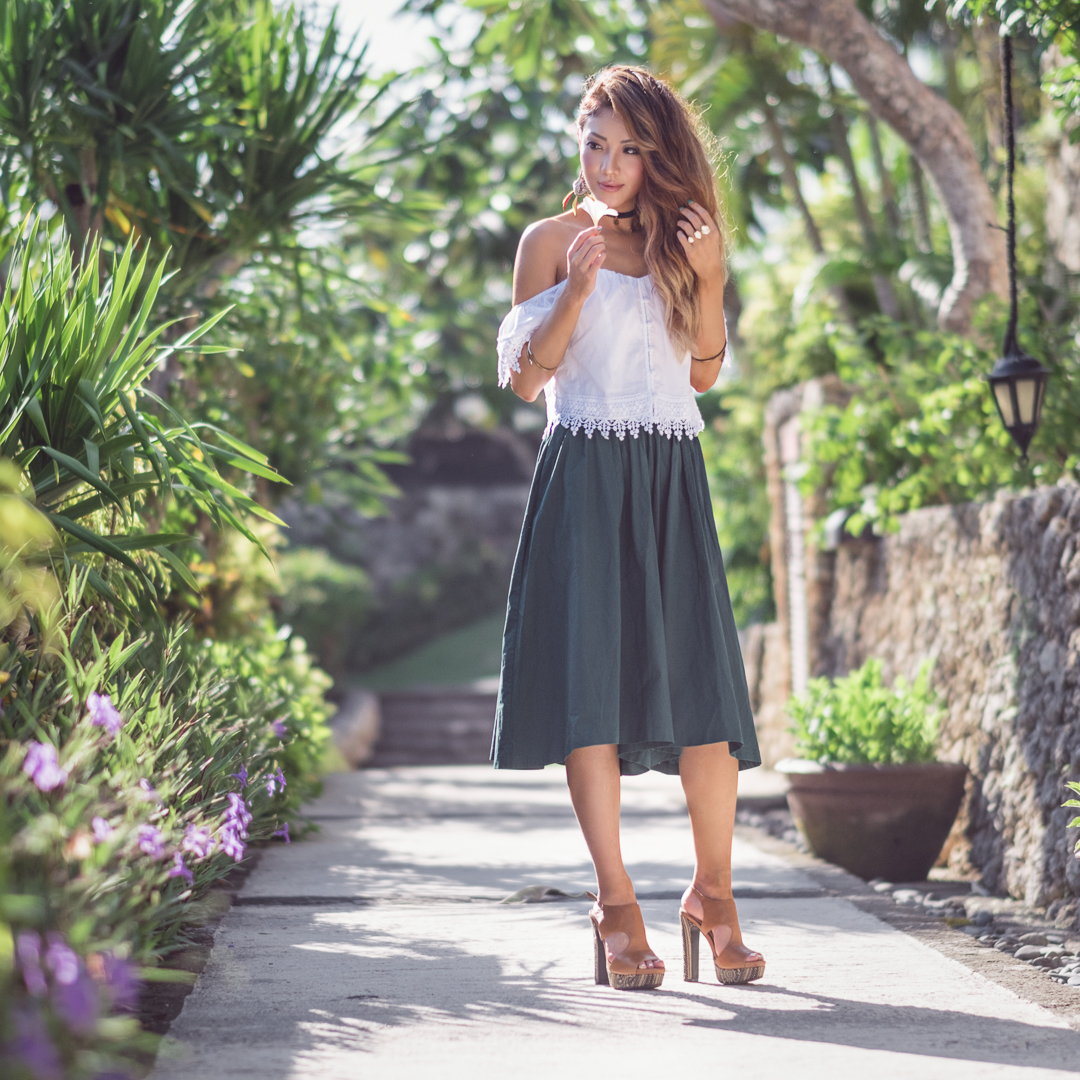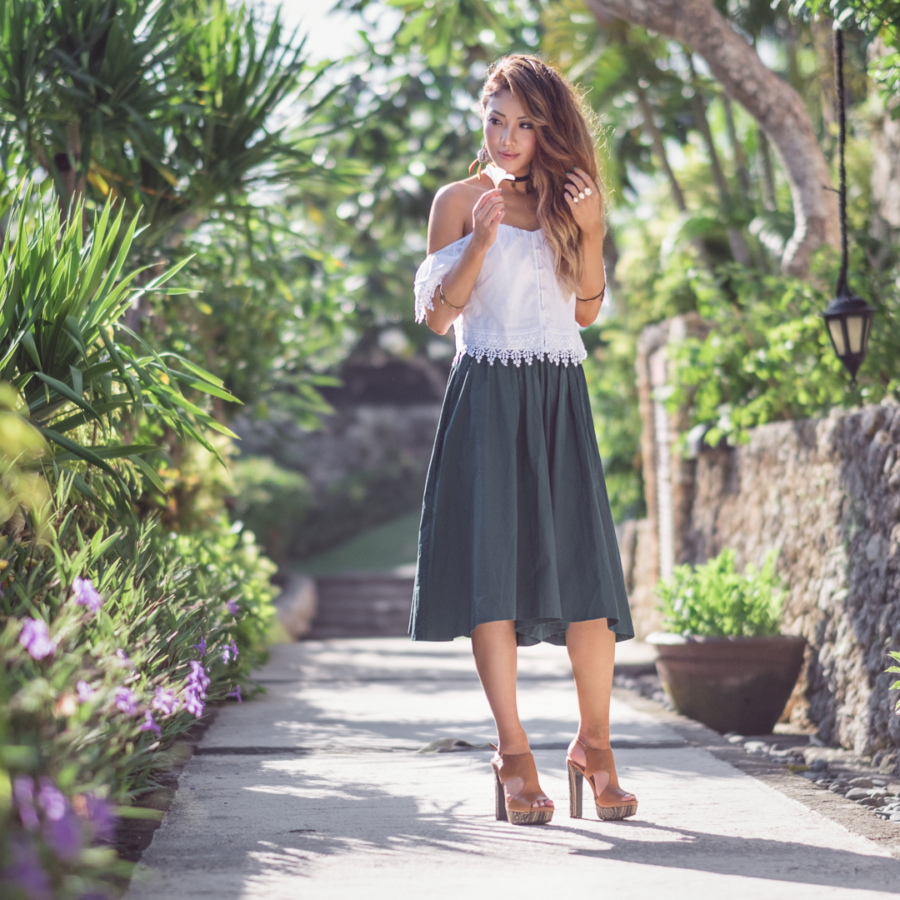 Top: (similar here) | Skirt: (similar here) | Shoes: (similar here)
I
f you're like me, you are always on the lookout for the latest and greatest in beauty items. A girl must improve her skincare routine and sample new items because the environment in which she lives changes, but so do products. Hunting for products can be fun, but sometimes it can be exhausting, too.
Today, there are so many amazing products out there. I wanted to narrow down a list of the top beauty items that are well-worth the splurge and make your life a little easier. I'm so committed to these products and brands, and it's my pleasure to share some of the items that make my skin shimmer for days. I can't recommend these beauty items enough! And you won't be sorry you splurged either, I can promise you that.
…

…
Luna Sleeping Night Oil, Sunday Riley

…
Get the night to work for you and your complexion with this next-generation retinol oil. Use after your favorite night cleansing routine. Rest assured that while you sleep the Luna Sleeping Night Oil is working her magic. It reduces signs of wrinkles and minimizes pores; it evens out skin tone and maintains youthful looking skin. The list of oils is incredible and seductive enough to get you to splurge without thinking twice.
…
FIRMx Peeling Gel, Peter Thomas Roth

…
The beauty of the peeling gel is that it's safe for all skin types, so even the most sensitive of skins can indulge in this miracle gel by Peter Thomas Roth. Through enzymatic mechanisms, like pineapple and pomegranate, the gel exfoliates in a way you've never felt before.  It's well worth the splurge as your skin will radiate just after one use.
…
Estee Lauder Advanced Night Repair Synchronized Recovery Complex II

…
There is a serious science to Estee Lauder's night serum, 75% of women reported seeing drastic changes after 4 weeks, and 82% claimed immediate hydration after the first use. If that's not worth the splurge, then I don't know what is. With promises of rejuvenating skin to make it look softer and feel smoother, you don't have to look much further than your local Sephora to find this heavenly product.
…
Perricone MD Face Finishing Moisturizer

…
Looking to add luxurious firmness to your skin while smelling great. Well, think no further than Perricone MD's Face Finishing Moisturizer. Perricone is a leading authority in skincare and takes beauty products seriously.  Who doesn't want to splurge and add a rose-scented anti-aging moisturizer to her beauty routine?
…
La Prairie Skin Caviar Luxe Cream

…
The legendary skin cream that comes straight from Switzerland has got the beauty world turned upside down.  It's truly an experience to remember. And with ingredients like caviar which firm and add elasticity to your skin by adding plenty of protein, this La Prairie Skin Caviar Luxe Cream is a splurge like no other.
…
La Mer Renewal Oil

…
La Mer has had a following for quite some time, and with good reason as their products are known to be highly effective. Their renewal oil is no different and well worth the splurge. Technically a skin care product, the oil is light enough to apply to hair and nails. With fast-absorbing action, it won't leave you feeling heavy or greasy, but rather light as a feather.
…
Clarisonic Mia FIT

…
This is the latest innovation in skincare product by Clarisonic.  It guarantees to replenish skin in a way that is not only deep cleansing but gentle. Here is the perfect gift to splurge on if you have been desperately seeking that tool that will heighten your skincare routine and bring a glow to your complexion.
…
Dr. Gross Ferulic + Retinol Wrinkle Recovery Peel

…
Want a doctor's recommended dose of retinol that gets you the results you want? Look no further than Dr. Gross Feruli´s Retinol Wrinkle Recovery Peel. The peel starts to retexture your skin immediately, plus it supports natural repair so you can achieve your best complexion ever. Nothing is better than treating your skin while you sleep. You wake up radiant, knowing that all night collagen production increased, wrinkles were reduced, and firmness resorted.   
…
Lancôme Énergie de Vie Melt-in Sleeping Mask

…
Lancôme has been a leader in the beauty product world for a few decades now, so trusting them is easy. Packed with Vitamin E and antioxidants from goji berries, this sleeping mask works while you snooze, allowing you to slip into a comfortable dreamy state and leave all cares behind.  It seals moisture in all night and leaves your skin plump and juicy upon waking.  One that's worth the splurge on so many levels.
…
SK-II Facial Treatment Oil

…
For those who are diehard fans of moisturizers that deliver what they promise, the SK-II Facial Treatment Oil will leave you feeling the splurge was more like an investment than anything else.  The oil treatment has been carefully crafted by using the golden ratio.  Not only is it lightweight, but it's effective on the driest of skin types.    
…

…