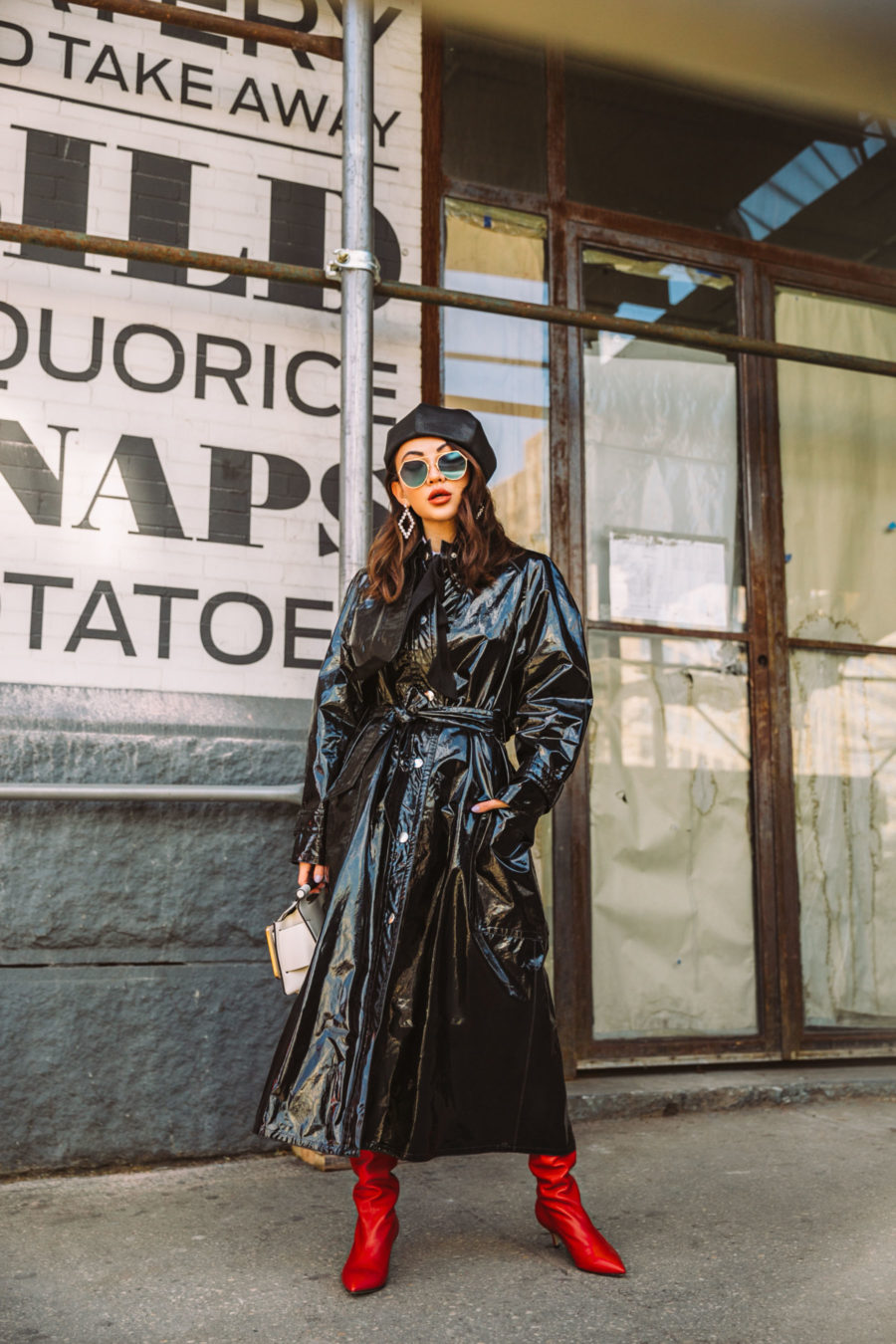 Isabel Marant Vinyl Trench Coat Similar | Boyy Handbag Similar | Paul Andrew Boots Similar | Fendi Sunglasses Similar | Beret Similar | Earrings Similar
F
all and winter are undeniably all about the statement footwear. It gets pretty chilly and dressing requires significantly more layering so we lean on cold weather accessories to really
set our outfits apart
. This year, there is a particularly large focus on boots – more specifically on knee-high boots. This footwear option obviously reaches right below or up to your kneecaps and can provide a large impact on your overall look. However, such a demanding look can be tricky to style. Today, I am sharing my 10 favorite ways to wear these iconic boots.
…

…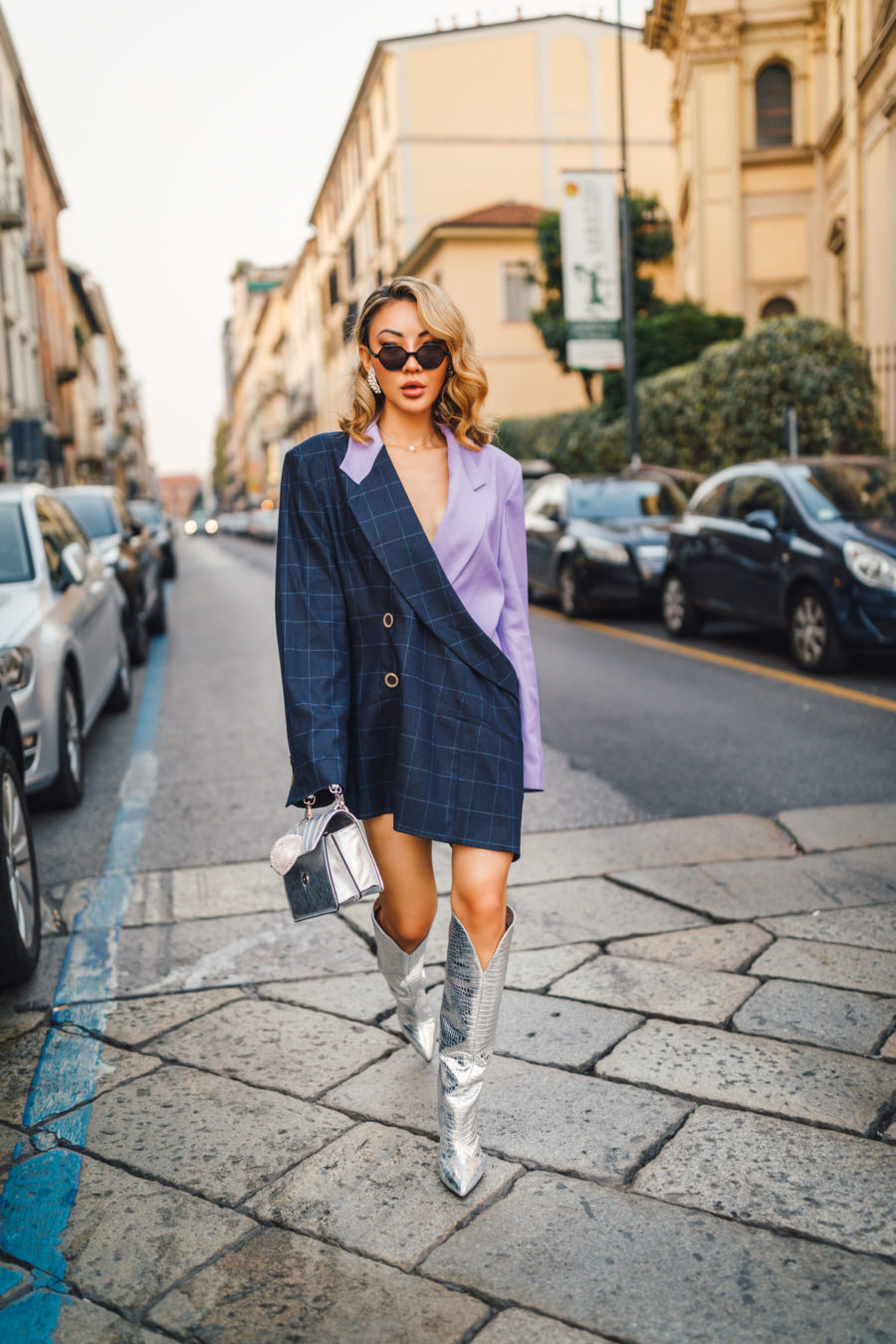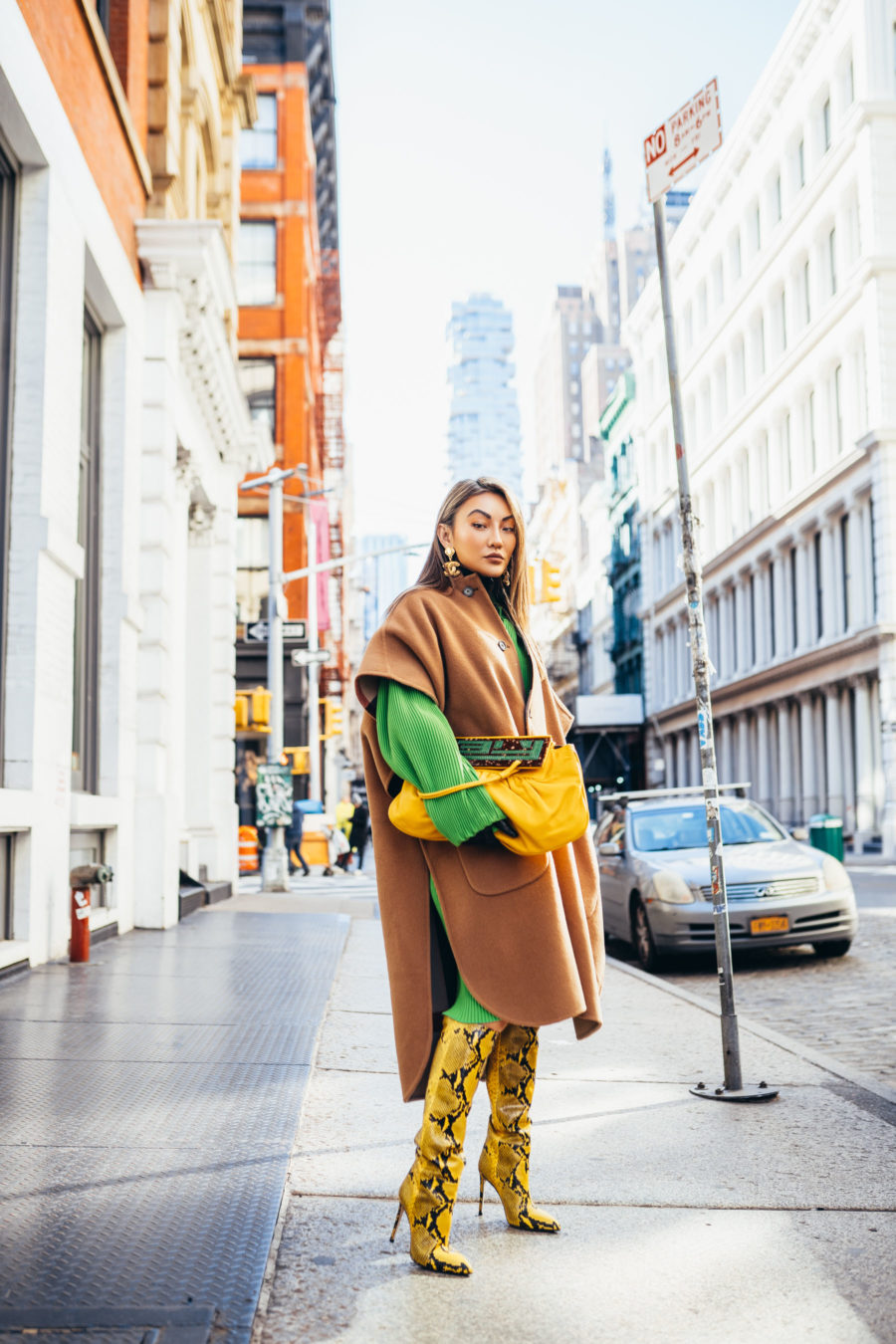 As a Pop of Color
If you're like me and love a little color pop, this is the season to play with knee high boots. The season's trending snakeskin and croc-embossed styles will do the talking. You can find so variations at amazing prices in different textures, colors, and finishes. If it's a bit too bold for you to pull off, try pairing it with an all black ensemble.
…

…
Sweater Dress
Come autumn, I am practically living in sweaters because they never fail to look put together. For a dressier take on jeans and an oversized knit, a sweater dress is all you need. I'm continually reaching for them because of how comfortable they are. When paired with knee-highs, your look is instantly chic, making this combination work for quick, on-the-go occasions.
…

…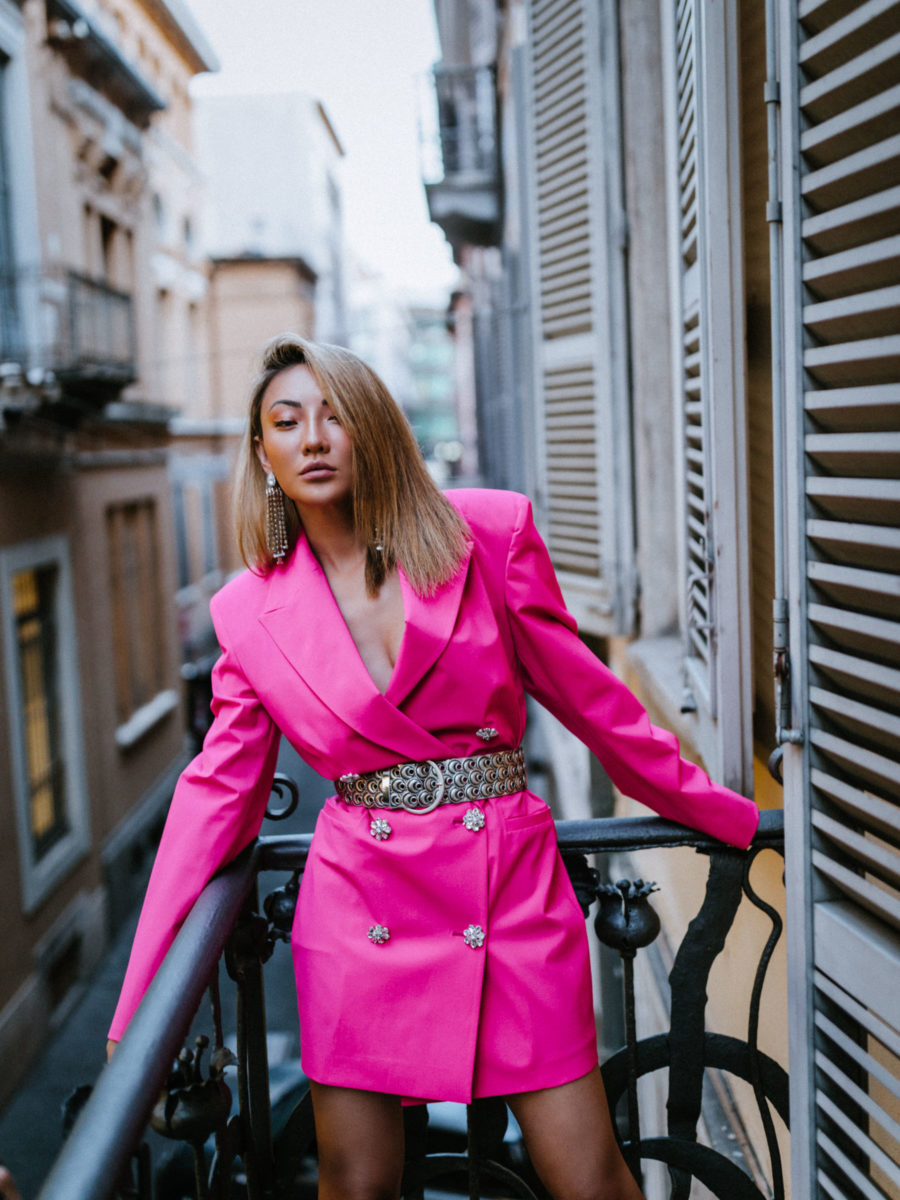 Blazer Dress
I love more androgynous clothing and oversized blazers too. Large blazer dresses provide an intersectionality between tailored and loose.
Knee-high boots are the perfect accompaniment to this look because both pieces are powerful when standing alone – but when together it becomes an outfit that's a force to be reckoned with.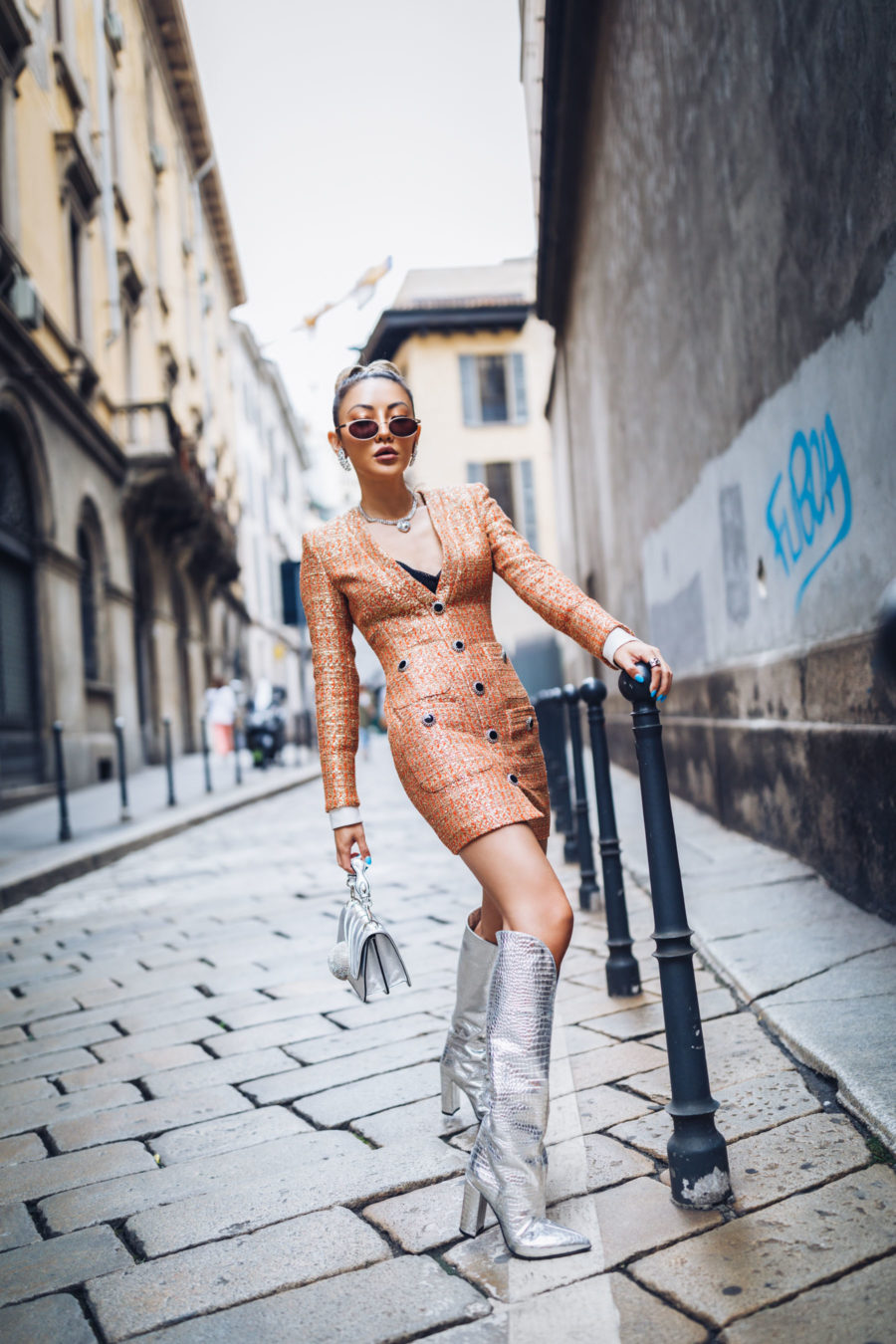 …

…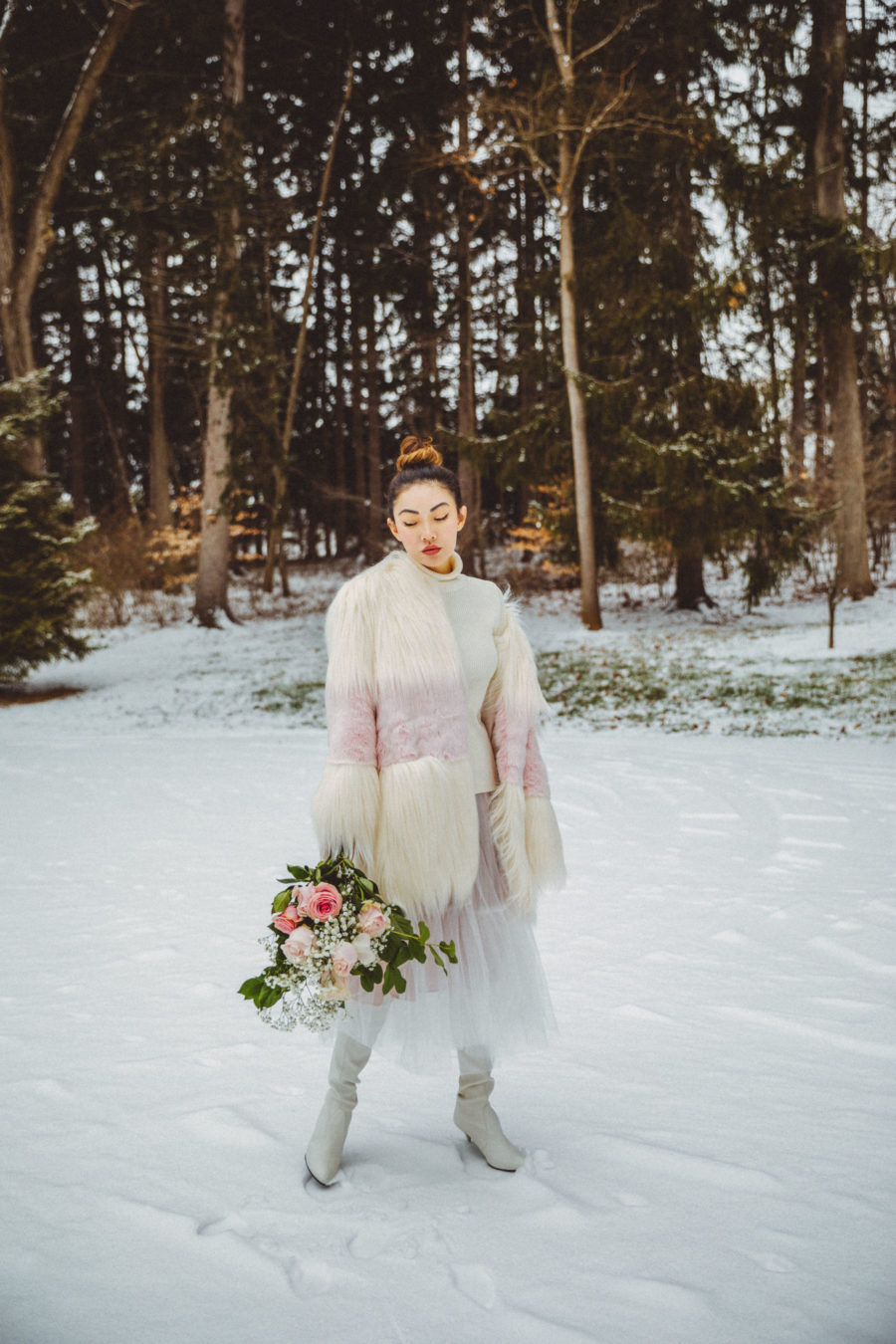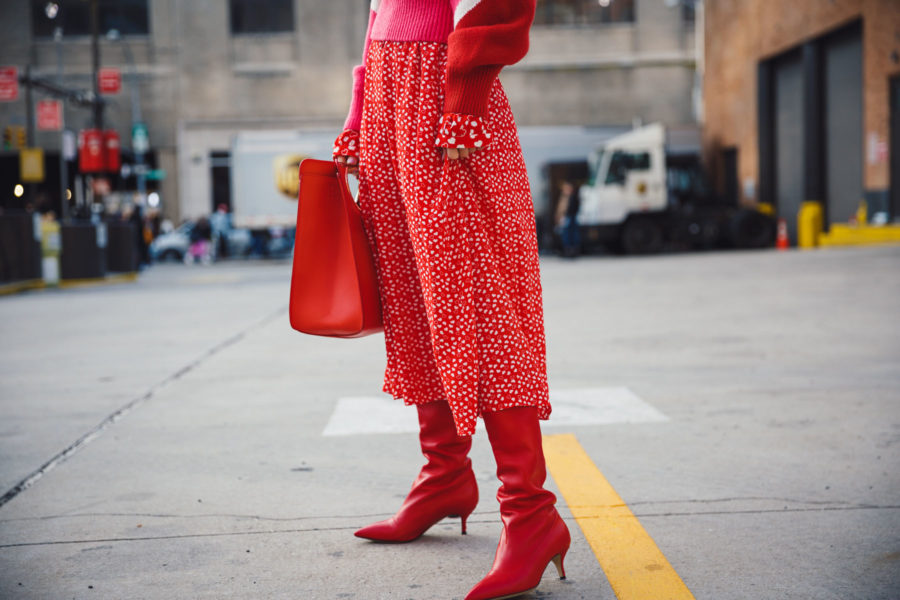 Monochrome
Since knee-high boots end up becoming a large portion of your outfit, a monochromatic color palette never fails to look impressive.
Matching shades ensures you always create a cohesive, sleek outfit. All beige is the go-to combination of the year. However, don't be afraid to play around with other neutrals or even brighter colors for fall!
…

…
Trousers
If you haven't noticed, tucking trousers into boots are everything this season and I'm loving the edgy, unkept finish.
There is just something so iconic about this combo that gives me a burst of nostalgia. Make it work for you by opting for a high-waisted trouser (it's even better with pleats) and defining the waistline with a belt.
…

…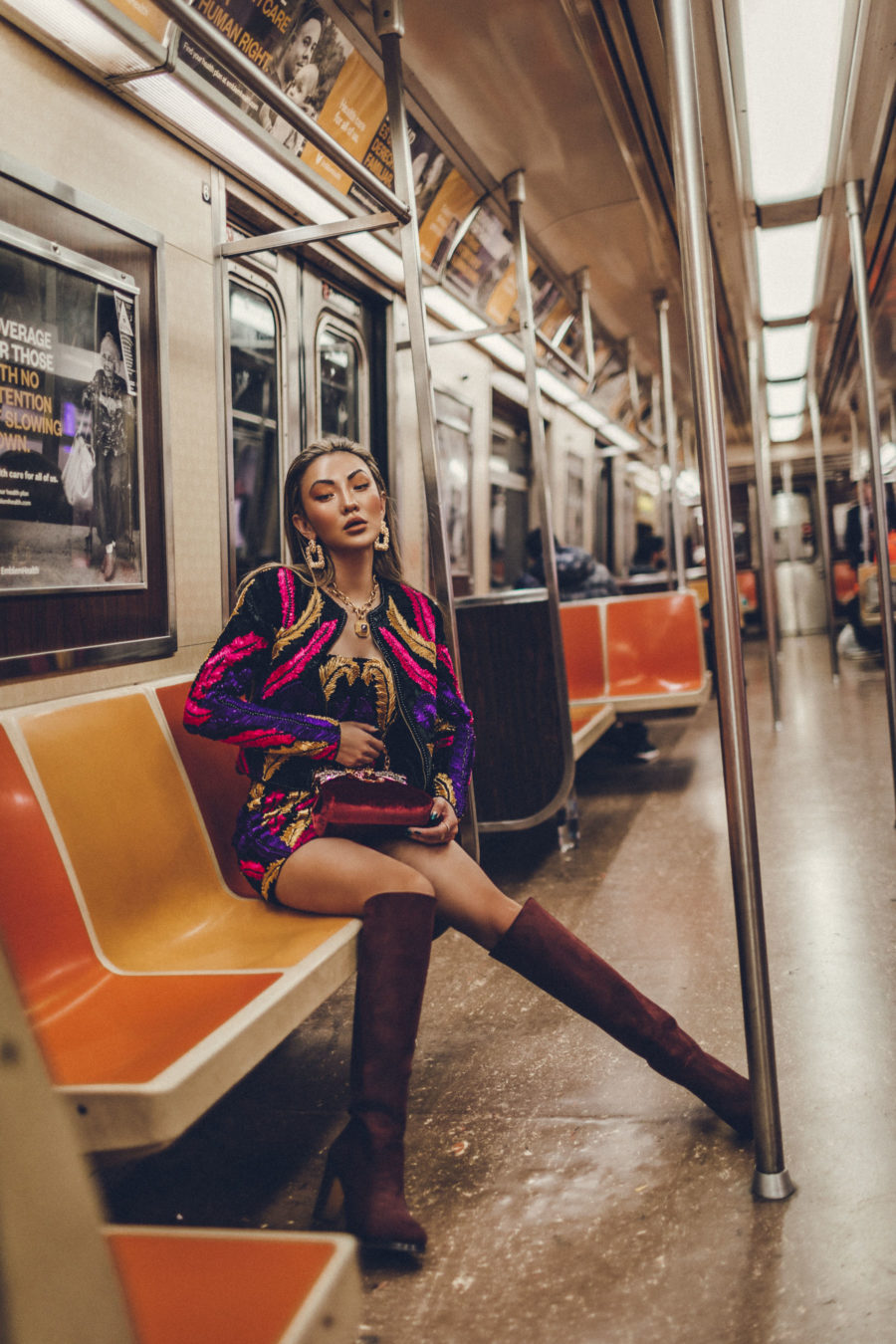 Party Dress
The holidays are coming right up, and there's no shortage of events that will demand cocktail attire. Knee high boots make wearing all your mini dresses possible – even the most extravagant ones. Whether you're into velvet or embellishments, neutral-colored boots are the cherry on top.
…

…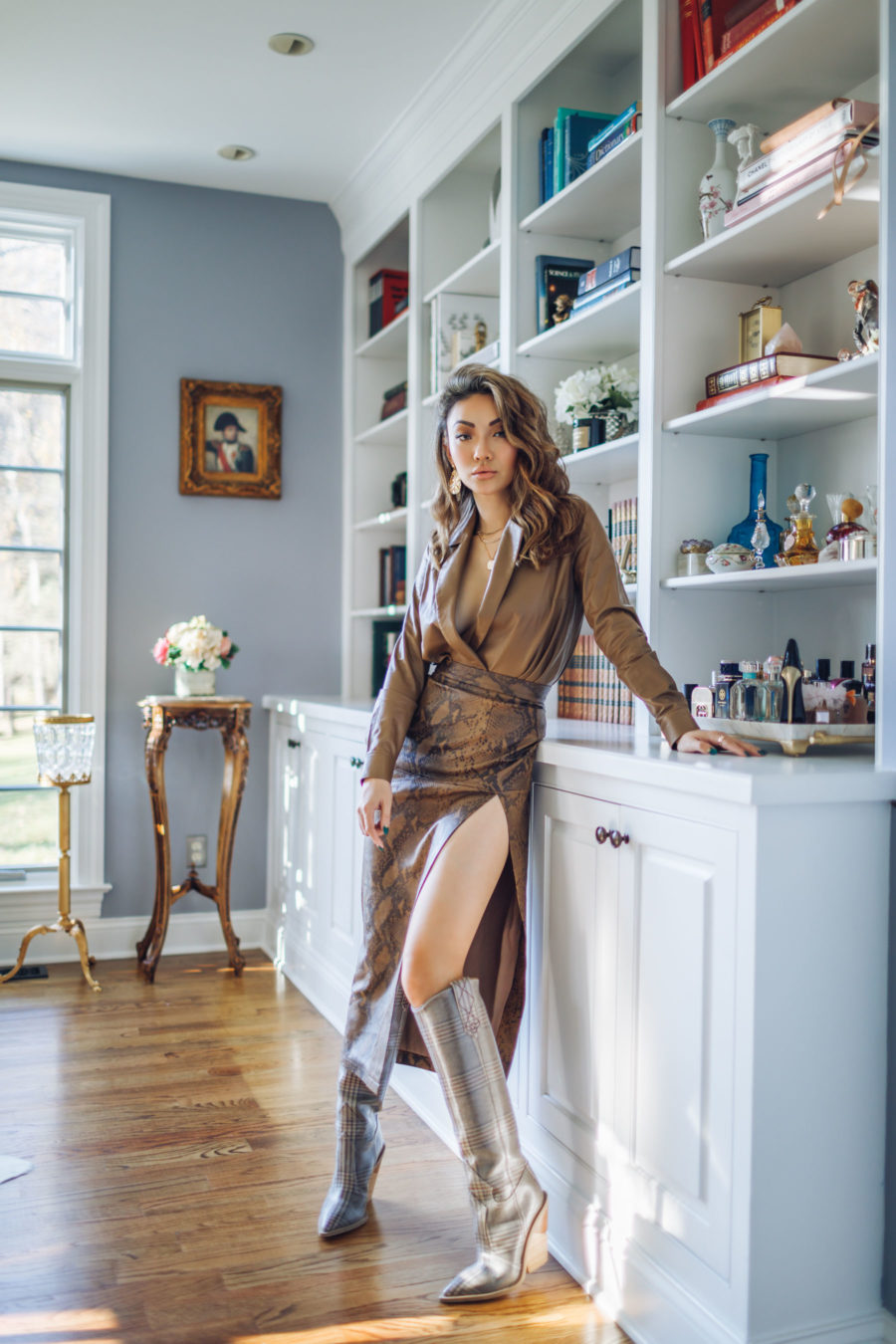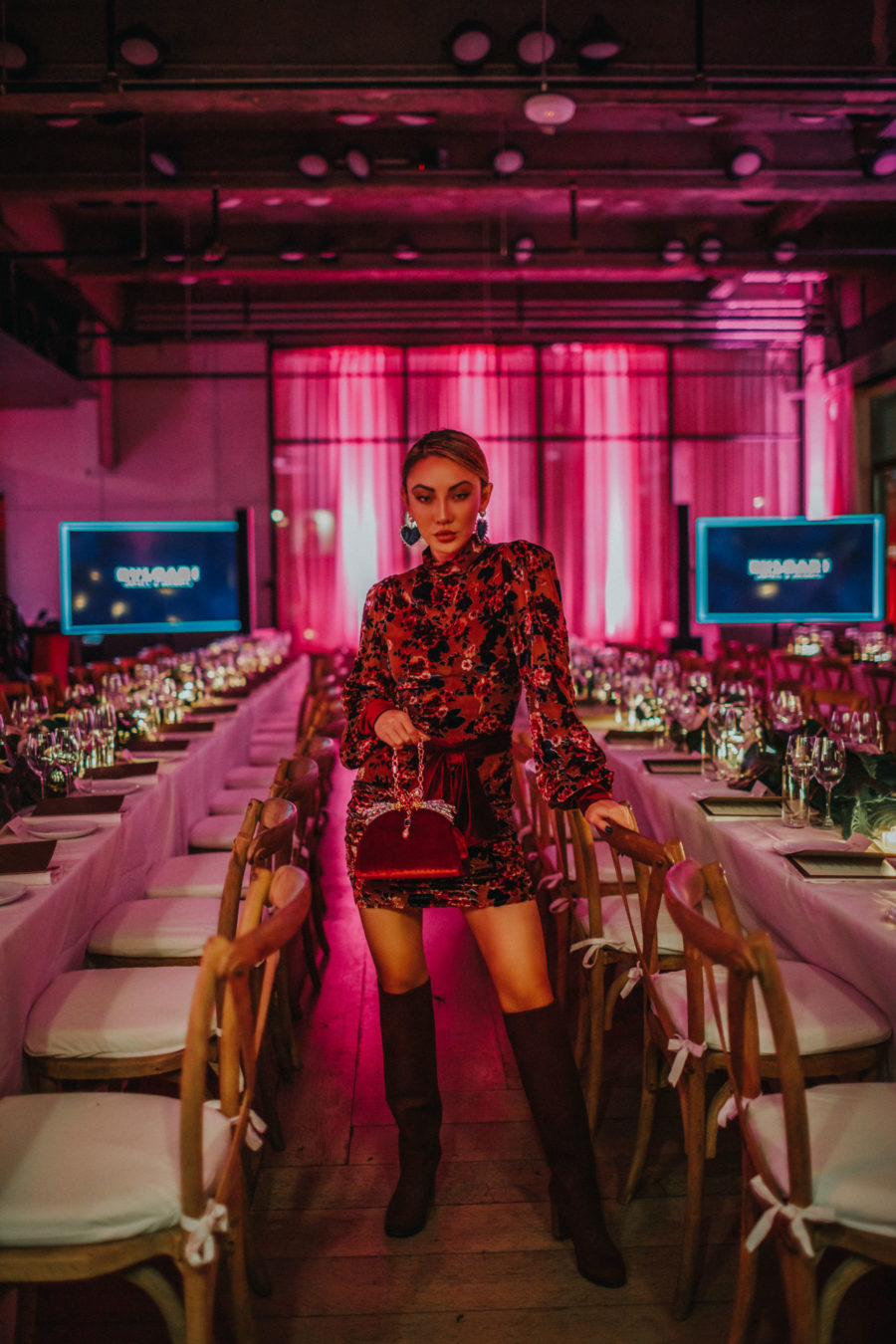 Slit Skirt
I love mixing separates like a top and slit skirt, but admittedly, it is a little chilly to pull off in the fall. However, the beauty of the tall boot is the fact that it graciously covers the majority of your legs, keeping you nice and snug so you can get away with wearing your favorite slit skirts at this time of year!
…

…

Duster Coat
Of course, I have to pay homage to my duster coats, which look good with absolutely anything. If you're going after a leggier look, knee high boots paired with a mini skirt and duster coat will keep you cozy.
…

…
Dark Denim
A pair of dark wash denim makes for a great layer underneath your tall boots because it creates a seamless effect that lengthens your body and makes you look more polished. The slimming effect also balances out more voluminous tops, such as a chunky sweater.
…

…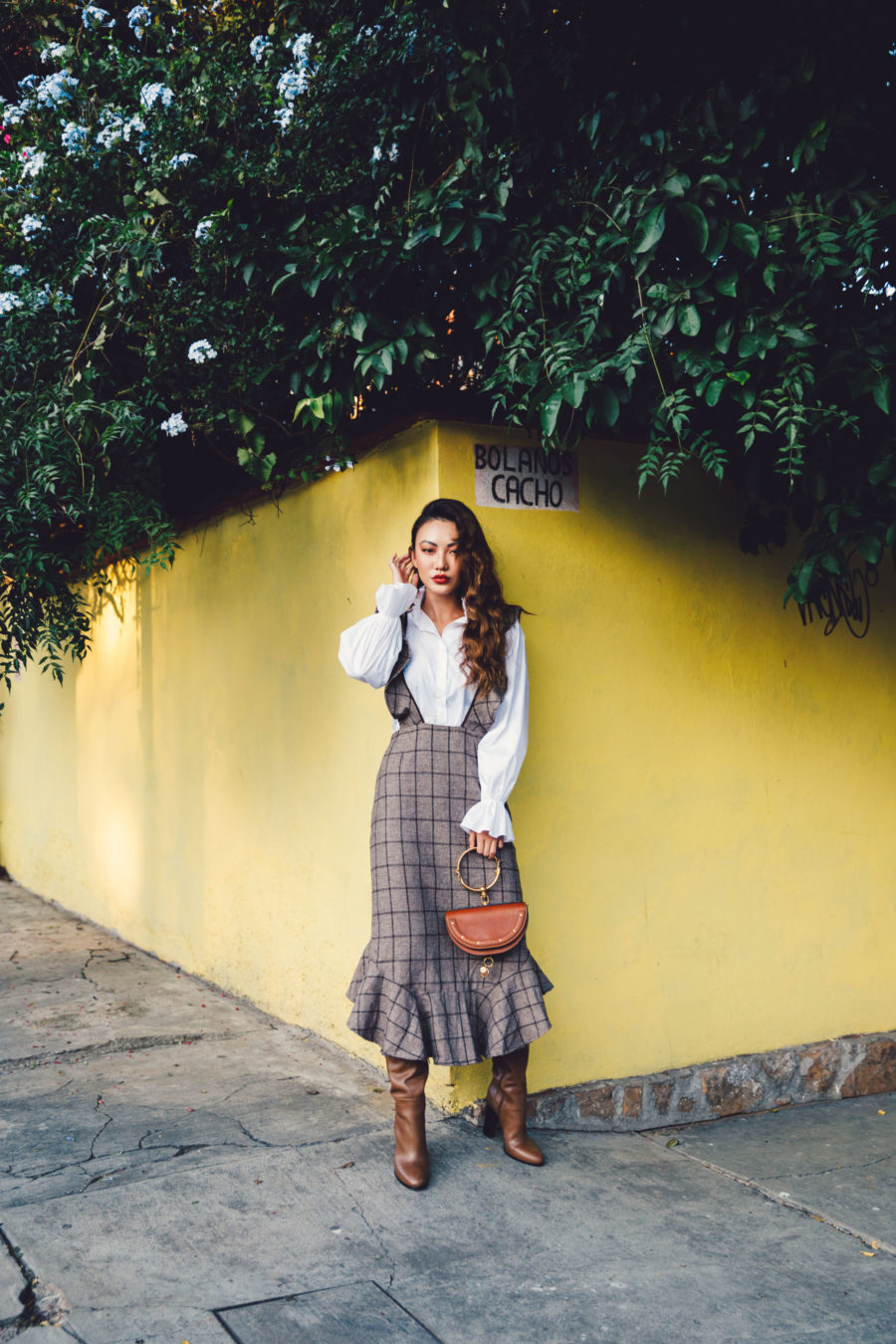 Midi Dress
There is nothing that screams fall more than a midi dress and a pair of knee-high boots. It's ideal for when you are getting ready in a rush but still want to look chic. Just throw on your knee-high boots and no one will ever know you were in a mad dash to get ready! When worn together, you achieve a chic, lady-like look that is perfect for every scenario.
…

…
How are you styling your knee high boots this season?