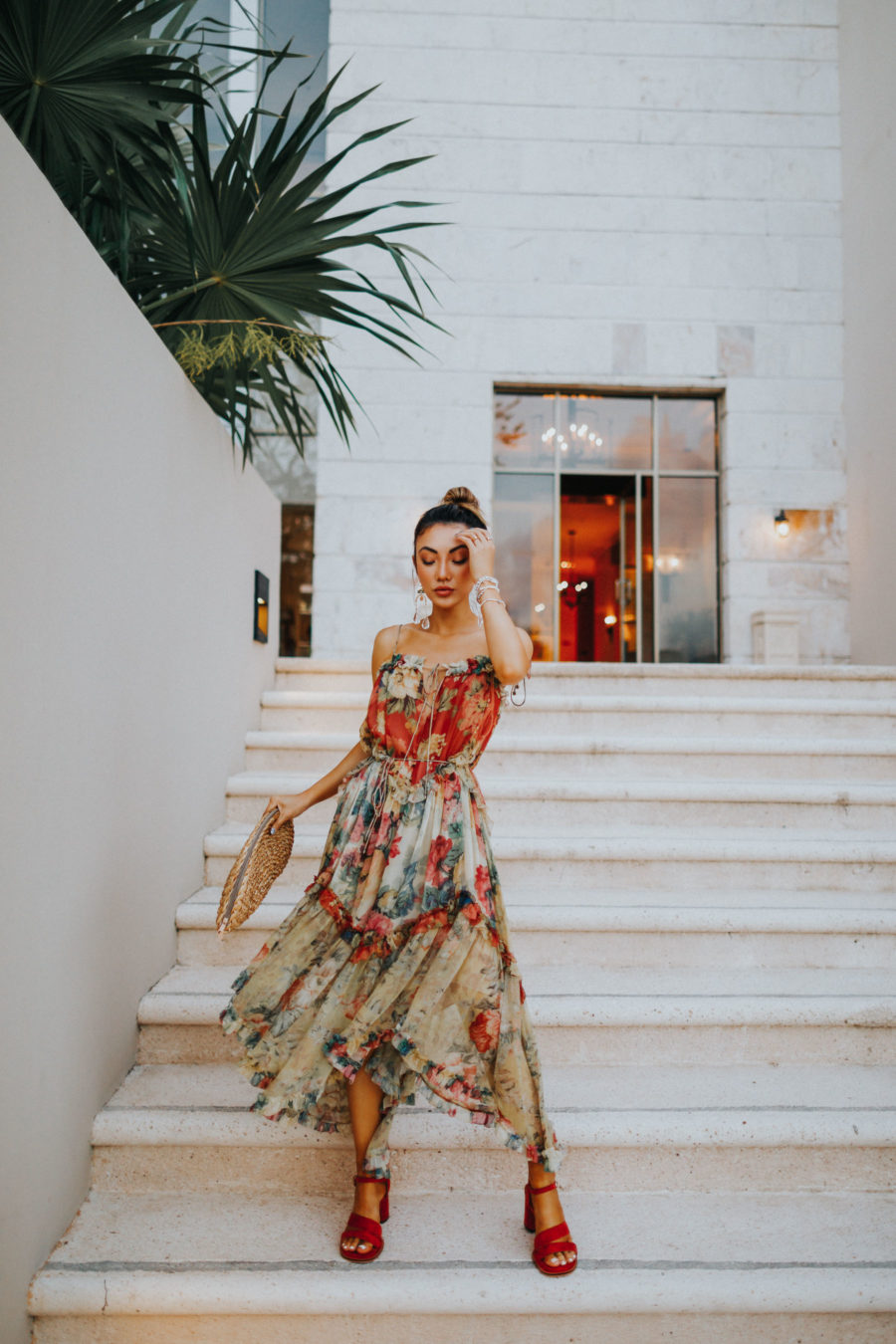 Zimmerman Dress (Sold out, Similar) | Half Circle Clutch Similar | Brown Sandals Similar | Earrings Similar | Monica Vinader Ring
W
ith the arrival of Spring, comes the arrival of wedding season! Every year, I encounter a plethora of wedding invitations and it immediately takes me back to when I got married. Although the actual day was full of pure bliss, I am also reminded of the copious amounts of stress and planning leading up to the big day. One off the most anxiety inducing (but incredibly rewarding) parts of planning a wedding was
finding the actual dress
.
…

…
Looking back, I wish someone had given me a list of shops to narrow down my search – and tips for shopping wedding dresses online. That's why I wanted to share my knowledge with you in case you are in the midst of planning your own big day! Read on for tips on finding the perfect dress: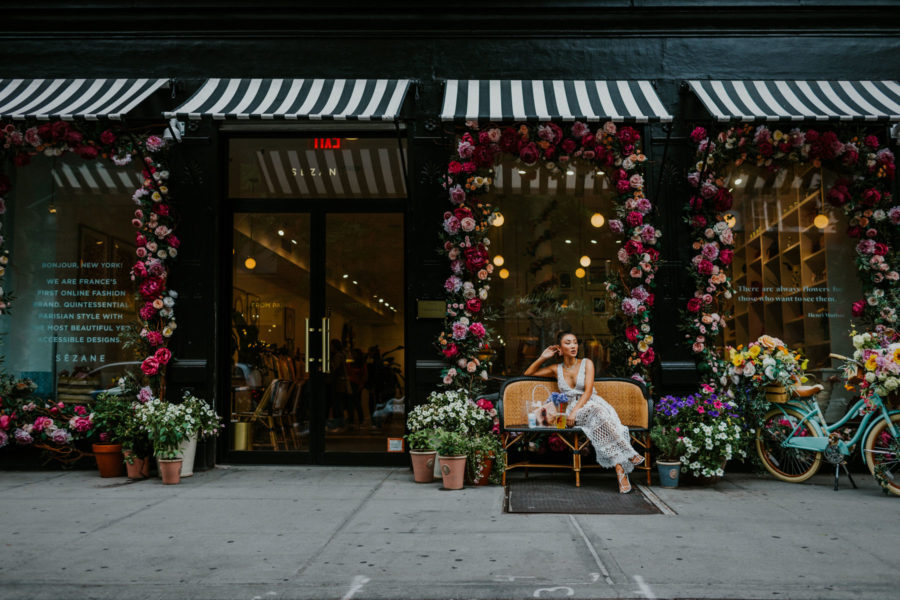 Research fabrics.
When shopping online, you really don't know what you're getting, so I highly recommend going to the nearest bridal boutique and getting a feel for the fabrics. You'll want something your body can feel comfortable in. The most common fabrications are usually charmeuse, tulle, taffeta, lace, and organza. This will help you narrow down what you're searching for.
Know the silhouette you want.
Wedding dresses come in all shapes and sizes. It can be hard deciphering which dress is right for you when shopping online. So when you have an idea of the silhouettes you're interested in, take a trip to your local bridal boutique and try on the different styles. This will give you a realistic view of what you're buying. You can then narrow down your search further to one or two silhouettes.
White or ivory?
I went through this constant debate, but looking back, it's so unnecessary. It's all dependent on the vibe you're going for. White will look modern and crisp while ivory will feel more dainty and whimsical. 
Read the store's policy. 
The worst thing that can happen is getting stuck with a dress you don't want. If you know you're fickle and tend to change your mind a lot, look for the return policy before checking out.
Read the reviews carefully.
This is my rule of thumb for everything. The review section is where everything is at – the good and the bad. Use this section to decipher what nuances and size discrepancies you might be dealing with.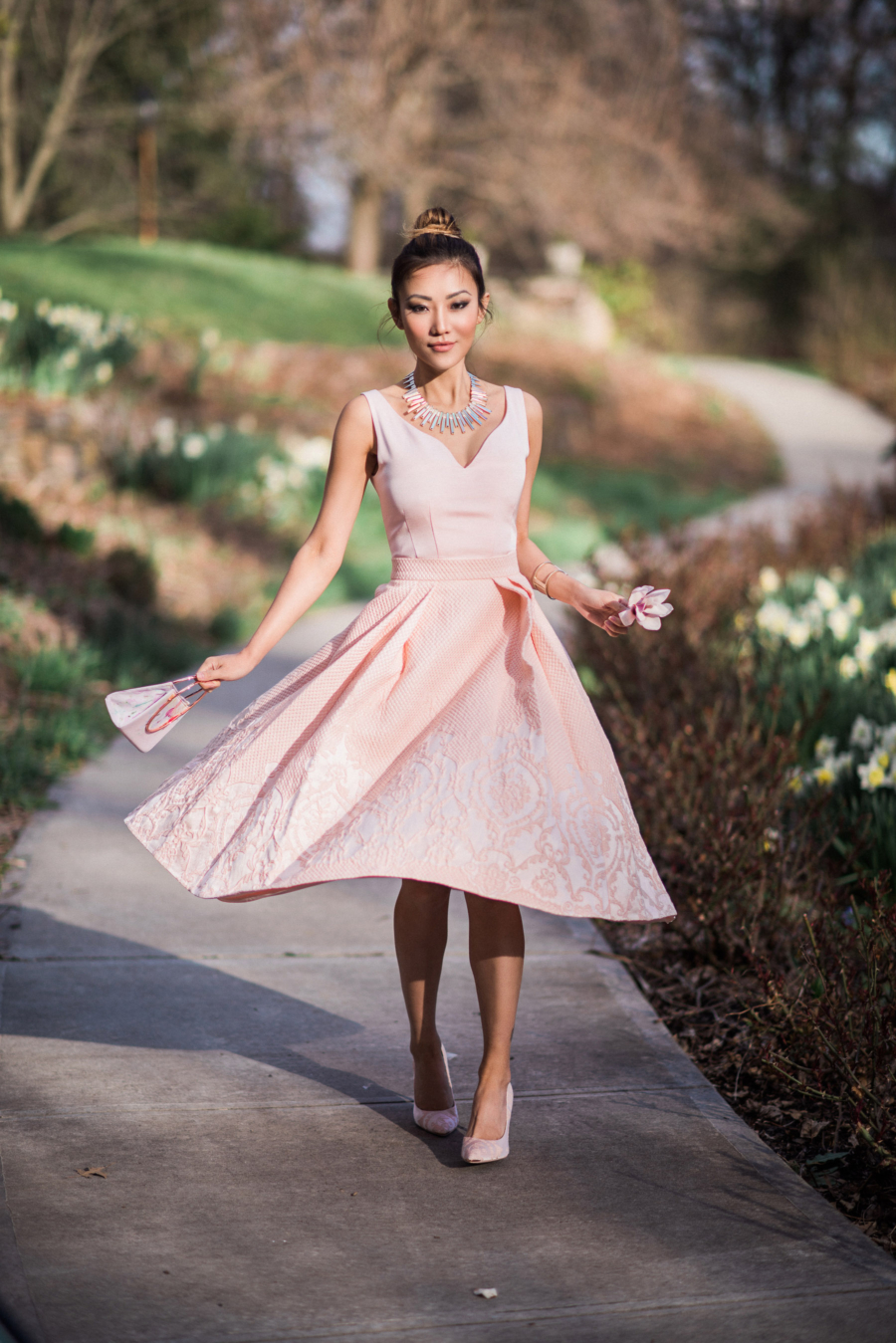 Know your exact measurements. 
Some online boutiques allow you to input your measurements so you get an exact fit. This can help save money on the alterations piece. However, I advise getting a professional to take your measurements. If all else fails, order a slightly larger size so you can have it taken in. Wedding dresses tend to run small in my experience!
…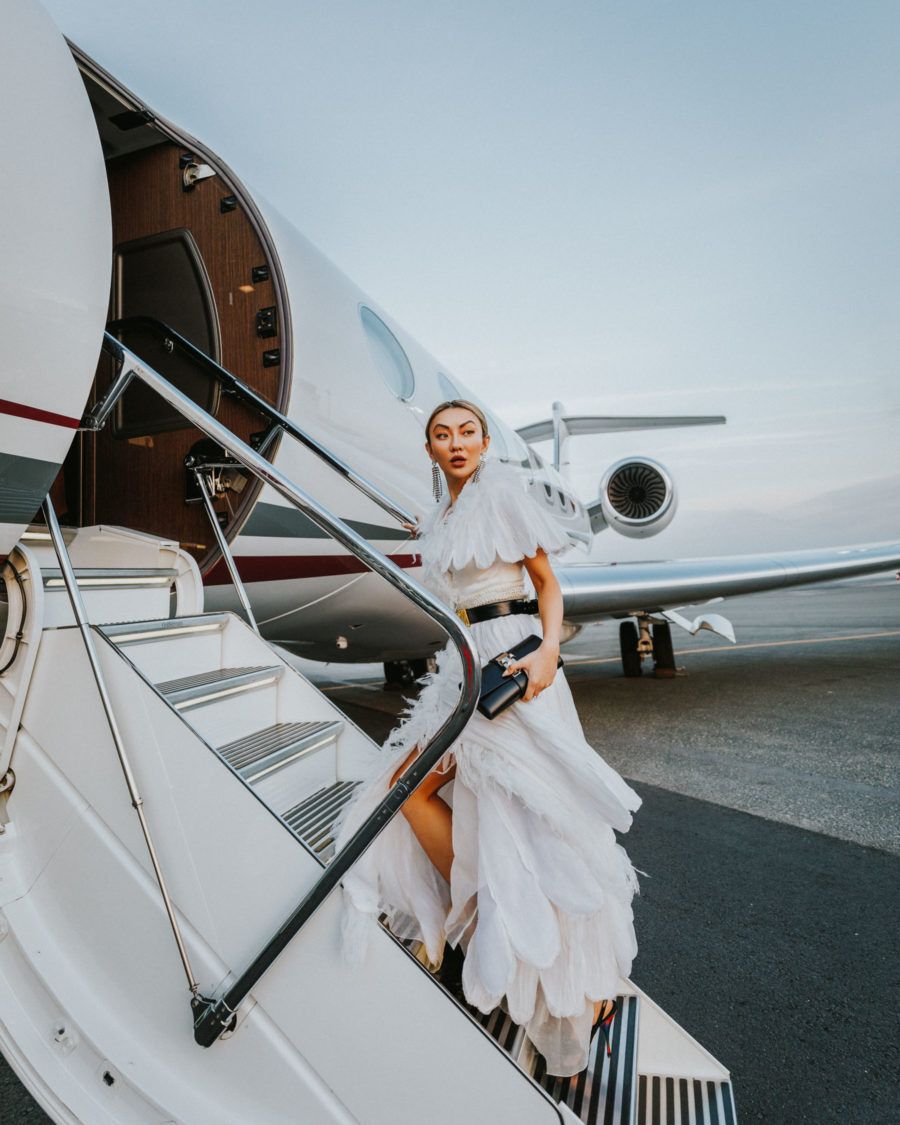 For the extravagant bride…
If you are looking to go big or home, look no further than Net-A-Porter for extravagant brands like Galvan, Temperley London, and more. I'm also constantly ogling over Pronovias' line up at Nordstrom. If you're willing to splurge, you're more likely to find beautiful gowns that are sensual in nature with exquisite detailing that are almost unreal. Since you're spending so much money on this one piece, it's especially crucial that you read the store's policy, any fine print, and study the fabrics.
…

…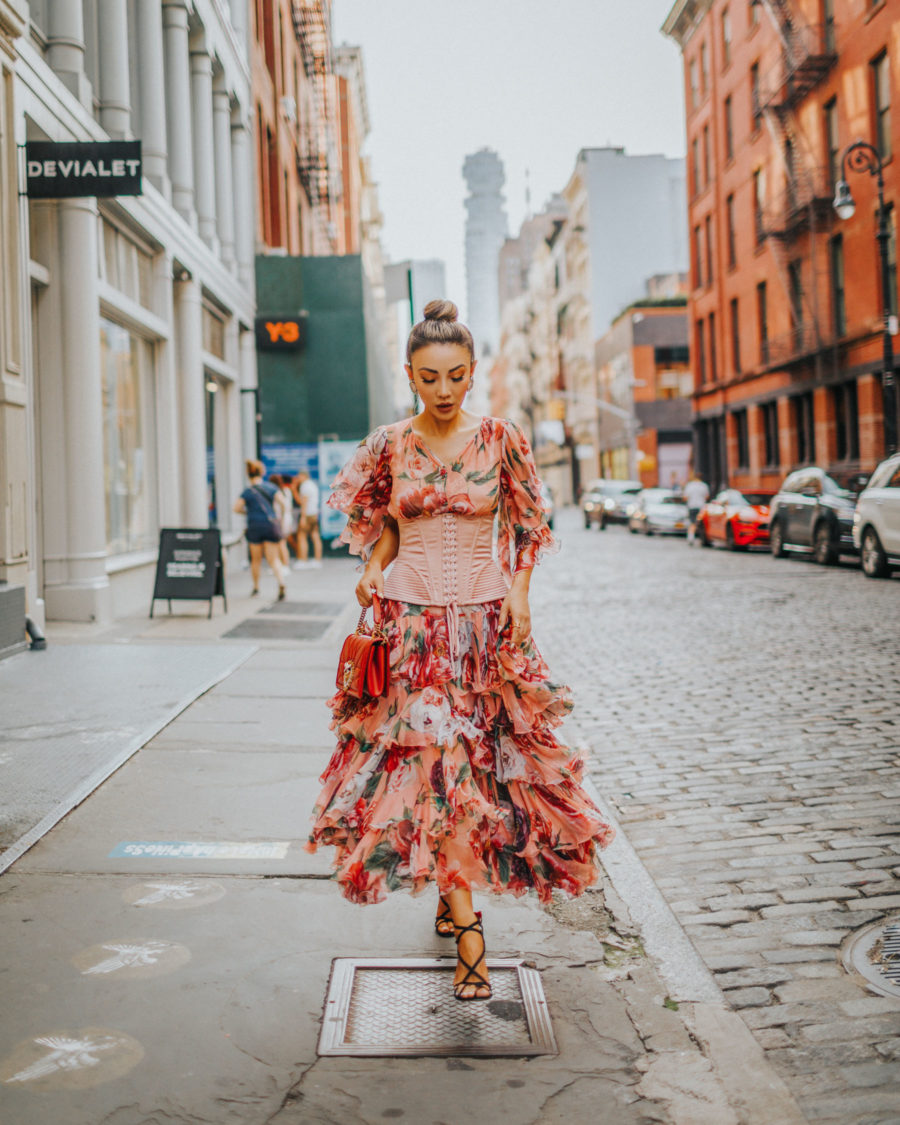 For the ethereal bride…
If your style tends to learn toward the more celestial, fairy-like aesthetic, let BHLDN be your first stop. This is Anthropologie's wedding brand and they specialize in bohemian style gowns complete with details such as vintage lace and beaded appliqué. Plus, one of the nice things about BHLDN is the fact that they offer their customer a wide variety of options with prices ranging in the hundreds up to a few thousand. Revolve recently expanded its offerings to include several beautiful options that work for every bridal event you might have from bridal showers to bachelorette parties.
…

…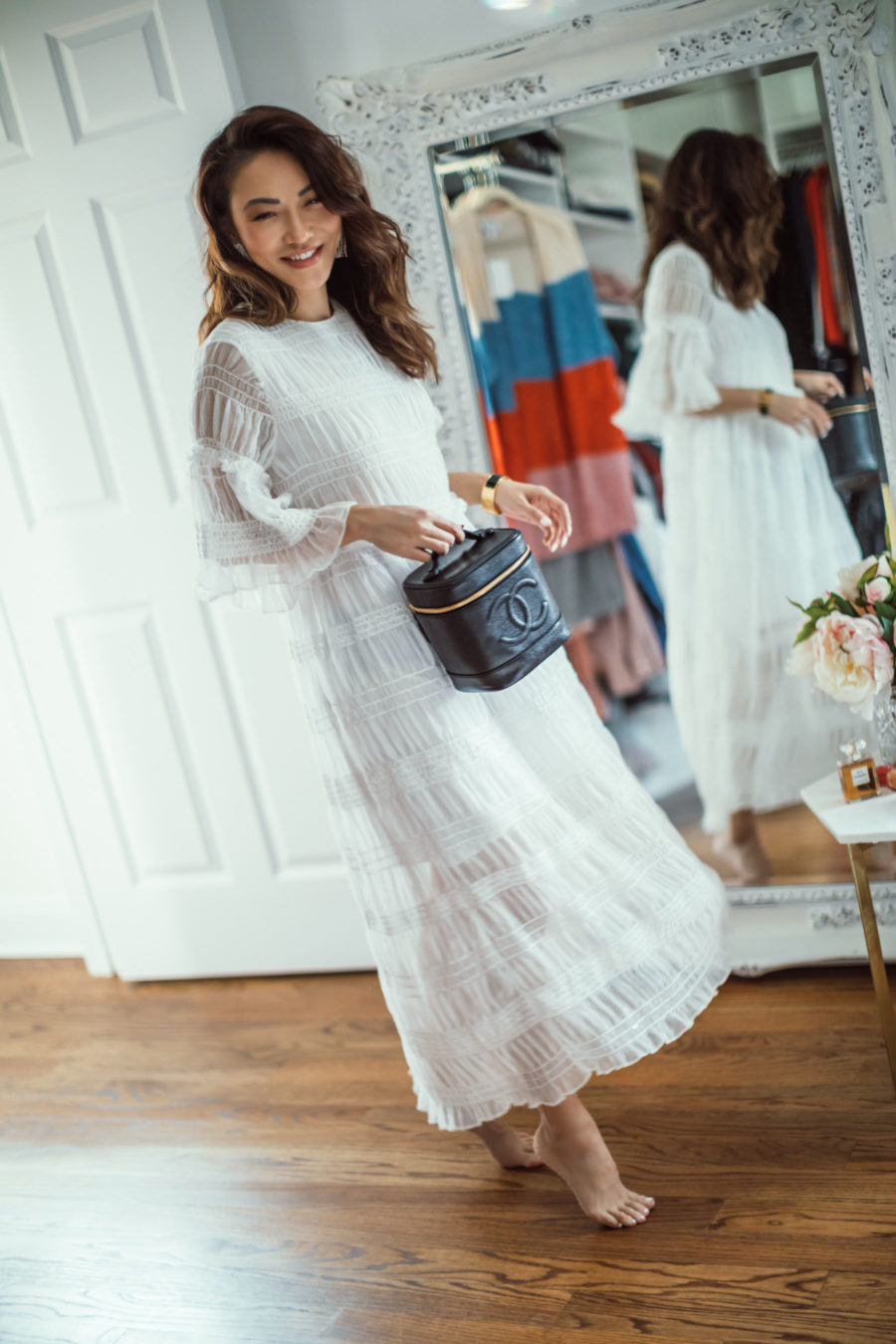 For the price conscious bride…
This came as a pleasant surprise to me, but Asos has some really great bridal options for under $400! (Look at this piece here and here.) Not to mention, if you are interested in ticking multiple items off your wedding list, you are bound to find shoes, lingerie, and bridal party options! Azazie is another source to check out – they allow you to input your exact measurements so you can get a dress that fits!
…

…
For the minimal bride….
Not only is Reformation a great destination for chic everyday wear, but they are also an amazing resource for wedding dresses and bridal party dresses. With their lovely take on timeless, minimal styles, you'll definitely find what you're looking for. This came as a pleasant surprise to me, but Nordstrom carries an array of sleek wedding dresses that cater to every single style, body type, and budget.
…

…
…
Any brides to be here? Let me know how dress shopping is coming along!