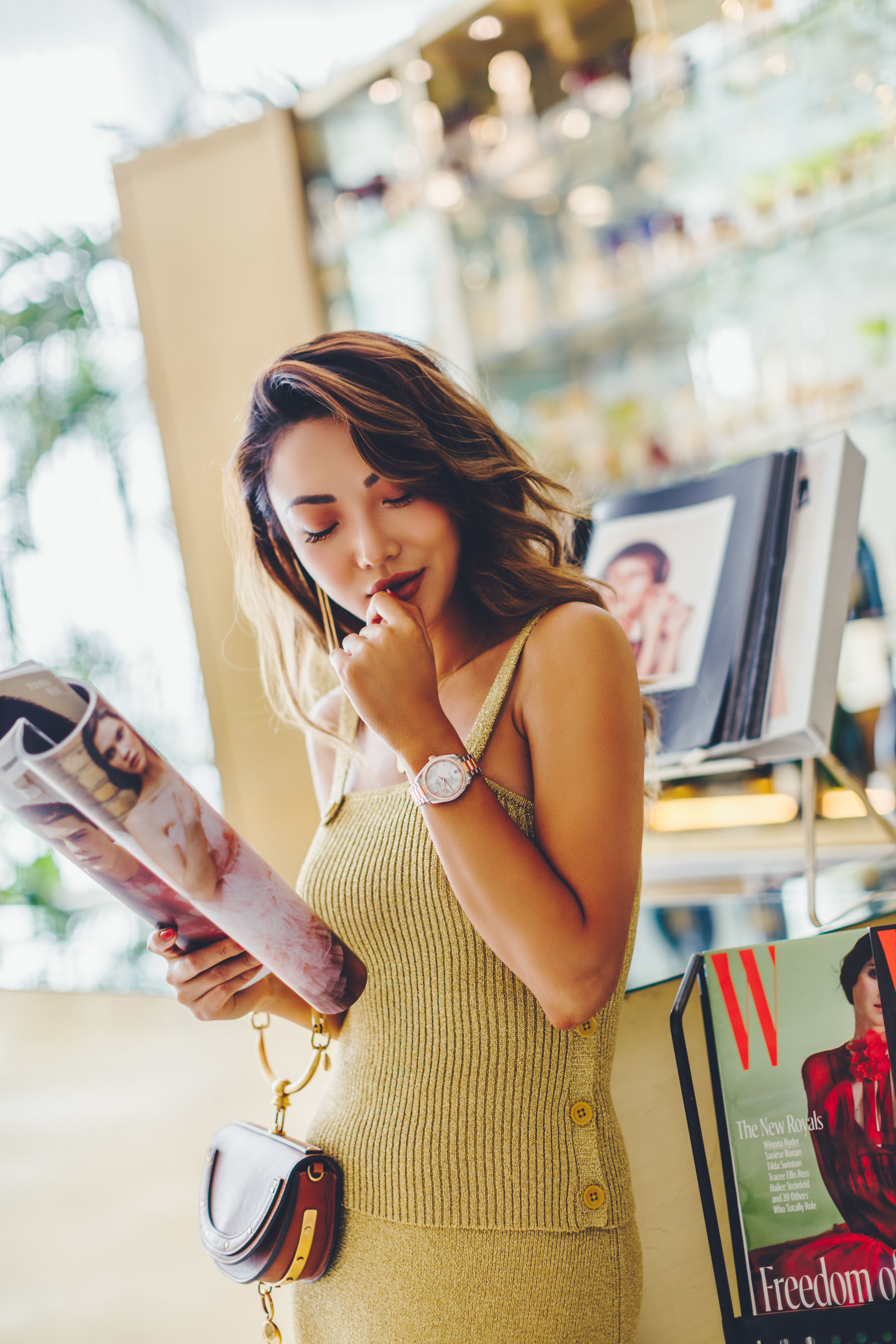 Top: Creatures of Comfort (similar here) | Skirt:  Creatures of Comfort (similar here) | Watch: Omega (similar here)
Bag: Chloe
A
lthough I love fashion, one of the things I'm looking forward to most this season is 2018's spring beauty trends! If you watched the runway at all back in September during fashion week, you may have noticed several boundary-pushing looks that don't seem practical for the everyday. However, I say life's too short to worry about how others perceive you. That explains my very out-there, unpredictable sense of fashion.
…

…
Apply it to beauty and here's what you get (the spring beauty trends I'm looking forward to most):
1. Golden Glistening Skin
I don't think the ultra glowy skin trend ever went away, and brands aren't slowing down when it comes to delivering new highlighters every few weeks either. One of the highlighters I haven't dabbled in yet but have my eyes on is the gold highlighter. I feel like it gives off a very Greek or Egyptian goddess vibe and I'm diggin' it! You can get this effect with products like Bobbi Brown's Highlighting Powder in Moon Glow, Two Faced Ultra-Fine Face Glow, and Marc Jacobs Coconut Gel Highlighter.
2. Dramatic Black Liner
I love my black liner and can't really live without it, so I'm so excited to see that black, graphic liner is on the rise again! It seemed that for a while, darkly rimmed eyes were a thing of the past, but that's no longer the case! Don't be afraid to go bold with your liner. Trace it thickly all the way around and create a razor sharp wing at the edge. Try this look with my go-to liner for every look by Tarte – you'll result in a flawless chiseled glare!
3. Bright Red Lips
I've embraced the bold red lips for quite some time now, but I know many of you are still probably shy when it comes to pulling off this loud pout. My trick is either pairing glossy red lips with matte skin and and eyeshadow, or matte red lips with glossy skin and metallic lids. I love red lipstick because it brightens up the complexion and makes your teeth look whiter instantly.
4. Metallic Makeup
The glitter and sequin trend is not only major in clothes and accessories but also in beauty so I hope you're not sick of it yet. I don't know if I'm brave enough to jump on board but I actually do fancy the idea of glitter applied haphazardly on the eyes and around the face. The trick to making glitter look grown up is pairing it with a fresh, minimal face and subtle contouring.
Collage photos by Pinterest
5. Pops of Color
Whether it's pastel eyeliner or rounded vivid hues popping out from your eyes, don't be afraid to create shine and dimension with color this season. You'll also be obsessed with this season's ultra-glowing skin if you couldn't get enough of strobing. Swap out your traditional neutrals for holographic pastel pigments to achieve an ethereal fairy look. It's time to call out the artist in you.
6. The Morning After Makeup
Think of soft smokey eyes with a lived in look. It looks tough, carefree, and young – like you spent all night out and went to bed without washing your face. I know this probably sounds gross but there's something seriously alluring about morning after makeup. To recreate, apply black kohl liner and smudge well. Then, apply some mascara to slightly lift the lashes.
What are your favorite spring beauty trends?