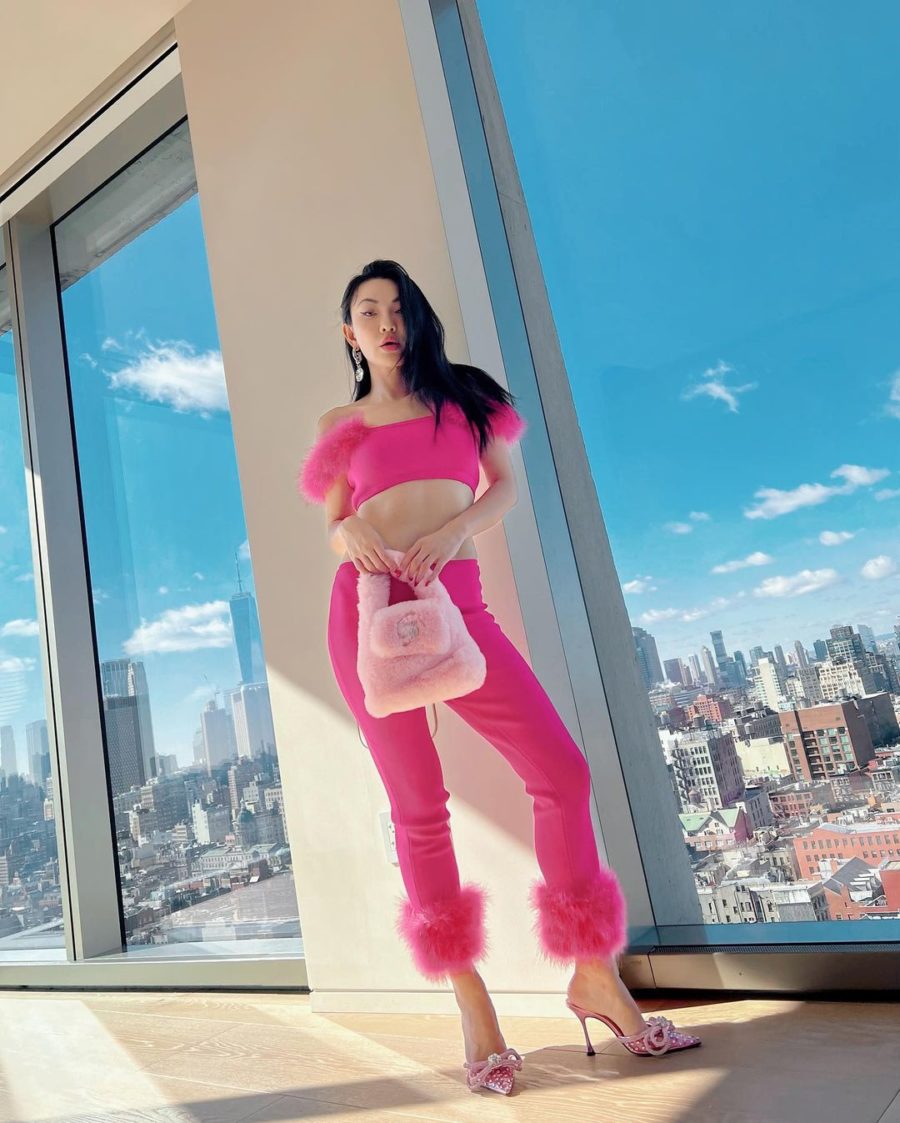 Magda Butrym Bralette | Magda Butrym  Leggings | Mach Mach Embellished Mules | Earrings Similar | Fur Bag
F
rom Paris to New York, February is already proving to be a busy month with
back-to-back Fashion weeks
. After a few jam packed days, I flew back home for round 2. Amongst all the fashion capitals of the world, I have a special place in my heart for New York because it's the amazing city I call home. For the several days that Fashion Week manages to consume the city, I sincerely feel like there is a different, almost contagious energy in the air. I firmly believe street styling is a different beast on its own, so I always try to up my outfits to match that vivacious, chaotic vibe. I wanted to piece together some of my recent fashion week looks to act as inspiration for your everyday looks. Here is how to achieve them for less!
…

…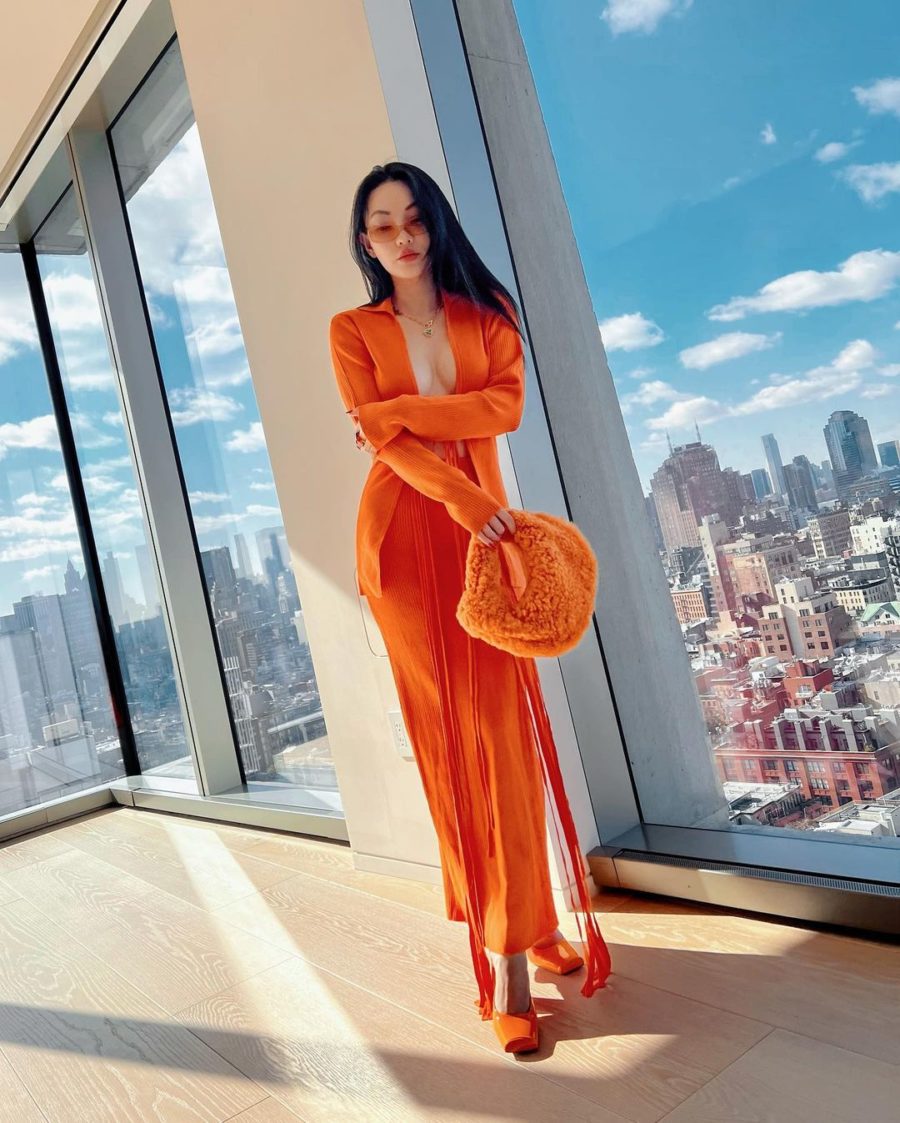 Saturated Monochrome
If there is one major takeaway to get from this post, it is that you should no longer shy away from bright colors in 2022. Vibrancy is a key trend that will be consistently present from now until the end of the year. Saturated neons and effervescent hues are now considered seasonless so when it comes to color – go big or go home! Show others you mean business by mimicking my saturated monochrome outfit. Achieve this by chooing your favorite fluorescent color and going after it from head-to-toe. Some popular hues this season will be bright orange, primary blue, lime or kelly green, and hot pink.
…

…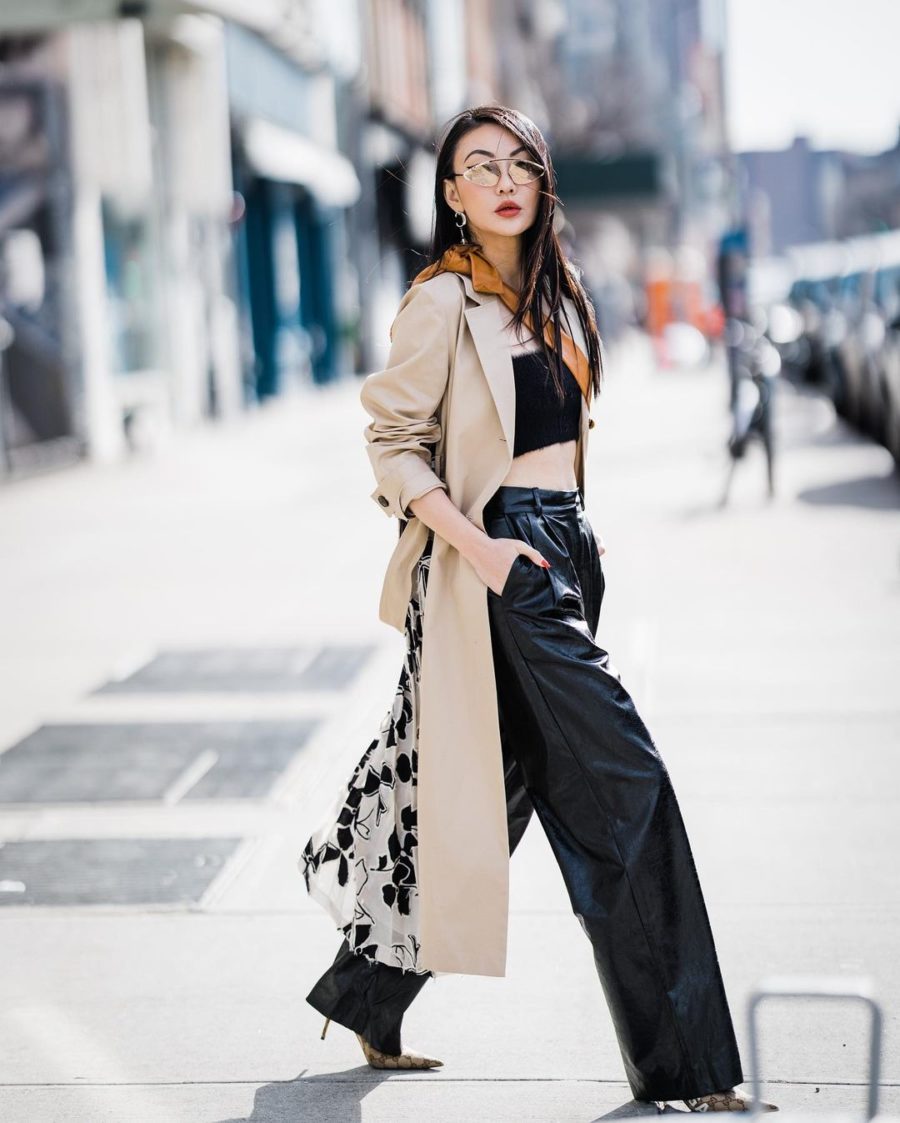 Modish Trench Coat
One of the best parts about saying goodbye to winter and gearing up for spring is being able to shed those puffy jackets. It feels more freeing to be able to finally rock lighter layers once again. I made sure to take advantage of this during NYFW. For one of my fashion week looks, I wore an elevated trench coat that seemed ordinary in the front but was actually equipped with a full panel of print in the back. You can also achieve this look for less by styling a modish trench coat with your transitional spring outfits. Shop trenches with unique fabrications, bold colors, and utilitarian details and layer it over an equally contemporary outfit like a pair of leather trousers.
…

…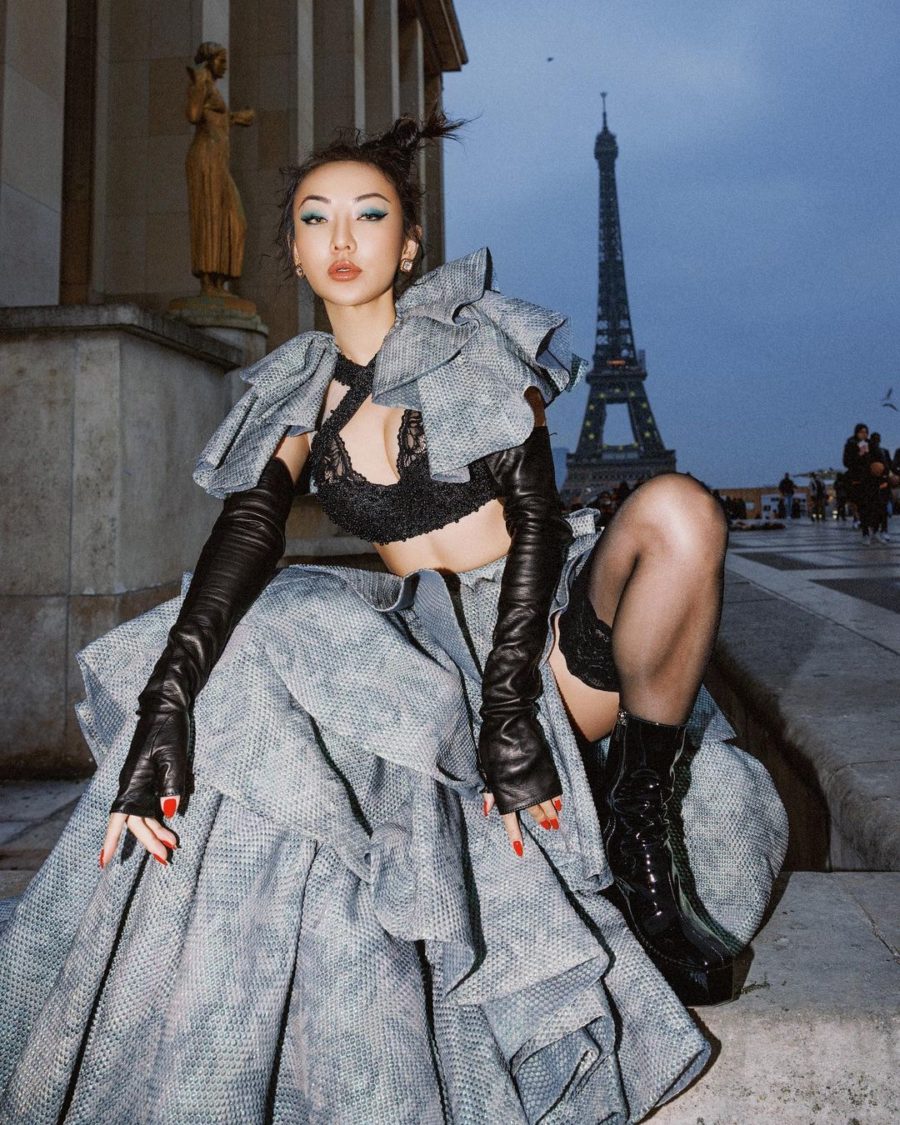 Exaggerated Ruffles
Evidently, this look was really out-of-the-box because I wanted to start PFW off with a bang. I went for a dark, vampy look complete with a smokey eye, elbow-length gloves, and platform heeled boots. The star of the outfit though was the exaggerated ruffle detailing on both my top and the full skirt. If you are looking for drama this season, this is the way to achieve it. The added volume and texture will ensure all eyes are on you! You can also go the opposite route and opt for a more princess-like charm with lighter pastel colors if the edgy look is too heavy for your tastes.
…

…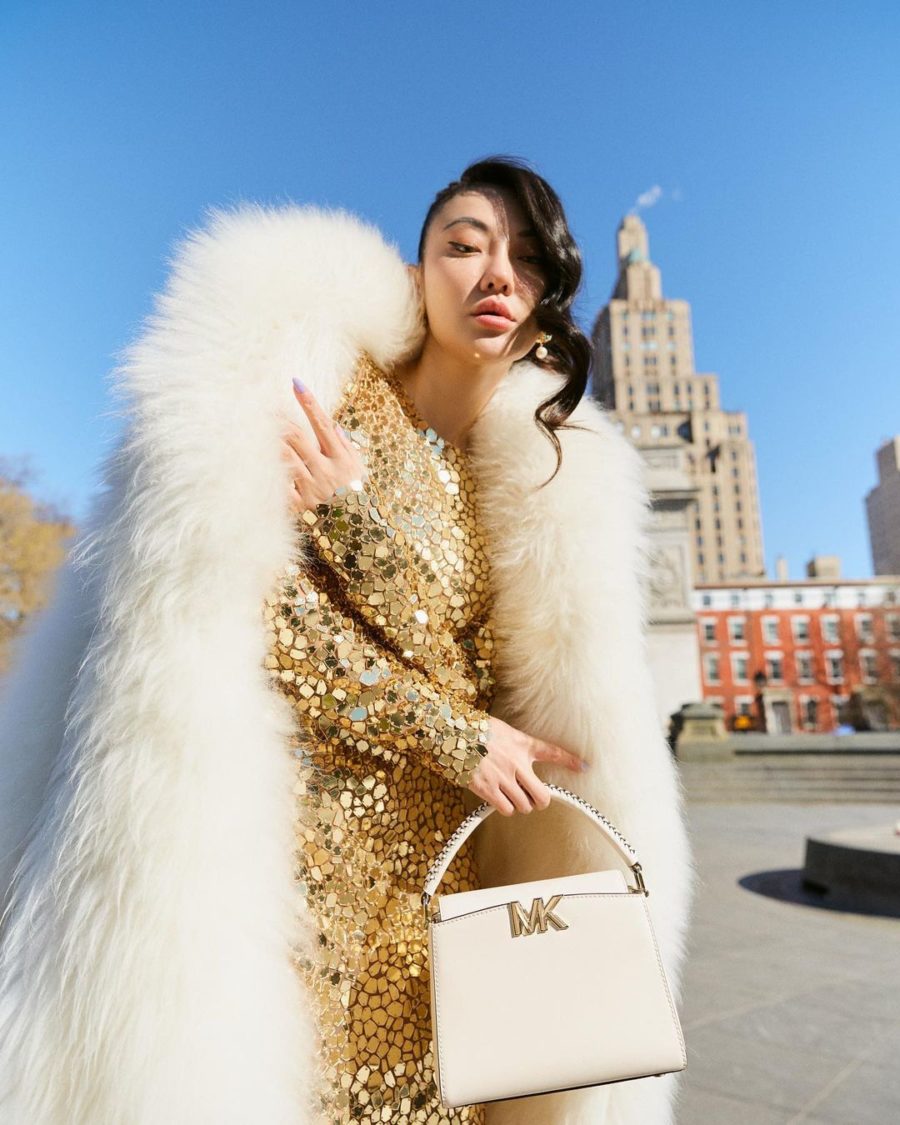 Sequins & Fur
If you want to get glammed up, whether it be for an upcoming event or just for fun, you have to try out this combination. I rocked a Michael Kors metallic mosaic dress with an oversized faux-fur coat. It truly made me feel like a million bucks. The contrast between the two textures added a lot of surface interest into the outfit, whilst maintaining that opulence aesthetic. To recreate this NYFW look for less, you can shop sequined mini dresses and an affordable faux-fur coat to produce the same effect. Of course, don't forget to accessorize with confidence because this will put you front and center!
…

…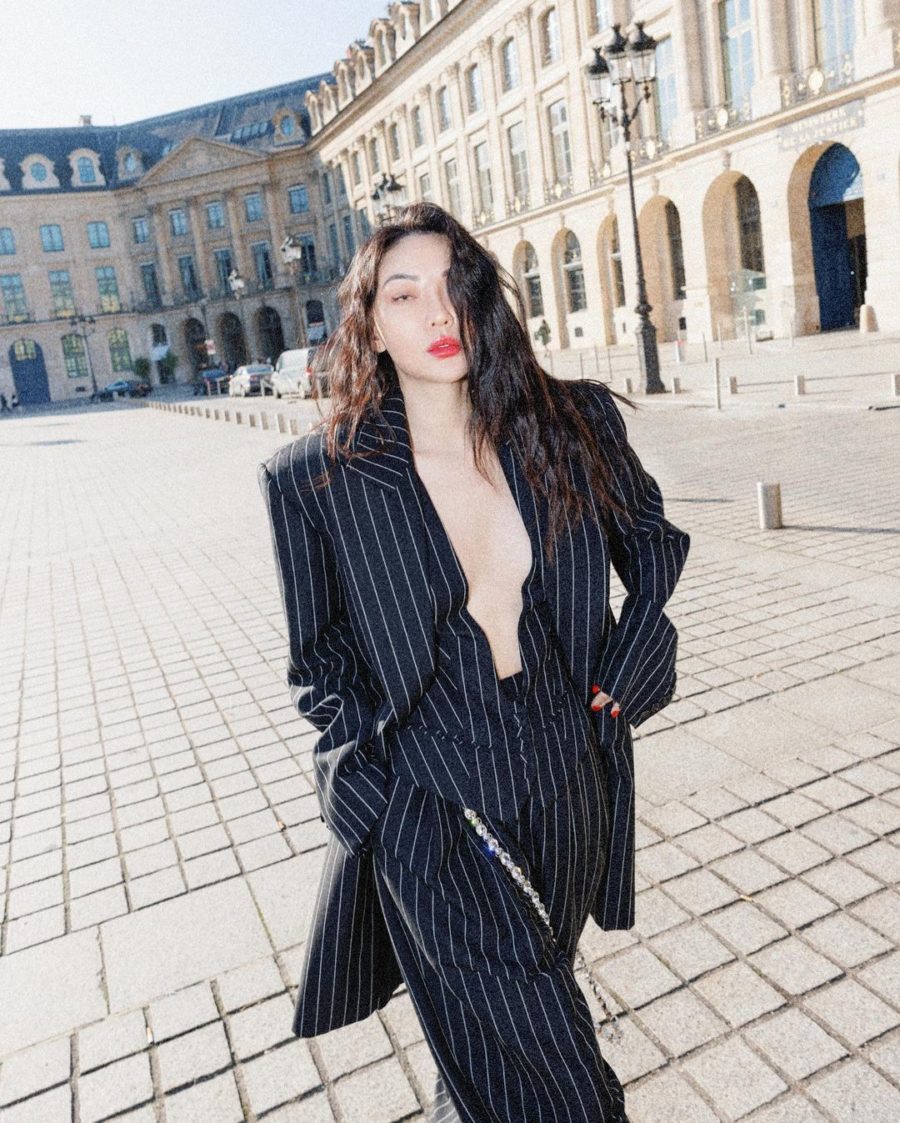 Power Suit
I do not think there has ever been a time where I turned down a good power suit. For PFW, I wanted to up the ante even further by rocking a matching pinstripe set but in a not-so-typical way to give it that extra oomph for fashion week. In order to do so, I opted for no base layer and used the overcoat as both my top and outer jacket (thank god for strong dressing tape). To complete this androgynous take on the pantsuit, I swapped heels for platform boots, which really elevate this street style look to new levels. I thought the platform heel was an equally powerful option for such a strong fit.
…

…
What fashion week looks will you create for less?