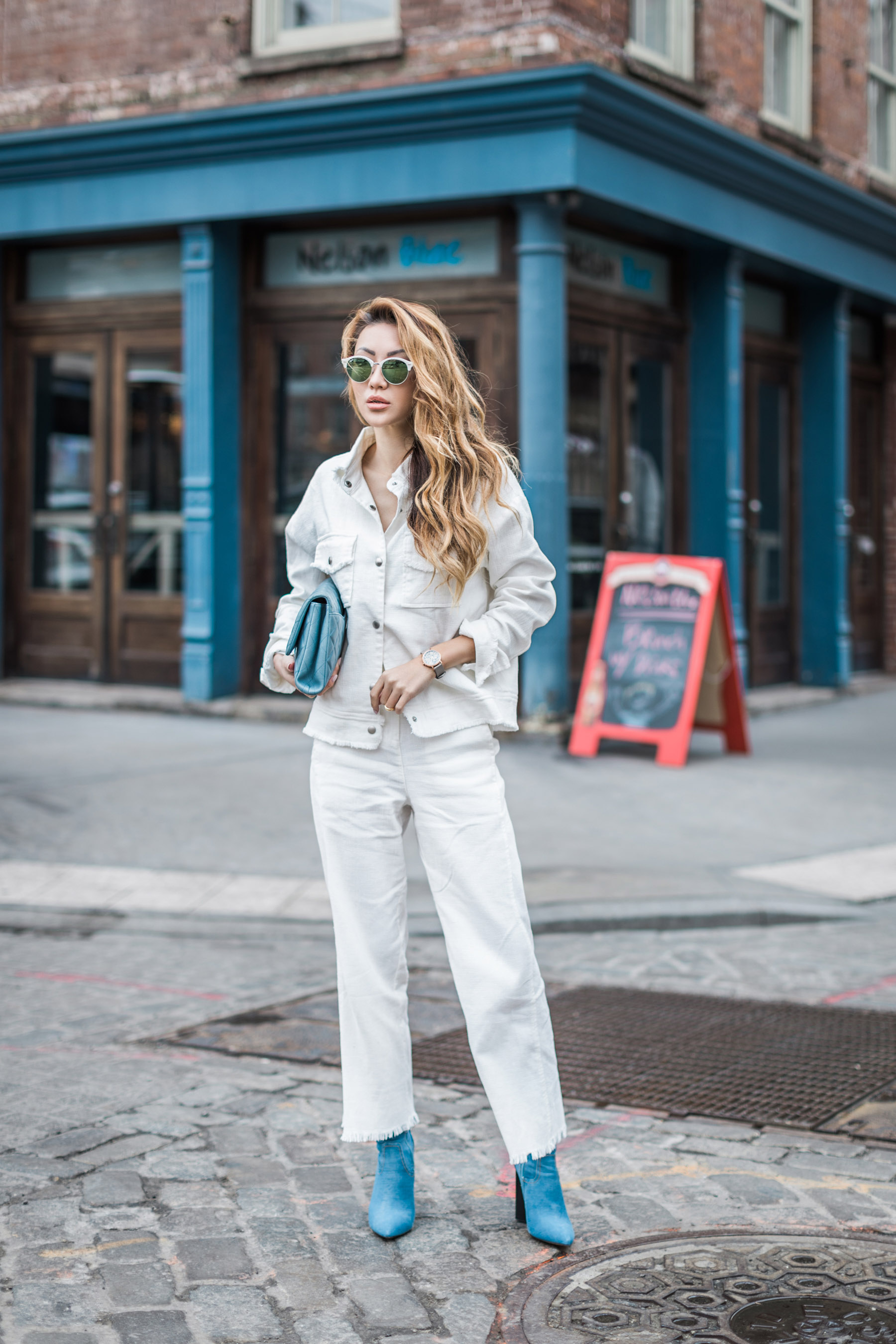 Jeans: (similar here) | Jacket: (similar here) | Boots: (similar here) | Bag: Chanel | Sunglasses: (similar here)
W
ith Christmas less than two weeks away, it's starting to feel more and more like the holidays. So if you've been stuck in a rut as to how you can concoct a fresh outfit, I've got an idea for you to try… How about some monochromatic winter looks? The freezing cold usually isn't a time one would care to "color coordinate", but take inspiration from some of my favorite outfits below and
indulge in a little bit of color for the holidays
.
…

…
While you can always turn to an all-black outfit or jeans, there's no need to be basic when you can make fashion fun with bold prints, textures, and bright hues. Here are the monochromatic winter looks to try for the holidays:
Cream
Keep it cool for the holidays by stepping out in an all winter-white look. If you're not one who's into bright whites this late in the year, try a cream or beige palette. Play with a textured furry bag like I did here and add white booties for an ultra clean effect. Don't forget to accessorize with metallic pieces like silver hoop earrings or gold aviator sunglasses to jazz it up.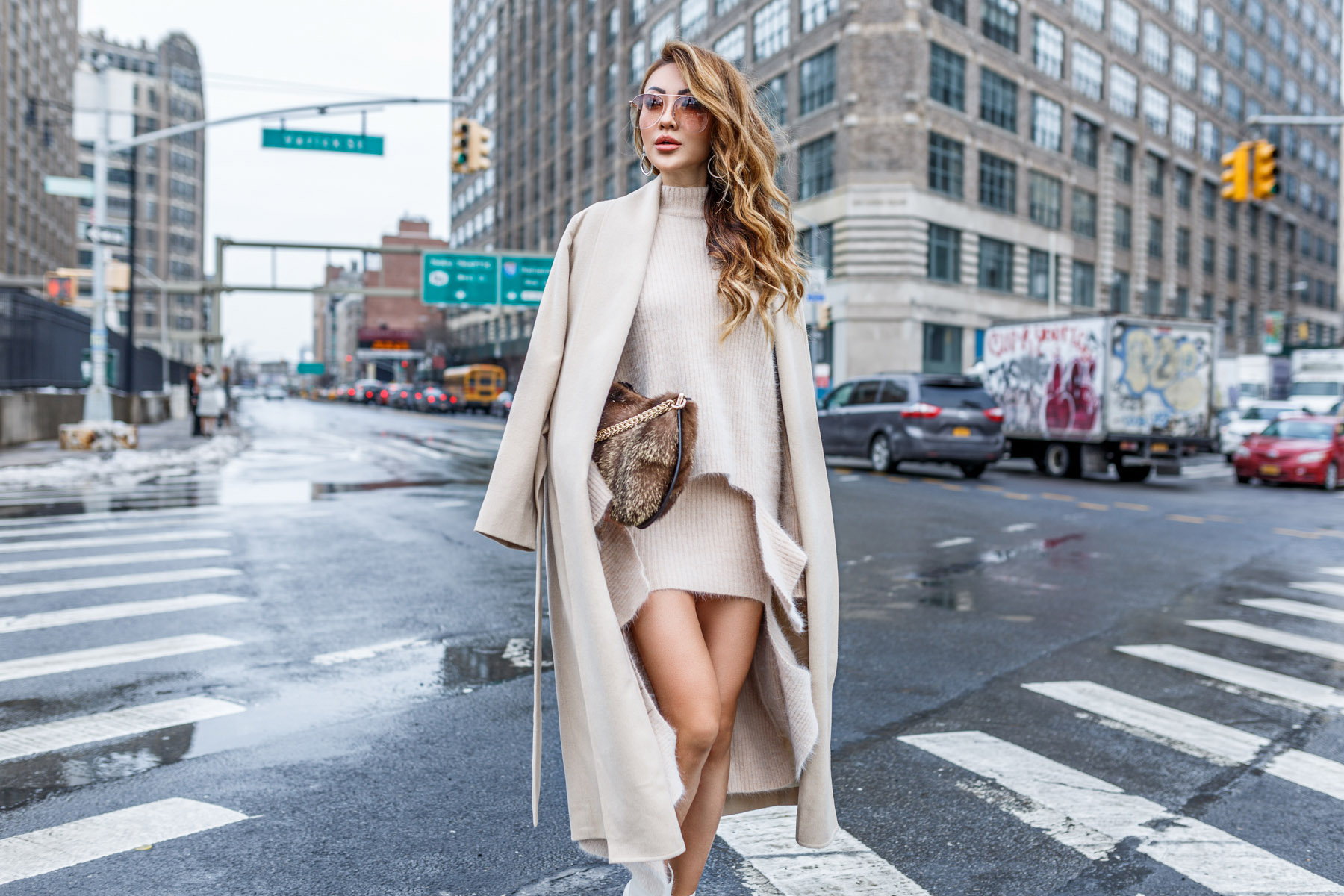 …

…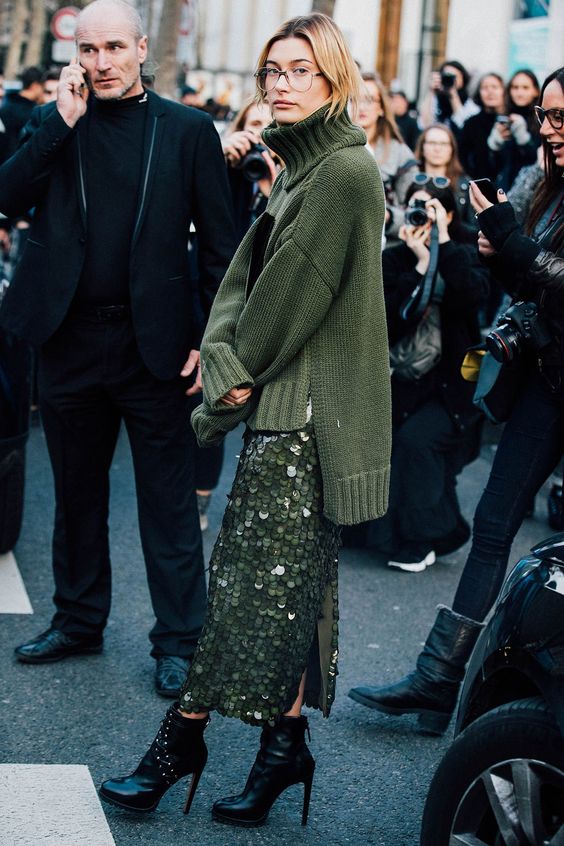 Olive Green
In case you can't tell, I have been obsessed with wearing green lately whether it's green satin heels, an oversized scarf, or even a turtleneck sweater. It's pretty obvious by looking at my Instagram.
Darker greens feel so sophisticated and elegant and it's so gorgeous – especially in silky fabrics. Play with different textures to the full effect of green like mixing a sequin skirt with a funnel neck sweater. Also, mix various hues for added interest like a deep emerald and olive.
…

…
Photo by Pinterest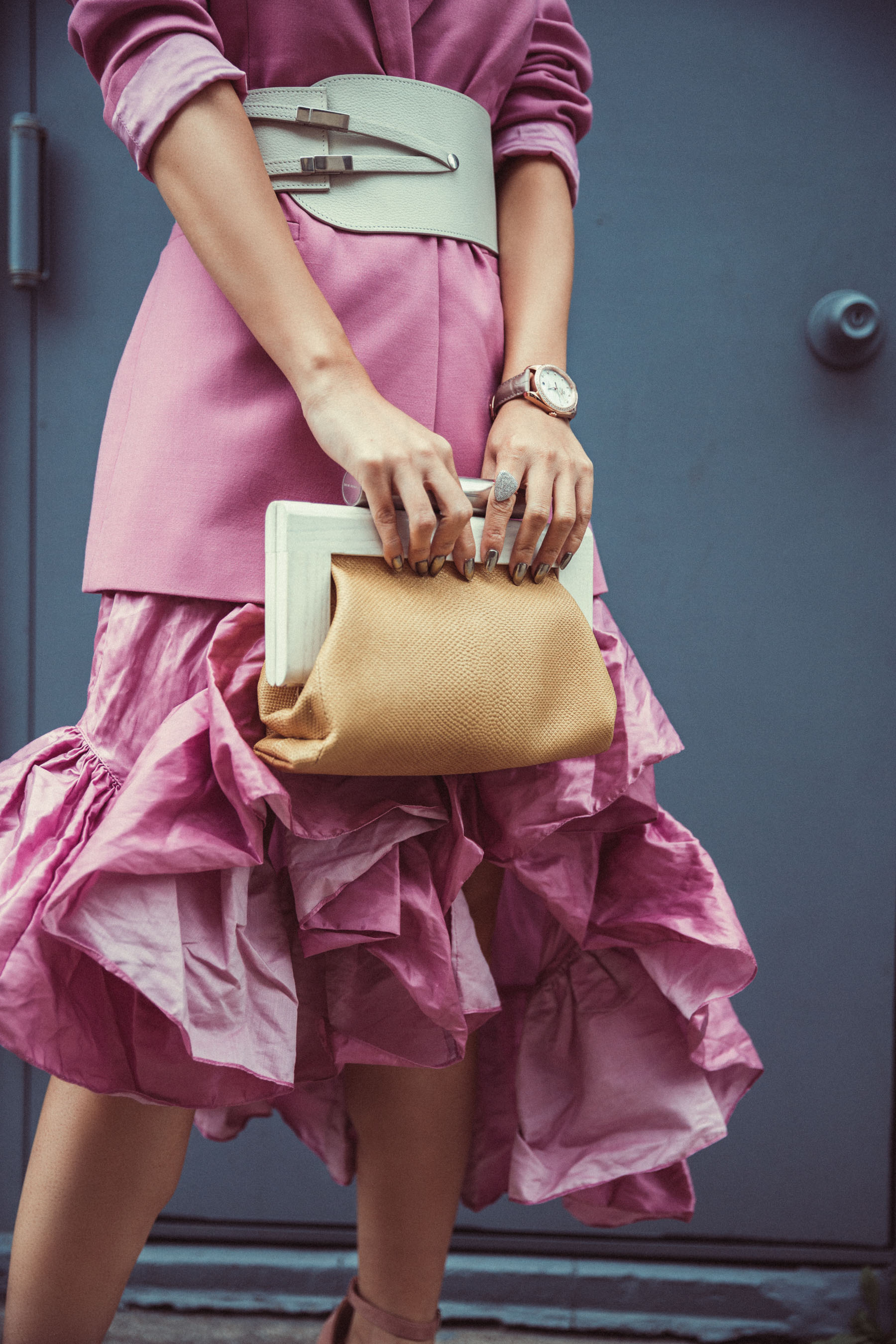 Lilac
I don't think there's any color quite as pretty as lilac. If you like to wear color year round regardless of the season we're in (kind of like me), you've got to try a monochrome lilac look! It may not feel suitable for your family gatherings, but you can certainly get away with it at your next winter formal. Wear a lilac ruffle skirt with a matching blazer, then belt it at the waist for a flirty, romantic ensemble. You can even find matching heels to pull everything together.
…

…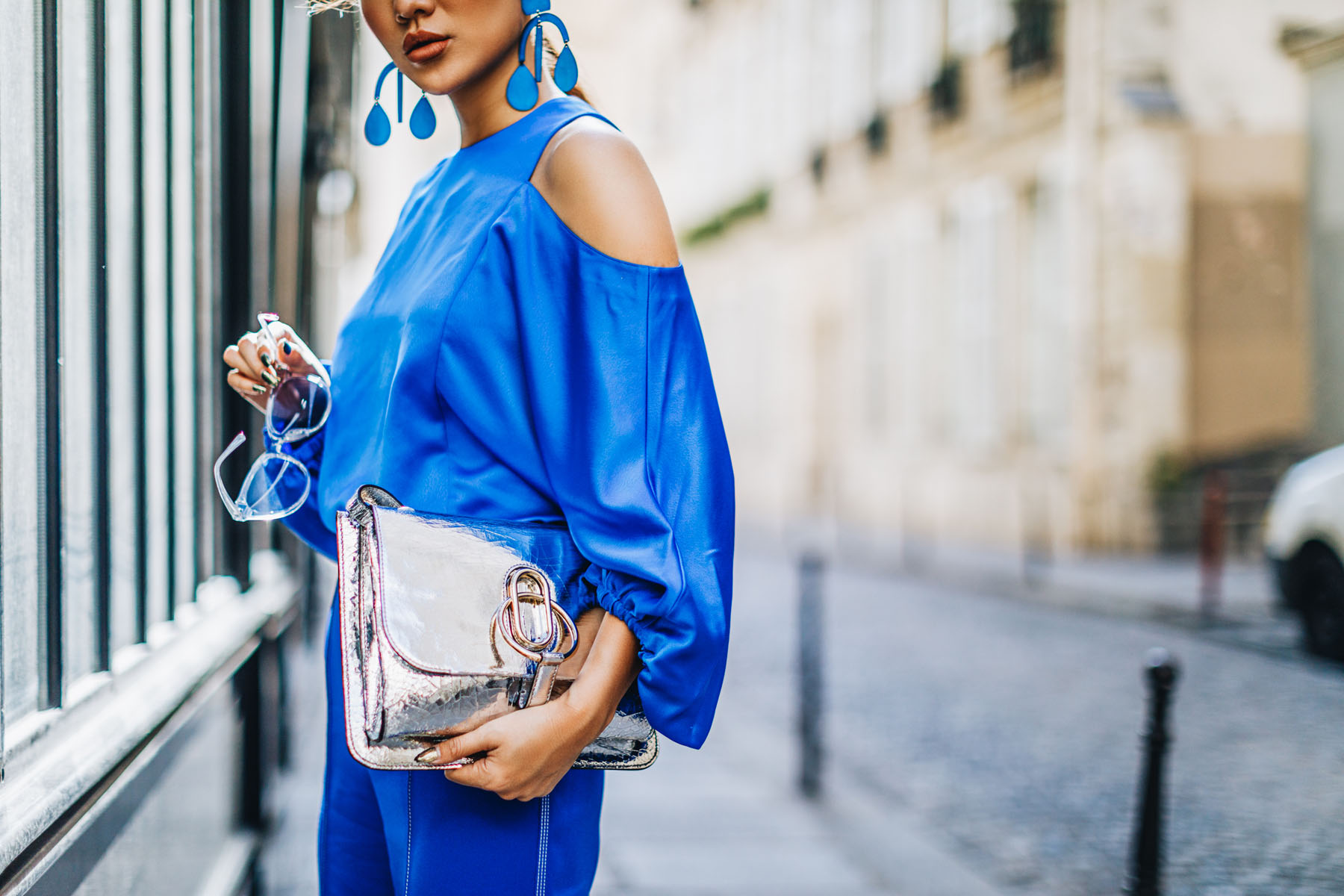 Blue
Tired of all black and navy looks for winter? Go for the element of surprise and show up in brighter or lighter shades of blue. I've worn this color many times before but I have to say, it's my favorite in shiny satin materials like these wide leg pants and loose blouse. The way they move and feel is divine. Stepping out in a bold look like this feels like a fresh of breath air.
…

…
Burgundy
Burgundy outfits were prominent all season long – and it's easy to see why. The rich color exudes a polished effect that's functional for the office or a night out. You don't need intricate details to complement it either… An oxblood turtleneck with floor-grazing trousers and a cropped blazer does the trick. Plus, it's super easy to find matching shoes and accessories. You can always add a gold statement necklace to pique interest like Miroslava Duma did here. I'm also loving the idea of wearing velvet pumps – uber chic!
…

…
Photo by Pinterest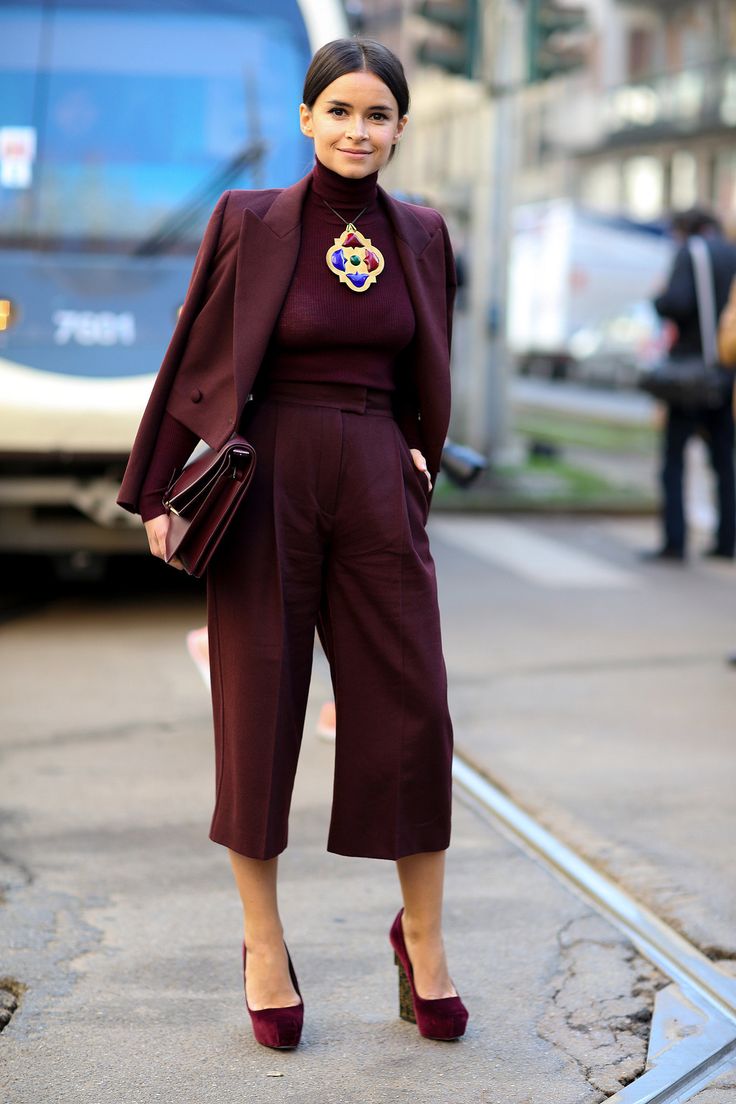 Blush Pink
Blush pink is more than baby showers and ballerinas – and that should be no surprise as it's been one of the most popular colors of the last several years. Blush pink has a way of making everyone look better because it's flattering on all skin tones. So take center stage with a blush pink dress and coordinating handbag. But add neutral accessories (like white earrings) for a chic touch.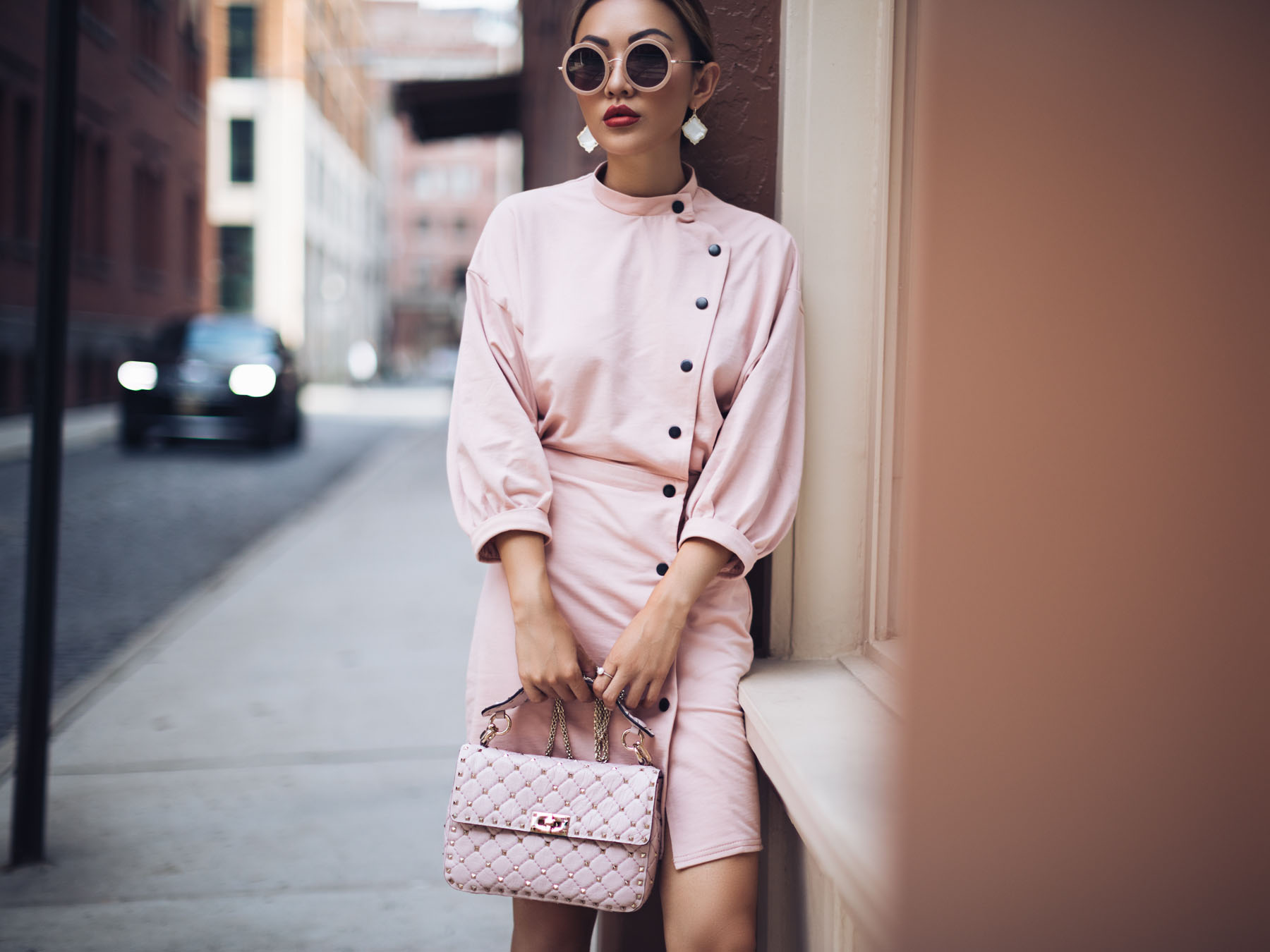 …

…
How do you feel about monochromatic looks for the holidays?