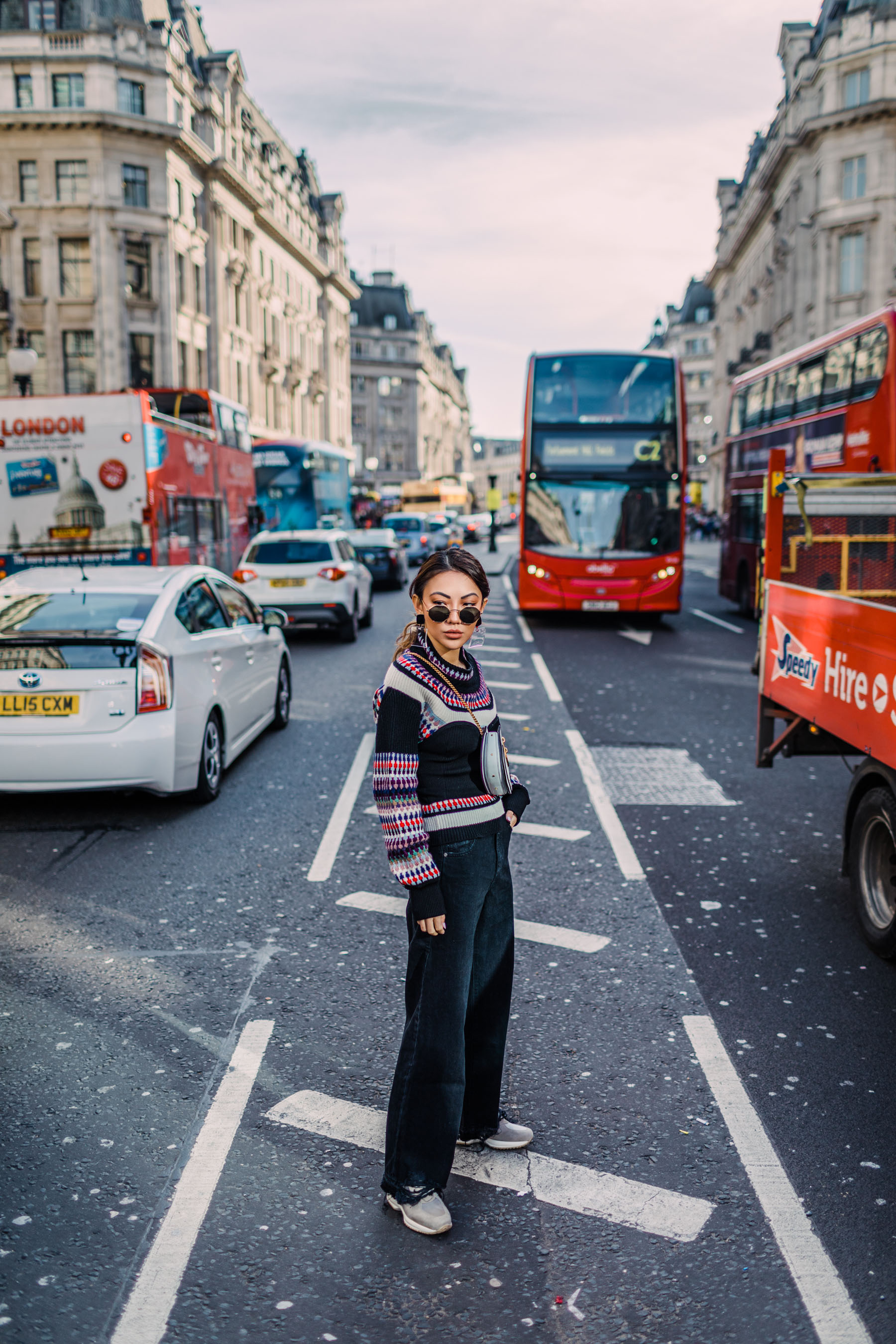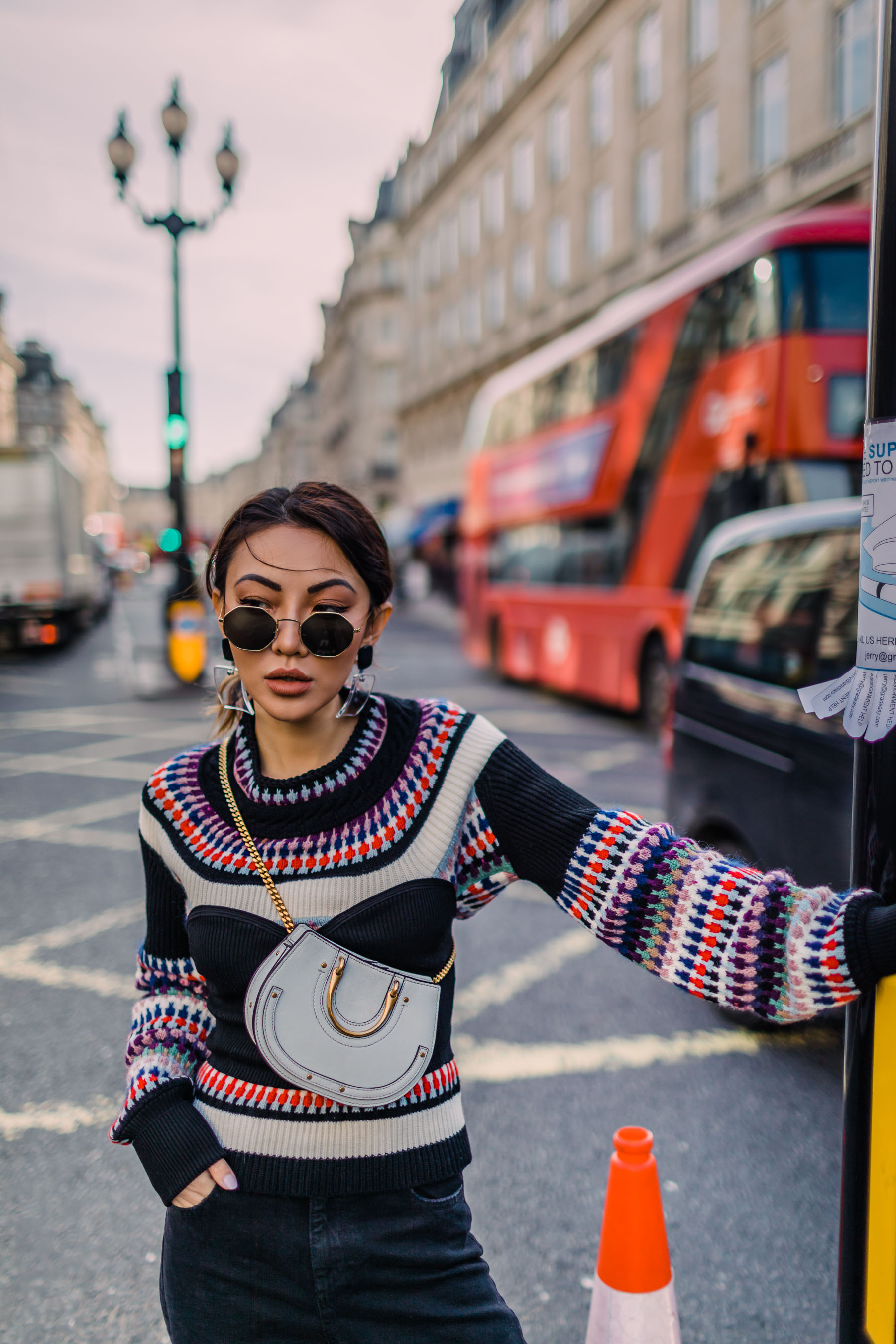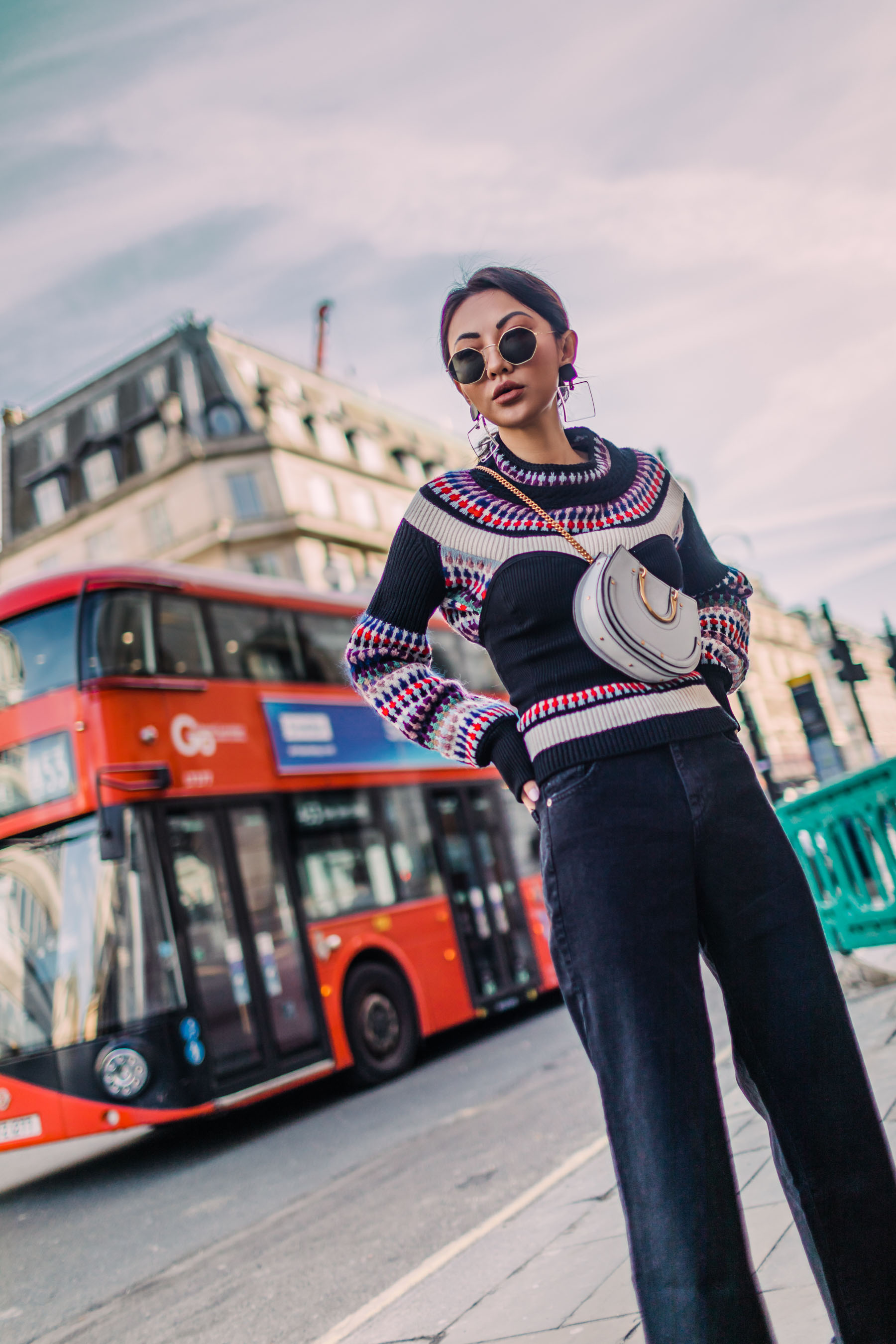 LFW Part 1 / Look 1: Burberry Intarsia Sweater | DL1961 Wide Leg Jeans | Chloe Belt Bag | Rachel Comey Earrings | Hogan Sneakers | Illesteva Sunglasses (Similar, Affordable)
I
finally got around to putting this
London Fashion Week
recap together but will be sharing them in two more parts so stay tuned. I love the fashion scene in London because it's filled with plenty of talented, young designers. The style is a mix of experimental, cute, and tailored. I also love that it hosts some of my favorite brands like Mulberry, Preen, and Burberry. I was lucky enough to attend all three shows at the beginning of the week and will be sharing them today along with three looks.
…

…
For my first look, I went casual in a Burberry intarsia sweater with raw hem jeans and dad sneakers. I'm so grateful for this trend because it gives me a great excuse to get comfortable. Check out the rest of my looks below.
…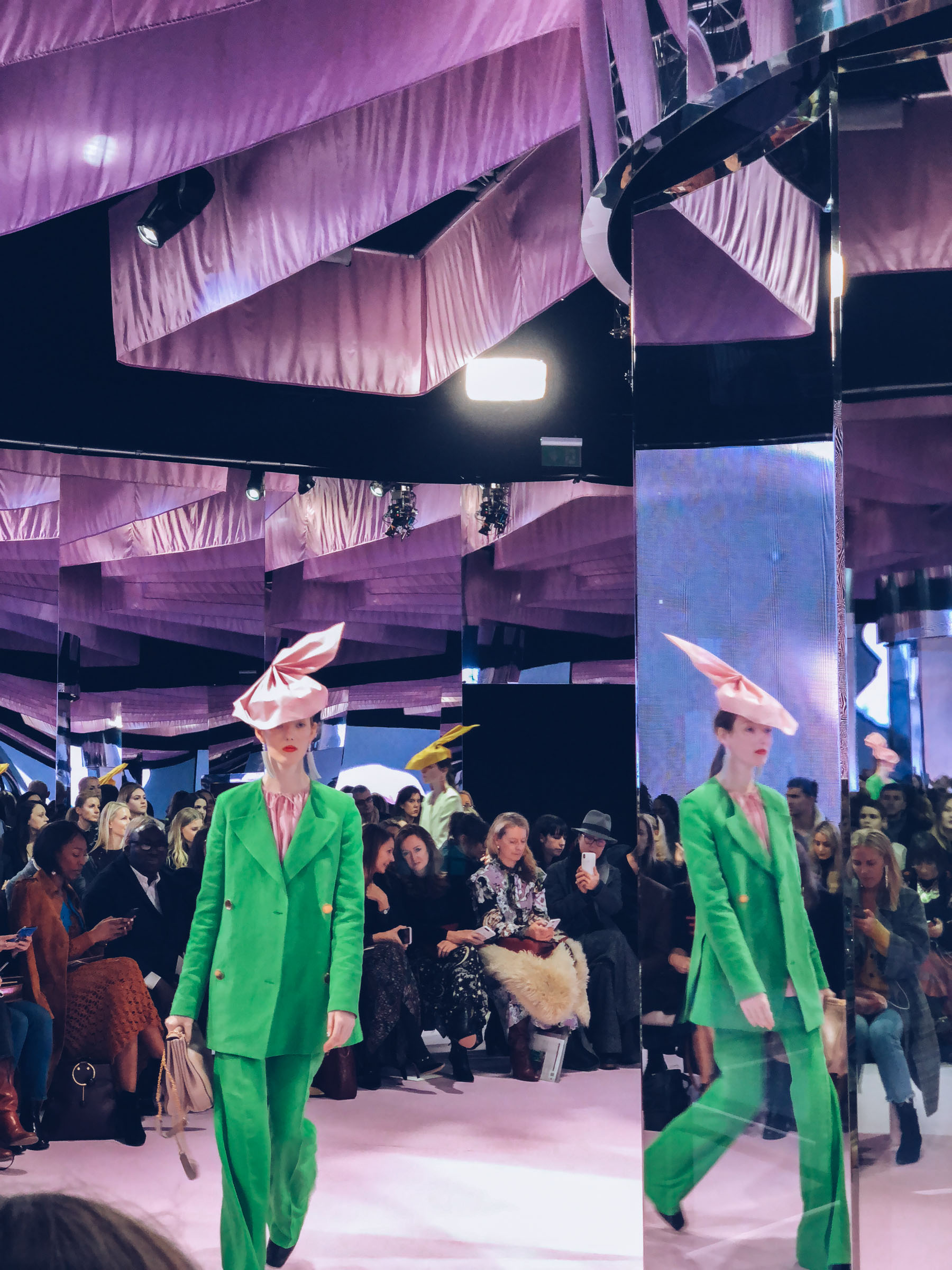 Mulberry
The Mulberry AW18 show was full of bold and vibrant colors – just the way I like it.
My favorite was the green pant suit pictured above. I already know that pant suits will be a huge Spring trend, which will go far into fall. If you can get your hands on one now in a pastel or jewel-tone color, don't hesitate to make the jump.
I was also drooling over the small details such as tiered ruffles, sequins, and tea-floral prints, which embody the Mulberry aesthetic so well. Everything about it is so feminine and quirky.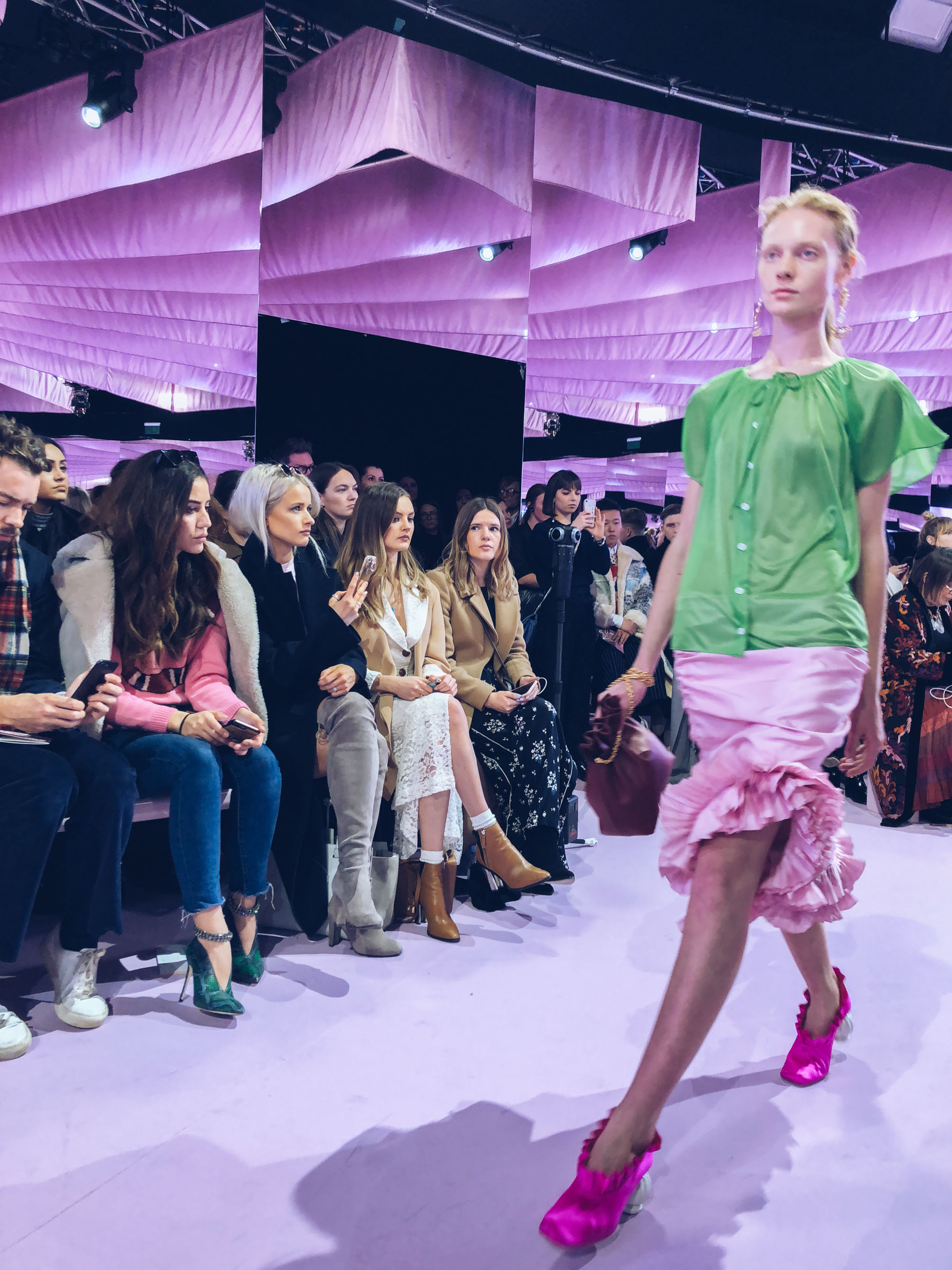 …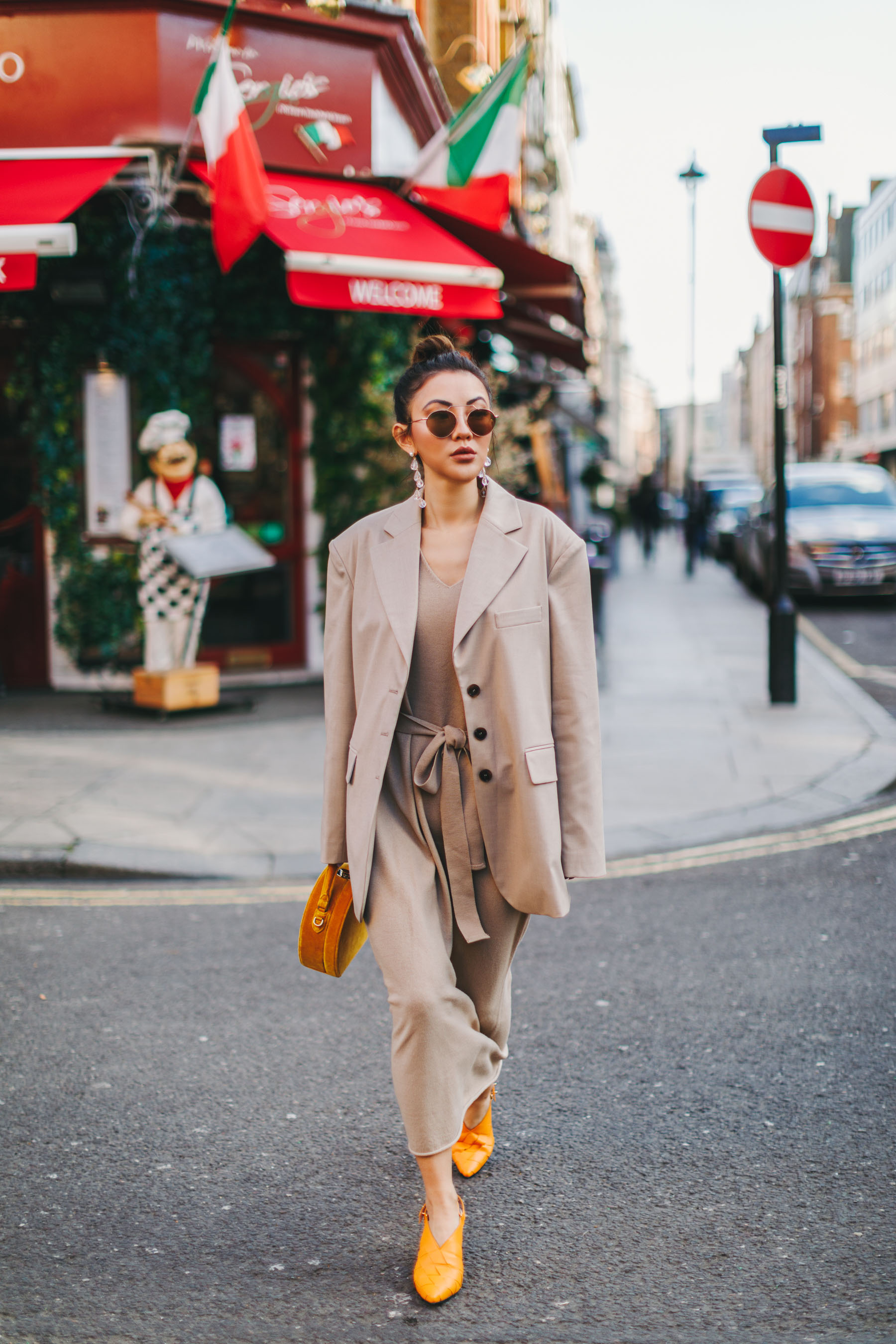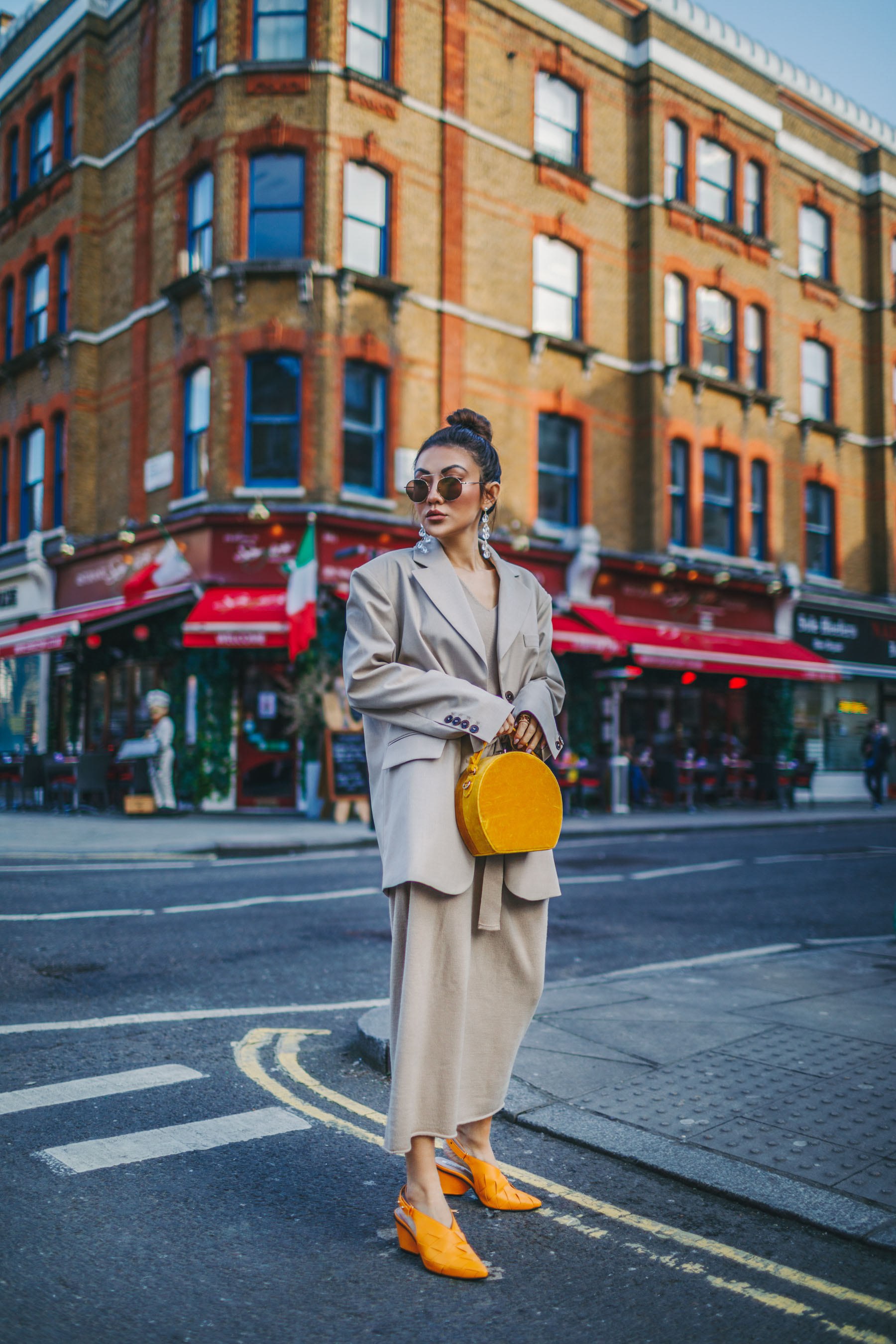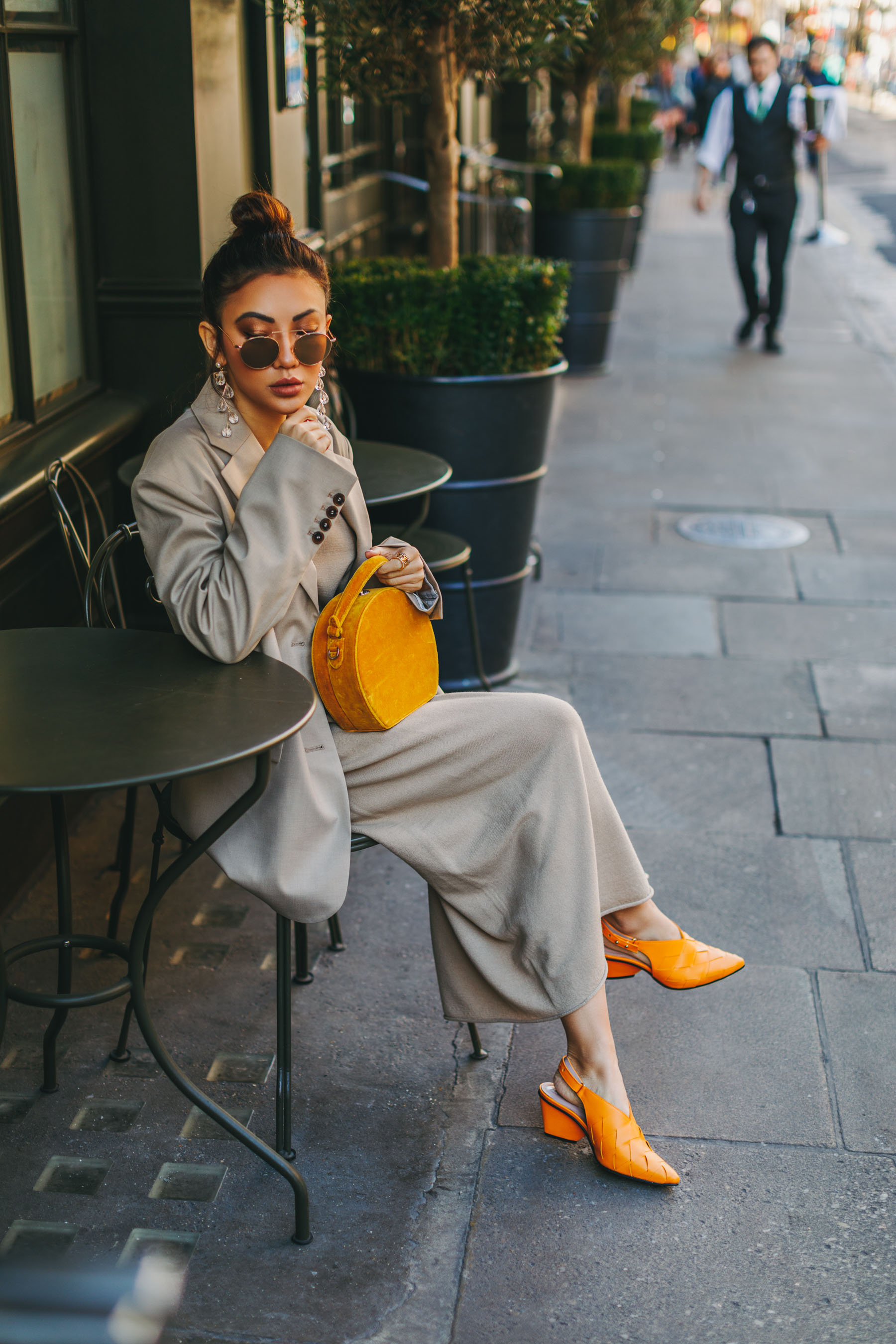 For my second look, I went with a slouchy maxi dress and an oversized blazer. There's no better way to pop against beige than with mustard, which is a very fitting combo for fall. I dressed it up with lucite earrings and round sunnies. If there's anything I've learned during fashion week, it's to BRING sunglasses!
LFW Part 1 / Look 2: Oversized Tan Blazer | Tan Maxi Dress Similar | Bertoni Yellow Circle Bag | Crystal Drop Earrings Similar | Reike Nen Woven Slingbacks | Round Sunglasses Similar
…

…
Preen
Preen was a layered haven and executed so flawlessly. The meshing of lightweight materials with scuba and drawstring accents turned out pretty cool as you can see above. I also loved the use of fishnet stockings that barely peeped out from underneath the dresses. And look at how beautiful those shoes are!
…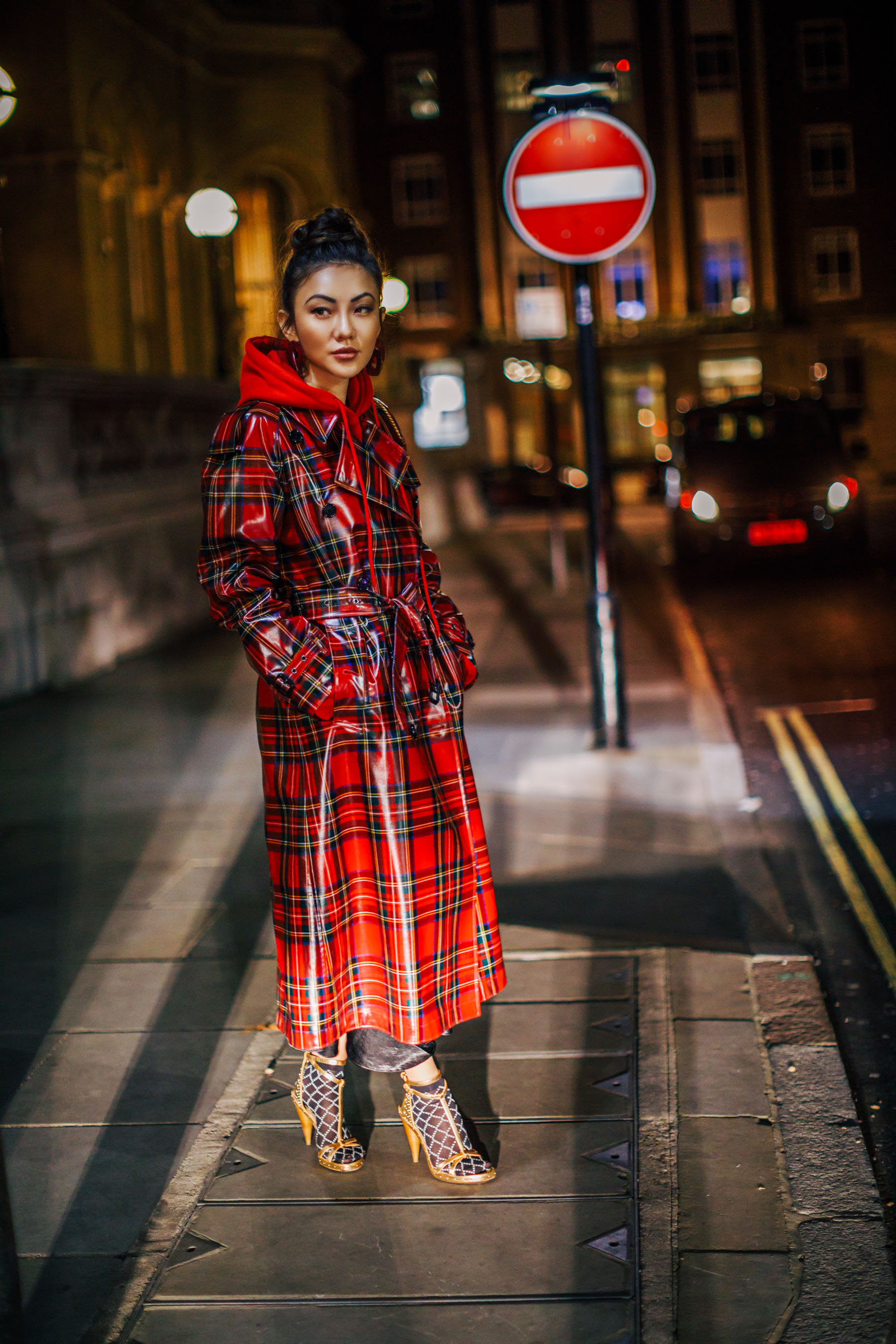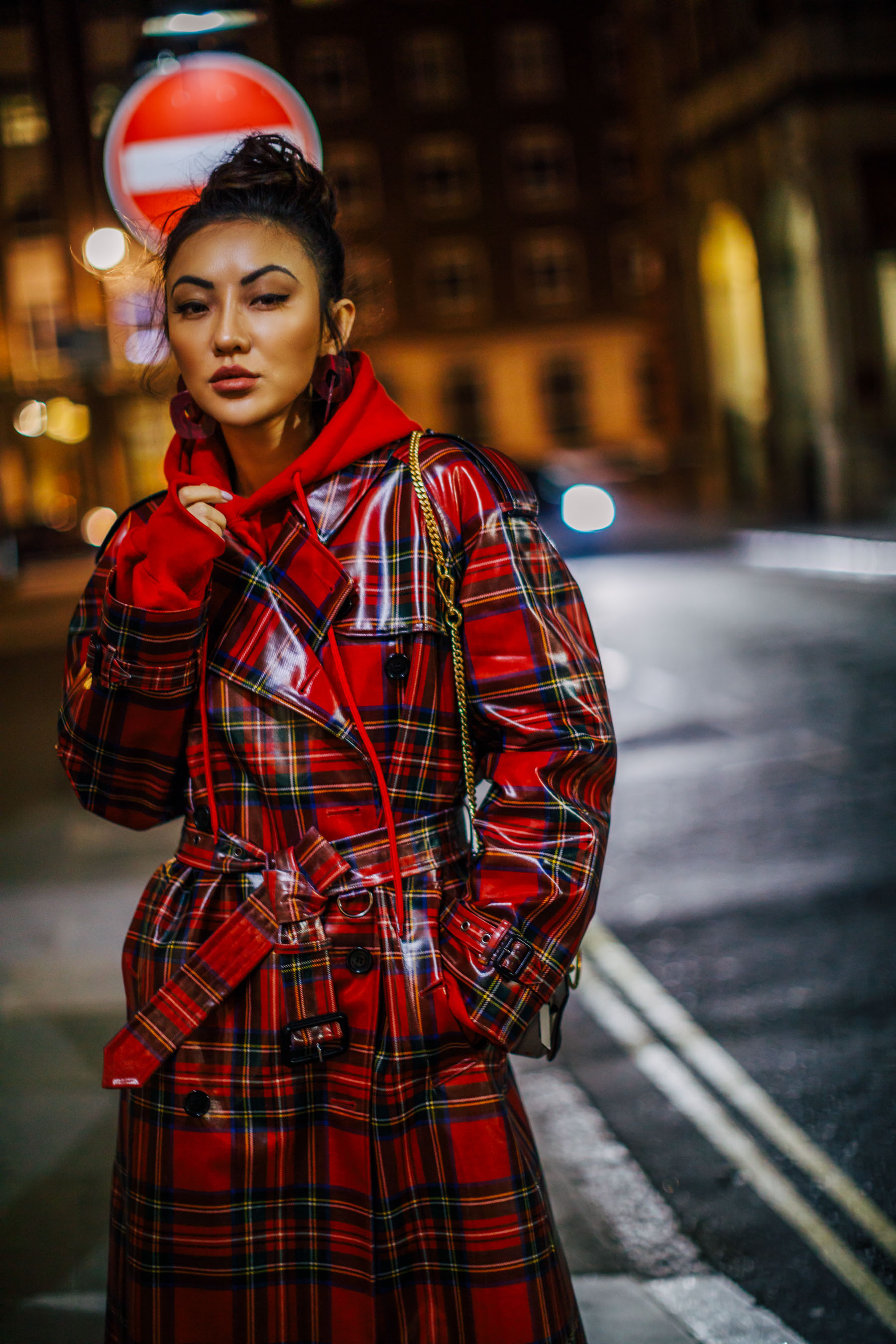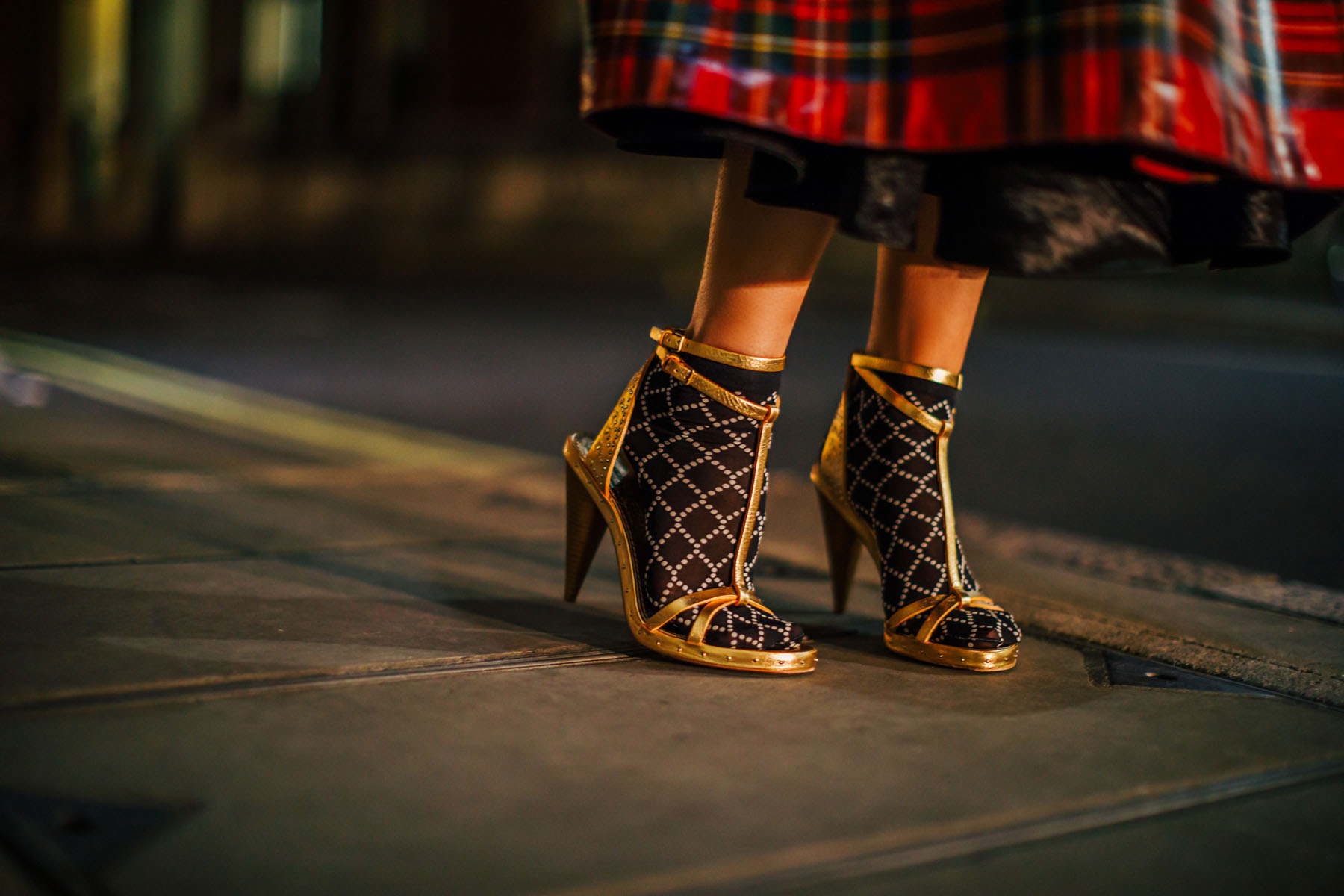 Here, I was dressed in Burberry for the show, BUT it was such a bummer that I missed it. If you recall in my stories, I was super down about this, but lesson learned. Always leave earlier. I was so excited to strut out in this Burberry statement trench and these fun socks and sandals. Unfortunately, there was a protest and my driver didn't know where to drop me off. Thinking about it still upsets me, but I'm really grateful for the opportunity to put this look together.
LFW Part 1 / Look 3: Burberry Trench Coat | Red Hoodie Similar | Chloe Belt Bag | Burberry Heels | Wolford Socks
…

…
So that's it for Part 1. Watch for Part 2 tomorrow!