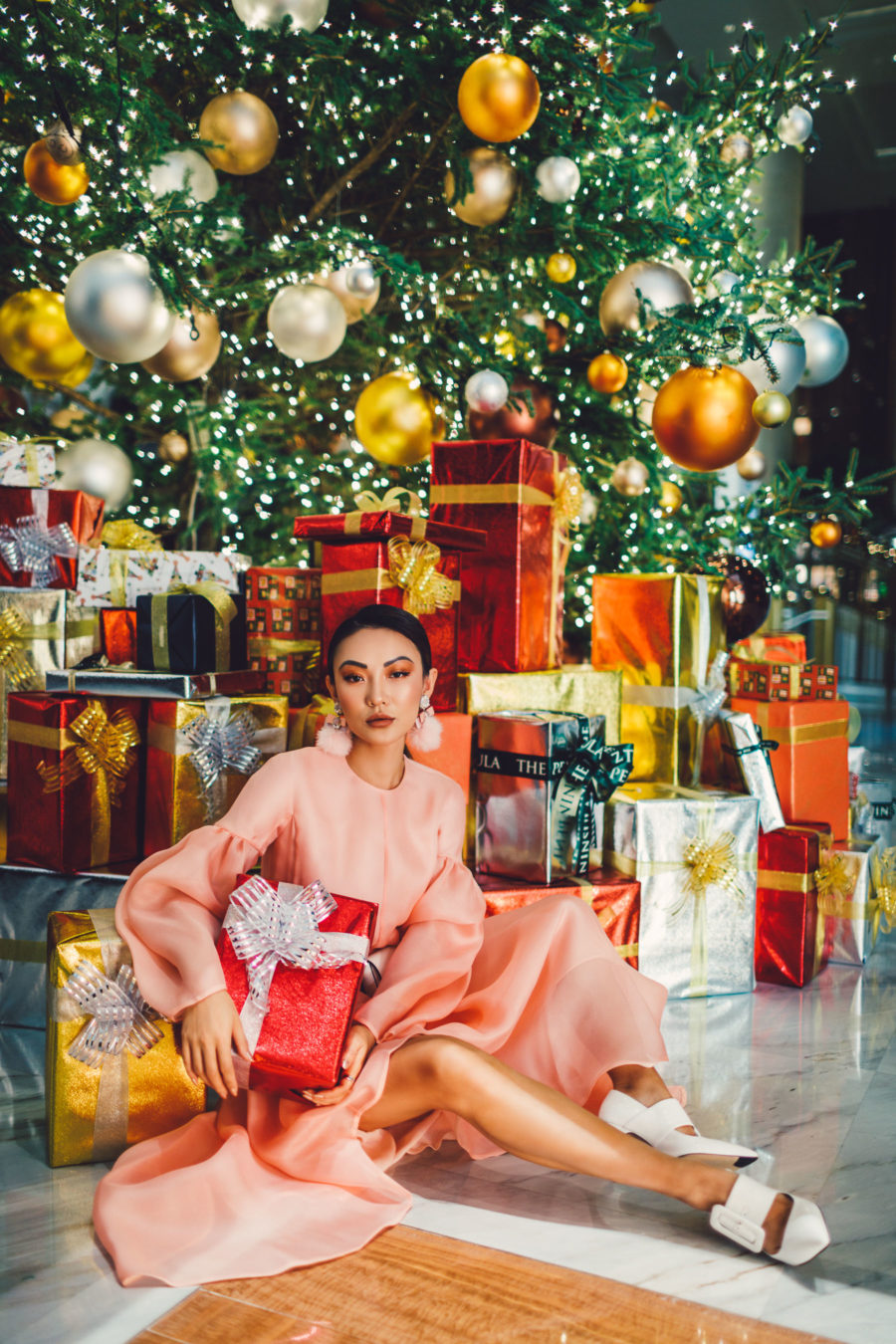 Dress: Emelia Wickstead (similar) | Shoes: (similar) | Earrings: (similar)
T
he countdown til Christmas is finally here. And if you've been as busy as me, then that means you probably haven't racked up all your gifts yet. Last minute Christmas shopping is always stressful from budgeting to picking something considerately and then making sure it arrives on time. The holiday hustle and struggle is real! So, while I was working on some eleventh hour shopping, I managed to put together some last minute under $100 gifts that look expensive.
…

…
Whether it's a Secret Santa gift you need to snatch up or something small for your cubicle neighbor, here are some affordable gifts everyone will love.
Tech Accessories
These days, it's all about technology… I don't know anyone who wouldn't appreciate accessories to up their selfie game – think a lens attachment or or a phone case with built-in LED lights. Since I'm a little home decor obsessed right now, I love this minimalistic charging station that will sit beautifully on any table top.
Desk-Side Essentials
The days of Secret Santa at the office don't seem that long ago – and I remember struggling what to buy that cubicle neighbor or career-driven friend. I've since learned that any boss lady can never have enough journals, planners, or calendars. They're as practical as they are charming for decorating the desk. The corporate work day also goes by smoother when you have a sumptuous looking candle to accompany you.
Fitspo
As soon as Christmas is over, you can bet that almost everyone's New Year's Resolutions will be fitness related. Go ahead and prep them for it by delivering a work-out ready present. I love these Adidas leggings for a winter run and this "workout in a bag" mashup. I know I can be a little more active when traveling!
Vanity Lust
We've already covered beauty gifts for every kind of girl, but if you barely know the girl, I rounded up some universal products any girl would love from a set of top-selling minis to lipstick sets and a gaudy highlighter. I also love this mirror (might need to grab one for myself).
Small Fashion Goods
If you're leaning more towards little fashion gifts, you can't go wrong with stackable bracelets, a cozy scarf with cute pom poms at the ends, or earrings that can be worn from day to night.
Home for the Holidays
We all have that friend who's decor-obsessed or just LOVES to host. In this case, I love gifting books that double up as coffee table or bookshelf decor. Gold candle holders also won't disappoint – especially these sculptural ones! And if all else fails, you can always resort to bougie candles.
Let's get those last minute Christmas gifts checked off!