W
hile spring officially arrived several weeks ago, it still feels like winter in NYC unfortunately. On a plus side,
blooms are literally in the air
whenever I step outside the frozen tundra. I just got back from Japan, which was indeed a wonderful reminder that spring is here with the sakura in full bloom – and it's just around the corner for us NYers. If you're anything like me, then you've already prepped your closet with certain colors, prints, and fabrics that are so symbolic of springtime classics. And if you haven't, then there's possibly no better time to break out those pieces that have been collecting dust.
I'm beyond ready to wear the warm weather into reality, and if you are too, let my Spring Instagram outfits roundup below inspire you to dress for the season!
All Ruffled Up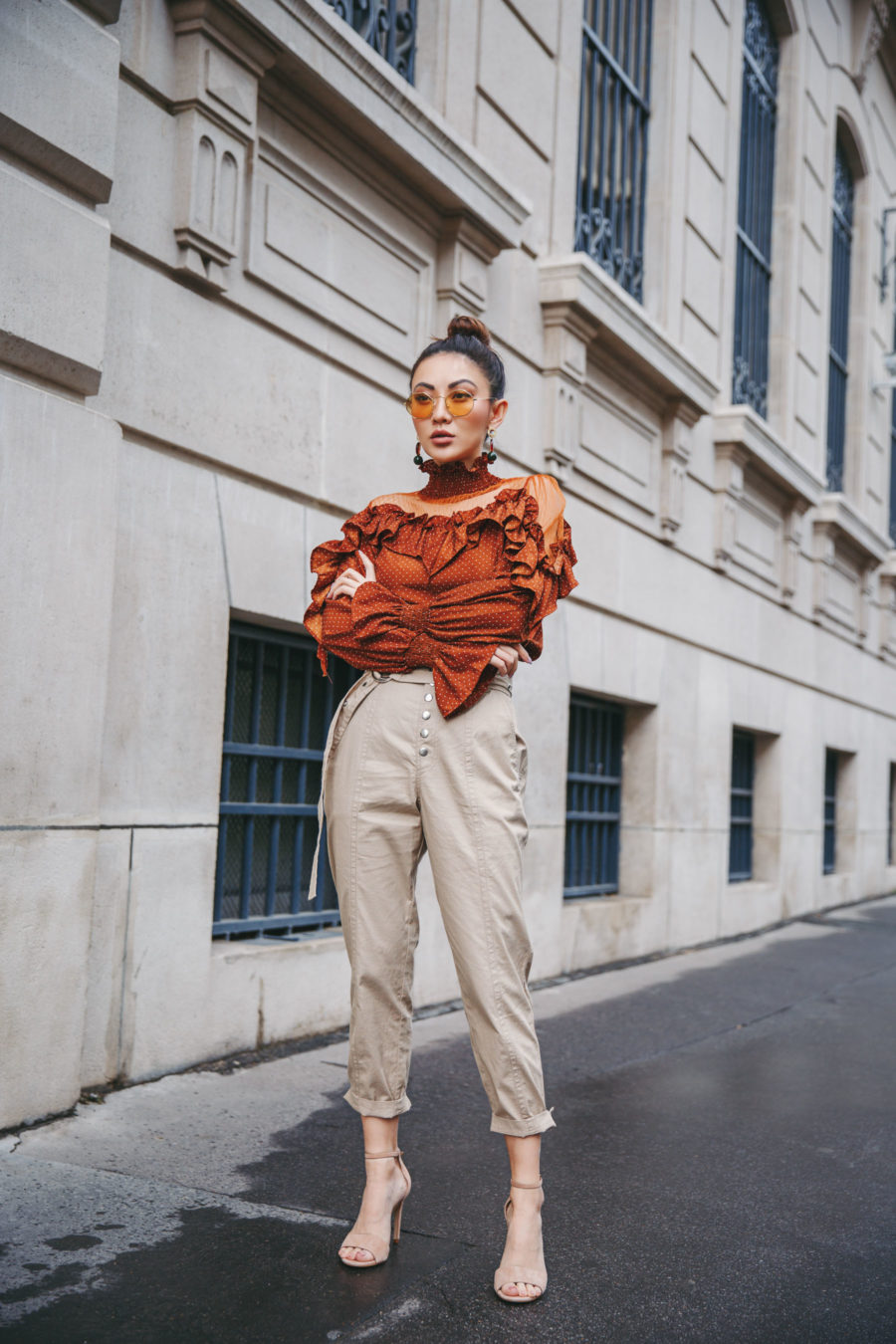 Ruffle Orange Top | Marissa Webb Pants (alternative option) | DSW Nude Heels (last worn here) | Sunglasses
I posted this outfit not too long ago and you all responded so well to the top! I don't blame you because I'm quite obsessed with it myself. With the frills cascading from shoulder to shoulder and through the sleeves, it's a great way to add volume and fun proportions to a spring look. What makes it so appropriate for the warm weather is the sheer paneling and lightweight fabric that allows your skin to breathe. The high neck is perfect for this awkward transition from cold to warm temps.

…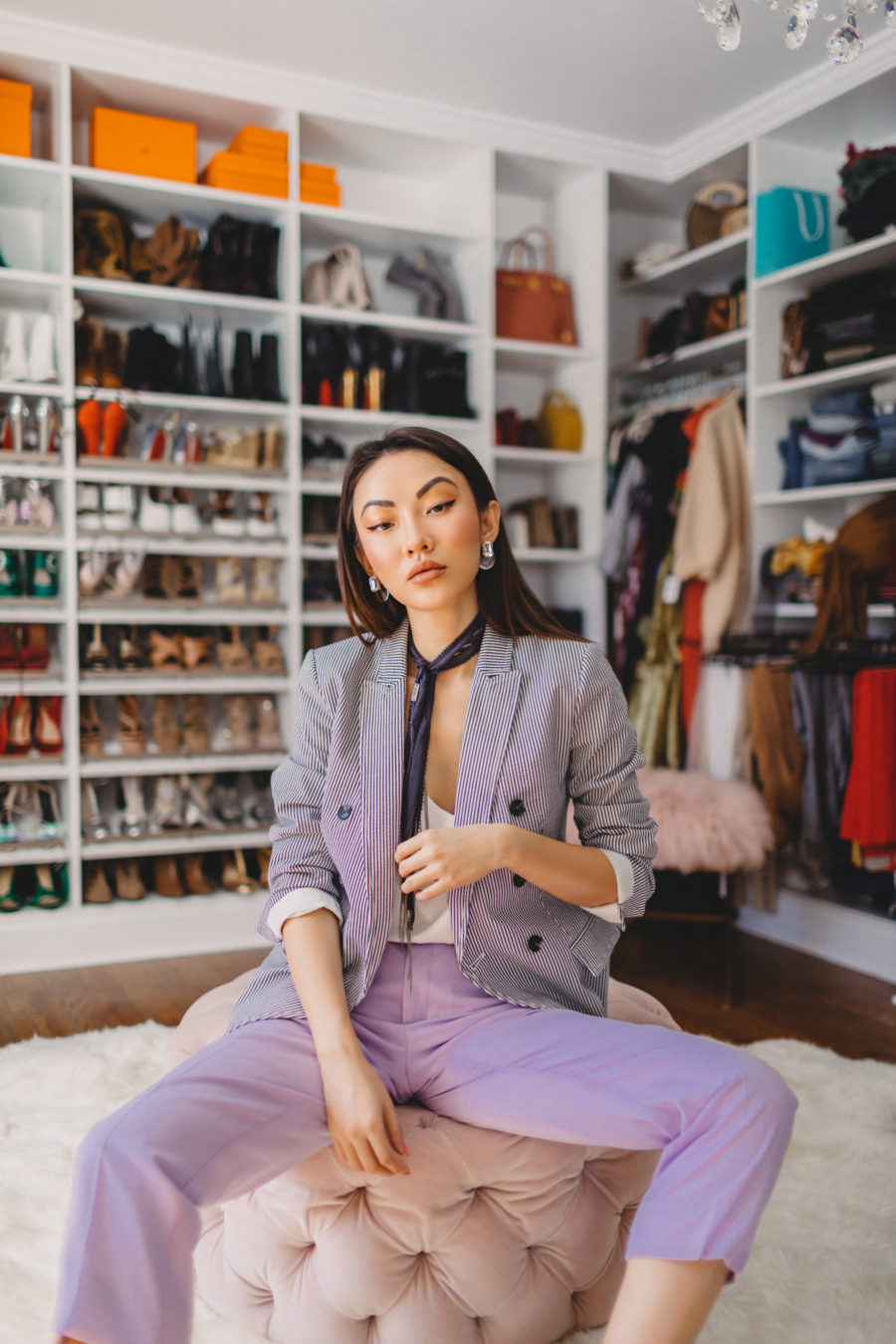 Field of Lavender
If it isn't obvious, lavender is all the rage for Spring 2018 – and it's not to be ignored. Lavender or lilac presents the perfect alternative to the inescapable millennial pink because it's fresh to the eyes and still feminine. Try a pair of lavender trousers paired with a striped blazer for the ultimate spring outfit. But don't stop there!
Channel a field of lavender with a head to toe purple look – perhaps a slinky dress and mules. There are so many pairings I can think of right now, but I'm challenging you to get creative!
…

…
Banana Republic Pants | Banana Republic Blazer | Banana Republic Cami | Banana Republic Scarf | Mixed Earrings Similar | Black Pumps Similar
…
Laced for Spring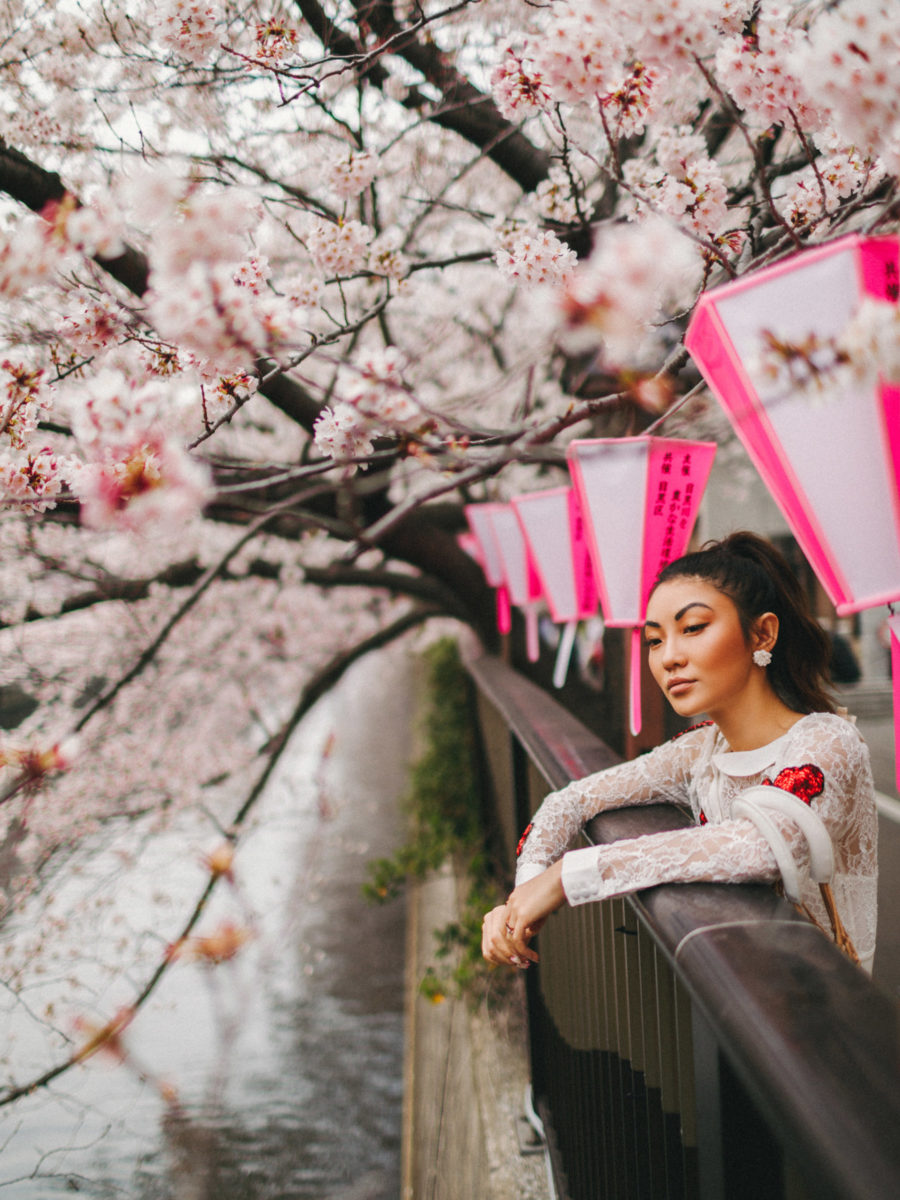 For Love And Lemons Lace Dress | Staud Clothing Bag | Floral Stud Earrings
I'm not your average girly girl, but I do have a thing for lace! I instantly fell in love with this gorgeous dress when my eyes fell upon it because there were these quirky hearts stamped all over it. That's such a genius way to downplay the matrimonial feels! Plus, I love fashion when there's humor involved and this piece was just that! Don't forget to head to my Instagram and watch the Japan highlights for the full outfit – this dress looks even better with sneakers!
…

…
Pink & Blooms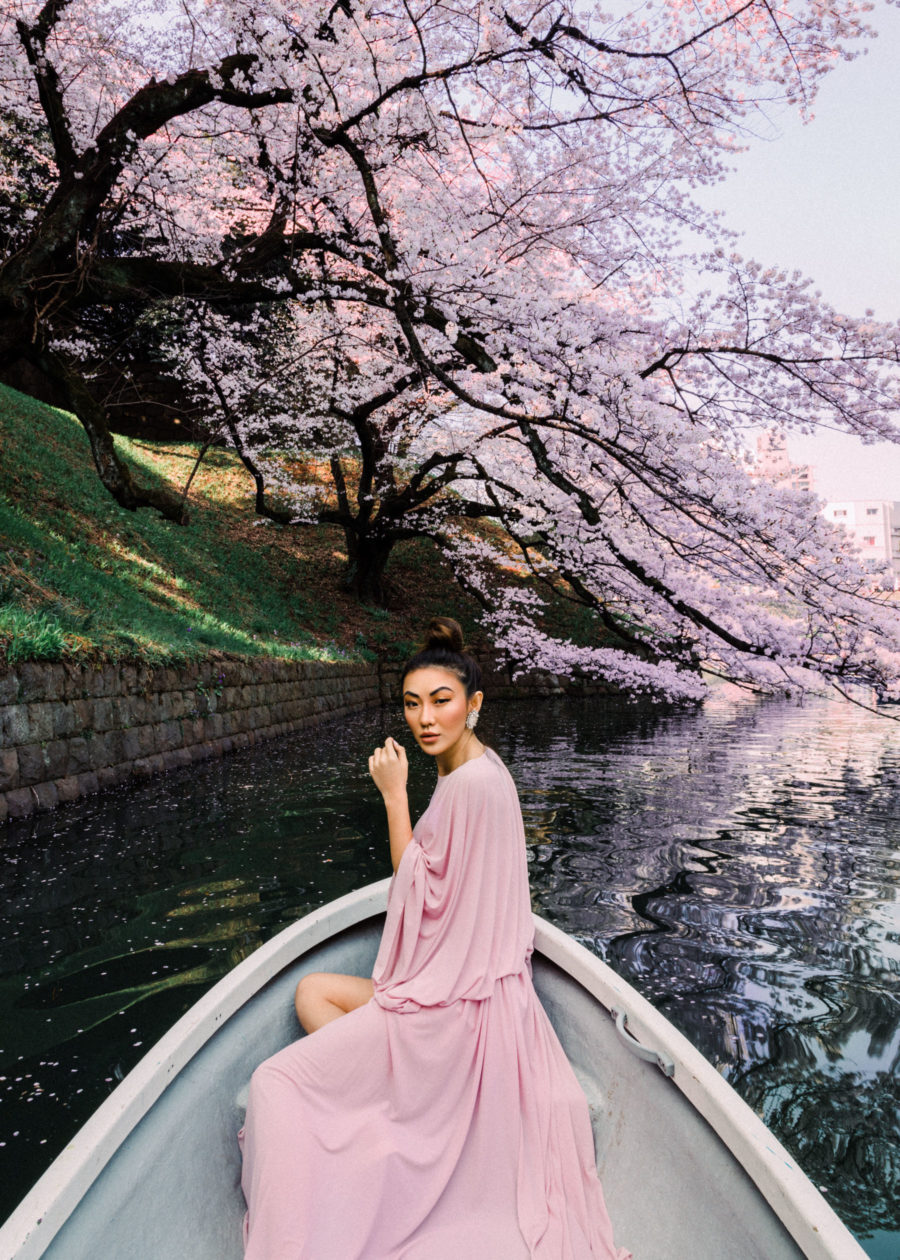 Revolve Clothing Pink Chiffon Dress Similar | Stud Earrings
Despite lavender taking reign, pink is still relevant for spring. I've been wanting to see the cherry blossoms in Japan for so many years now and this moment couldn't have been more magical.
I happened to be wearing an overflowing pink dress and it made this Kodak moment all the better. After all, what better way to match your outfit to the blooms than with color? If you're looking for that perfect spring-bound piece, I highly recommend pastel dresses in fabrics like chiffon, organza, or tulle – so pretty!
…

…
Bold Stripes
Stripes are to spring as Christmas is to winter. That's just how synonymous the combo is… But since I'm all about embracing the undone, I'm trading those classic Breton stripes for something bold like black and red! I always stress the importance of dressing for your environment.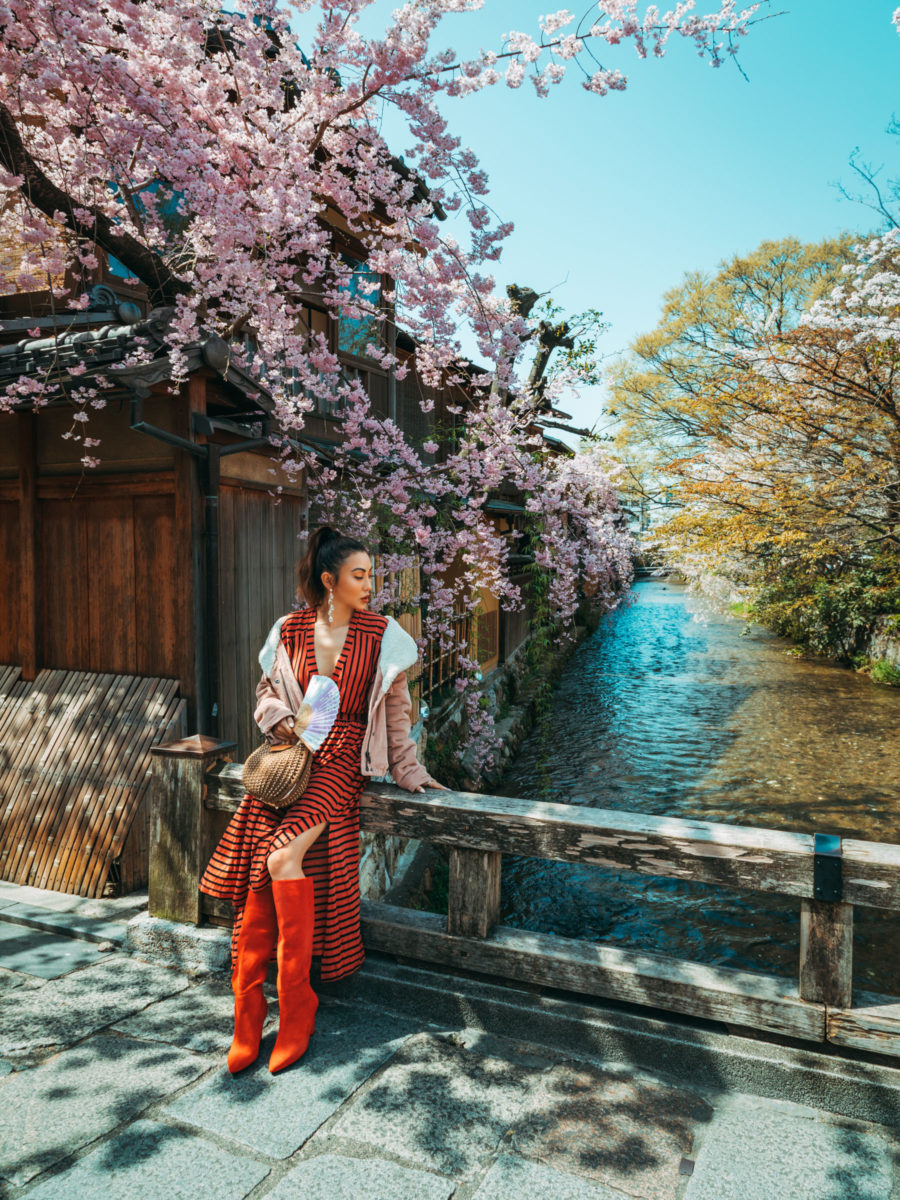 FreePeople Striped Dress | FreePeople Pink Shearling Coat (another option) | Red Knee High Boots Similar | Basket Bag Similar
Since I was in Japan at the time of this photo, red and black stripes were very fitting because they contrasted so well against the wooden architecture and blooming trees. It's unexpected, loud, and a little funky. I even threw in a woven bag to sharpen up the spring vibes.
…

…
I hope that you enjoyed this week's Instagram outfits roundup!
…
It's time for another giveaway again. As always, I've teamed up with a group of lovely bloggers to bring you a giveaway with such fabulous prizes. This giveaway is open to international readers. Be sure to follow everyone on the widget in order to be fully eligible to win.