The summer has already been so much fun for me! I've had two trips in under one month and I feel so bliss to get to visit these places. I wanted to head to warmer climates early in the summer month before the temperatures skyrocketed. My first trip was to Peru, followed by an island getaway in the Bahamas. Here are some of my outfits from my summer adventures so far! I can't wait to hear about your summer fashion trends and experiments as well as where you'll be going this summer.
Pink Ruffles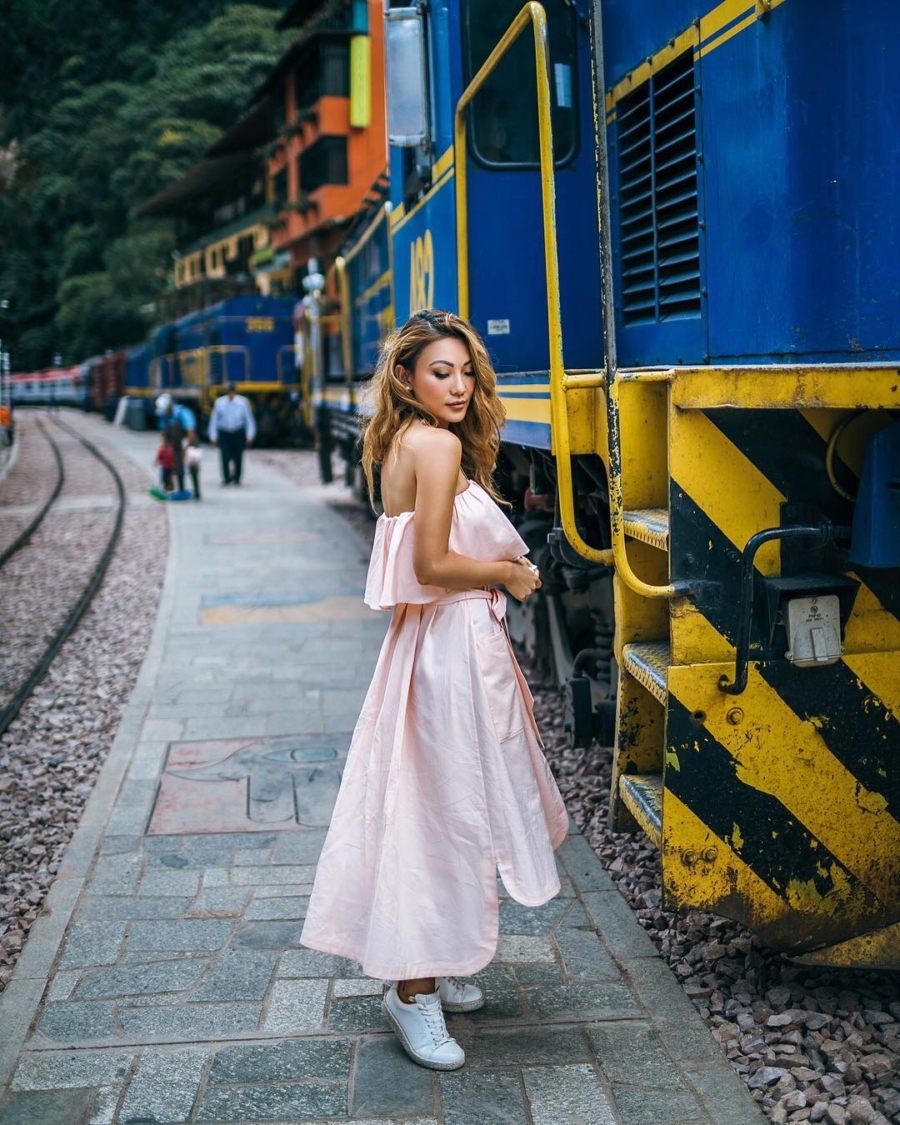 Ruffle Dress: (similar here) | Sneakers: (similar here)
When I found this dress, I knew it had a place in my summer wardrobe. Extremely lightweight and easy to pack, all these pink ruffles came with me to my trip to Peru. During the day, I paired the pink ruffles with stark white sneakers, but at night, I wore strappy sandals and added fashion earrings. No summer wardrobe of 2017 can be complete without some pink ruffles here or there.
…

…
Florals & Fuzzy Slides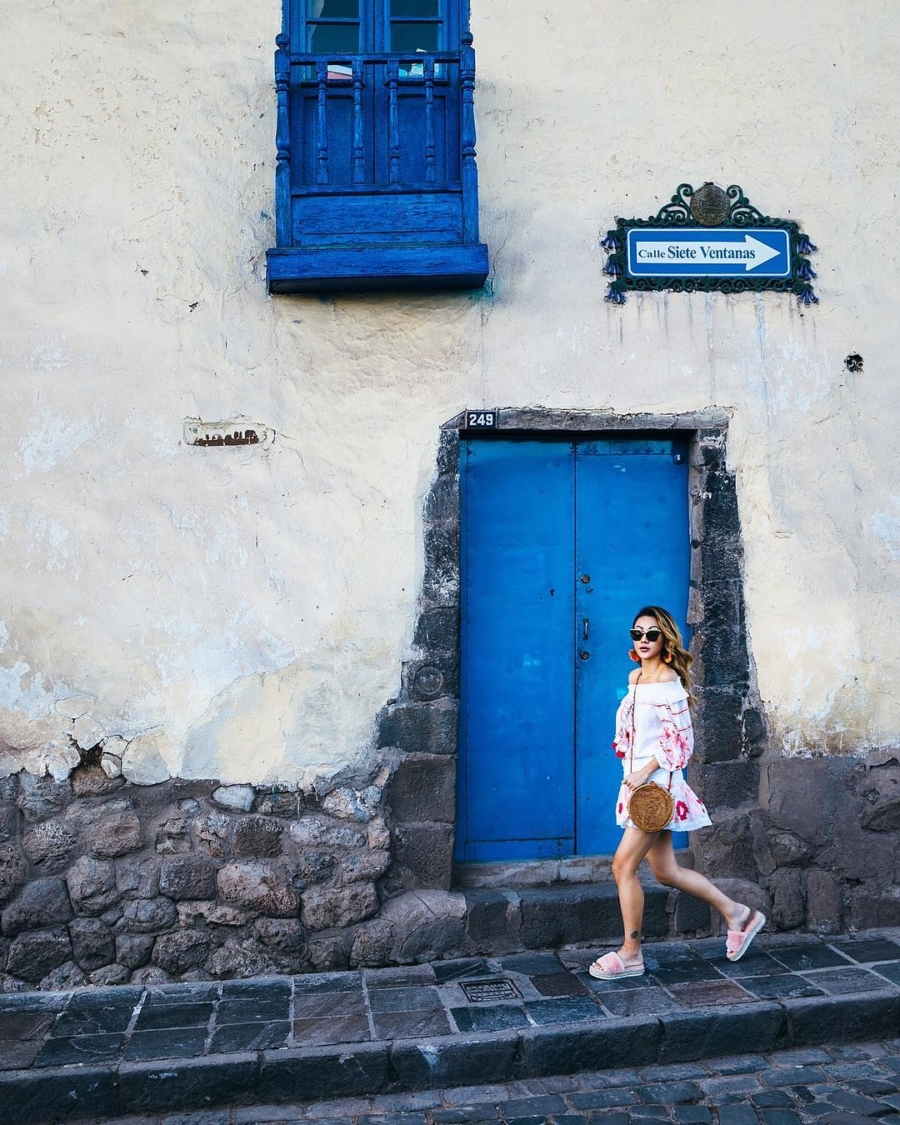 Floral Romper: (similar here) | Pink Fuzzy Slides: (similar here) | Bag: Free People (similar here)
South America is the ideal place to wear all your floral favorites. And here I am glowing like a flower under the sun's rays in this off-the-shoulder floral number. Did you see the ruffles, too? What makes me feel so delightful about this outfit, besides the huge floral pattern, is the pink, fuzzy slides that add a unique, yet comfy element.  
…

…
Red, White, And Blue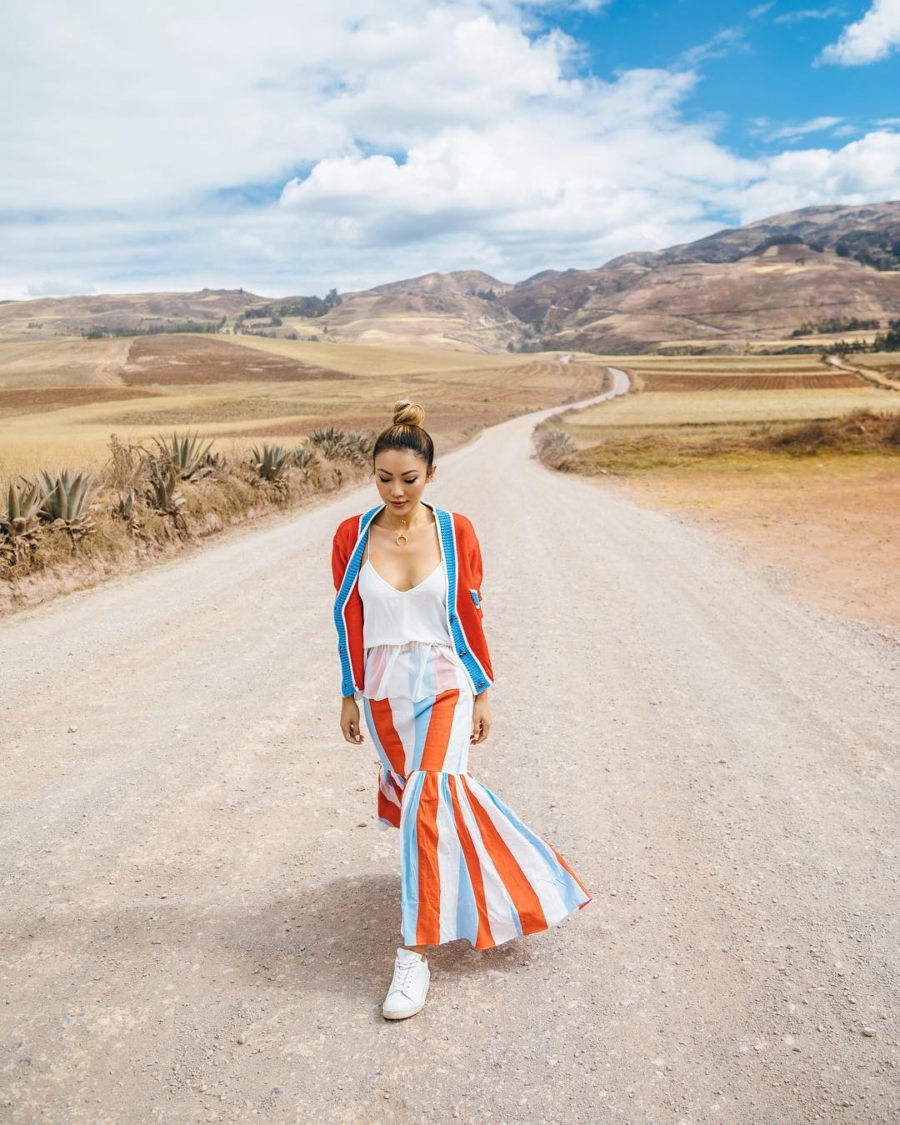 Sweater: (similar here) | Top: (similar here) | Skirt: (similar here) | Sneakers: (similar here)
I felt inspired to rock a little patriotism while in Peru. The landscapes made me think about my own country in many ways. What a stunning moment in which I could display red, white, and blue against such a backdrop. This vertical striped mermaid skirt gave me goosebumps when I first saw it and mixing it up with a white, casual cami and a boyfriend cardigan felt so natural to me. Of course, white sneakers give this outfit an approachable feel, but for a more sophisticated look, I would have gone for strappy wedges.
…

…
Oopsy Daisy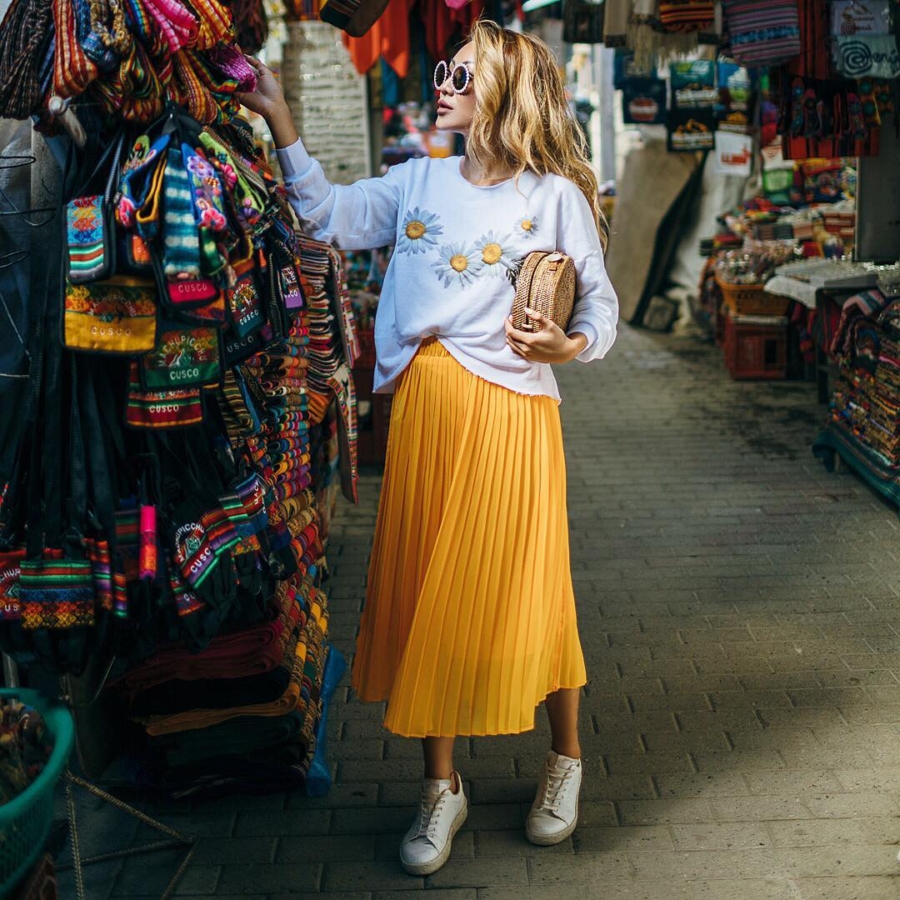 Daisy Sweater: Wildfox (similar here) | Yellow Pleated Skirt: (similar here) | Sneakers: (similar here) | Circle Woven Bag: (similar here) | Sunglass: Dolce & Gabbana
Yellow is summer's hottest color, but it's also a very local color in Peru. It's the color of the corn, the sun, some styles of pisco sours, Andean cheeses, and all types of fruits and flowers. So I had to get in on the action, too. This pleated yellow skirt kept me cool during my day shopping trips and the daisy design reinforced the yellow palette I was so eager to promote. I love how my highlights pop in contrast to all the yellow around me. I feel radiant.
…

…
Beach Duties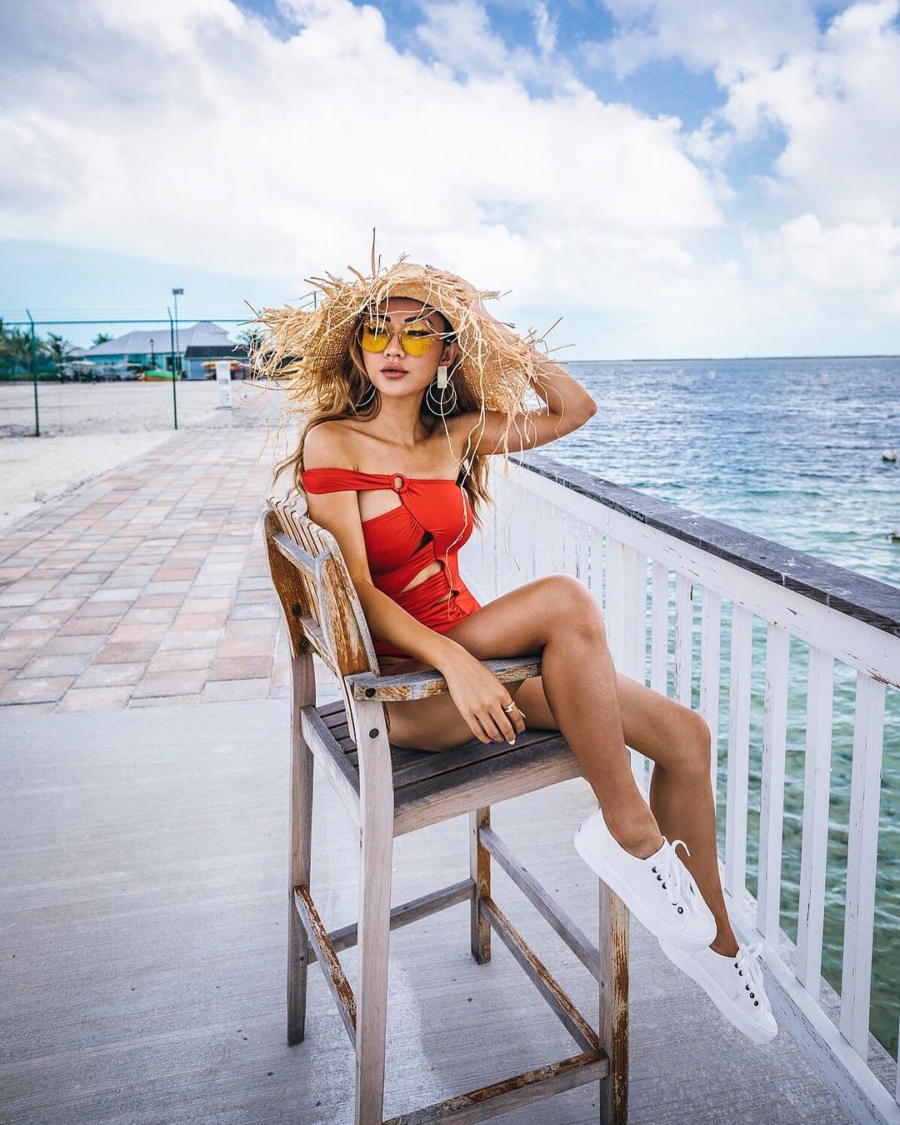 One Piece Bathing Suit: ASOS | Sneakers: (similar here) | Earrings: (similar here)
The Bahamas had me in a beach ready state of mind from the moment I landed. It didn't take me long to get settled into the island style as I purchased a straw hat from a local vendor on the first day. This hat is a statement piece, but also a great sun protector. My one-piece cutout suit is also a statement piece, so for this summer style, I really went all out. Paired with a super trendy round tinted yellow shades and large earrings, I was not ready to leave the Caribbean any time soon.
…

…
Island Casual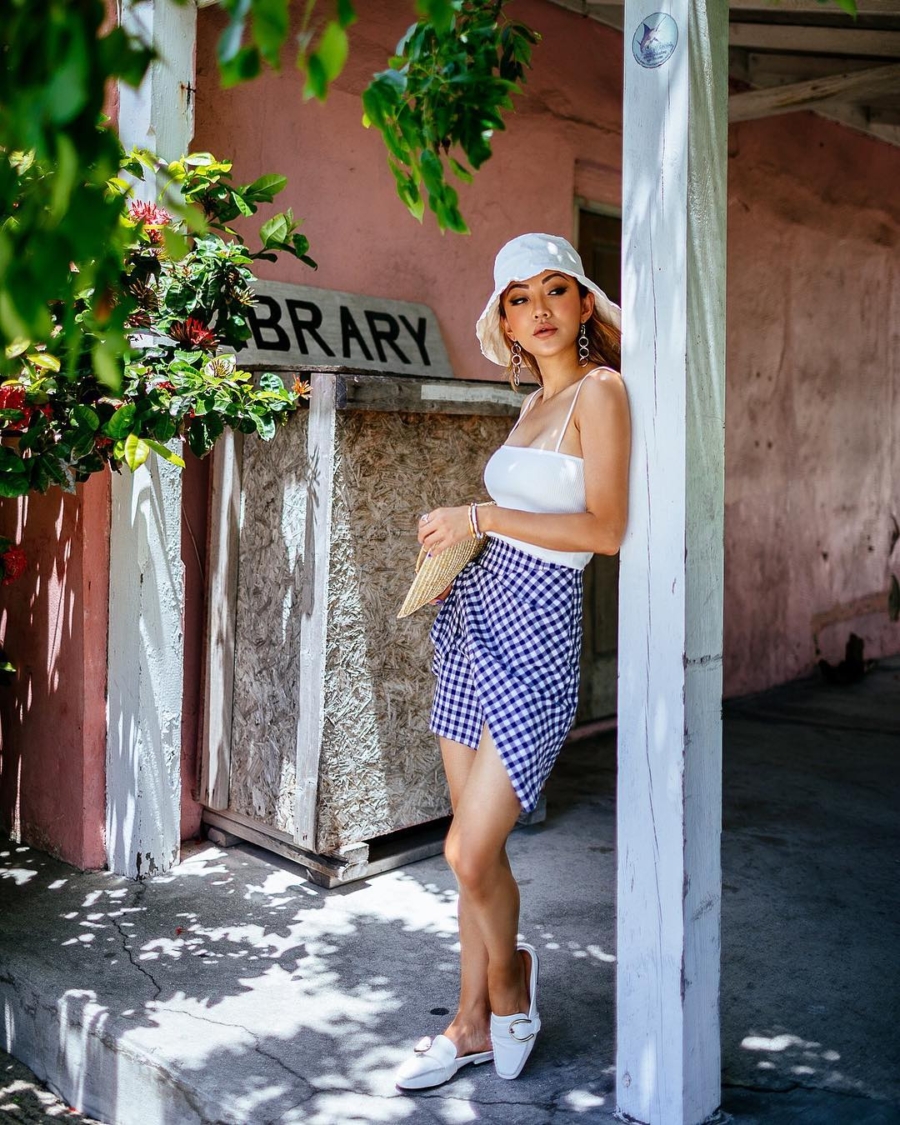 Top: Asos | Gingham Skirt: (similar here) | Shoes: (similar here)
I must admit, island life feels good and it looks good on me, too, when I can find the right pieces. Gingham skirt with a slinky cami and I'm the right island mood. With a pair of all white slip-on that makes walking a breeze and a white bonnet to keep my hair and face safe from the sun, I'm ready to keep my island adventure going. I went with the classic black and white gingham, but I could have easily gone for yellow or red to maintain that vibrant island feels.
…

…
Would love to hear about your summer adventures as well! Please feel free to share with me what you have in stored!