M
exico is the perfect spot for a quick getaway because it's not quite so far from where we are in the U.S. yet still distinctly foreign and beautiful. Having
frequented Mexico before
, I still considered myself the tourist when I went back. I explored Mexico City and Oaxaca like a local instead of wallowing around at their surreal, breathtaking beaches. I'll always love the beaches, but this trip presented a whole new experience…
I can't forget the vibrancy of Mexico – the rustic, picturesque views that took me back in time, and the bustling nature of the streets were all pleasant. If you're trekking down to Mexico, here are my top Instagram hot spots in Mexico City and Oaxaca.
Velvet Dream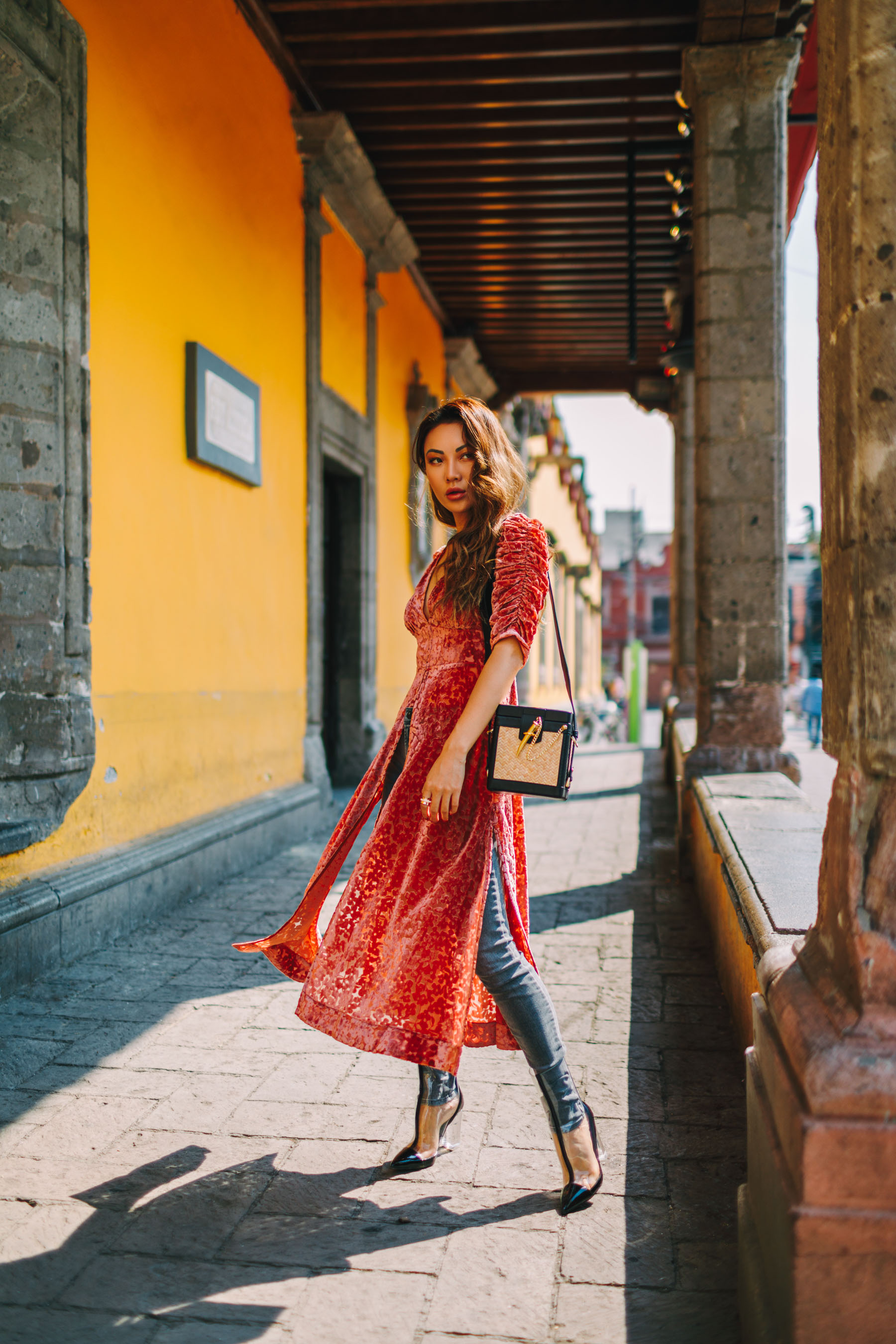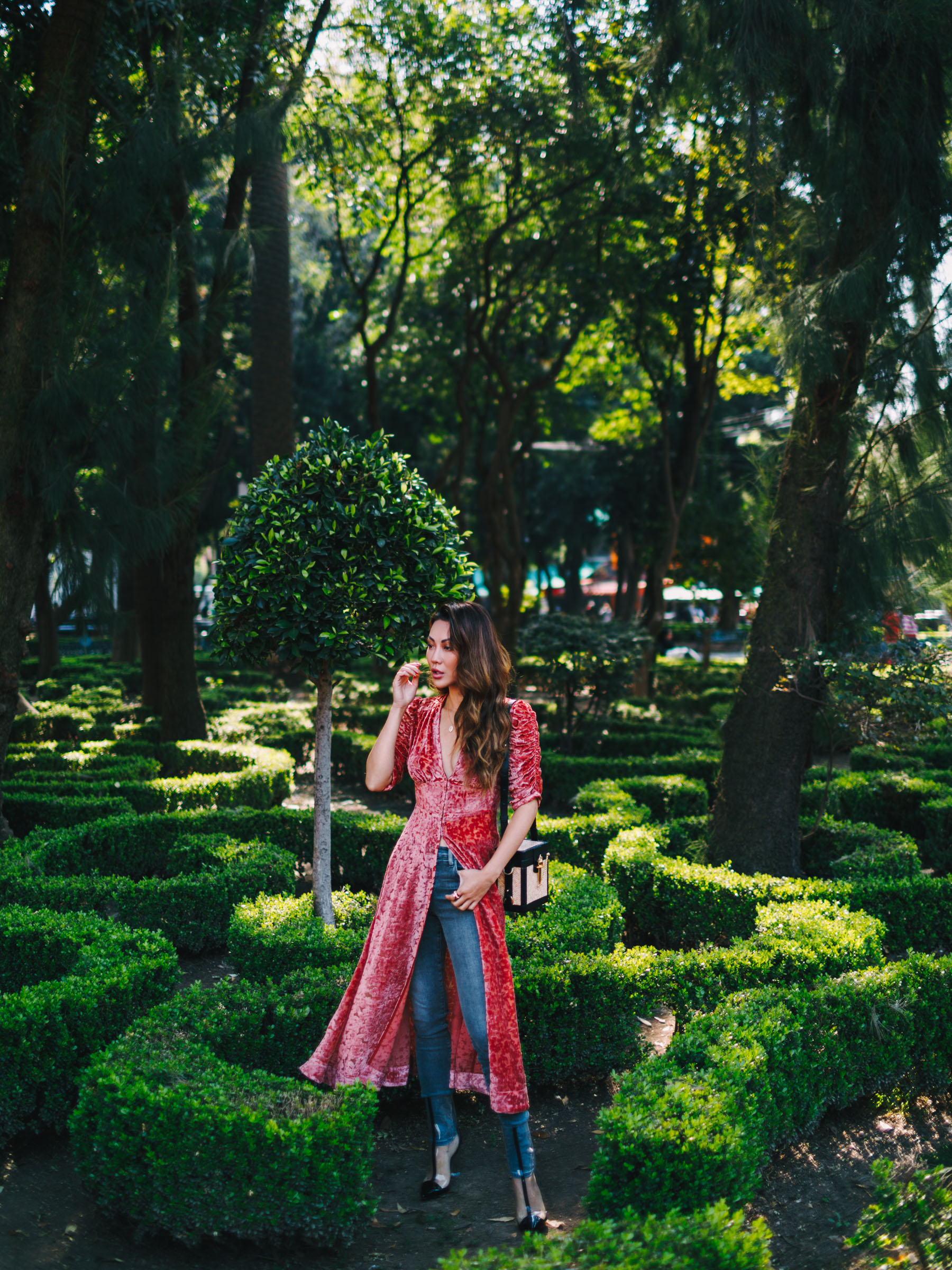 Dress: (similar here) | Jeans: (similar here) | Boots: Kendall & Kylie | Bag: (similar here)
Mexico can be a little tricky to dress for in the fall because of the chilly mornings and late evenings – but polarizing HOT afternoons. A velvet and denim pairing was suitable for most of the day. It gave me enough weight to prevent me from getting too cold yet was light enough to withstand the calefaction.
Starting my excursion in Mexico City, I immediately fell in love with The Frida Kahlo Museum (Museo Frida Kahlo). It was so bold and bright – and emblematic of Mexican culture that I couldn't resist snapping a photo while here. The contrasting stark blues and yellows beg to appear on the 'gram – and I love how I blended right in. Next, Vivero Coyoacán was a spectacular park that made it to my Instagram hot spots in Mexico for the lush, beautiful greenery that's nonexistent in the concrete jungle. It's a great garden to get some fresh air or soak up a bit nature. It was also the ideal way to end my visit to the Frida Kahlo Museum.
…

…
Pink Affair in Teotihuacan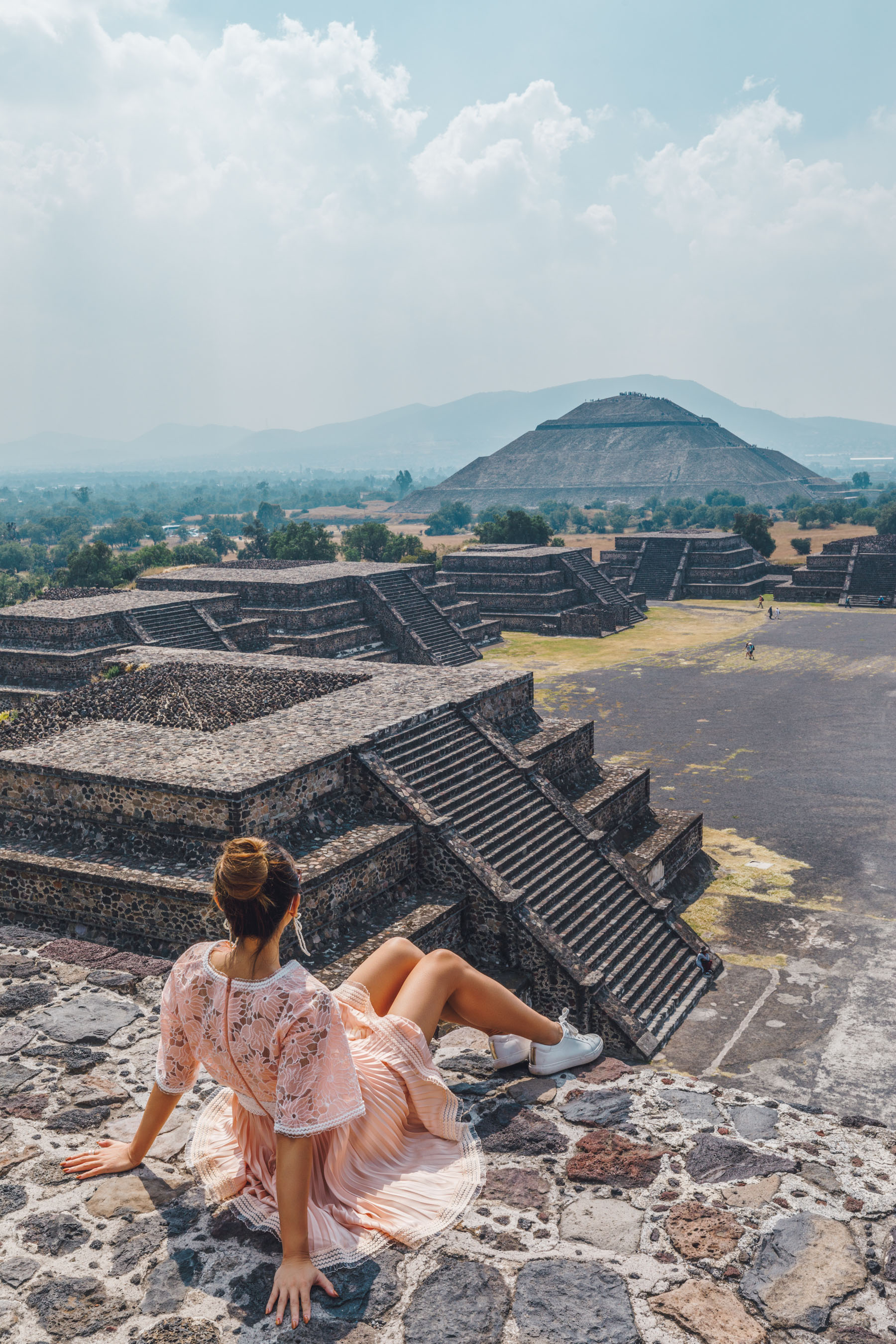 Dress: (similar here) | Sneakers: (similar here) | Earrings: (similar here)
A quick stop to the ancient city of Teotihuacan was definitely worth it and Instagrammable. The towering pyramids are as mystical as they are beautiful. The pyramid of the Sun and Moon are quite the journey to climb, but totally worth it once you hit the top! And yes, I went for it in this pleated pink dress from Three Floor which popped really nicely against the rustic backdrop – and was well-suited for the mid-day heat with a pair of sneakers made for walking.
…

…
Denim Daze
Overalls: (similar here) | Top: (similar here) | Sneakers: (similar here) | Sunglasses: (similar here)
A day of denim was much needed after so much walking around, so I threw on these overalls for an evening out while attending the Day of the Dead parade in Mexico City. I loved the loose fit which yielded so much comfort and convenience. What's unique about Mexico City is that the streets and architecture all render interesting backgrounds for photos. Don't be afraid to shoot among the crowd and busy intersections for an Insta-worthy shot like I did here. When you're dressed as casually and effortlessly as I am, everything goes.
…

…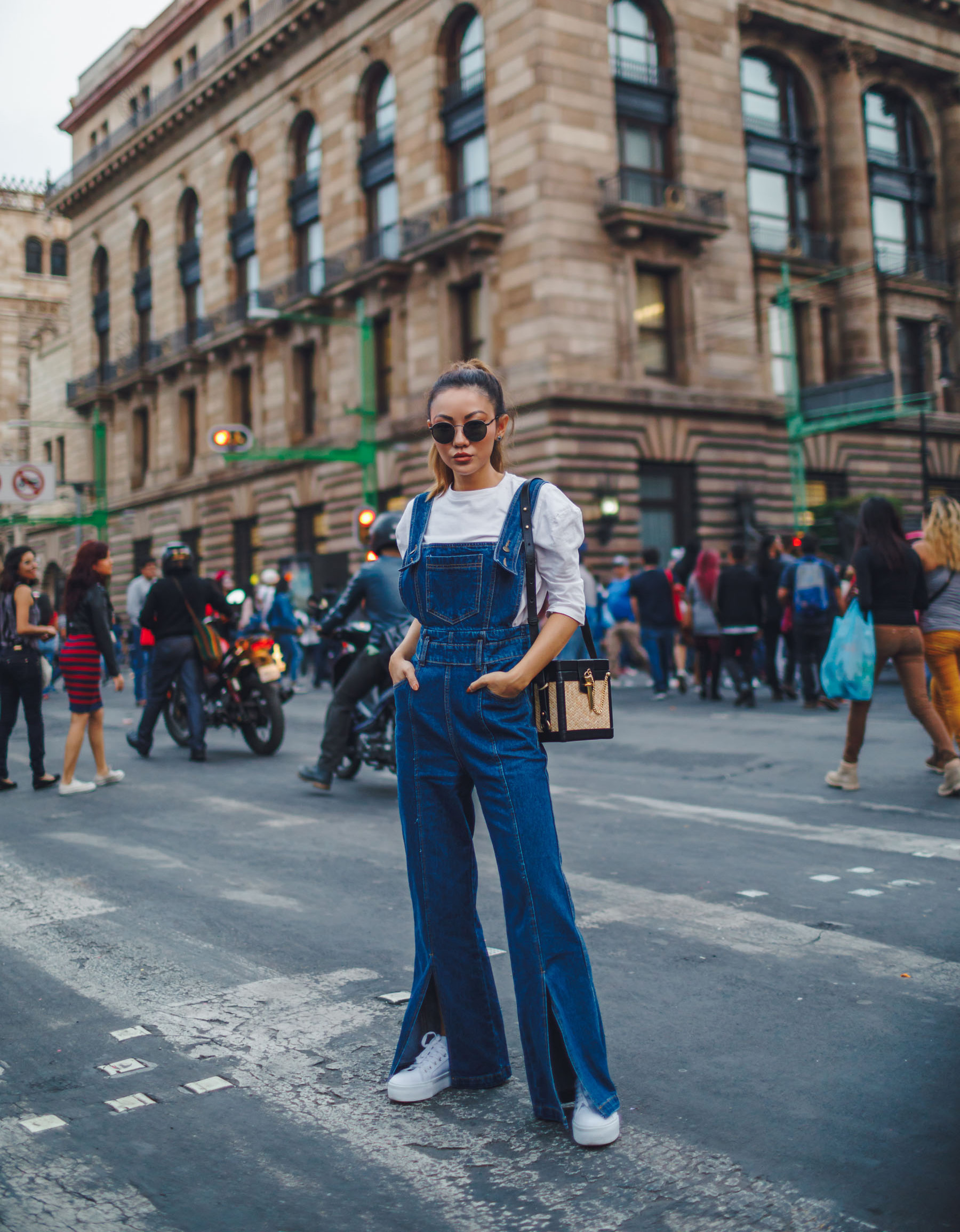 Oaxaca's Flares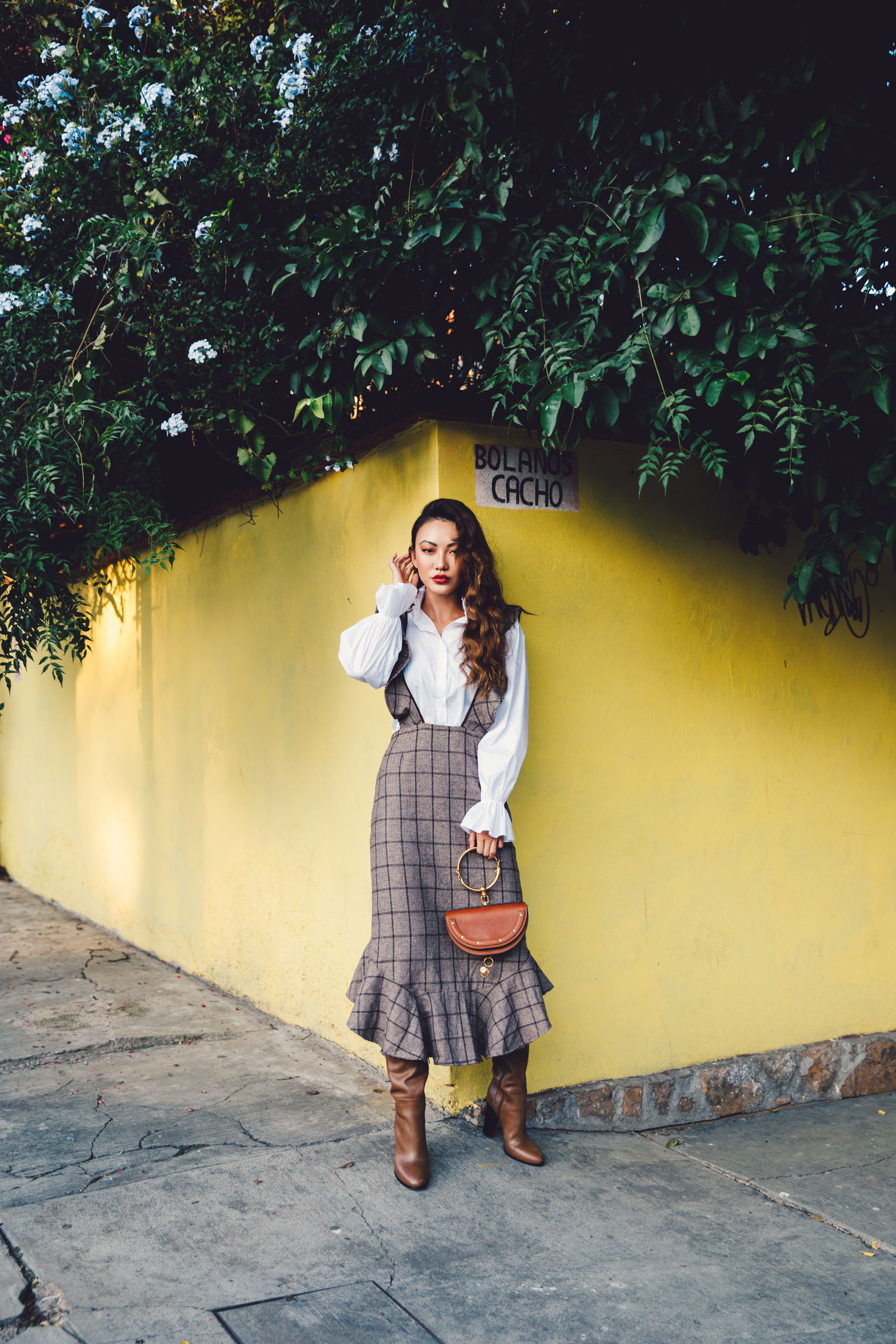 Top: (similar here) | Pinafore: (similar here) | Shoes: (similar here) | Bag: Chloe
After Mexico City, I flocked south for Oaxaca. The weather was even more of what it was in Mexico City – cold mornings and evenings with hot afternoons, which called for layers during this early stroll. Oaxaca is very charming with its colorful palette plastered across walls and buildings, so I advise you to color coordinate your outfits carefully to maximize the setting for your blog or Instagram.
I loved the look of this yellow nook with the green sprouting out above because it provided a nice contrast for my brown and white outfit – very earthy yet punchy. There are plenty of opportunities like this Oaxaca.
…

…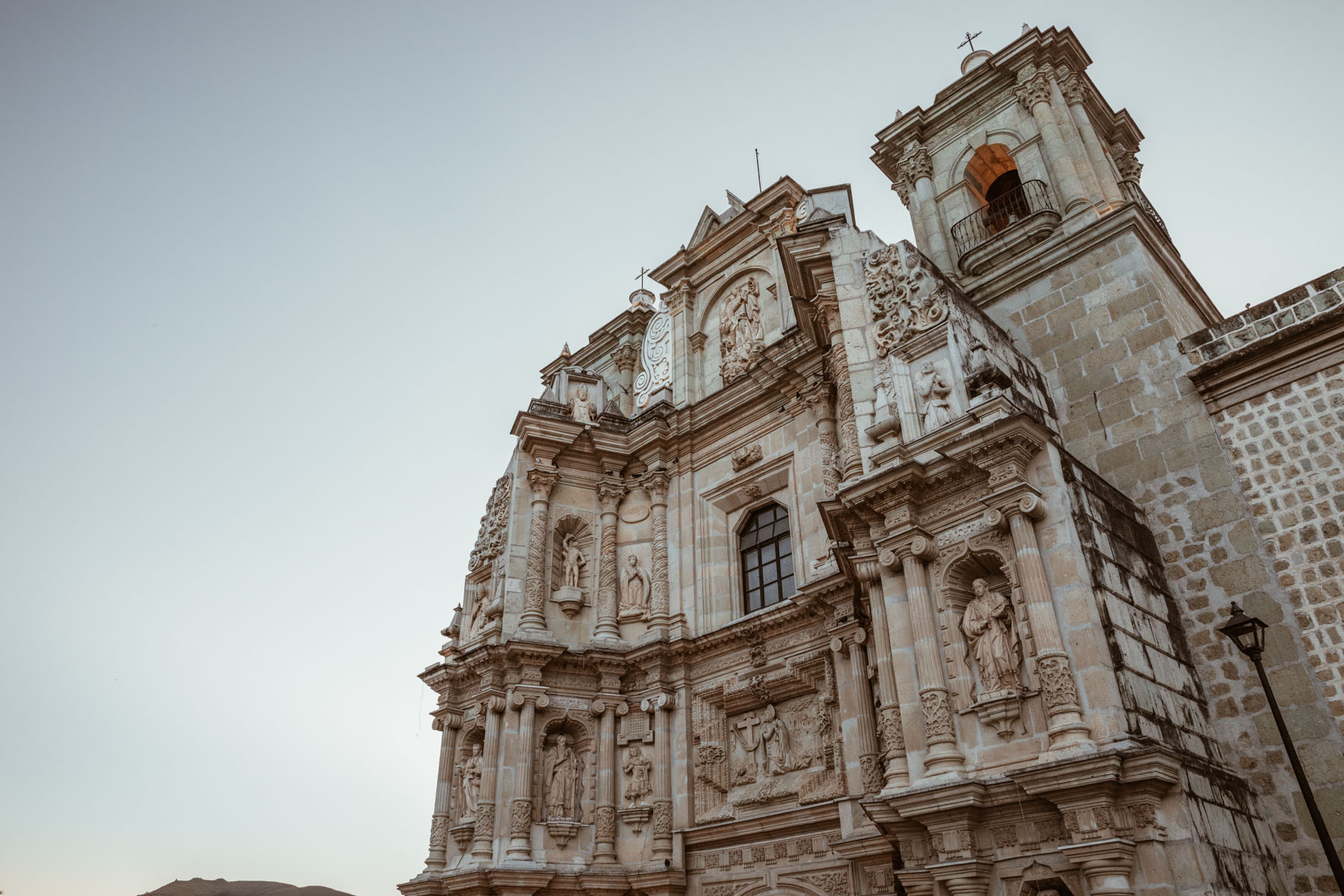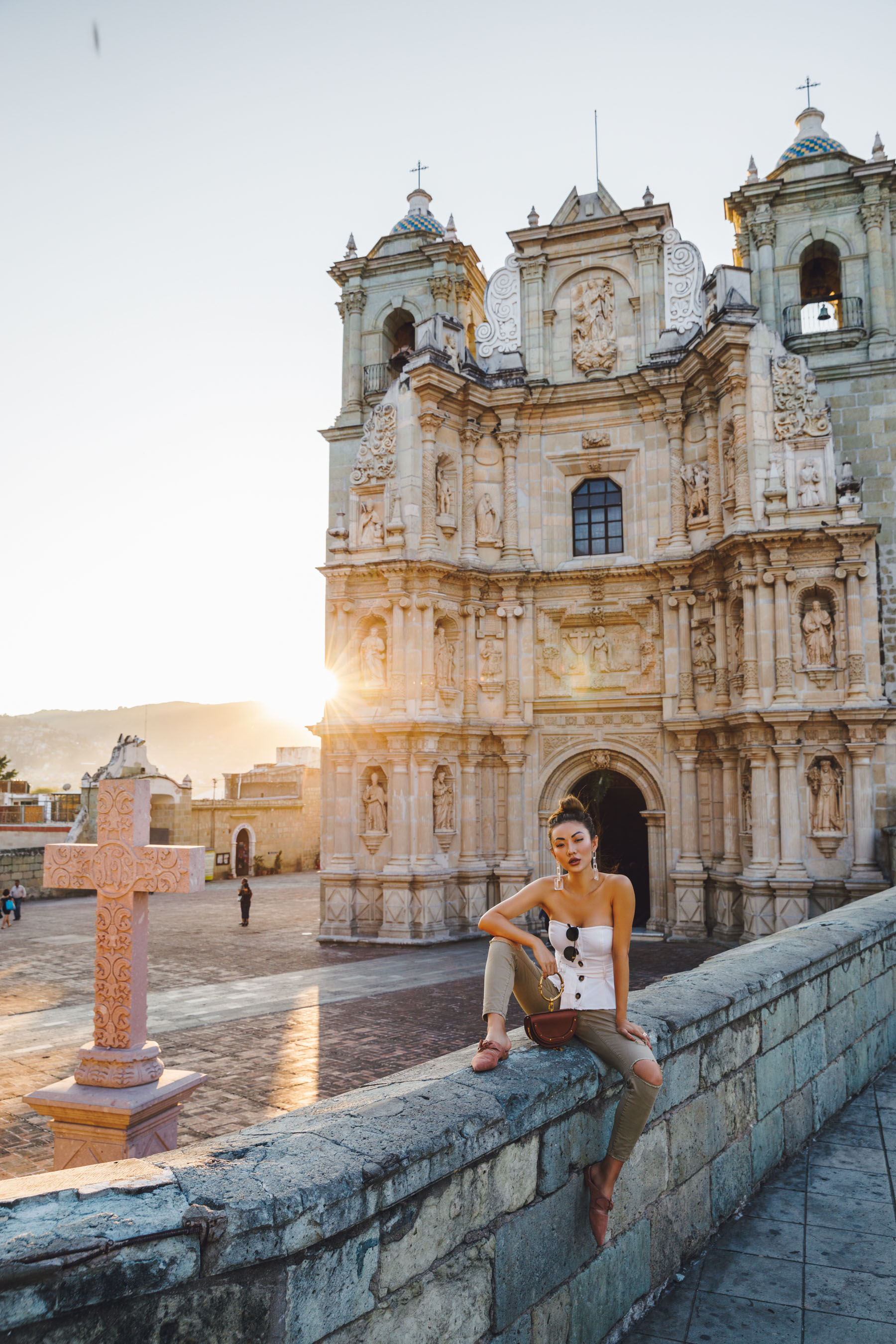 Top: Free People | Pants: (similar here) | Shoes: (similar here) | Bag: Chloe
Austere & Undone
The El Centro Histórico de Oaxaca was just magical to visit during the late afternoon hour right before the sun sets. It's definitely on my list of favorite Instagram hot spots in Mexico because everything literally glows – people included – so it's the perfect spot and time to snap a quick pic. I seemed to have pick the right hues of muted greens and pinks because I meshed right into the these pastoral structures.
This button-down tube top was the perfect piece to combat the Oaxaca sun. And if you're ever in need for stylish but walkable shoes, go for a pair of pointed toe mules. A bracelet bag like this one here also makes a lovely travel companion.
…

…
Where should I head next?