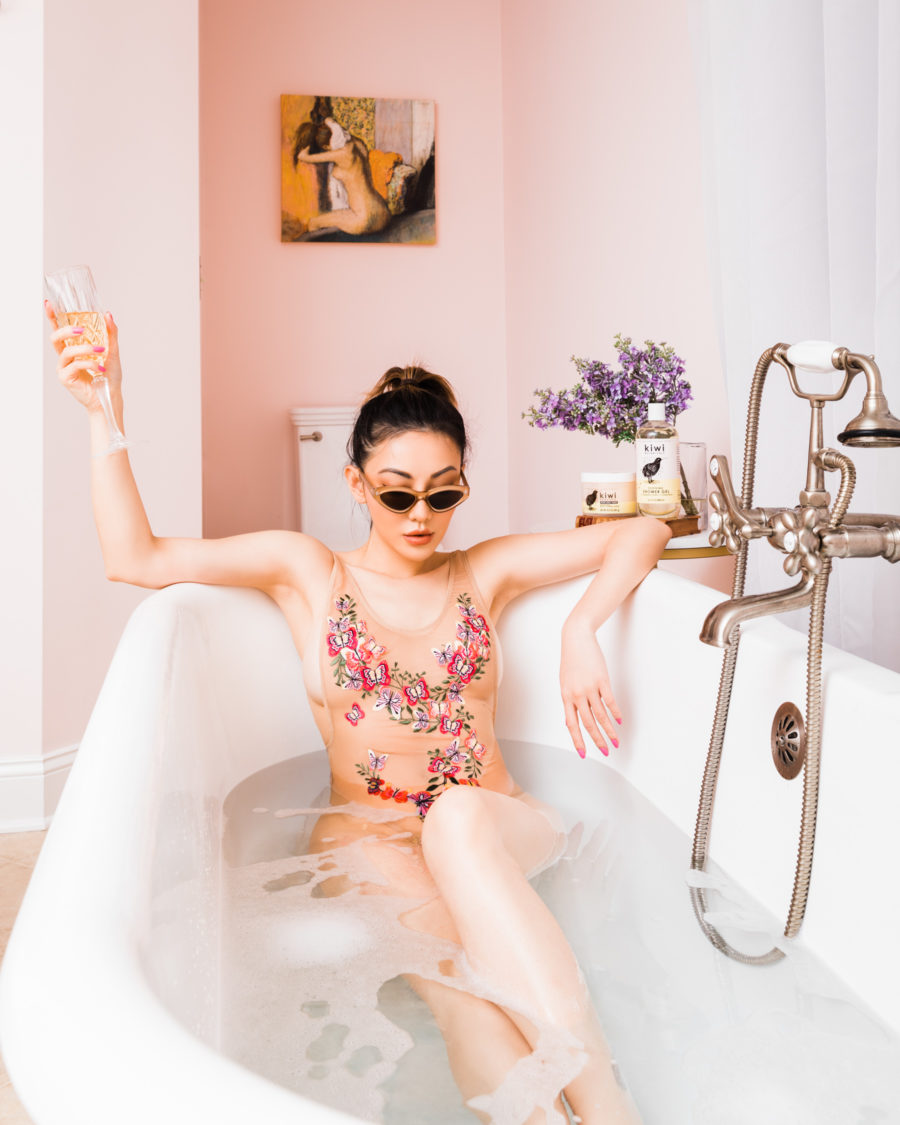 One Piece Swimsuit Similar | Chimi Sunglasses Similar
S
tress can get the best of all us. Whether you are currently feeling the
pressure from work or going through seasonal depression
, the first thing you need to do is to reset your priorities and focus one some self-care. There's nothing that makes me happier and more relaxed than going to a spa. Fortunately, you can create that luxe experience right at home. I usually start by lighting up some candles to set the mood, then indulge in a long, hot soak in the bath with a glass of wine in hand. If you've never created the experience of a spa at home, you're truly missing out. But it's not too late to start… Here are the
must-have Amazon products
to recreate that soothing spa-like moment.
…

…

First up, we have this wood bathtub caddy tray. It's an extendable tray you set on the sides of your tub so you can have a convenient caddy right in front of you! For those who love spending hours in the tub, this allows you to bring in your favorite novel, a glass of wine (or cup of tea), or even tablet into the bathtub. It even has slots so you can stand your smartphone or tablet up so you can relax while watching your favorite Netflix show.
…

Comfort is key in order to enjoy a long soak so I highly recommend scooping up this bath pillow from Amazon too. It uses suction cups so it can adhere to the side of your tub that way you can fully lean back and relax in the bubble bath. The pillow itself is a soft, waterproof material that is super easy to clean once you are done with your soak.
…

We can all agree half of the relaxing spa experience comes down to the ambiance. Another nifty gadget that would elevate your at home spa experience is this LED light. It is submersible, allowing you to light up the water with 13 different color options. Although this is not entirely necessary to enjoy a bath, it definitely adds to the experience which I think is totally worth the $10 price tag!
…

I always have candles lit in every room of my home so naturally I am a big fan of lighting them up in the bathroom too! This adds to the spa vibes. I use a lot of fragrant products while I am in the bathtub so I think unscented candles are totally fine for this purpose. This set of 3 pillar candles from Amazon are perfect for creating that dim, warm glow.
…

When it comes to the perfect spa at home, you need a good bath soak. One of my go-to's is this Dr Teal's Foaming Bath. It soothes your entire body and relaxes it so you will fall asleep easily. Plus, this particular one incorporates lavender essential oil to provide you some magical aromatherapy too. All you need to do is squeeze a generous amount under running water, then sit back and enjoy!
…

What would a bath be without a bath bomb? If you never used one of these, you are definitely missing out! My kids love them but I am not afraid to admit that even as an adult, they are a fun addition to my bath routine! Just place one of these bombs into the bath and it will fizz and disperse shea butter and essential oils into the water. This will make your skin so soft and supple after the bath!
…

To further add to the ambience, this dried flower kit is essential! It is seriously the final touch on the most perfect, relaxing soak. This particular pack comes with a variety of 9 different flowers. You can sprinkle them on top of the water for that chic, spa aesthetic. If you have left over, you can also use these to make candles or use as decor!
…

If you prefer putting your hair up during your bubble bath, you are going to fall in love with this Amazon gem. It is a 100% mulberry silk cap (for under $15!). It keeps your hair tucked up and out of the way in case you do not want to get it wet while you are in the tub but you could also wear it to sleep too! The silk helps to retain your hair's natural moisture and shine, while also keeping your hairstyle intact and frizz-free!
…

The last act of self-care I always perform before stepping into the bath is applying a face mask. This Moroccan red clay facial mud mask is absolutely amazing for purifying and brightening the skin. Plus, face masks are perfect for baths because the steam helps open your pores so the mask itself can penetrate deeper into the skin.
…
How do you create your perfect spa at home?