A
s much as we all wish we had the mass fortune of the Young family from Crazy Rich Asians, let's be honest, this is not reality for the majority of us! However, who says you need a lot of money to achieve a look of class and sophistication. When it comes down to it, looking elegant goes
beyond diamond jewelry
and a designer clad outfit. With just a few tricks, you too, can look like you are a rich socialite without breaking the bank. Here are my 10 tricks to look expensive on a budget.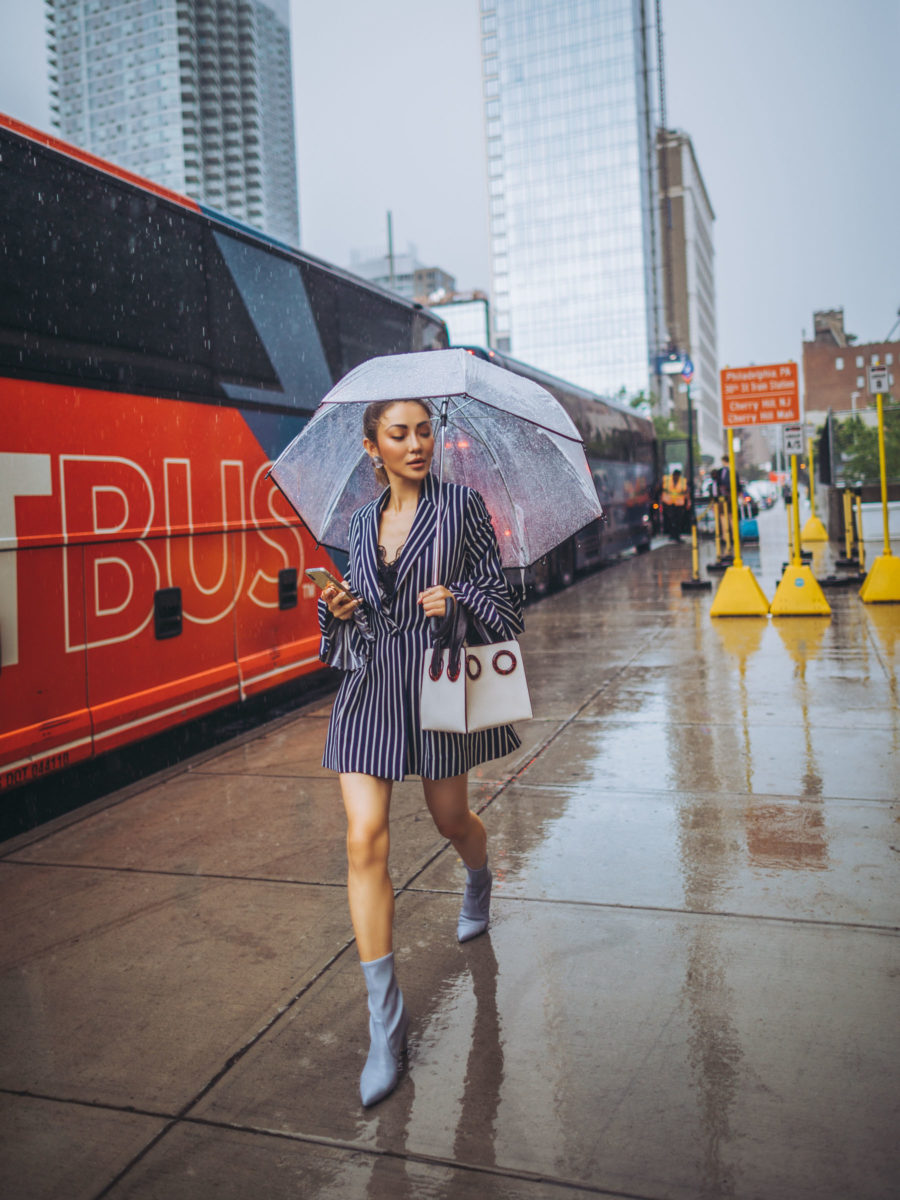 Vatanika Blazer Dress | Boyy Bag Similar | Stuart Weitzman Boots | Clear Umbrella
…

…
1

Keep it Minimal

Above all, I think a minimalistic approach to fashion is one of the best ways to look expensive without actually spending all that much. This means maximizing the use of neutrals within your outfit – blacks, navy, grays, blues, browns – and even blush. If you think about it, these are classic power colors that have stood the test of time (with the exception of blush) – and they simply never go out of style. Also, stick to solids rather than prints, and if you want to try a print, go with pinstripes or a leopard pump.
2

Classic Silhouettes

In addition to the aforementioned, opt for classic, feminine silhouettes. Build up a wardrobe of key pieces that you can mix and match to create an "expensive" aesthetic. Some must-have items for me include blazers, a little black dress (LBD), a crisp white button down, and high-waisted trousers. All these items have a certain structure to them that look really high end even if they're from fast fashion brands like Zara or Topshop. Don't be afraid to wear modern iterations either. In the photo above, I'm wearing a blazer dress that's slightly trendy but still contains a whole lot of structure and clean lines.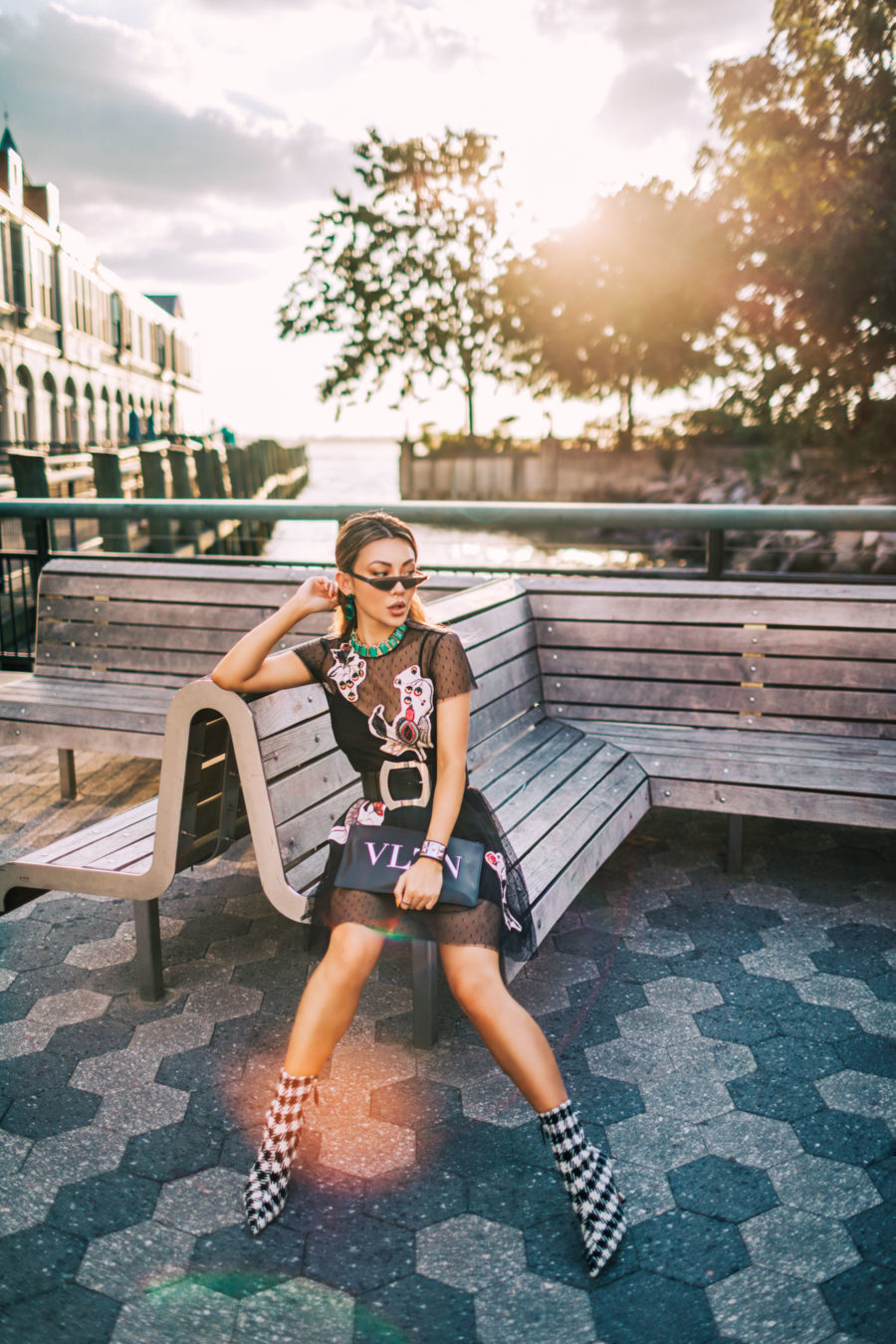 3

Quality over Quantity

I am not being counterintuitive, encouraging you to spend a ton of money. However, sometimes it does pay off investing in a little more on signature pieces. Think about it, if there are items or accessories that you know you will frequently wear, you can save yourself money in the long run by investing in a garment that is going to last rather than a transparent t-shirt that will get destroyed after 3 wears. For me investing in quality shoes and bags are imperative. There's something about them that complete an entire look! Plus, if you go with lower quality accessories, it's typically easier to recognize the flaws from a distance.
4

Clean edges and styling

Clean pieces and styling are crucial to looking expensive no matter what your body type or style is. This means avoiding distressed styles, tucking in your top, rolling your sleeves, slightly cuffing your jeans if needed, or adding a waist belt over a dress. It's all about the details – and how you style what you're wearing.
Don't undermine the power of a scarf… You can easily pass as a fashion editor by wearing a neck scarf with a boat neck top or a button down. Even wrapping a scarf around the handle of your handbag can make a difference.
…

…
5

Play with Fabrications

Another easy way to look more sophisticated is to play with different fabrications. Nothing makes me feel more luxurious and glam than a slinky silk top. Fabrics such as silk, linen, satin, velvet etc. not only make you look more expensive, but it makes you feel expensive too. And don't be afraid to contrast these fabrications – maybe adding a fur coat to a satin dress or a leather jacket to a velvet cami. Even if you're wearing all high-street, contrasting materials add the appeal of luxury.
6

Simple Jewelry

Extending the first rule I listed to accessories is also key. Having a few minimal jewelry pieces that you can incorporate into your everyday outfits can actually make a huge statement when it comes to an overall aesthetic. A few gold rings, a strand of pearls, or a simple pair of stud earrings can tie a whole look together. These are pieces you can grab on the go without worrying about whether or not you look tacky. Even if it's costume jewelry, as long as it's cared for, you can get away with it.
7

Pointed Toe Shoes

I find that shoes – whether they be loafers, kitten heels or stilettos – look super chic when they feature a pointed toe. Be sure to find a comfortable pair that can easily transition from day to night so you can maximize their use! Back to the first outfit, the entire vibe would be different if I opted for block heel mules or even strappy sandals. Pointed toe shoes immediately bump up a look by a few notches.

…

…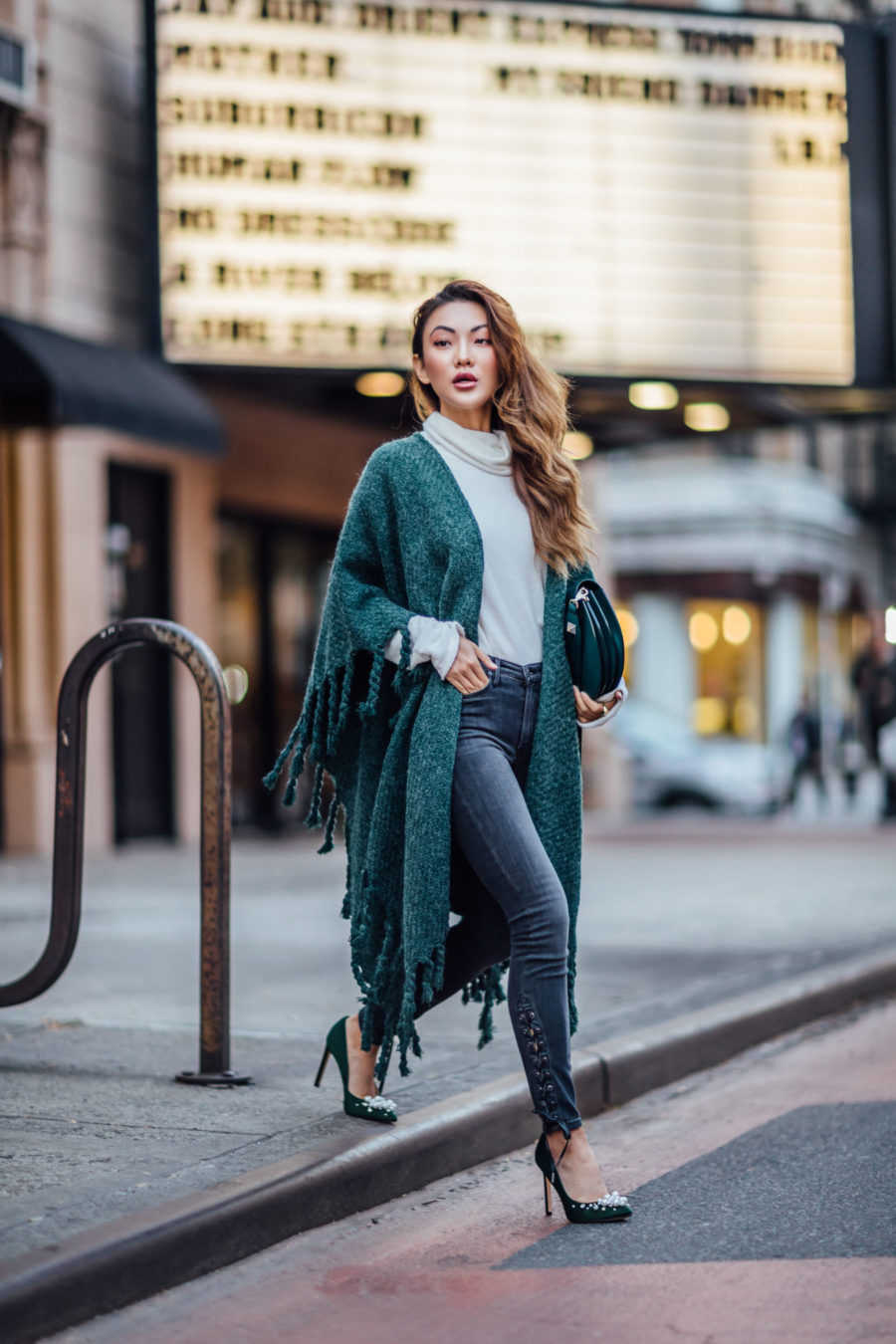 8

Perfect Shade of Lipstick

Along with your clothing, I find that having a signature lipstick shade really unlocks the inner girl boss within you. A lip color can certainly brighten the complexion and make you look more awake, so be sure to find the shade that makes you feel confident. Red might be the perfect color for an evening or formal look. But during the day, maybe it's a nude pink or a mauve. I don't recommend going overboard with the rest of your makeup because it can come off too strong. However, a swipe of color on the lips can truly elevate you.
9

Care for your clothes the right way

Never neglect caring for your clothes the right way no matter how inexpensive it might be. If the label says to dry clean it, don't load it into your washer. And if it says hand wash and hang dry, don't toss it in the dryer. The fastest way to look inexpensive is ruining your clothes because you didn't read the label. This also applies to steaming, ironing, and lint rolling. An indispensable weapon of choice has been my portable steamer. I always avoid stepping out of the house with a wrinkly blouse. Ironing or steaming your clothes when necessary always ensures you look put together and ready to take on the world.

…

…
1

0

Add your own confidence factor

Finally, one of my tricks to looking expensive is in your attitude. Confidence is key. For some people, wearing certain things trigger that confidence factor. Sunglasses is the secret weapon for me. When wearing sunglasses, it's important to know your face shape and what style looks best. Cat eye sunglasses or anything oversized is an easy way to look glamorous and expensive. I realize that the confidence factor is different for everyone so find out what it is for you and use it – maybe it's a blazer, 4 inch heels, or a fancy watch.

What are some of your tricks to look expensive?