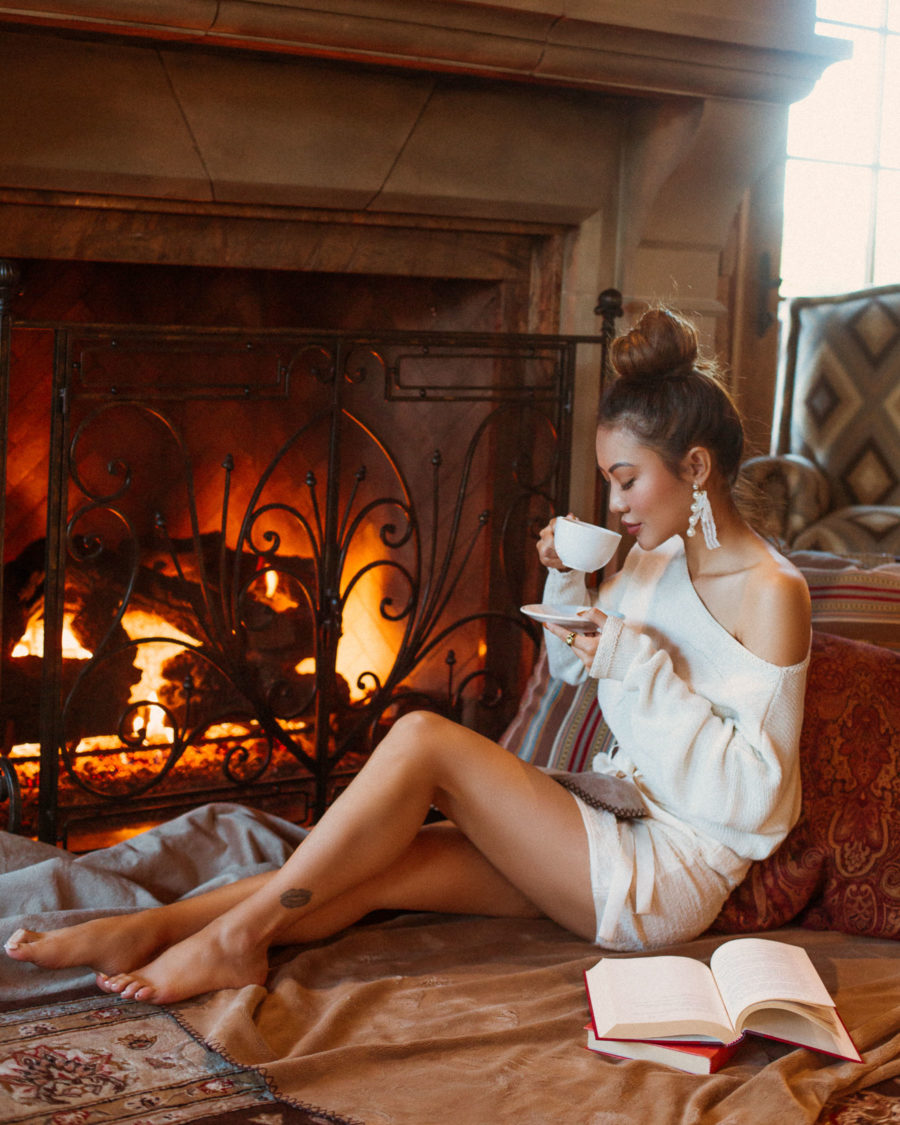 Sweater Dress Similar | Earrings Similar
W
hen I imagine the perfect winter scene, I picture myself snuggled up by a roaring fireplace, sipping on hot cocoa (or tea), and wearing the coziest pieces in my closet. I'm sure you guys know that NY can get insanely cold come wintertime. I am guilty of preferring to stay homebound with the family, so I am always on the hunt to make those winter nights especially snug. Whether you want to treat yourself or if you are looking for
some gift ideas
, today's blog post is all about my cozy must-haves to stay warm all winter long.
…

…

Throw Blankets
First things first, you absolutely need a blanket to wrap up in during the night! In fact, I am guilty of toting along my throw blanket to every room with me. It's totally necessary whether you are watching TV, reading in bed or drinking your morning coffee. When it comes to blankets, obviously the softer the better. I love faux-fur, fleece and knitted throw blankets.
…

…

Cozy Socks
It's a known fact that your feet are more prone to getting cold if there is less circulation. Cozy socks are a must have, especially if your house has a lot of hardwood or tile flooring. Teddy bear textures and thick cable knit socks manage to keep your whole body warm!
…

…

Slippers
Another option you can use to keep your feet warm are slippers. This is a good alternative to socks if you prefer to have the ability to easily pull them on and off. You can never go wrong with the traditional fuzzy slipper but there are also more updated versions like moccasins or slides.
…

…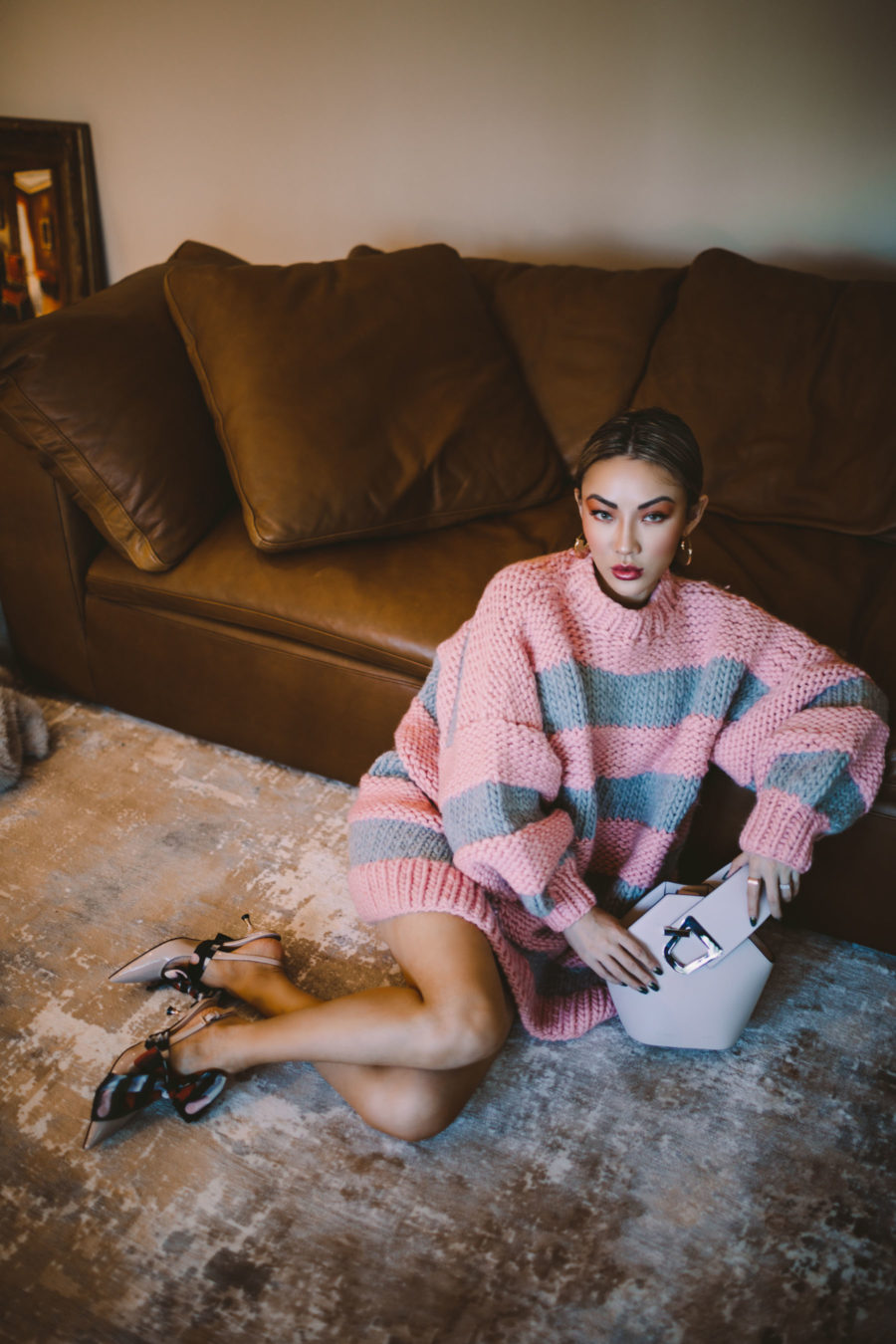 Oversized Sweaters
Whether you are staying in all day or heading out into the real world, we all need some oversized sweater options! Chunky knits are my absolute favorite thing to wear during fall and winter. Whether it's a cardigan, turtleneck, cable knit – I love them all. Plus, these cozy must-haves are easy to dress up if you are heading out for the day.
…

…

Cute PJs
Holiday PJs are a girl's best friend but you haven't truly lived until you own one that's fleece-lined. I am telling you this is a game changer when the temperatures start to drop. The double layer is so incredibly soft and really does an amazing job of keeping your body insulated and snug!
…

…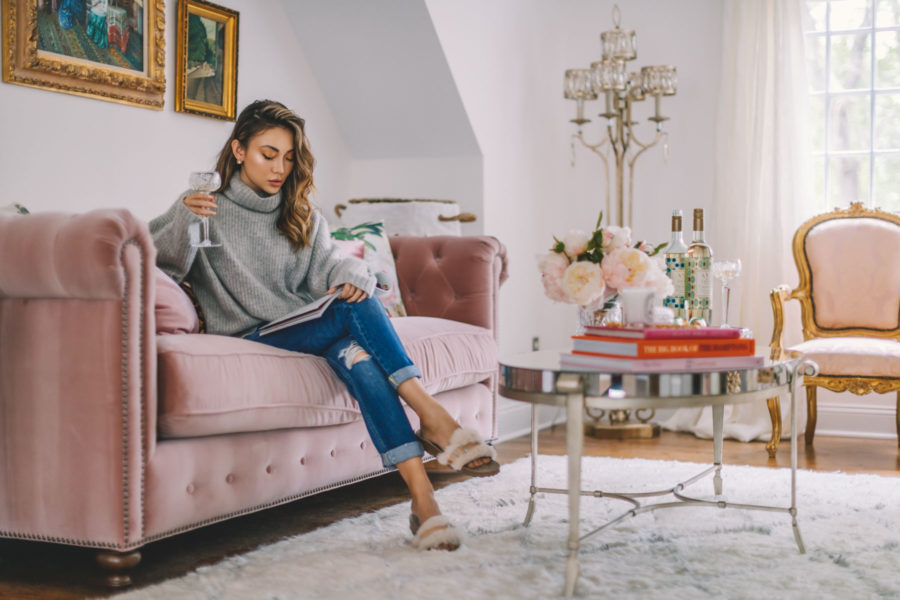 Essential Oils
Coziness is not all about the clothing you wear – it also has to do with your headspace! How can you bundle up and relax when you are frantically thinking about work or what's next on your to-do list. To complete the ultimate cozy package, I highly recommend essential oils! Aromatherapy does wonders and adds the finishing touch to your cozy winter night in. Apply oils to your wrist or invest in a diffuser so your whole room is enveloped in the essential oil.
…

…
What are your cozy must-haves for winter?