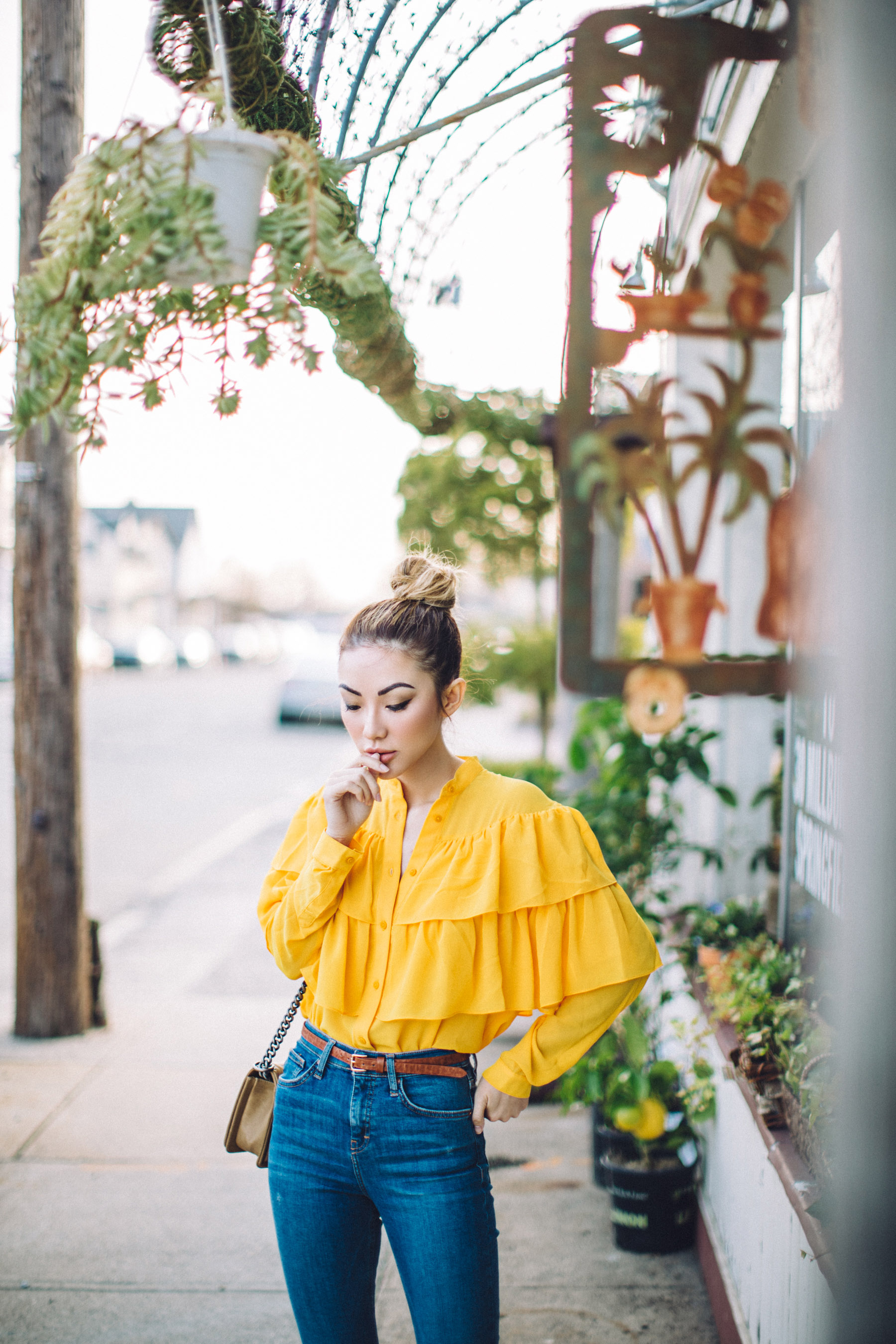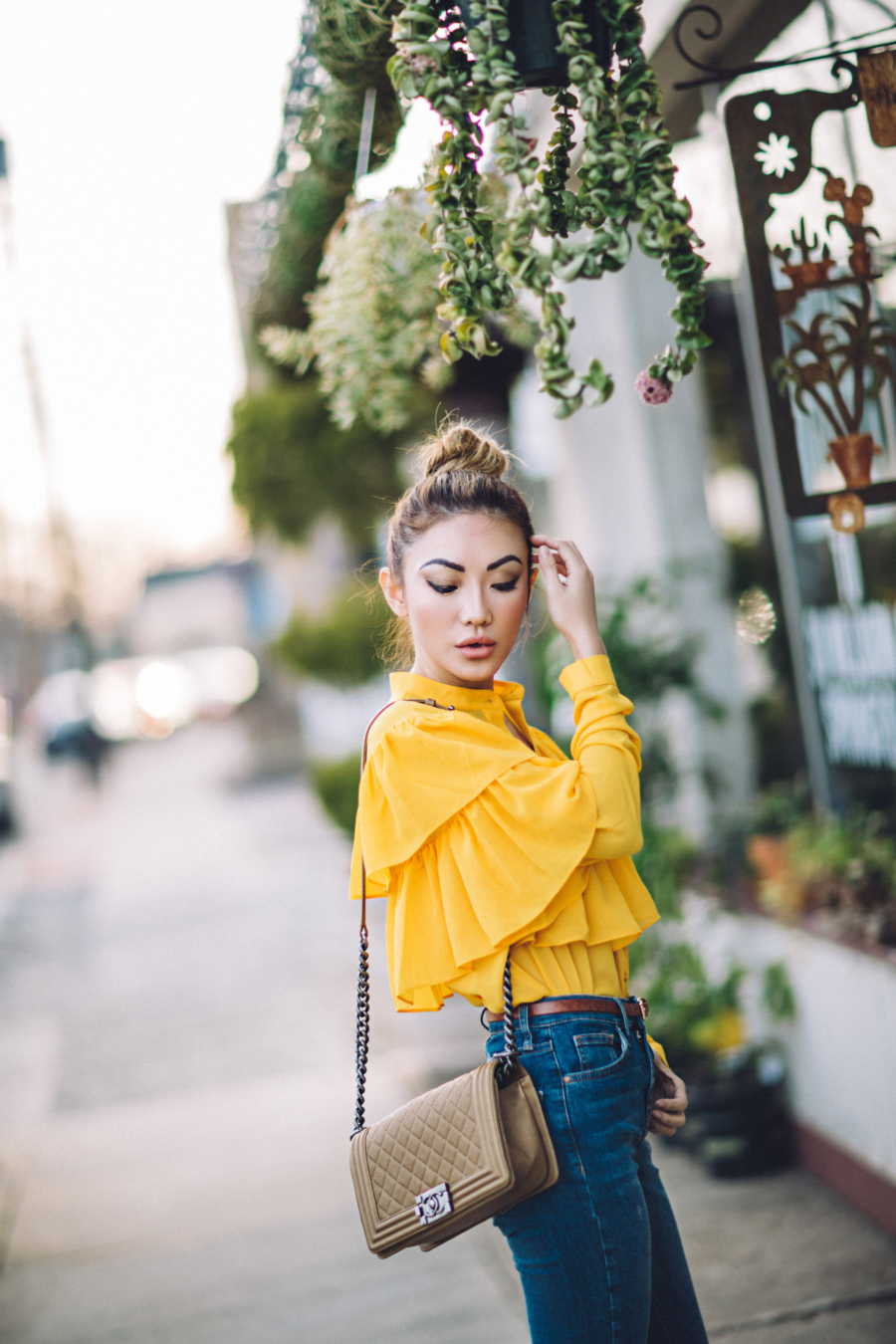 Top: (similar here) | Jeans: (similar here) | Bag: Chanel (similar here)
Sunscreen has come a long way in the past few years. No longer do you have to deal with stinky or sticky products to protect your precious skin from the damaging sun. You don't have to pay an arm and a leg for good, quality products either. This list of affordable sunscreens gives you many different options to keep your skin healthy and glowing all summer long!
…

…
Clarins Sunscreen Care Oil-Free Lotion Spray SPF 15 ($36)

…
This spray sunscreen lotion from Clarins is great for protecting your skin against the damaging UVA/UVB rays, while still providing you with plenty of moisture. The lightweight, oil-free formula contains plenty of nutrients that your skin will love; such as Kiwi (rich in vitamin C and E), Aloe Vera (softens and moisturizes skin while encouraging healing), and olive tree (heals, tones, and adds more moisture to the skin). This formula also promotes a long lasting, natural looking tan while protecting your skin from drying out due to sun exposure.
…
Dr. Andrew Weil for Origins Mega-Defense Advanced Daily UV Defender SPF 45 ($41)

…
Origins Mega-Defense Daily UV Defender is a non-chemical sunscreen made for all skin types. It protects against dehydration, pollution, and environmental stressors. The paraben, sulfate, and phthalate free formula defends against discoloration and gives your skin radiance at the same time! The ingredient opuntia-ficus-indicia allows this product to protect against UVA/UVB rays and strengthen the skin's barrier. A radiance-boosting, affordable, and moisturizing sunscreen? How perfect!
…
Supergoop! Sun-Defying Sunscreen Oil with Meadowfoam SPF 50 ($34)

…
This sunscreen not only protects your skin, but it also gives you a gorgeous dewy glow! This oil keeps you protected with no synthetic fragrances, parabens, or sulfates. Ingredients such as meadowfoam and argan oil provide deep hydration. This product can also be used at night or indoors to add an extra glow to your skin. I love a multi-tasking product! And did I mention it smells delicious? This sunscreen contains natural essential oils like pomegranate and citrus to give you a light fruity scent.
…
Fresh Sugar Sports Treatment Sunscreen SPF 30 ($25)

…
Fresh Sugar Sports Sunscreen is essential for someone on-the-go who loves the outdoors! This durable, water-resistant formula is made to add moisture and protection to your eyes, lips, and face. The wide stick applicator makes using this sunscreen very easy. With moisturizing ingredients like avocado and black currant seed oil, your skin is left hydrated. The perfect affordable sunscreen to take on your next hike.
…
Peter Thomas Roth Max Sheer All Day Moisture Defense Lotion SPF 30 ($42)

…
Peter Thomas Roth Max Sheer is a super light, oil free, antioxidant-rich sunscreen. The extra sheer protection soothes and hydrates your skin. Antioxidants help protect your skin from free radical damage. After applying, you're left with skin that has a healthy glow. This formula is also sulfate and paraben free. It is a great option for an everyday moisturizer.
…
Dr. Dennis Gross Skincare Sheer Mineral Sun Spray Broad-Spectrum SPF 50 Plus Protection ($42)

…
Ever try reaching tricky areas to put on your sunscreen? Well, this sunscreen puts those awkward stretches in the past, with its easy to use 360-degree mist.  This product is vegan and cruelty-free. The Sheer Mineral Sun Spray is formulated to not leave any residue while still providing protection against UVA/UVB rays. This sunscreen contains no chemical fillers and dries sheer, so you're ready to conquer the day with your smooth skin.
…
Banana Boat Suncomfort Sunscreen Lotion ($10)

…
Drugstores also have good quality, affordable sunscreens. The Banana Boat Suncomfort Sunscreen gives your skin a comfortable moisturized feel while still protecting you from the sun. It is also formulated to help brush off sand easily, making your ride home from the beach a lot more comfortable. This lotion is available in SPF 30 and 50+ and is water resistant for up to 80 minutes. It's so good that I had to mention it again after my "Summer Beauty Essential Products Under $100" roundup. Definitely a must for your next beach trip!
…
Sunscreen should be an essential part of your skincare routine. It is necessary to protect your skin from the aging and damaging effects of the sun daily. Given all these options for affordable sunscreens, there is no excuse not to use them! Which one will you be putting into your bag this summer?