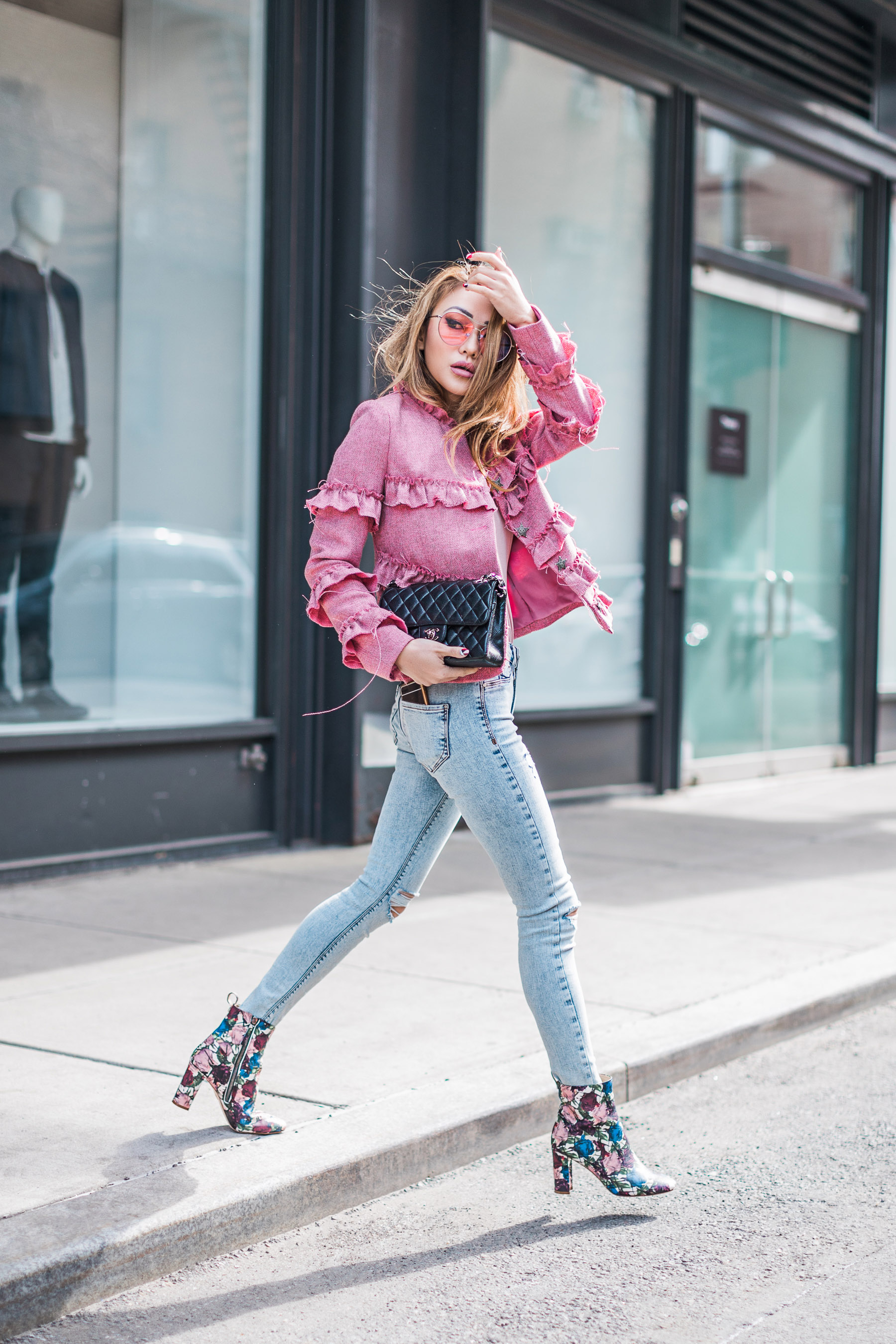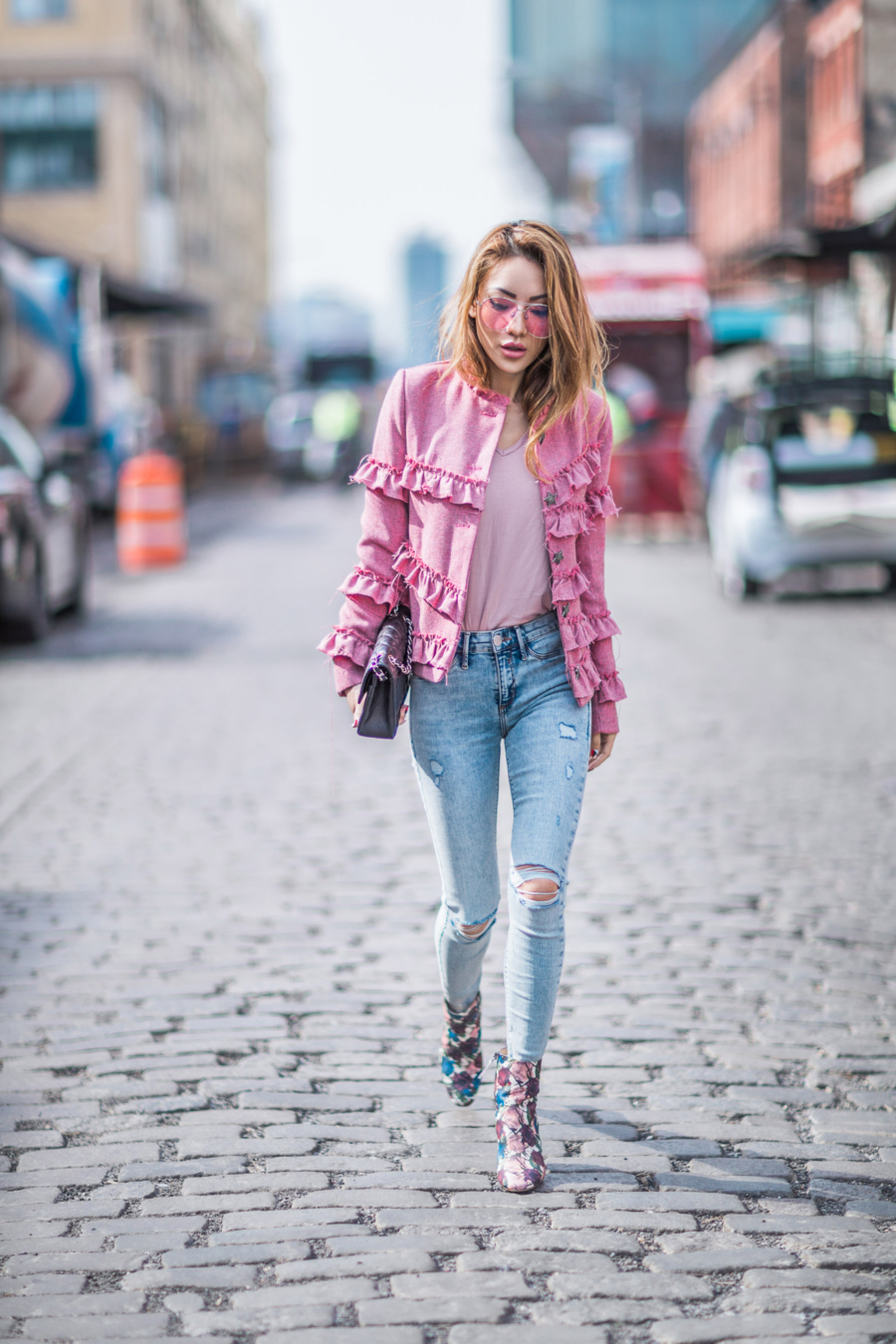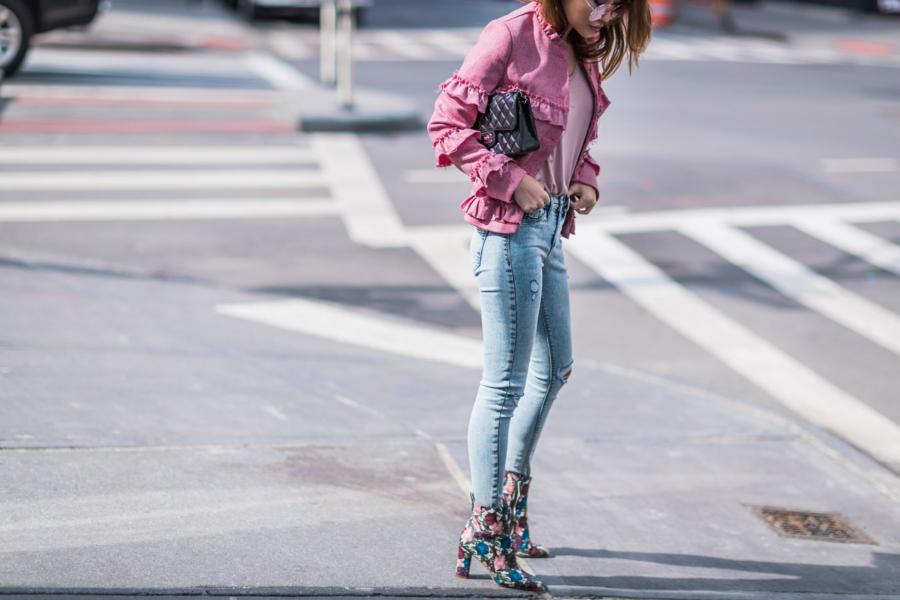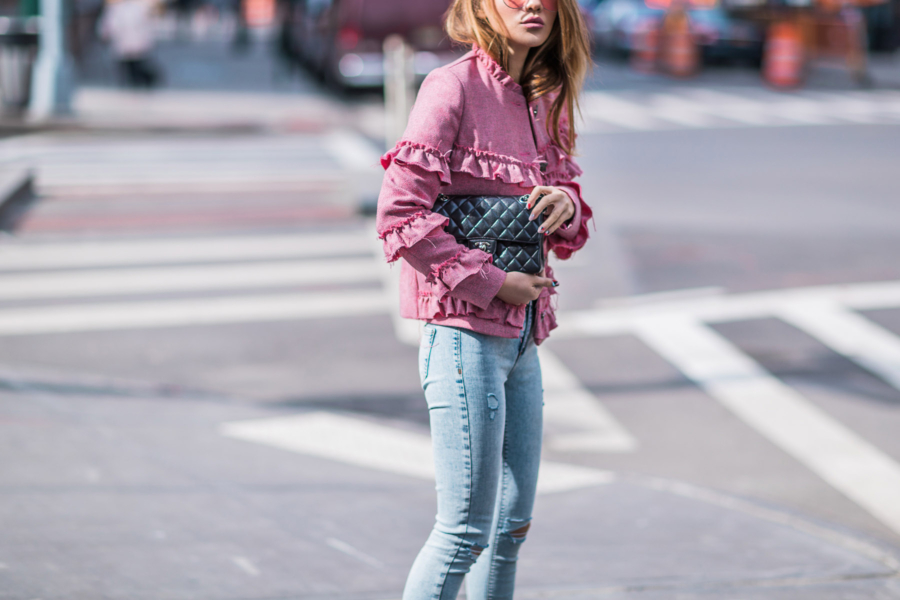 Jacket: Storets | Top: Amour Vert | Jeans (similar here) | Boots: Chelsea Paris (similar here)
Bag: Chanel (similar here) | Sunnies: Gentle Monster (similar here)
…

…
I
love spring! Because I love spring fashion and warm weather. You know that I haven't stopped thinking about it ever since seeing all the trends at fashion week. And even though New York City just had another snowstorm this week, I can't help but think about every outfit I'll wear when the temperature outside is absolute perfection. What can I say? I'm finally starting to feel like myself again.
The best part about spring 2017 fashion? The essential trends are so me, and everyone can find that one trend that fits into their aesthetic. For me, it just happens to be all of them. I am in love with the bright colors, feminine details, and vintage vibes that are so hot right now.
Spring 2017 fashion brings a lot of brilliant elements into the mix. It's all things romantic and colorful and dramatic, but in a completely new way—the 2017 way! But it can be a bit overwhelming—and hard on the budget—to keep up with every trend, especially with so many great ones this season.
So I did all the work for you, and put together your essential guide to everything you need for on-trend Spring 2017 fashion!
1. Pink: bold and bright, highly saturated colors are the essential part of a trendy spring wardrobe. I say go for colors you're not used to, like pink! Pink is romantic, feminine, and super chic when paired with the right outfit, and in the right hue. If I could, I'd never stop wearing this pink jacket I got to wear!
…

…
2. Stripes Galore: Stripes are such a strong pattern. They play well with other patterns, and really scream spring. Stripes also really work for work outfits, and some with so many options. A blue pinstriped button-down is an absolute spring must every year.
…

…
3. Feminine Details: It's all in the details, darling! From head to toe. This spring, it's ruffles and bell sleeves galore! But in a subtle way–when there's too much ruffles, things can get costumey very fast. That's exactly why I love the ruffles on my pink jacket, because they're almost "blink and you'll miss it" ruffles. They're not overpowering, but they give that feminine flair that is so on trend this year.
…

…
4. Florals: A floral dress, shirt, skirt, you name it! If it's got bright flowers on it, you're so on trend. Since I love the unexpected, I went for these boots in a floral pattern. They are amazing, and so spring. And at the same time, they also work for winter! I love all the color they bring to any outfit. Bold and bright patterns other than florals are totally on trend right now, too!
…

…
5. Strong Shoulders: A jacket or blazer with a strong shoulder is another element that's on trend this spring, which is the perfect contrast to such feminine touches like ruffles, florals, and pink!
…

…
6. White Jeans: Nothing says spring and summer like fresh white denim. Update your denim wardrobe this year with white, ivory or earthy hues. Lighter jeans pair well with bright colors, because they give the bright colors and patterns the opportunity to stand out. They also play nice with darker hues, add a pair black ankle boots and a bomber jacket, you just got yourself the ultimate cool girl look.
…

…
7. Playing Peekaboo: A little show and tell, get ready to peekaboo into the spring. With the perfect pieces, you can show some skin but still stay somewhat covered. A sheer top, a pair of or a dress with cutouts is the perfect amount of sexiness for a spring outfit: not too sexy, so it's still totally chic.
…