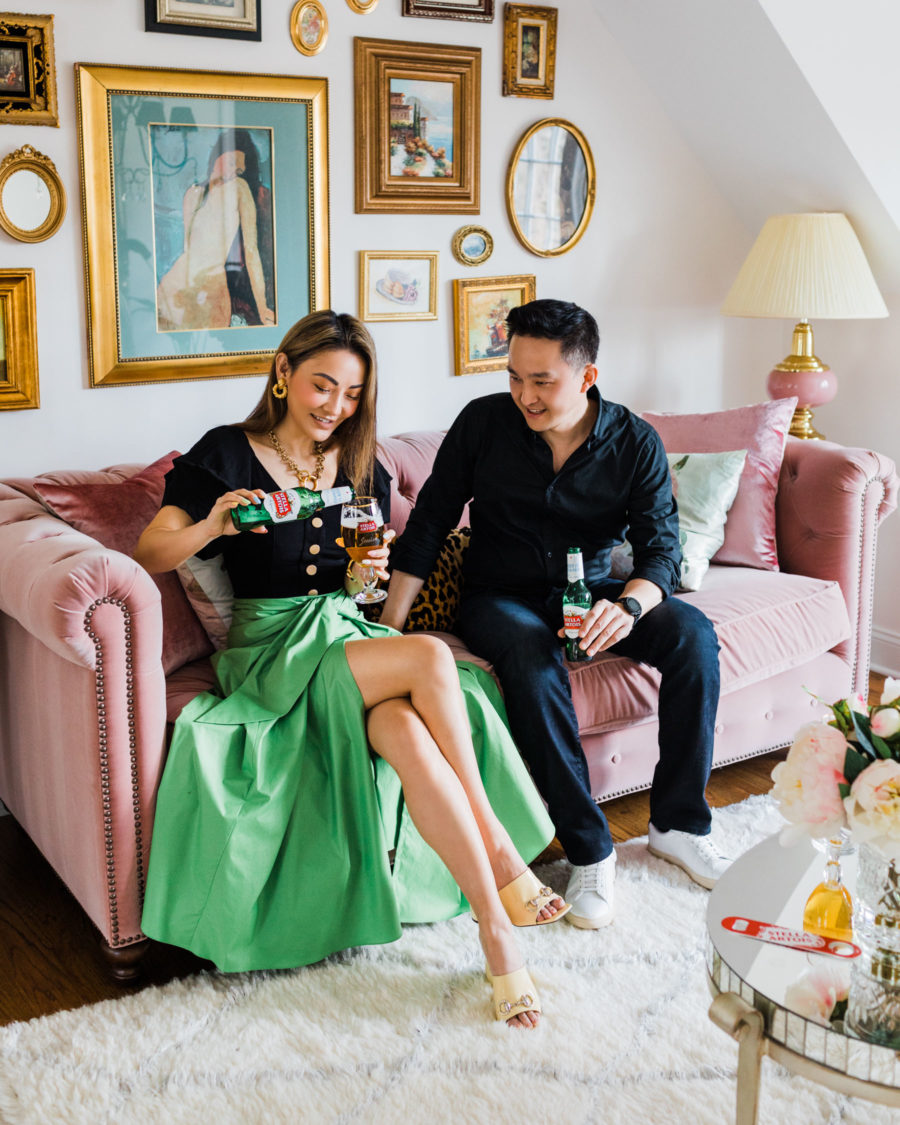 Button Blouse Similar | Green Skirt Similar | Yellow Mules Similar | Chain Necklace Similar
H
appy Good Friday! We're another
week down in quarantine mode
so I wanted to rounded up some of the movies and series keeping me afloat right now. I tried to stick to mostly new flicks but included some older ones that were worth re-watching. So if you have time to kick back this weekend, these movies will get you through a binge watching spree.
…

…
Movies
Ford vs Ferrari – A perfect Hollywood flick that tells the story of Ford beating Ferrari's legendary vehicles in the 1966 24-hour Le Mans race. It's heart wrenching in unexpected ways but also inspiring. Plus, with Christian Bale as one of the key actors, I knew it wouldn't fall short of amazing.
Knives Out – A murder mystery surrounding one wealthy family that's witty, entertaining, and humorous. It keeps you on your toes and waiting for more since the story is so interesting. The fact that it's rated PG-13 means its mostly family friendly so you can watch it with the gang for a movie night.
Midway – Finally, a movie that actually depicts Pearl Harbor the right way. I love a good war movie, and this one is one of the most accurate I've seen. I was surprised that there were so many poor reviews. I personally enjoyed the story of the soldiers and high-ranking officials involved in one of the most important battles of WWII.
Parasite – Here's a movie that's definitely not for the kids… This movie depicts the life of a poor family who manages to infiltrate the home of a much wealthier family. It hit on so many important themes from greed to social classes to family and more. As the story unravels, you'll find yourself heartbroken, laughing, or in full suspense mode. It's definitely one to watch as you're quarantined at home.
Contagion – This movie is not new by any means, but I don't think there's a better time to watch it since we're all locked up inside. It's about an airborne virus that kills within days and the world struggles to find a cure (sound familiar?). It gives a very real depiction of what would happen today if this were to happen right now! Prepare yourselves!
John Wick – All action fans know that John Wick is one that never gets tiring. With each movie being better than the previous, it's hard not to get addicted. The fighting scenes, whether hand to hand combat or full blown shoot outs, are one of the most realistic out there. I can't wait for Part 4!
Sicario – Another action series that doesn't disappoint. The movie tells the story of FBI operations in the US-Mexico drug war. I love how it's fast-paced and takes you on a thrilling journey – definitely waiting for Part 3!
Inception – I've been having very vivid dreams lately – and apparently I'm not the only one (more here). This all takes me back to the movie Inception, which shows how dreams can often feel so real that you can't distinguish them from reality. What gets me about this movie is that I grasp something new about the plot every time I watch it.
The Farewell – Praised by the likes of Vogue and many more, I just had to see this movie. It follows a Chinese family who discovers that their Grandmother has been diagnosed with cancer and only has short time to live. The family decides to hide the truth from her as the grand daughter (played by Awkwafina) struggles with complicated cultural dynamics.
Secret Life of Pets 2 – It's not every day that I come across a kid-friendly movie that I actually love, but I thought The Secret Life of Pets 2 was brilliant. It takes you (and the kids) on a super cute adventure of pets solving their problems and overcoming fears. I won't say too much here because then you'll know exactly what to expect from the movie!
…
Dramas/Series
Tiger King – If you don't already know, you've probably wondered what the buzz is on social media with the blonde guy and his tiger. Well, let me tell you… Tiger King is a documentary that follows Joe Exotic, a guy that's passionate about breeding wild cats in his exotic zoo – and details the drama that unfolds with animal rights activists. Both are on a journey to tear each other down. I've been binge watching this series because it's wildly unpredictable.
Crash Landing On You – I'm not your typical K-drama girl in that there aren't many series can't stop binge watching. However, there's something special about Crash Landing On You. I love that it's not just a cheesy love story but covers all ends of the spectrum – drama, action, romance, and humor. This series is about an elite South Korean business woman who ends up in North Korea after a tornado. A North Korean Army officer then helps her hide and escape back to South Korea. Once you start, you won't be able to stop!
Self Made – I love a good female empowerment series. This one reveals how Madam C.J. Walker, an African American woman, goes from rags to riches. She's the first African American self-made millionaire, which I love because diversity and representation are more important than ever. I found this one to be inspiring and entertaining – but the best part is, it's based on a true story!
Conversations with a Killer: The Ted Bundy Tapes – I'm sure everyone knows who Ted Bundy is – but in case you don't, he's one of America's most infamous serial killers. This series reveals never-seen-before footage and tape recordings that give you a look inside his mind. Not going to lie, it's not for the faint of heart but if you love a good thriller and criminal mystery, this one is for you.
Next in Fashion – If you need some fashion in your life, I recommend watching Next in Fashion, a reality TV show hosted by Tan France and Alexa Chung. In this design competition, top designers from around the world come together to compete for a grand prize of $250k. I love how it showcases the reality of fashion – highly opinionated individuals combined with never-ending drama.
…
What have you guys been binge watching?