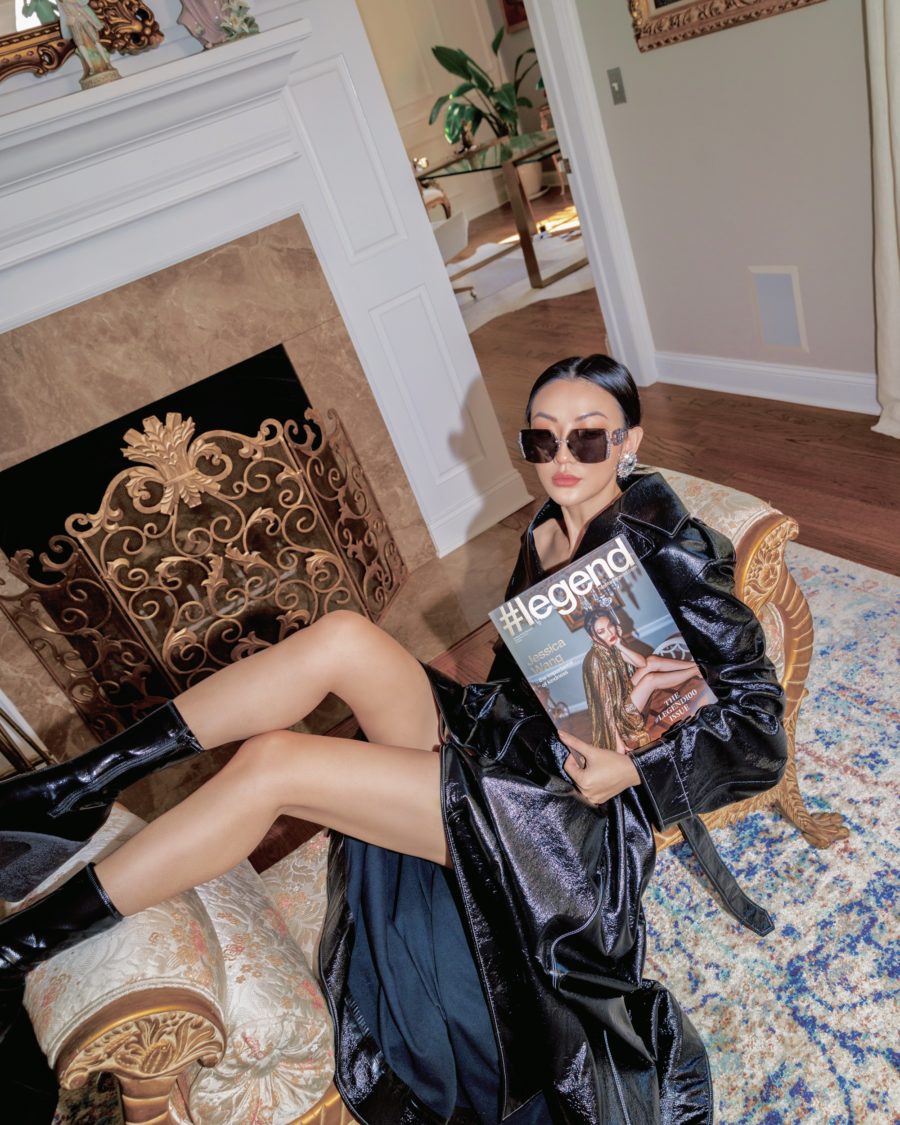 Erdem Leather Trench Similar | Valentino Sunglasses Similar (Affordable) | Stella McCartney Heels (Similar & Affordable)
B
y now, I feel like we are collectively Zoom meeting experts but does anyone dread turning on their cameras? In the privacy of our homes, it can sometimes feel uncomfortable having your face displayed on screen! However, this is the way of the business world in 2021 and we just have to make the best of it. After countless video conferences, I found that
fashion-forward accessories
and the right makeup can go a long way in ensuring you do not look too washed out on camera. Below, I'm sharing my current Zoom friendly accessories and beauty hacks so you can look your best for any video call. All you need to do is pair any of the following with a cute top (feel free to keep your cozy bottoms on)!
…

…

Beret
Hats are some of the best accessories you can invest in for your Zoom video calls. Since the camera angle is mainly from shoulder height and above, your efforts will not go in vain as your peers will surely take notice of it! For something trendy and classy, ideal for pairing with your business casual fits, the beret is the perfect option. I love a good neutral beret in black or grey that can easily pair with blazers, blouses or cozy sweaters.
…

…
Bucket Hat
Depending on your work culture, you could also opt for a more youthful bucket hat. This head accessory is great for covering up a bad hair day, especially if you woke up late and need to hop on a video call quick! You can get a little more playful with your bucket hats because there is more of a variety to choose from from fabrications (leather, sherpa, denim) to different prints (animal print & plaid). Take your pick depending on what your style is!
…

…
Headband
Zoom aside, one accessory I'm crushing on right now would definitely have to be the headband. A beaded or pearl encrusted headband adds so much elegance to any look. These Zoom friendly accessories don't just create lot of interest but they do an amazing job of framing and slimming the face. Whether you wear them with a ponytail or with your hair down, this is a quick way to feel like you are getting dressed up without a lot of thought and energy.
…

…
Dewy Skin
When it comes to Zoom beauty hacks, the first thing you want to focus on is your skin! Let's be honest, the webcam is not the most flattering. Sure, you can add on the beauty filter but you could also cut right to the chase by focusing on already having dewy, bright skin. To achieve this look, layer on a hydrating serum, facial oil, or luminous primer before applying your everyday makeup for soft, glowy skin.
…

…
Red Lip
I recently started rocking the red lip more frequently because it adds more color and life to your face! Plus, I don't know about you, but a red colored lip always makes me feel more powerful and efficient so it might even boost your workday productivity! My favorite reds are from Tom Ford, Charlotte Tilbury & MAC!
…

…
Winged Eyeliner
Just like the red lip, a great way to look awake and alert during any video call is a good wing eyeliner. You will want to start off with a smooth, creamy base of concealer to brighten up your skin and lighten any under eye bags. Then, swipe on some powder to set it. Once your lids are prepped, you could go as dramatic or as subtle with your eyeliner as you want. Personally, my go-to is a durable, long-lasting liquid eyeliner so I can get a really dark, impactful wing.
…

…
I hope these Zoom friendly accessories and makeup hacks will get you all set up for your next video call! Let me know how you prep for your Zooms!