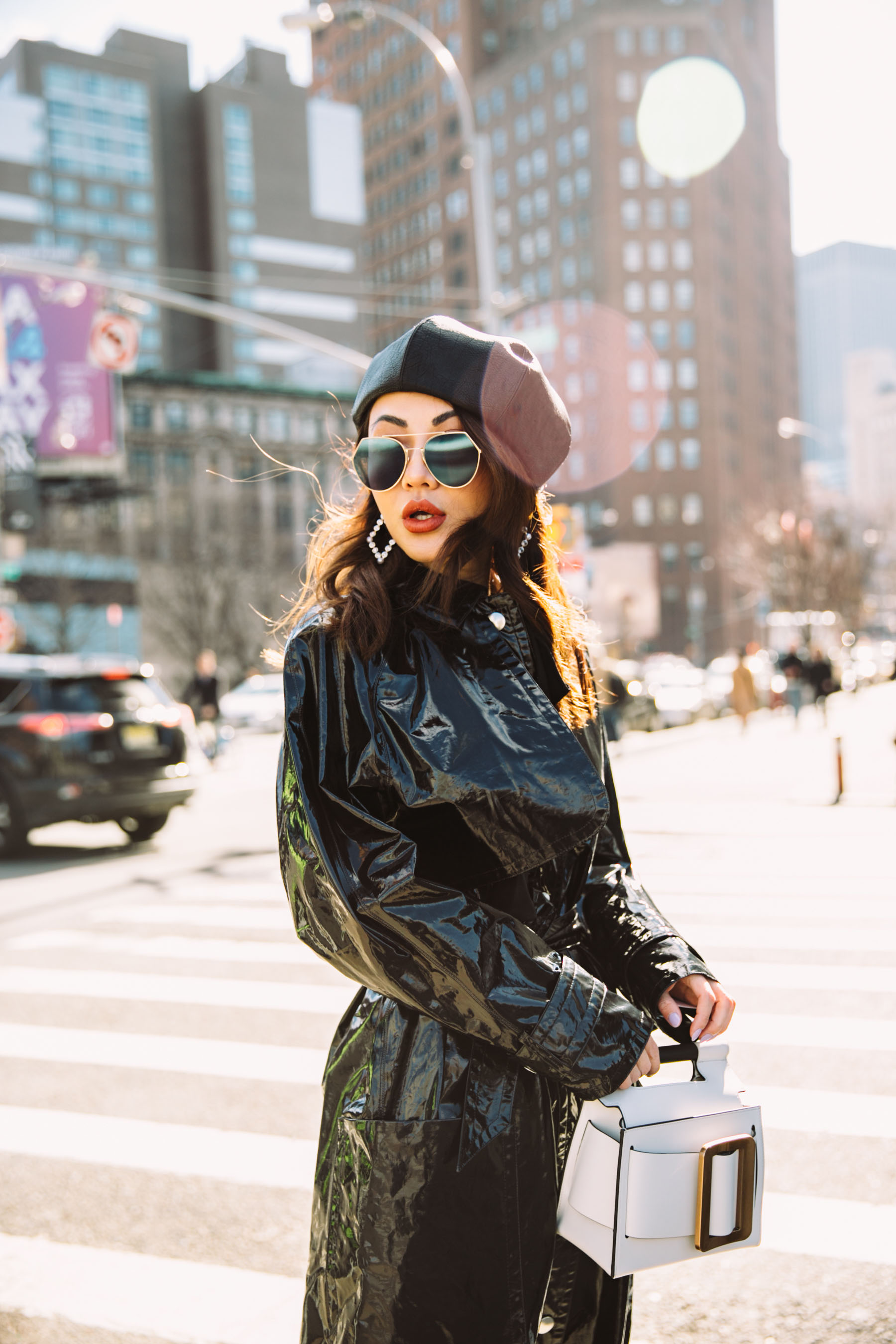 Leather Beret Similar (Steal) | Vinyl Trench Coat (Affordable) | White Blouse with Bow Similar | Isabel Marant Skirt | Fendi Mirrored Sunglasses | White Buckle Bag Similar
Y
ou might remember this look from
one of my NYFW recaps
, but I wanted to highlight it in a separate post because vinyl has been all the rage. I remember the emergence of the vinyl, patent leather, and rubberized look back in 2016 – and I thought it'd only be a fad. After this fashion week, I'm convinced that it's not going away. And that's exactly why I'm showing you how to wear vinyl like a street style star.
…

…
This was probably my most photographed look of NYFW, which I think goes to prove that vinyl will go a long way. Here's how to wear it…
Jacket
Last season, I went with plenty of vinyl booties and pants. I took it a step further and chose a black vinyl trench coat. I've also seen many boxy vinyl jackets that look super cute with high-waisted pants or mini skirts.
If you want to pull off an oversized vinyl trench like me, look for accents to pop against the reflective texture like red boots, a white leather bag, or jewelry with gold hardware. The more contrast, the better.
I find that vinyl looks great with a pair of sunnies. Something like these thin gold frame ones work pair flawlessly.
…

…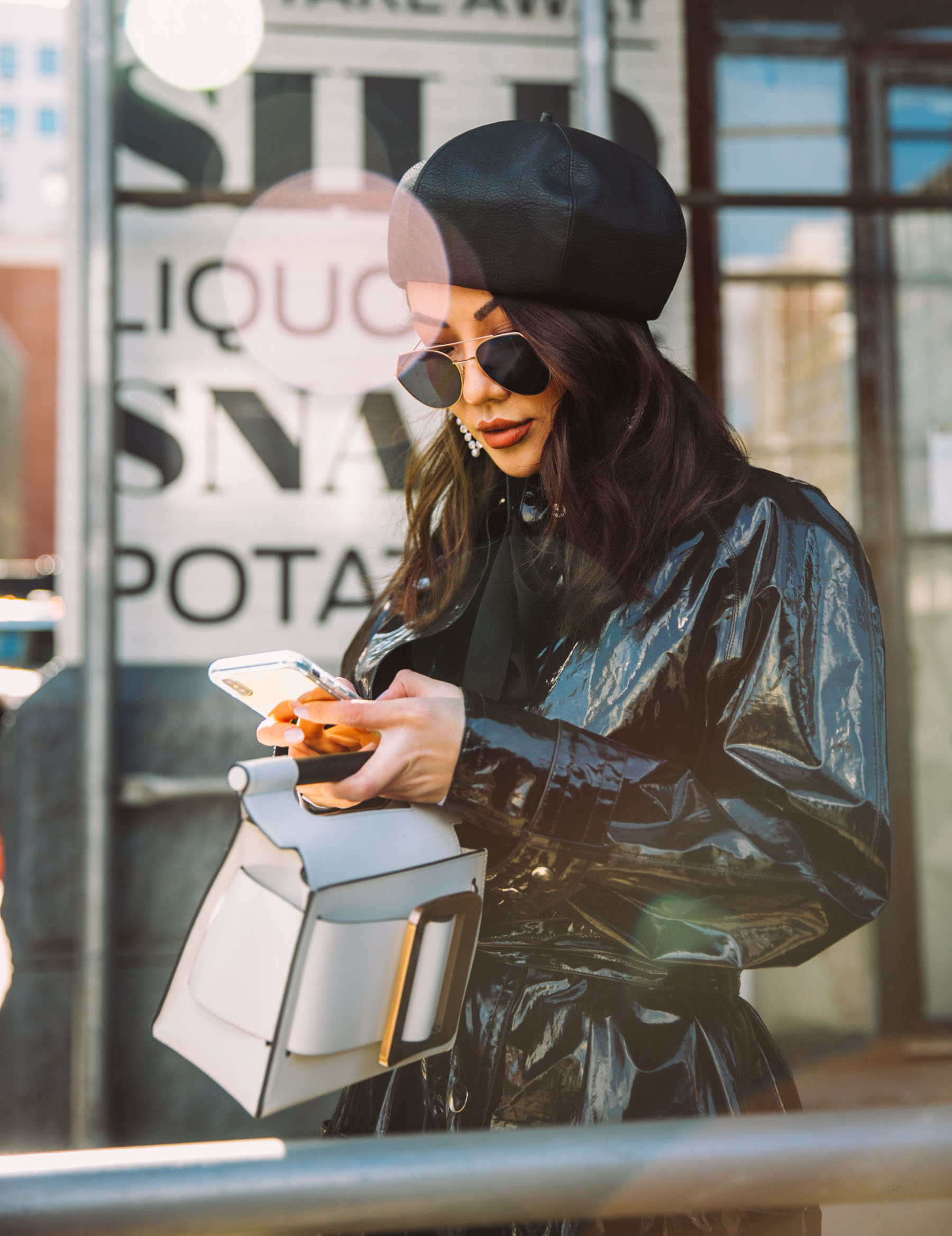 Shoes
Vinyl shoes are the easiest way to test the waters if you don't know how to wear vinyl. There's nothing classier than a patent leather pump or a vinyl ankle bootie. They look great with jeans, an a-line mini, or a sheath dress. If you're looking to add texture or dimension to your outfit, a high shine shoe is the way to go.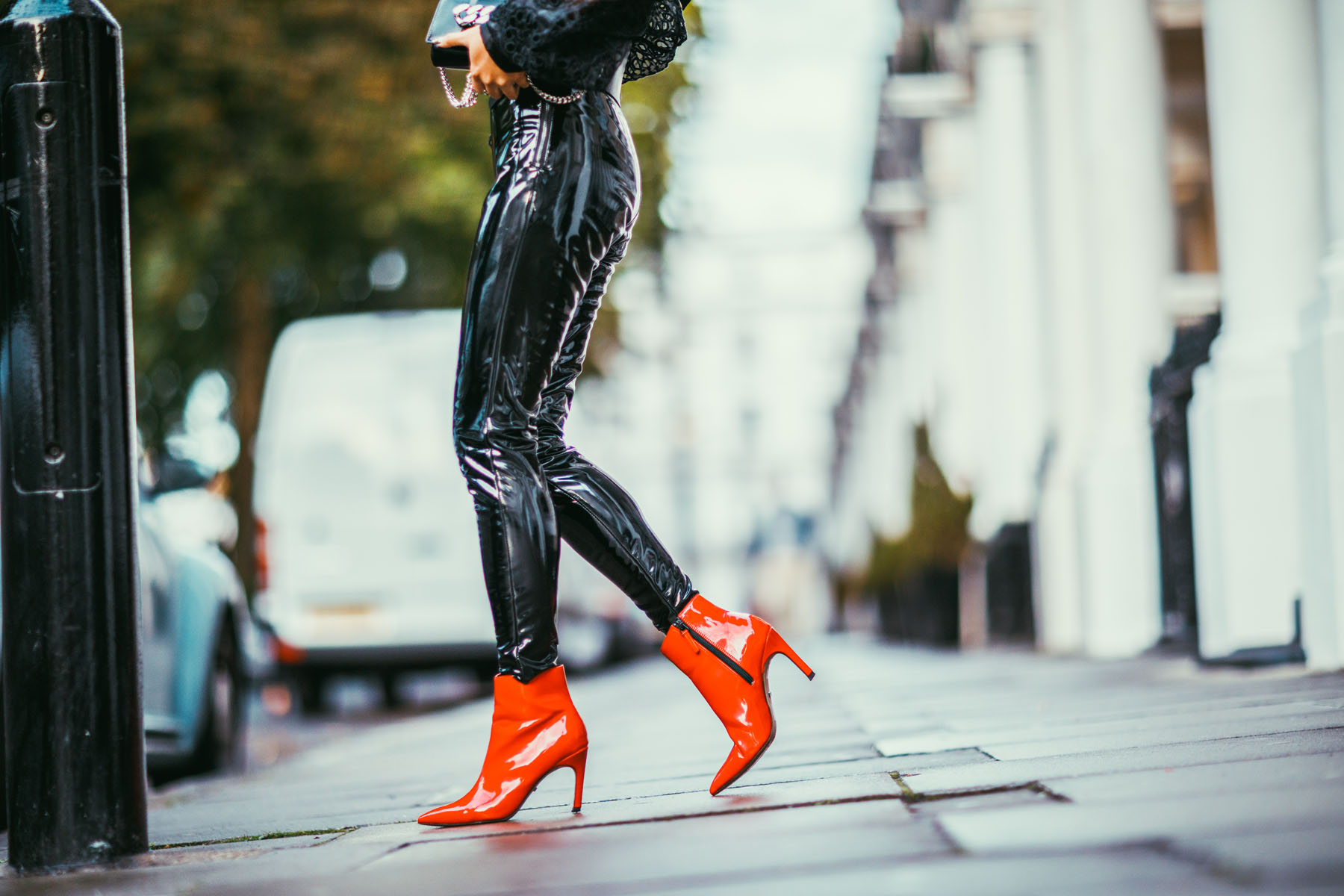 …

…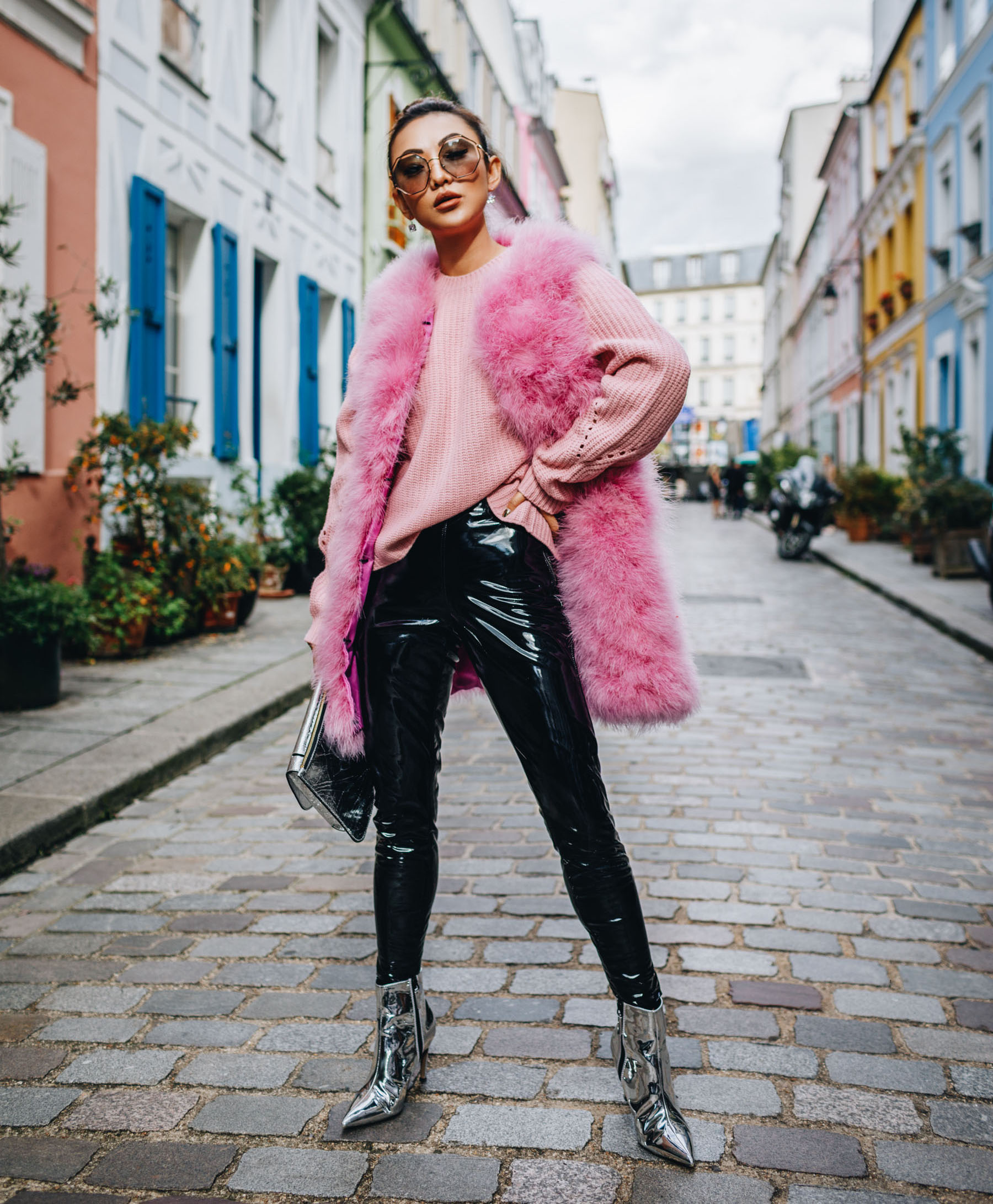 Pants
Vinyl pants can be trickier because they're such an "in your face" type piece. To wear it in a classy, sophisticated way, try a tapered, high-waisted pair with built-in belt. They look great with feminine blouses, knit tops, and stiletto heels.
However, if you like an edgier aesthetic like me, then a legging is perfect! You can pair it with lighter, lace tops or heavy knits. It also looks great with fur and wool coats.
Don't be afraid to throw color into the mix. Bold, blunt colors like hot pink and red always look great with vinyl pants.
…

…
Skirt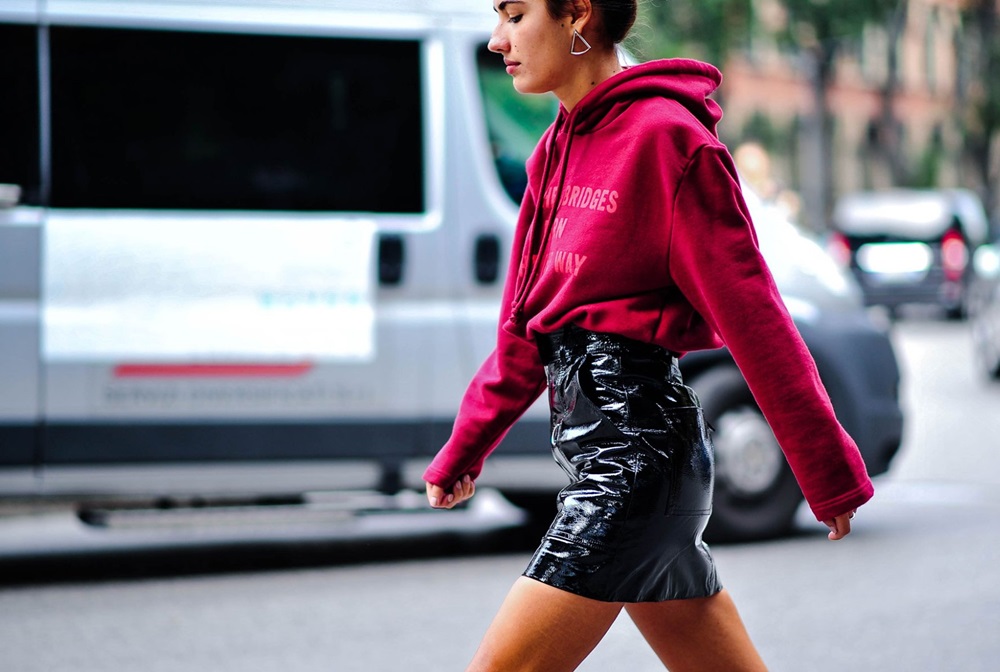 I love vinyl mini skirts – especially the ones with ruffles going across the front. Fun fact – I was wearing one underneath this trench. They're so much fun because you can wear them with a graphic tee, a polka dot blouse, or a turtleneck sweater. I styled mine with a frilly white blouse and a black skinny scarf that I used as a bow tie.
…

…
Handbags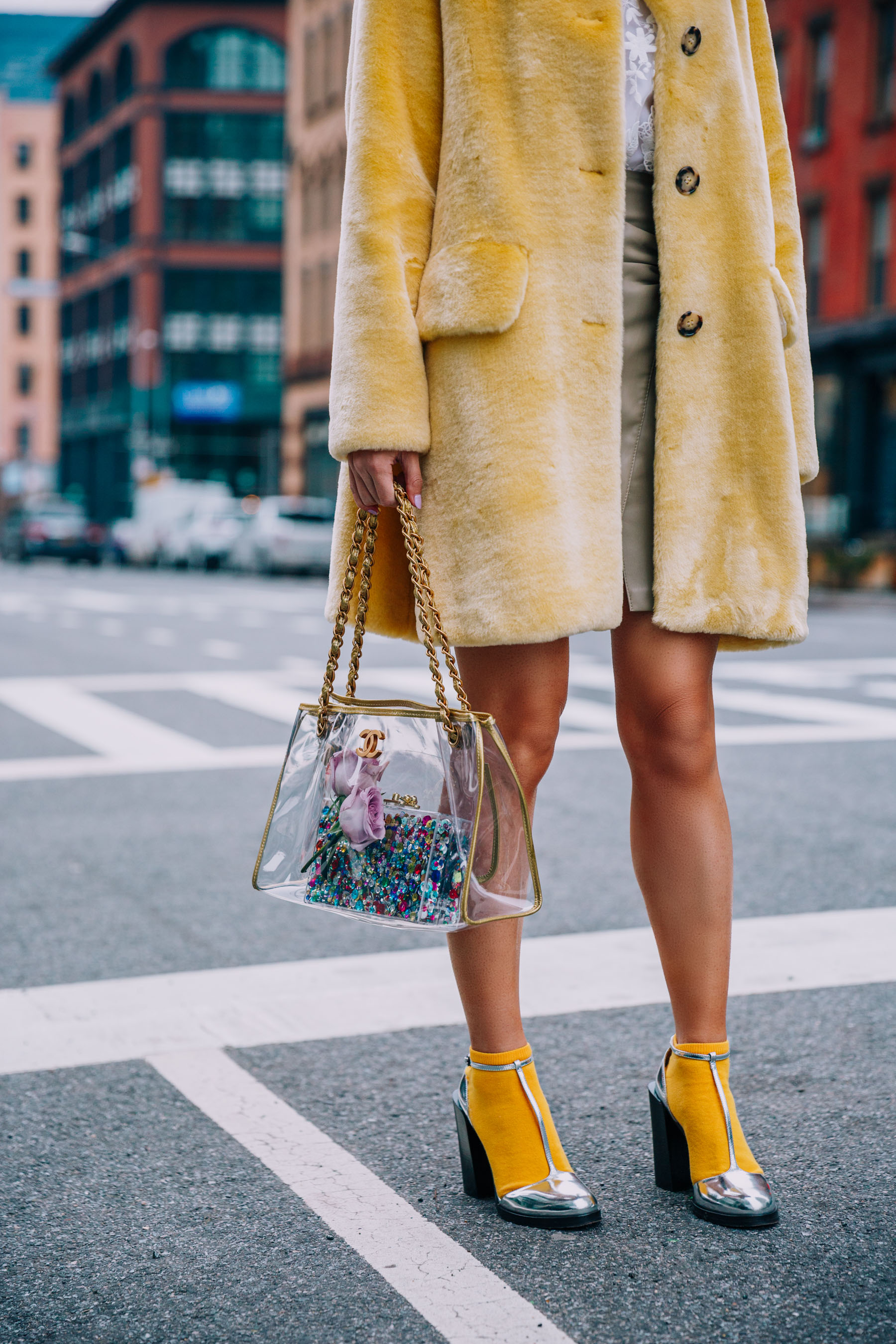 Aside from obviously wearing plain colored, vinyl bags, I suggest you try a transparent tote or clutch. Store a sequin or embroidered clutch inside of it for cool effect. I also did this during fashion week and was surprised with how my look came out.
…

…
Are you wearing vinyl now? Share your favorite pieces and styling tips below!