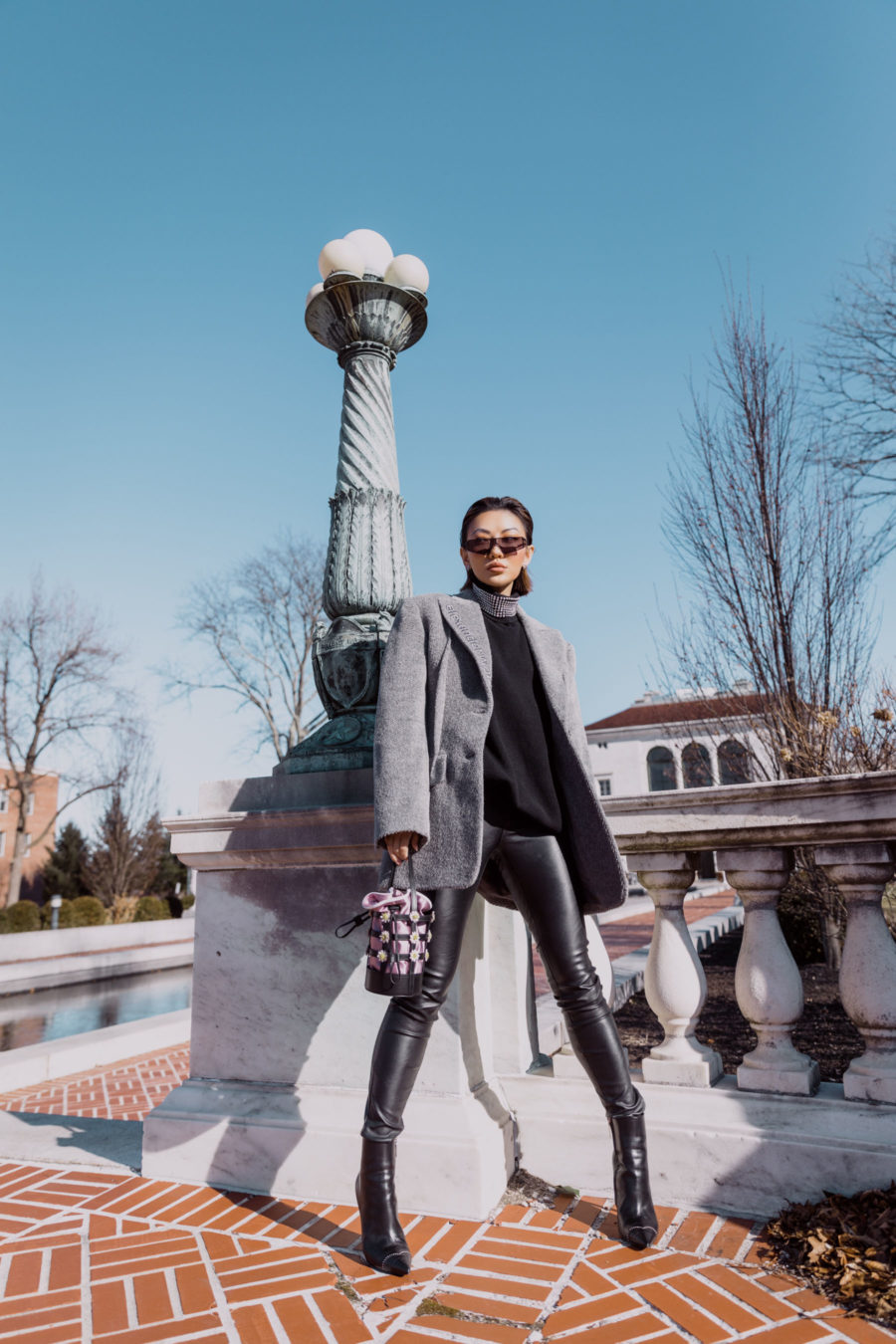 Alexander Wang Blazer (Sold out, Similar & Affordable) | Alexander Wang Sweater (Sold out, Sweater) | Leather Leggings (Similar here, affordable here) | Caged Bucket Bag (Similar here and here) | Western-Inspired Booties Similar
E
very season has its own set of fabrics. For instance, linen, gauze and crochet are what we often wear in the spring and summer while fall/winter is filled with plush knits, such cashmere and wool. Knowing how to properly care for fall and winter fabrics is essential because these materials are more expensive and
require a hefty investment
. If all you've done up to this point is read is read the label on your clothes, I wanted to dive in a little deeper today. I promise going the extra mile and being mindful of each fabrication is rewarding because you will extend the life of your clothes. Not only is this great for you, but the environment too because it means you can enjoy your clothes for longer! Let's delve into the proper ways to take care of your winter fabrics.
…

…
Cashmere
Did you know cashmere is one of the longest lasting fabrications out there? It is also quite pricey so doing everything you can to ensure it stays in tip-top shape is a must! Firstly, natural fibers like cashmere can pill and create pesky fuzz balls – which is not cute. You can delicately shave these off with a sharp razor or invest in a tool like a cashmere comb. As far as cleaning, it is actually best if you do not clean after every wear. I would say a handful of times is good but when it is time to clean, hand washing is always your safest bet to protect the integrity of the fabric. Use a mild detergent and cold water because any heat could shrink it!
…

…
Wool
This fabrication is very similar to cashmere because it is also a natural fabric. Again, you want to avoid frequent washing on any wool items. Typically, I like to give mine a clean once a season. Like cashmere, it is always recommended to hand wash. However, you can put it through a short cycle (cold water only!) in the washing machine. When doing so, I recommend using a mesh garment bag. Just let it air dry because it could also shrink if you are not careful. When stashing your wool away for the season, you can gently fold the garments in storage. If you choose to hang them, choose flocked hangers because it is quite easy for wool to get misshapen.
…

…
Velvet
This is another really touchy fabric to take care of. I always recommend using a very mild detergent if you choose to put it in the washing machine. However, if you get a small stain that does not warrant a deep cleaning, try using a clothes brush with soft bristles or a microfiber cloth to remove it first. Lastly, if you find your velvet clothing is wrinkled, do not iron it! This could damage the garment. Instead, place in the bathroom and take a hot shower or use a steamer to get rid of pesky wrinkles.
…

…
Embellished Clothes
Clothes with sequins, beading, rhinestones – you name it – are all obviously something you want to be extra careful with! It is important to preserve the embellishments so you do not ruin the clothing. Even a gentle wash cycle could cause something to snag and come apart. This is one of those winter fabrics where it might be a best practice to take to a professional dry cleaner.
…

…
Down Jackets
Cleaning a down jacket is dependent on how often you wear it. If you do determine it could use a good wash (more than a quick spot treatment), be sure to check the care label. A lot of time, down jackets are stuffed into backpacks are taken on the road, so if it needs to be fluffed up, you can pop it in the dryer on low heat. When you store it away for a longer period of time, hang it up. If it is balled up for long, the feather can be crumpled and ruin the insulation of the jacket!
…

…
Leather
A real leather jacket or other clothing article is such a good investment because it truly is something that can last a lifetime… that is, as long as you take care of it! If there is visible dirt on your leather piece, you only need a damp cloth to wipe it away. To protect your clothing, you could use a waterproof sealant because leather is prone to water and moisture damage. If it does get wet, be sure to air dry. For storage, hang your leather clothing on a padded hanger to avoid creating creases or wrinkles. Considering a dry cleaner? You'll need to make sure they specialize in cleaning leather!
…

…
Faux Fur
One of my all-time favorite fabrics if faux fur, but it's easy to be completely clueless on how to care for it. To do so, avoid wearing it in the rain and wash infrequently. When I do wash mind, I like to place the item in a mesh laundry bag before tossing it into the washing machine. Be sure to select the select the delicate cycle with a cold water temperature and low spin. I let mine air dry and it usually does the trick. If I want to fluff up the fur, I will put it in the dryer for a quick minute on the lowest heat setting.
…

…
What are your favorite winter fabrics and how do you care for them?