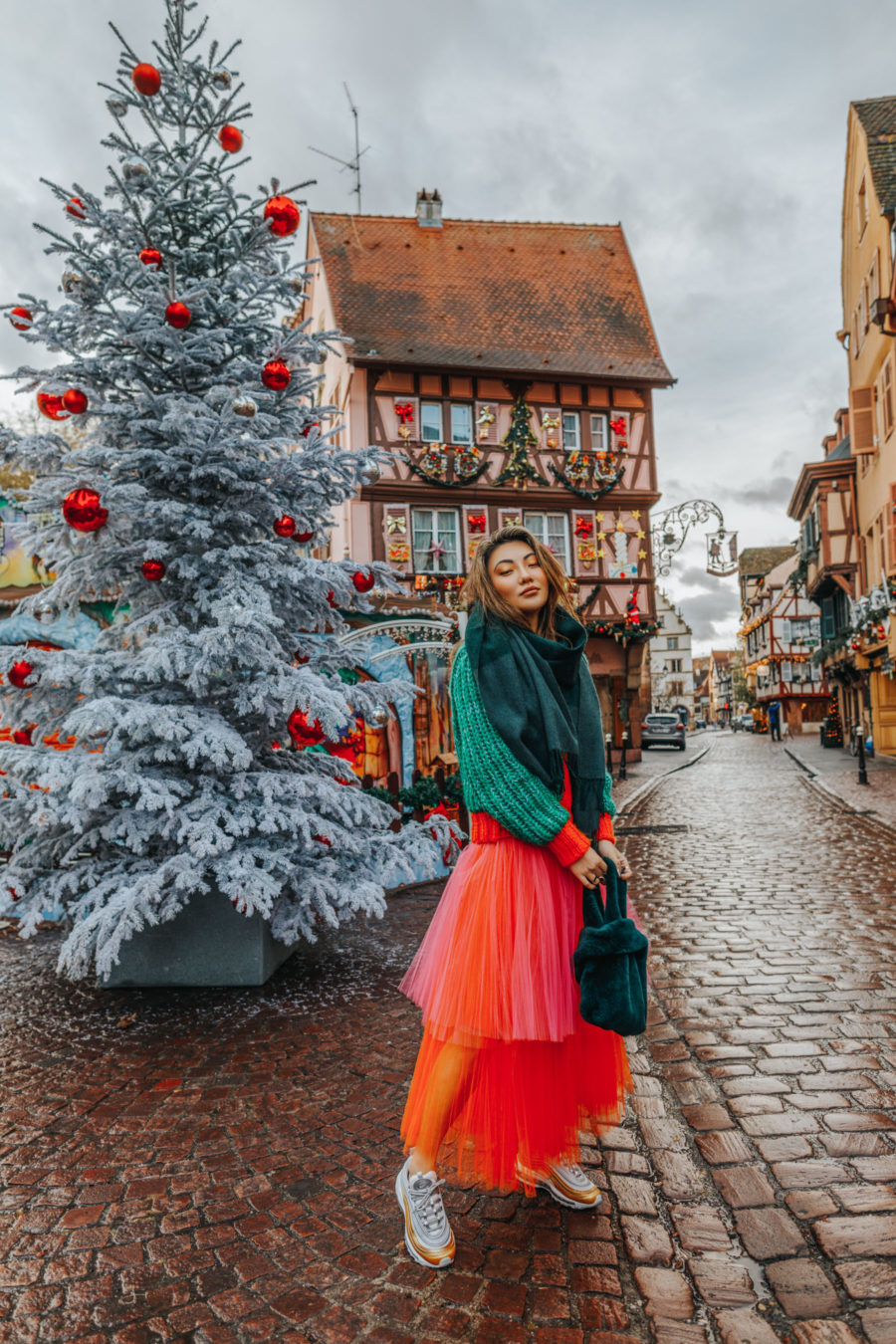 Novis Cardigan | Novis Skirt | Nike Sneakers | & Other Stories Scarf | Faux Fur Bag Similar
O
ne of my
New Year's resolutions
is to travel more to places I've never been to before. And if that's one of yours too, then I hope you have
Colmar
high on your bucket list. You guys might recall some of these photos on my
Instagram
from last month when I went to France for a two-week long vacation. There, I got to experience the magic of Christmas in Colmar. Dan and I had such an amazing time wandering through the beautiful neighborhoods, Christmas markets, and delicious meals. Now that things have finally slowed down, I've decided to put together a handy travel guide for you guys, so you can plan for this year – especially if you love Christmas!
…

…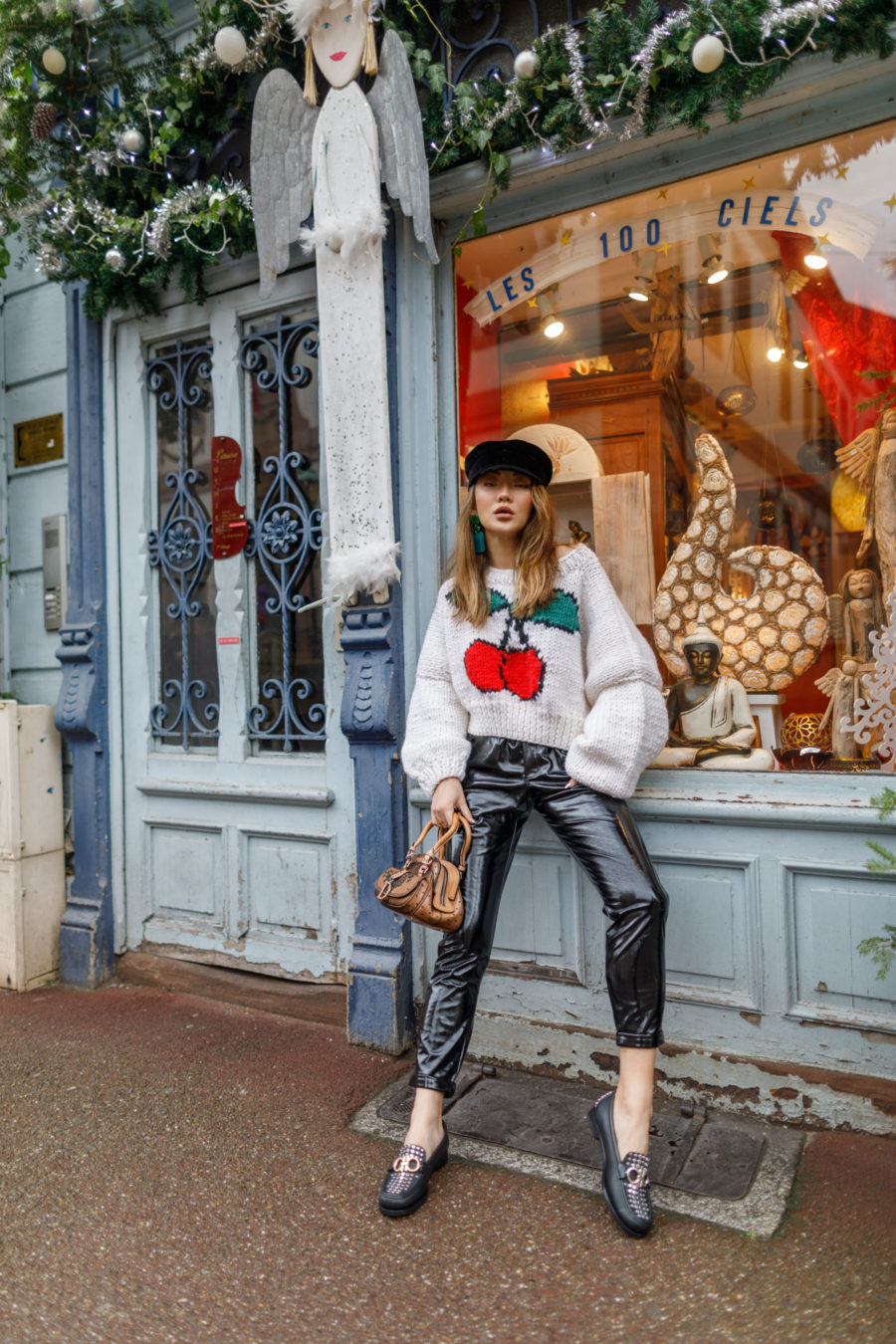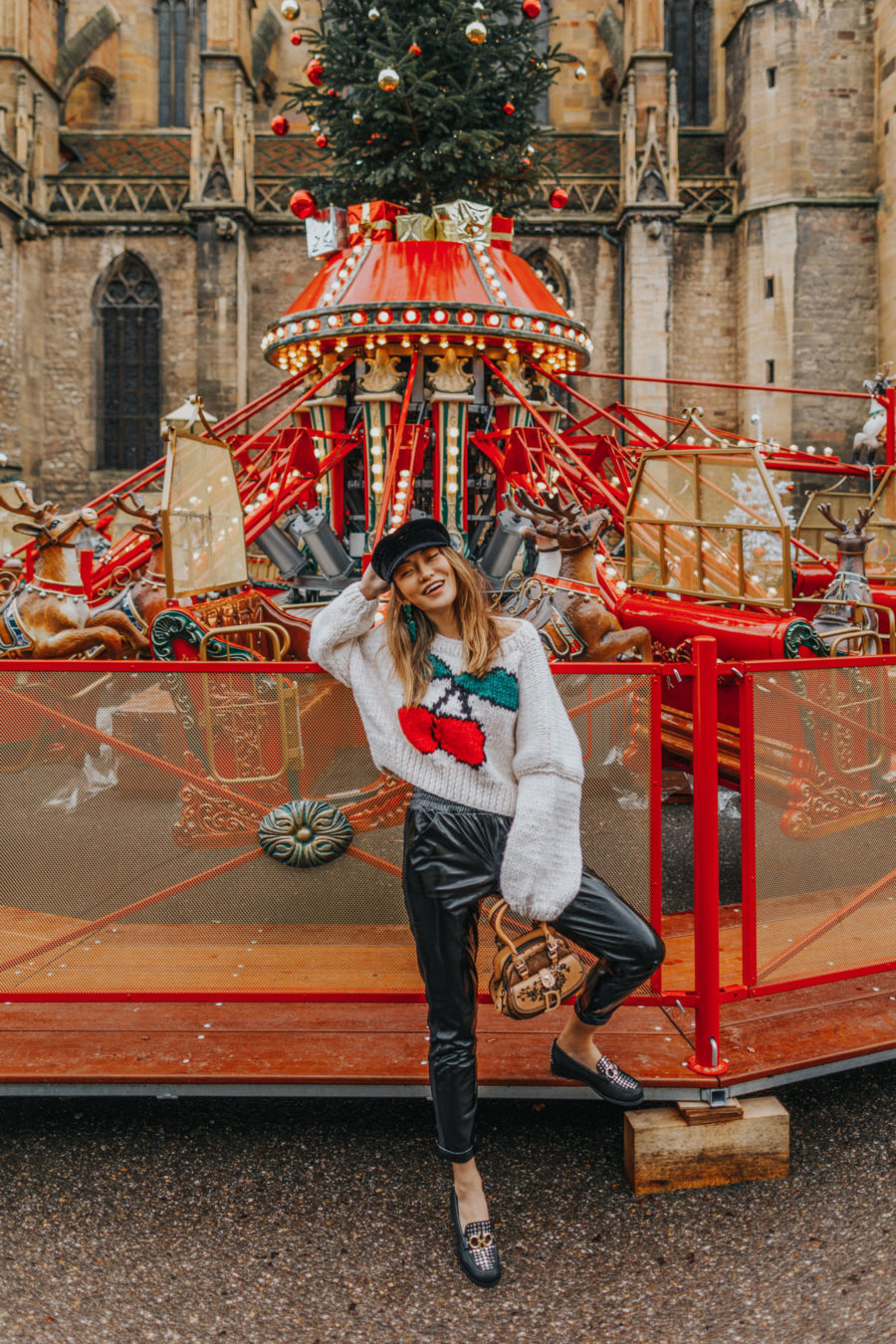 What to Pack
Colmar is situated in the Alsace region of northeastern France, which borders Germany. Here you can expect cold winters with mostly cloudy days, which warrants cozy jackets and lots of chunky knits. I opted for pieces that can be mixed and matched – and the usual cold weather accessories such as gloves, scarves, and hats.
In terms of footwear, make comfort priority. Think walkable shoes such as sneakers, loafers, and low heeled boots since most of the roads are made of cobblestones and can be extremely hard on the feet after hours of walking. I didn't experience tons of snow while I was there, but I'm sure it isn't rare. So in that case, make sure you check the weather before your trip and pack at least one option with treaded soles to prevent slip.
…

…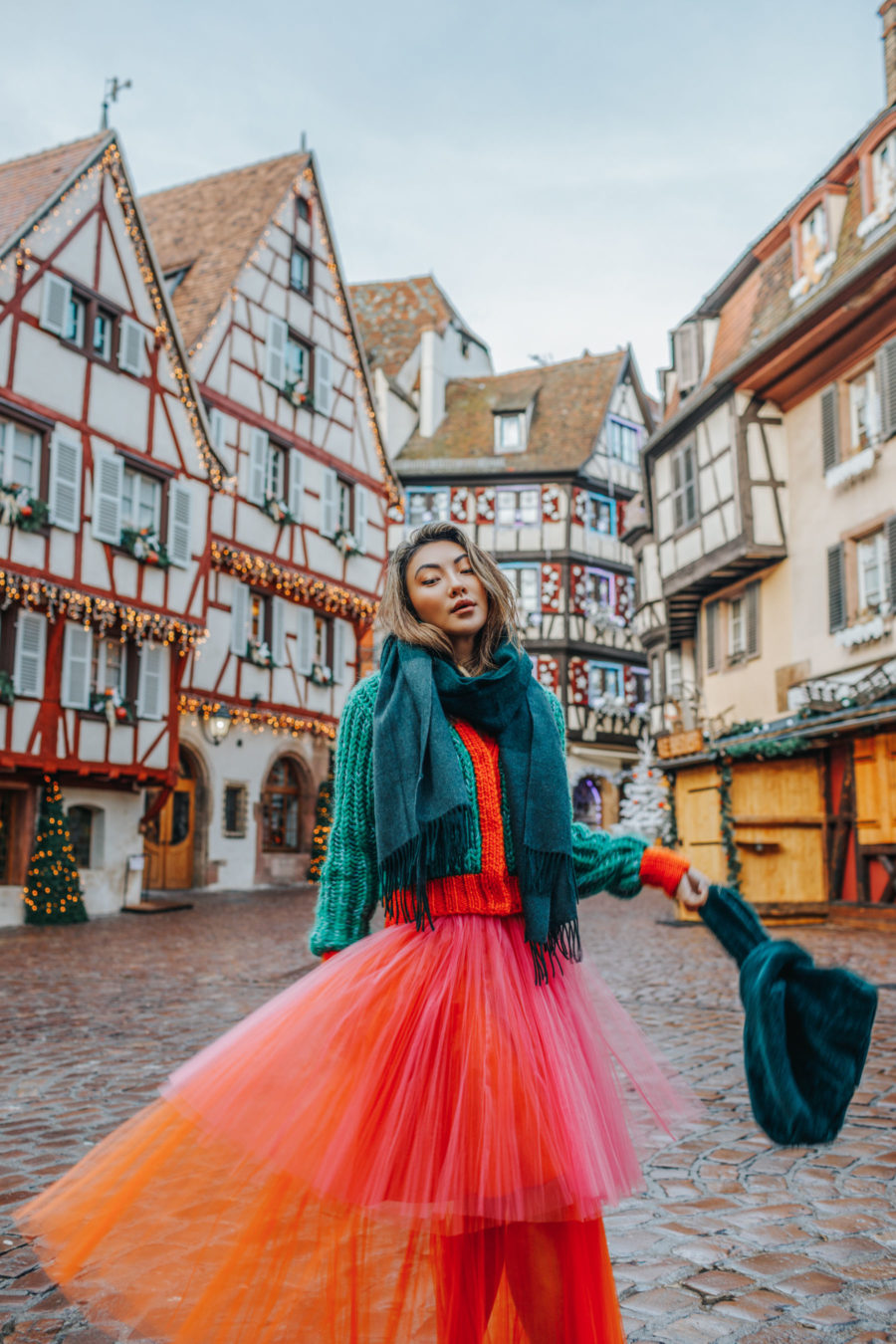 When to Visit & What to Expect
While I'm sure there is no wrong time or season to take a trip to Colmar, I highly recommend visiting this fairytale town in December since it's unlike any place I've visited before! During this time, Christmas dreams really come to life – and everything feels extra festive. I couldn't believe my eyes, seeing the town dressed up in tons of lights, life-sized ornaments, and the cutest stuffed animals.
The opening of the Christmas markets start on November 25 and lasts throughout December. And if you happen to be in France now, the Christmas spirit doesn't actually conclude until January 6 (just 3 more days). I visited back in mid-December – and even though it was crowded, I don't regret it one bit!
If you're not all that into Christmas, I can imagine this place being a wonderland in the spring as well – decked out in flowers and beautiful weather. It would be the perfect backdrop for wine tours and tasting.
Where to Stay
Since Colmar is a huge travel destination during the holidays, you can expect higher hotel rates. There are tons of options such as the quaint Le Colombier in the Little Venice district or the luxurious La Maison Des Tetes. However, I prefer to explore like a local, so I went with Airbnb.
…

…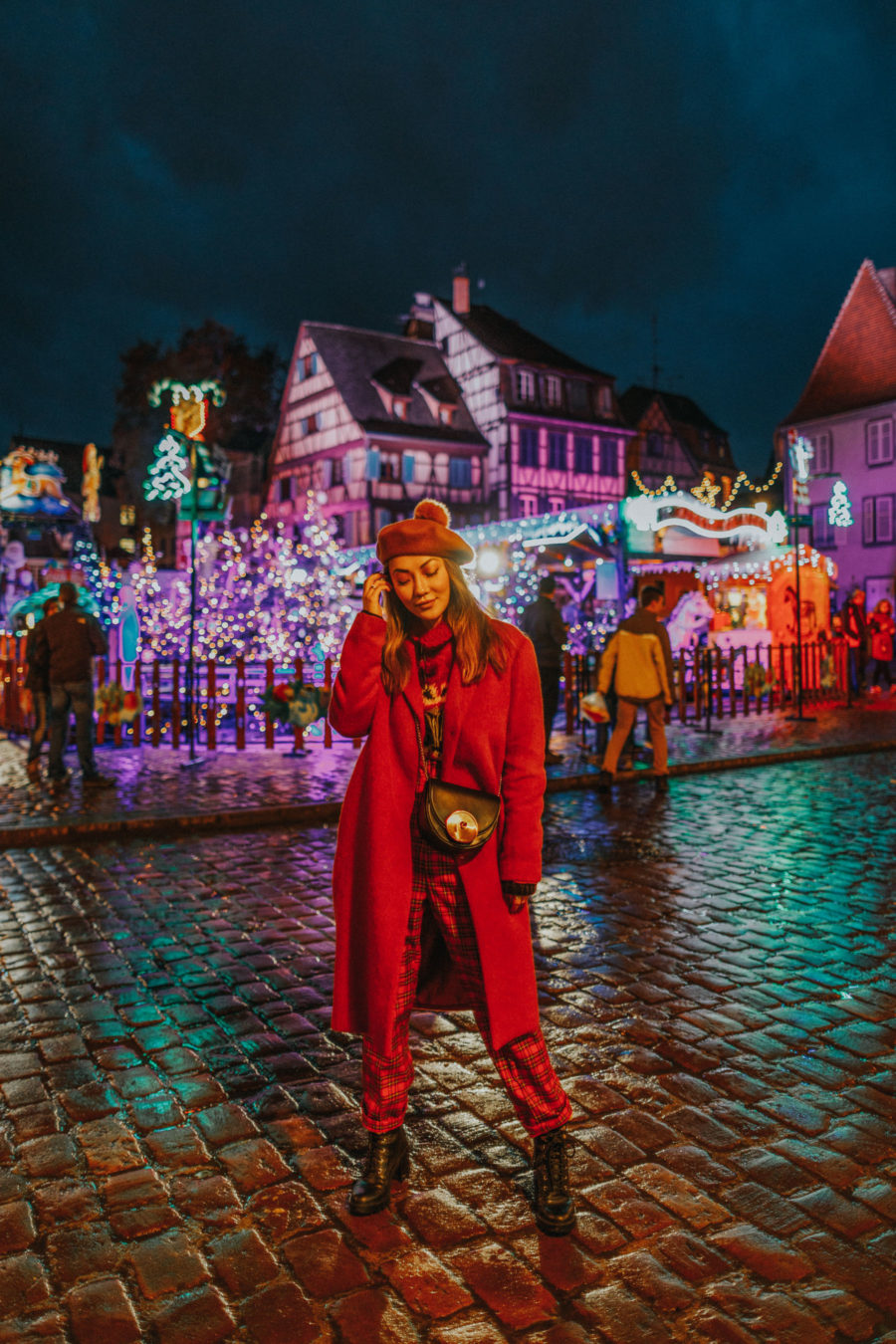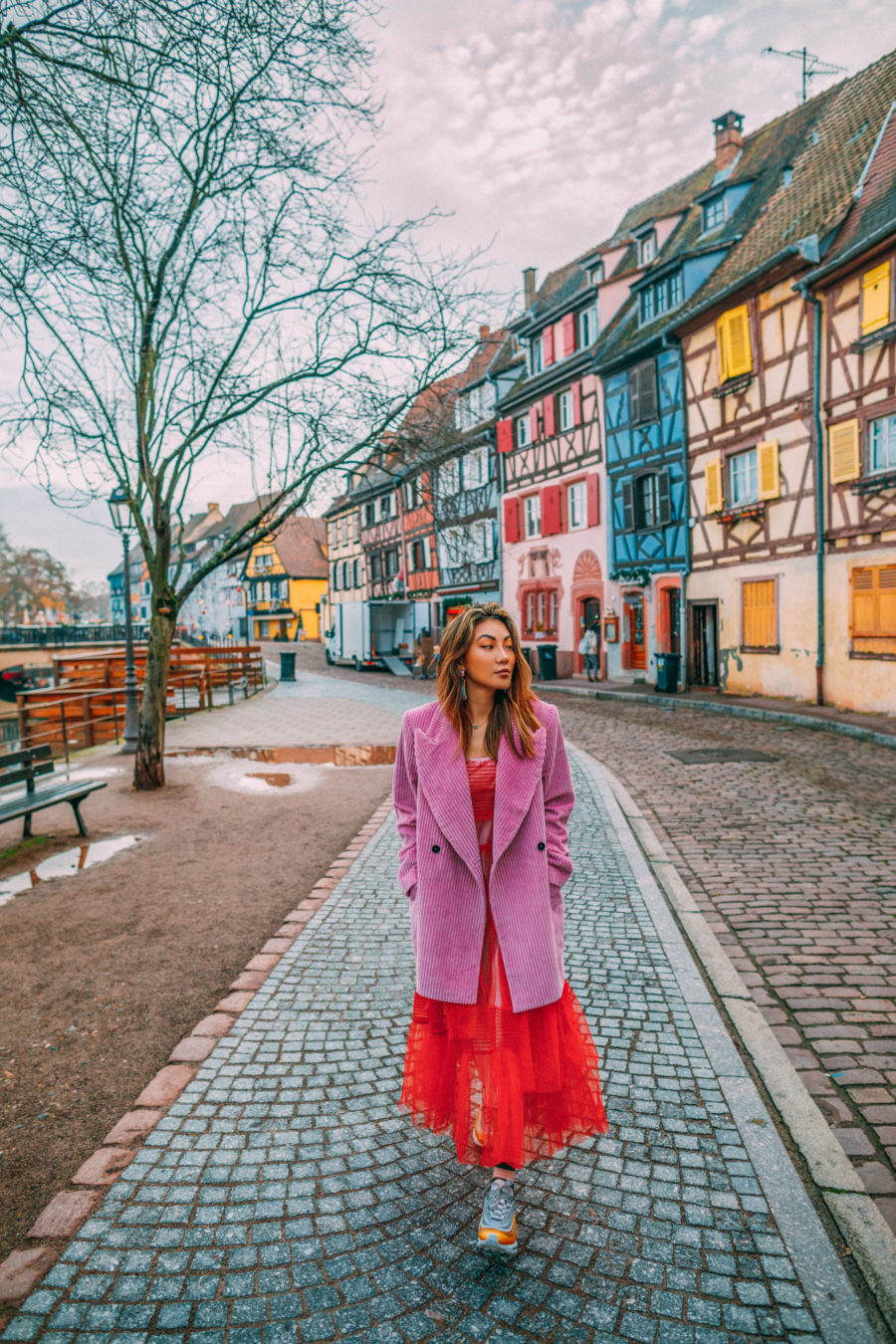 …

…
Points of Interest
Part of what makes Colmar so unique is that sits right on the border of France and Germany, giving you access to a mix of two different cultures. The first thing I noticed was definitely the infusion of French and German architecture, which is unlike anything I've seen before.
I also really enjoyed the meshing of French and German flavors when it came to the cuisine – so delicious! That being said, here are some must-see places:
Christmas Markets – There are 6 Christmas markets scattered throughout Colmar, which are the main attractions during winter. Each Christmas market sells unique items including ornaments, stuffed animal, decorations, food and wine, chocolates, and more! It was so hard resisting all the cute toys. Don't forget to grab yourself some mulled wine during your venture – it's a winter ritual in Colmar. The wine is warmed without coming to a boiling point and then flavored with spices and honey.
Christmas Park for Kids – If you have kids, Colmar does an excellent job tailoring Christmas markets to them with a themed roller coaster and other rides.
Little Venice – Little Venice is the name given to a district in Colmar that houses colorful homes lined up on cobblestone streets. Next to the walkway sits a canal, which is reminiscent of that in real Venice. It's so charming and instagrammable – and looks like the homes were plucked right out of Hansel & Gretel.
Explore at Night – I have never seen Christmas lights like that of Colmar before. It literally lights up and my eyes can't help but wander at every corner. Grab yourself some mulled wine while you're at it.
Eguisheim – Eguisheim is a tiny village that's only a 15 minute drive away from Colmar. Its charm was equally amazing and worth seeing! It's made up of only narrow cobblestone streets so you won't find cars roaming around. Although the Christmas markets were smaller, I still had a great time sifting through the stalls. It felt less commercial here and everyone was extra kind.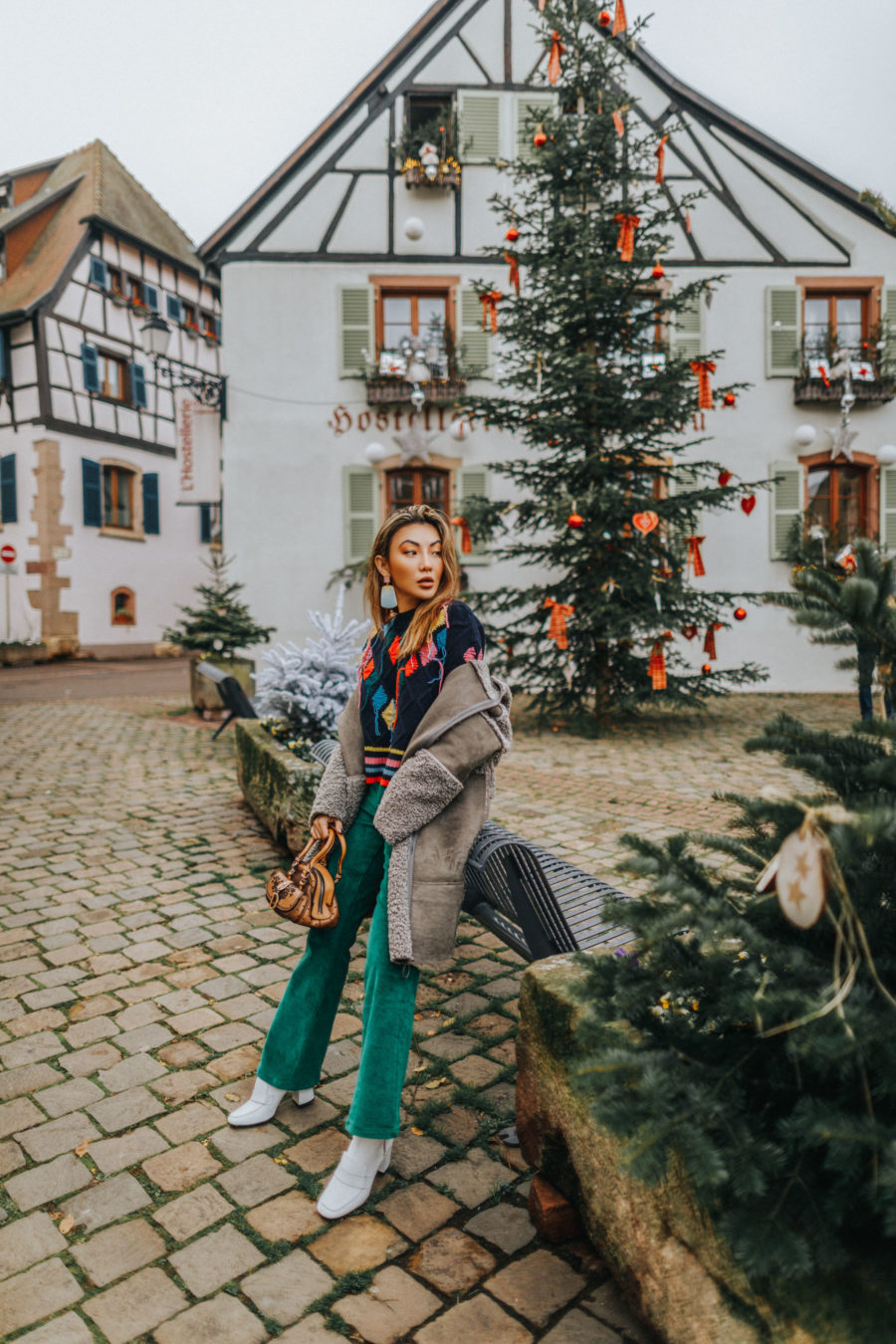 …

…
What to Eat
Alsatian Pizza – This is a must try! It's basically a super thin round of dough topped with cream, finely sliced onions, bacon strips, and muenster cheese and baked in a woodfire oven until the edges are crisp and golden brown. It is a popular dish for a casual meal – and so tasty.
Bratwurst – You probably already know that bratwurst is traditionally German, but here, it's paired with French sauerkraut and mulled wine. It's so hearty, juicy, and full of flavor.
Tartiflette – You can catch a sliver of this dish in my Instagram, but it's a mixture of potatoes, bacon and munster cheese. It's such a delight and you can find variations of it throughout Colmar.
Pastries – If you love bread and pastries as much as I do, then treat yourself to a pretzel, a mont blanc, or something as basic as a macaron.
Strasbourg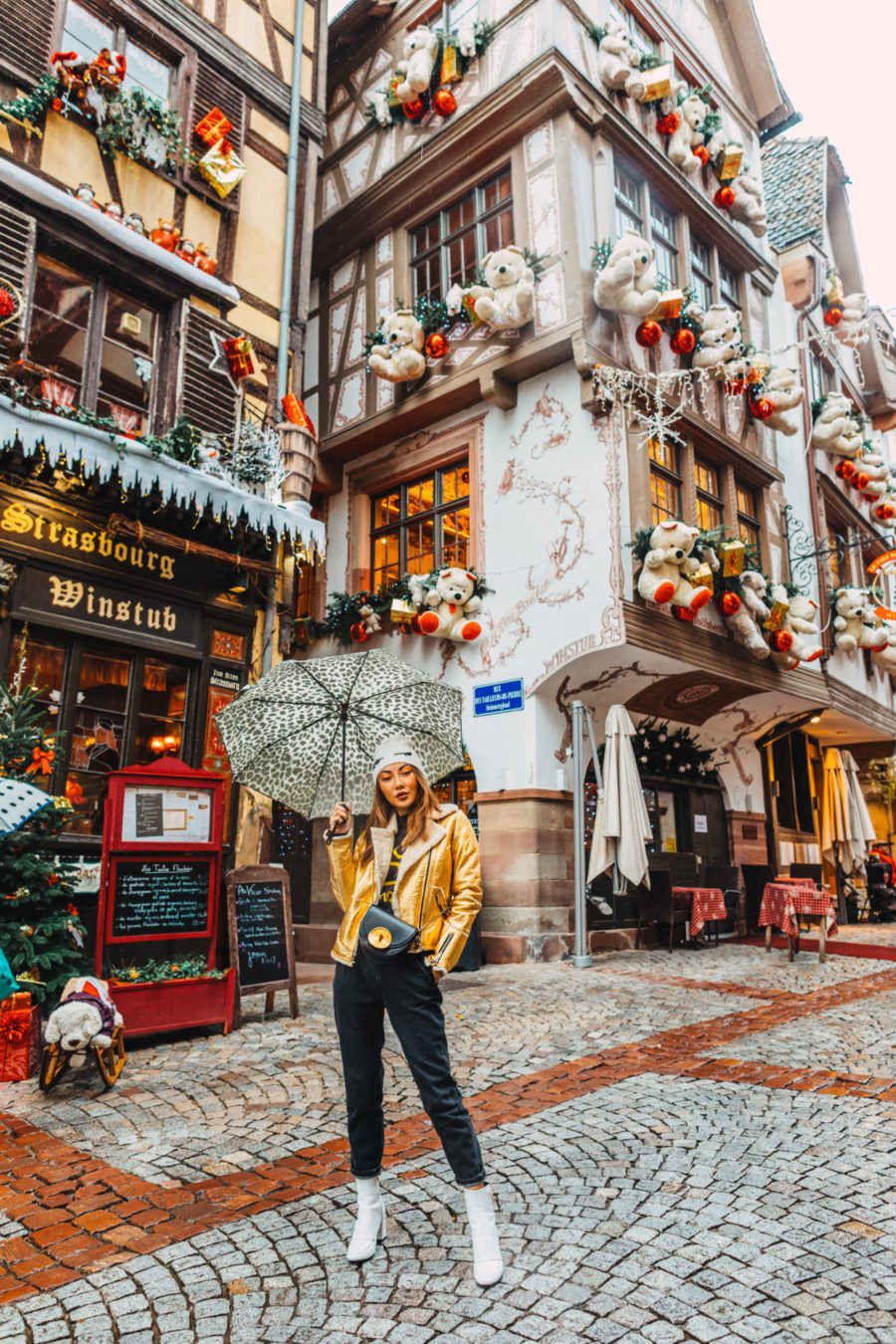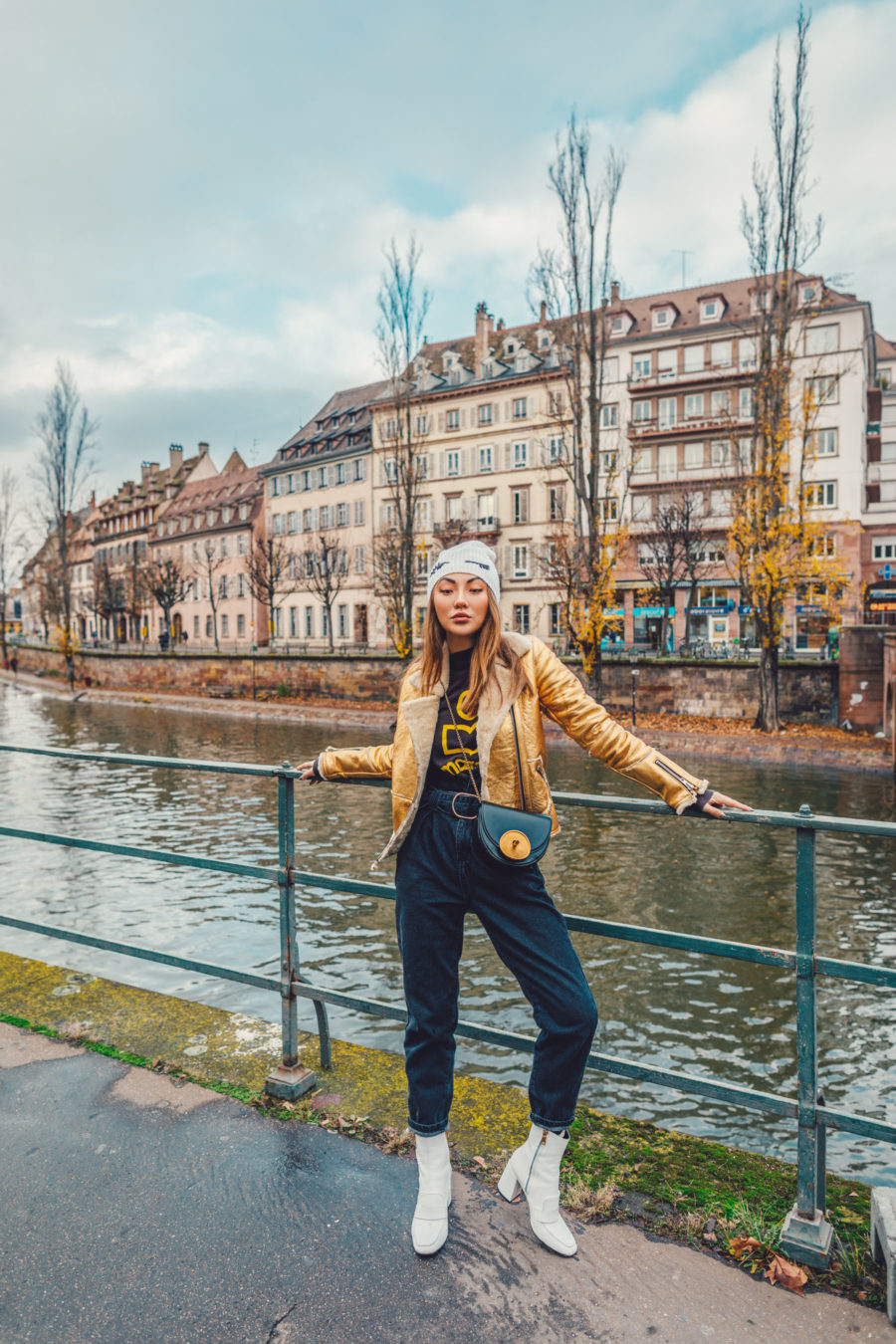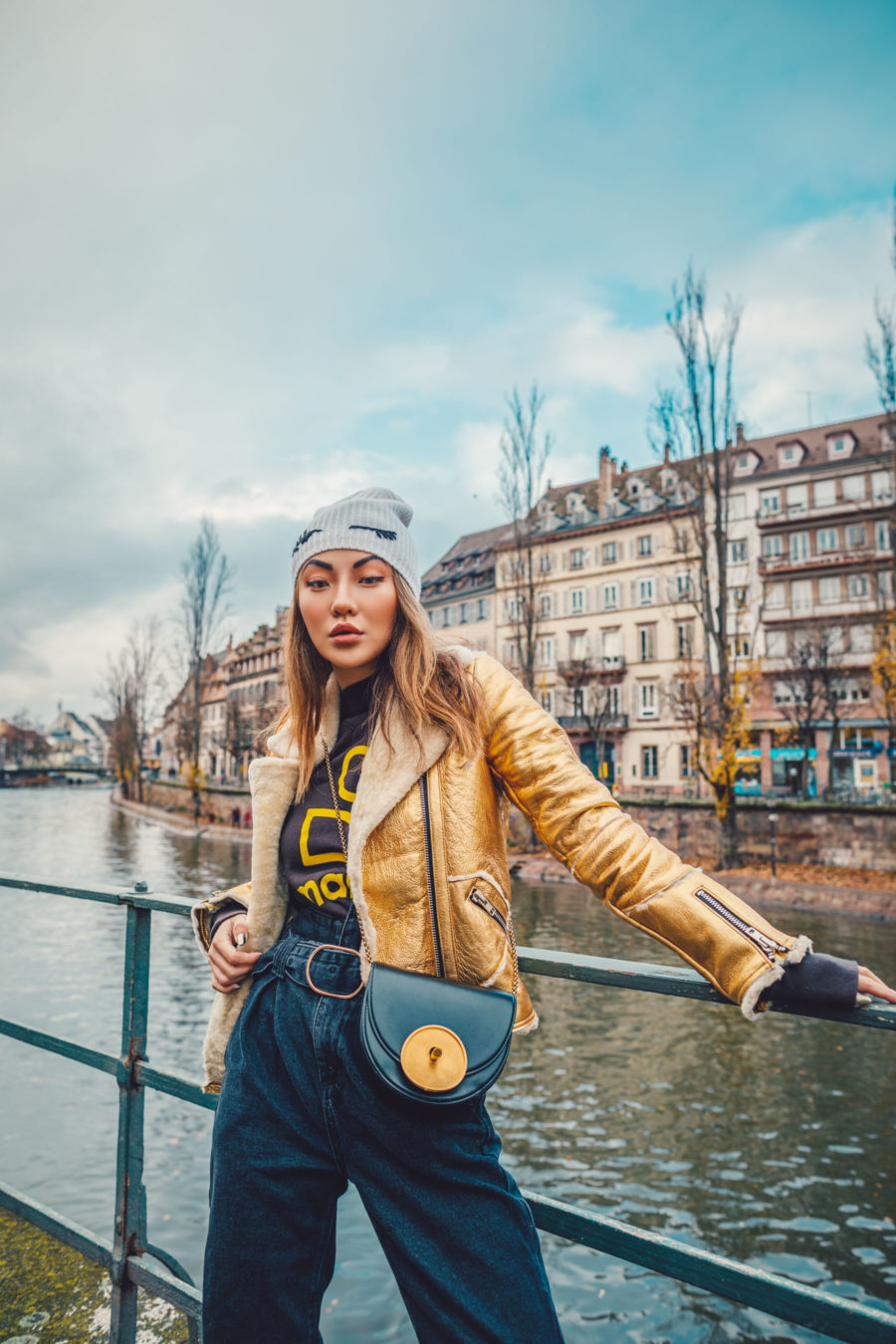 If you have time, I would also recommend hopping on a train to
Strasbourg
, which is only 30 minutes away from Colmar.
Strasbourg is the capital of the Alsace region and the largest city there. So it's no surprise that the Christmas markets are bigger and slightly more commercialized than Colmar. There are 11 markets total with over 300 stalls. Here were some highlights of my visit:
Teddy Bear House – In a small alleyway next to the Cathedral is a building decorated with teddy bears outside the windows. It's such an iconic site and definitely warrants a photo.
 Ice Skating – I went ice skating for the first time and it couldn't have been a more perfect moment in Strasbourg. The rink is situated right next to the admirable Christmas tree.
Visit Little France – This little hub in Strasbourg is known for its cobblestone streets, canals, and preserved half-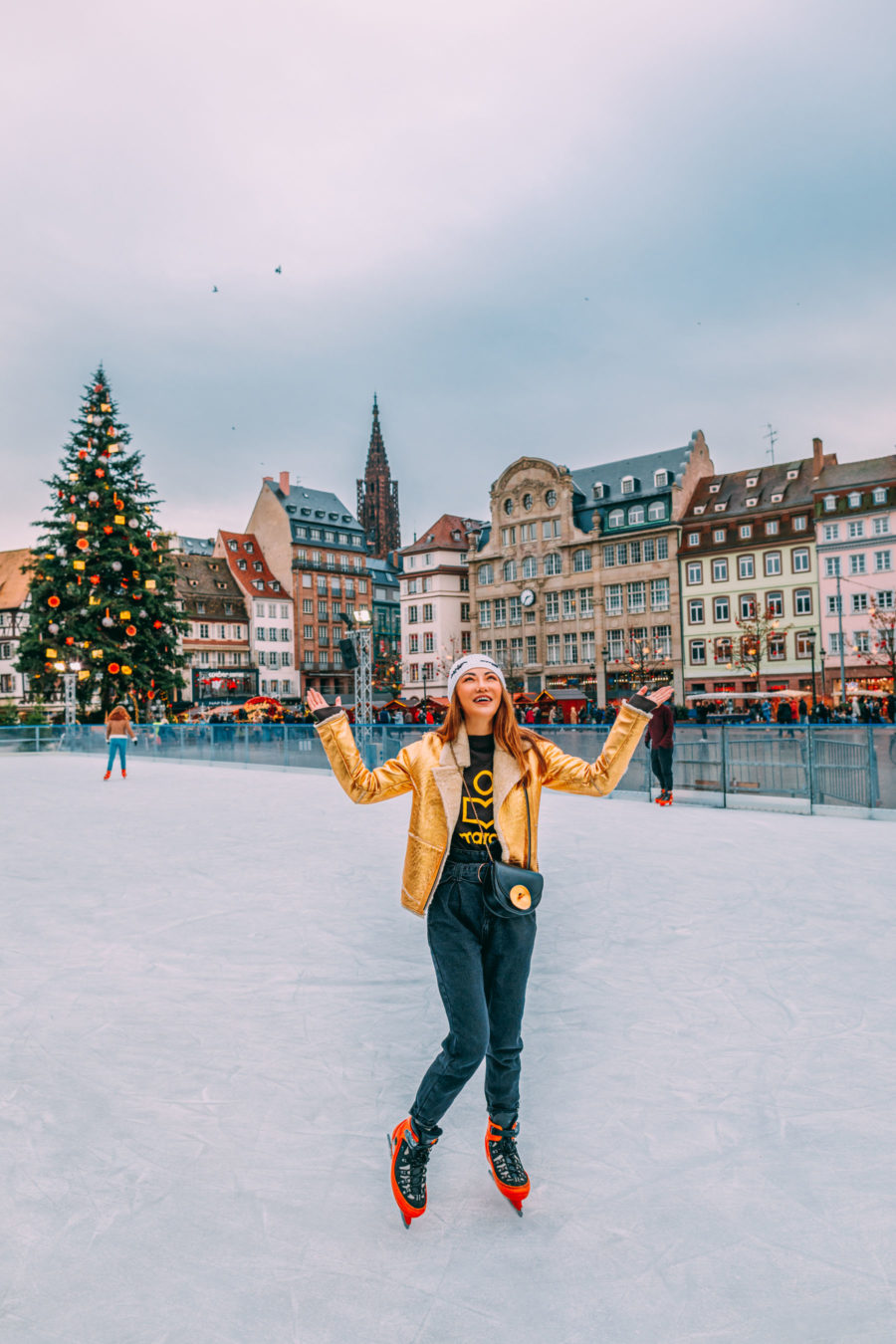 timbered homes. It's super cute to walk through and really comes to life at night with all the lights.
…

…
Have you visited Colmar during Christmas? If so, share more about your experience below!