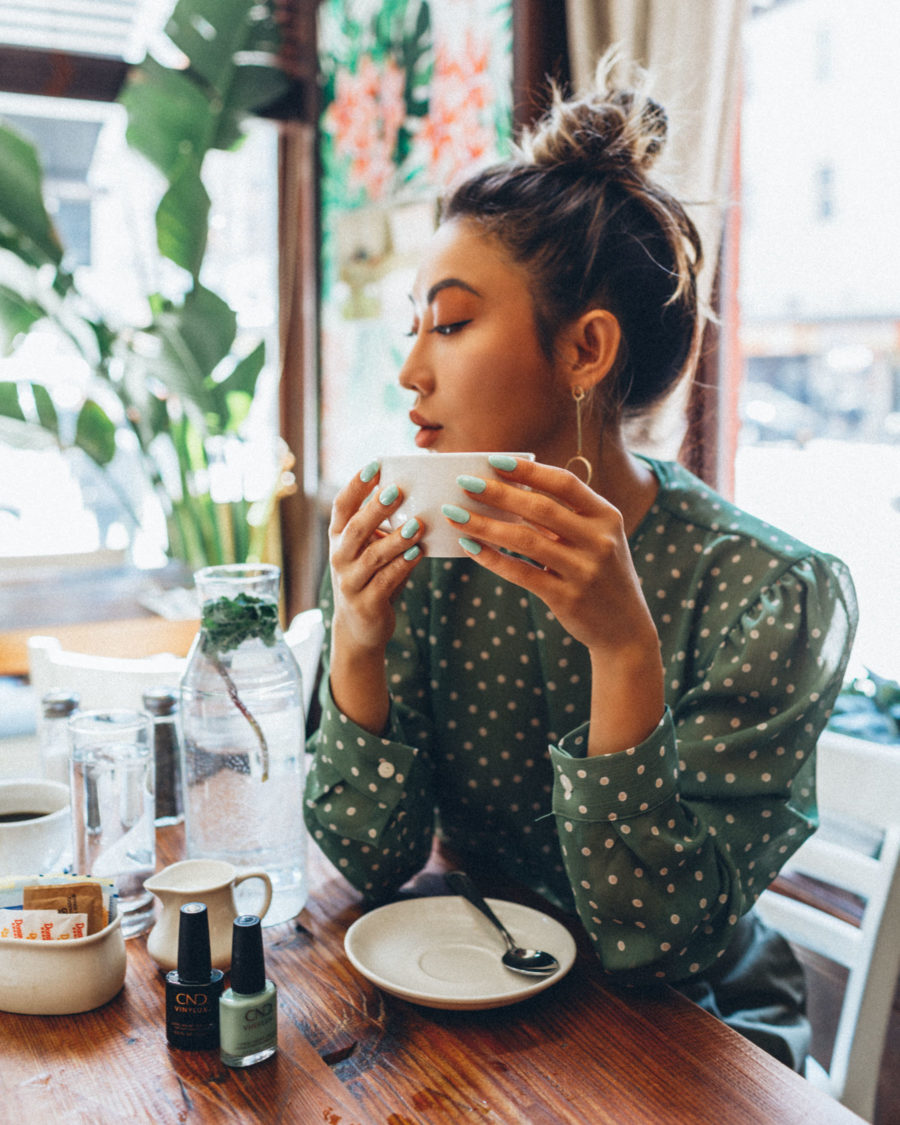 Polka Dot Top Similar | Earrings Similar
I
'm at that age where I
obsess over everything anti-aging
. But seriously, it's never too late to start guys, so I'm going to share the best anti-aging products I swear by! Whether you're struggling with dark spots, wrinkles, or firmness, there's one solution below that will treat your needs.
Back when I was younger, I remember disregarding skincare and throwing it on the back burner. I regret it now but was still lucky enough to have started in my early 20s. Just remember that the effort you put into treating your skin today will pay off in the long run. An anti-aging skincare regimen can be expensive, but if you're all about clear and radiant skin, it's so worth it. I know that the longer I can keep my face fresh and youthful, the happier I'll be. So, let's get into my fave products.
…

…

This serum is so gentle even for sunburnt skin which is why I have it first on my list. If you're just getting started in the world of anti-aging, Caudalie's Vinosource SOS Serum will give you amazing results without irritating your skin. It's packed with hyaluronic acid to plump up hydration while the antioxidant properties fight damage against environmental factors like the sun and pollution. This serum is also great for daytime application under your daily moisturizer and makeup.

I'm sure you've heard of The Ordinary by now, and if you're skeptical because of the insanely low prices, don't be. In the world of skincare, these are considered dirt cheap, but they are surprisingly effective especially the Alpha Lipoic Acid 5%. It is a potent antioxidant treatment that will drastically improve your skin's tone and texture. It's great for fighting acne and hyper pigmentation. I don't recommend starting this right off the bat because it's so strong – far more more than retinol, lactic, and glycolic acid. My skin drinks it all up then exudes a slight burning sensation, but by the next morning, my complexion is much smoother, brighter, and renewed.

I have a been a huge fan of the Dr. Dennis Gross line for such a long time now, and highly recommend the Ferulic + Retinol Wrinkle Recovery Overnight Serum if you're looking to amp up your evening skincare routine. It feels more like a gel moisturizer than a serum but works effectively to repair the skin overnight. You can expect improvements in tone and texture. For faster results, add in the peel pads!

Too often, we obsess over our face but not enough about the rest of the body. However, aging can start to show in your hands and neck before your face. That's why I've also began using anti-aging hand creams. This one by Shiseido is perfect because it contains SPF and wrinkle-combatting ingredients. I love how soft it makes my hands feel especially when I'm traveling.

When your skin needs a boost, this is such an amazing device to try out. I currently use it about twice a week after cleansing and then follow my standard skincare routine immediately after. Adding this step has really helped stimulate my skin regularly while allowing the products penetrate deeper and produce results faster. I have seen a huge change in my skin texture. Highly recommended!

Definitely on the pricer side, but this product is gold if you don't mind splurging once a while. It's worth every penny! My skin has gotten so much smoother since using this product, and it's also become more firm! I apply two drops all over my face down to my neck and décolletage then follow up with moisturizer. I always wake up feeling like my face is polished and glowing.
What are your favorite anti-aging products?