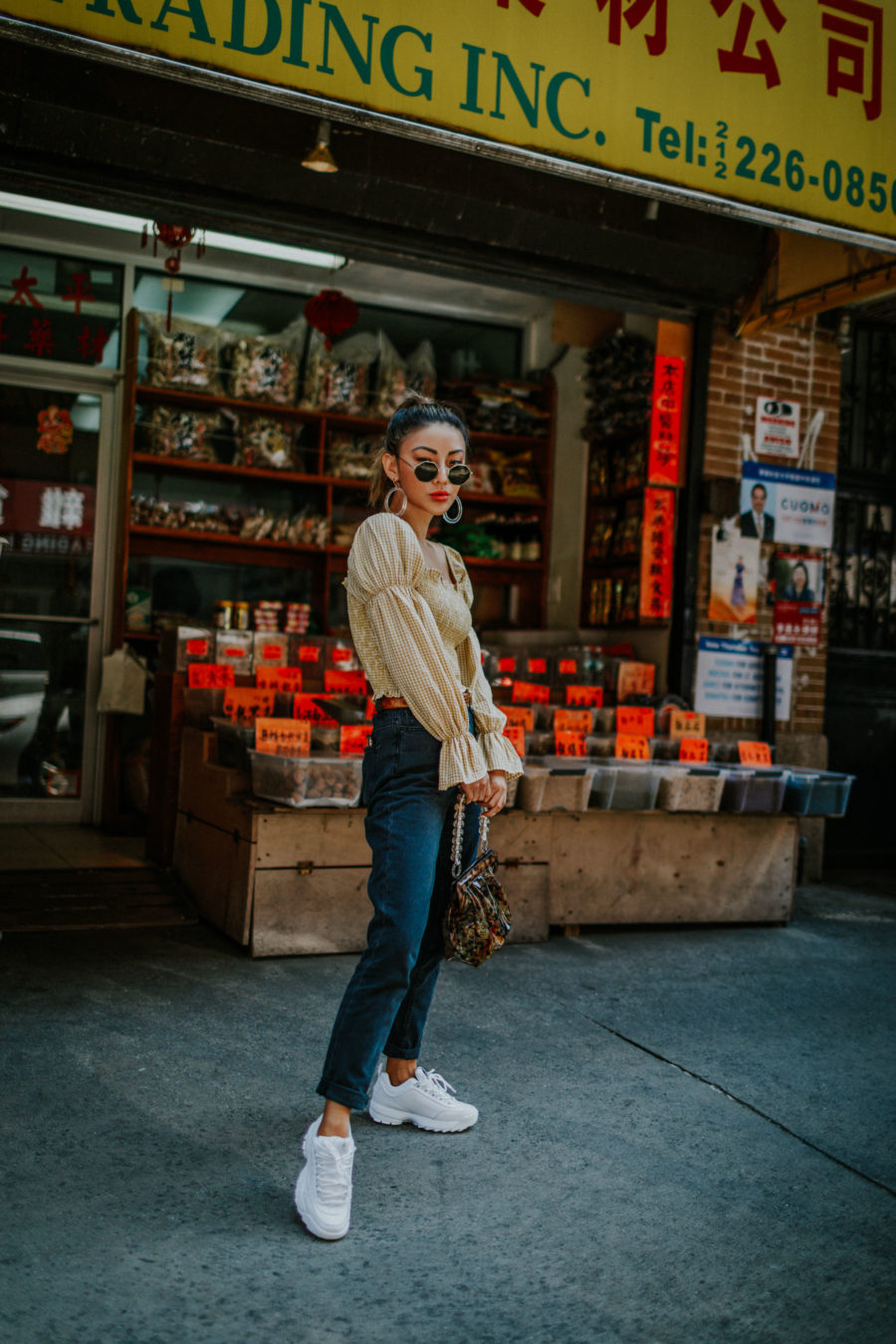 Urban Outfitters Blouse (ON SALE!) | BDG Mom Jeans | Fila Sneakers | Sunglasses Similar | Belt Similar | Clear Earrings Similar
C
hinese New Year, one of my favorite holidays, is finally approaching! Traditionally, this occasion was a time to honor deities and ancestors and since has evolved into what you see today. I look forward to it each year because it is a special time in which families are able to spend precious time together. 2019 is the year of the pig, which symbolizes wealth and good fortune. No matter where you go,
Chinese New Year (or Lunar New Year)
, means tons of festivities involving food, drinks, and good company. If you happen to be in town over the weekend through the holiday, here is a list of things to do for Chinese New Year in NYC.
…

…
MOCA Lunar Night Market
The Museum of Chinese in America, MOCA, is a cultural hub dedicated to celebrating all aspects of Chinese culture. They will be hosting a Lunar Night Market on February 1st that includes food sampling from restaurants such as Nom Wah, Ming River, Saffron 59, plus two cash bars. There will also be stage performances and a Lion Dance, which is always fun to see in real life.
Firecracker Ceremony
To kick off the festivities, a Chinese New Year Firecracker Ceremony and Cultural Festival will be held on February 5 at the Sara D. Roosevelt Park. The Better Chinatown Society lights hundreds of firecrackers to symbolize the warding off of evil spirits. In addition, there will be tons of vendors with crafts and a plethora of food!
…

Flushing Lunar New Year Parade
If you are located in the Queens area, consider heading over to the annual Flushing Lunar New Year Parade on February 9th at 11 am. The event will begin at St. George's Church before the parade heads out into Queens.You can expect a fun day with tons of food, dancing, and music.
CNY Spectacular
If you are interested in immersing yourself in the Chinese culture via music, attend the Chinese New Year Spectacular at Carnegie Hall on February 15th. This performance is featuring super talented, classical music performers such as Jie Chen, William Cai, Quan Chen, and Deni Bonet.
Chinese New Year Parade
On February 17th from 1 – 4:30 pm, the annual Chinese New Year Parade and Festival will take place in in the city. The streets of Chinatown will be festooned with decor and many restaurants will be serving delicious food in celebration of the new year. You can come watch the traditional Chinese dancers and dragon performances with your friends and family.
…

Brookfield Place
If you happen to be downtown on Saturday, February 9, you can enjoy the stage performances and martial arts demonstrations at Brookfield Place presented in partnership with the New York Chinese Cultural Center. The lion dance performance starts from the Oculus Westfield World Trade Center, moving through Brookfield Place into the Winter Garden.
Lunar New Year at the MET
On the other hand, if you're uptown on February 9, then stop by The Met for a Lunar New Year festival that runs from 11 am – 5 pm. For a small fee, you'll be entertained by drummers and dancers. The museum also holds various stations where get to participate in artist-led workshops, storytelling, and watch live performances.
…

…
New York is one of the greatest cities in the world due to its beautiful melting pot of people and cultures. As a Chinese American, I love seeing my culture being highlighted and celebrated during this time. There are loads of events that cater to all age ranges so you help ring in the Chinese New Year. If these events aren't for you, you can always celebrate by dropping by Chinatown to celebrate with noodles and dim sum. Check out my post here on what to eat and where go to get the most authentic Chinese food!